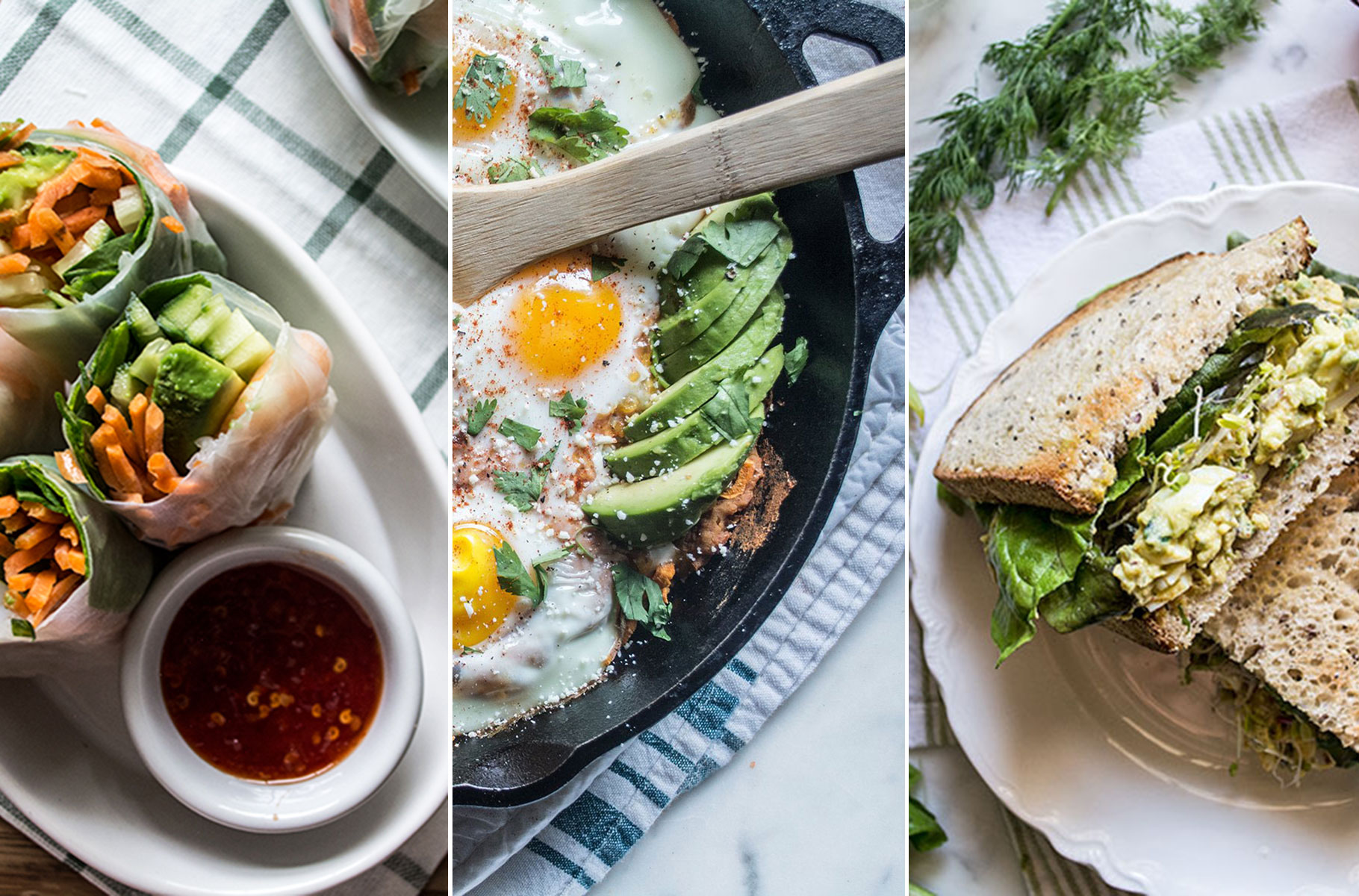 Happy Valentine's Day!
On a day that's focuses heavily on spreading the love with those around you, I thought we'd take a minute to look at how you can love yourself and your family well with several tasty Heart Healthy Dishes! It's amazing the role our diet plays in our overall health, but especially our heart health.
Below is a list of 15 heart healthy foods along with 10 recipes that use many of these ingredients – lots of leafy greens, avocado, beans, whole grains, and of course, dark chocolate! Because could we really have a Valentine's Day post without a little dark chocolate?!
15 foods to maximize your heart health!
Leafy Green Vegetables – Leafy Green Vegetables are high in vitamin K and nitrates, which can help reduce blood pressure and improve arterial function. Studies show that a higher intake of leafy greens is associated with a lower risk of heart disease.

Whole Grains – Studies show that eating whole grains is associated with lower cholesterol and systolic blood pressure, as well as a lower risk of heart disease.

Berries – Berries are rich in antioxidants and studies show that eating them can reduce multiple risk factors for heart disease.

Avocados – Avocados are high in monounsaturated fats and potassium and may help lower your cholesterol, blood pressure and risk of metabolic syndrome.

Fatty Fish and Fish Oil – Fatty fish and fish oil are both high in omega-3 fatty acids and may help reduce heart disease risk factors, including blood pressure, triglycerides and cholesterol.

Walnuts – Studies suggest that walnuts can help reduce cholesterol and blood pressure and may be associated with a lower risk of heart disease.

Beans – Beans are high in resistant starch and have been shown to reduce levels of cholesterol and triglycerides, lower blood pressure and decrease inflammation.

Dark Chocolate – Dark chocolate is high in antioxidants like flavonoids and has been associated with a lower risk of developing calcified plaque in the arteries and coronary heart disease.

Tomatoes – Tomatoes are rich in lycopene and have been associated with a lower risk of heart disease and stroke, as well as an increase in "good" HDL cholesterol.

Almonds – Almonds are high in fiber and monounsaturated fats, and have been linked to reductions in cholesterol and belly fat.

Seeds – Human and animal studies have found that eating seeds like chia seeds, flaxseeds, and hemp seeds may improve several heart disease risk factors, including inflammation, blood pressure, cholesterol and triglycerides.

Garlic – Garlic and its components have been shown to help reduce blood pressure and cholesterol, whiling also helping inhibit blood clot formation.

Olive Oil – Olive oil is high in antioxidants and monounsaturated fats and been associated with lower blood pressure and heart disease risk.

Edamame – Edamame contains soy isoflavones, which have been shown to help decrease cholesterol levels. Edamame also contains fiber and antioxidants, which can also benefit heart health.

Green Tea – Green tea is high in polyphenols and catechins and has been associated with lower cholesterol, triglycerides and blood pressure
Information above taken from HealthLine.
As Easter approaches, keep these tasty Avocado Deviled Eggs in mind! A fun way to shake up a traditional favorite, while adding heart healthy nutritional benefits!
These Shrimp and Avocado Spring Rolls are perfect for a warm summer day, whether you're hosting a get-together and looking for a fun appetizer, or just in need of a quick, oven-free dinner, these guys are sure to be a hit!
This 5 Minute Sweet and Savory Sweet Potato Toast is a breeze to make, so versatile, and sure to guarantee a healthy start to you day! OR make for a yummy afternoon snack!
This Sweet Potato Refried Bean Egg Skillet is full of flavor and nutrition, and so hearty! Perfect for breakfast or dinner!
This Easy Lentil Sweet Potato Taco Bowl comes together in about 30 minutes and is the perfect balance of light and hearty! My favorite combination as the cold winter days begin to warm up and transition into Spring!
This Roasted Veggie Grain Bowl with Avocado and Hummus makes for a hearty lunch, full of flavor and loaded with fiber and protein!
This Avocado Egg Salad is made using Greek yogurt, and flavored with fresh lemon and herbs. It's light and creamy and oh-so-satisfying – perfect for Spring!
This Roasted BBQ Veggie and Avocado Sandwich is made with an assortment of roasted veggies, smothered in melted Muenster cheese, then topped with some thinly sliced avocado and lathered in BBQ sauce. It was quick, filling, and nutritious, my favorite kind of sandwich!
These Avocado Chocolate Chip Cookies are fun and delicious any time of the year, but especially for St. Patrick's Day, which will be here before we know it!  Light, rich and fudgy, they're made with avocado in place of butter!
Rich creamy Nice Cream, made with bananas, avocado and chocolate chips, healthy never tasted so good!