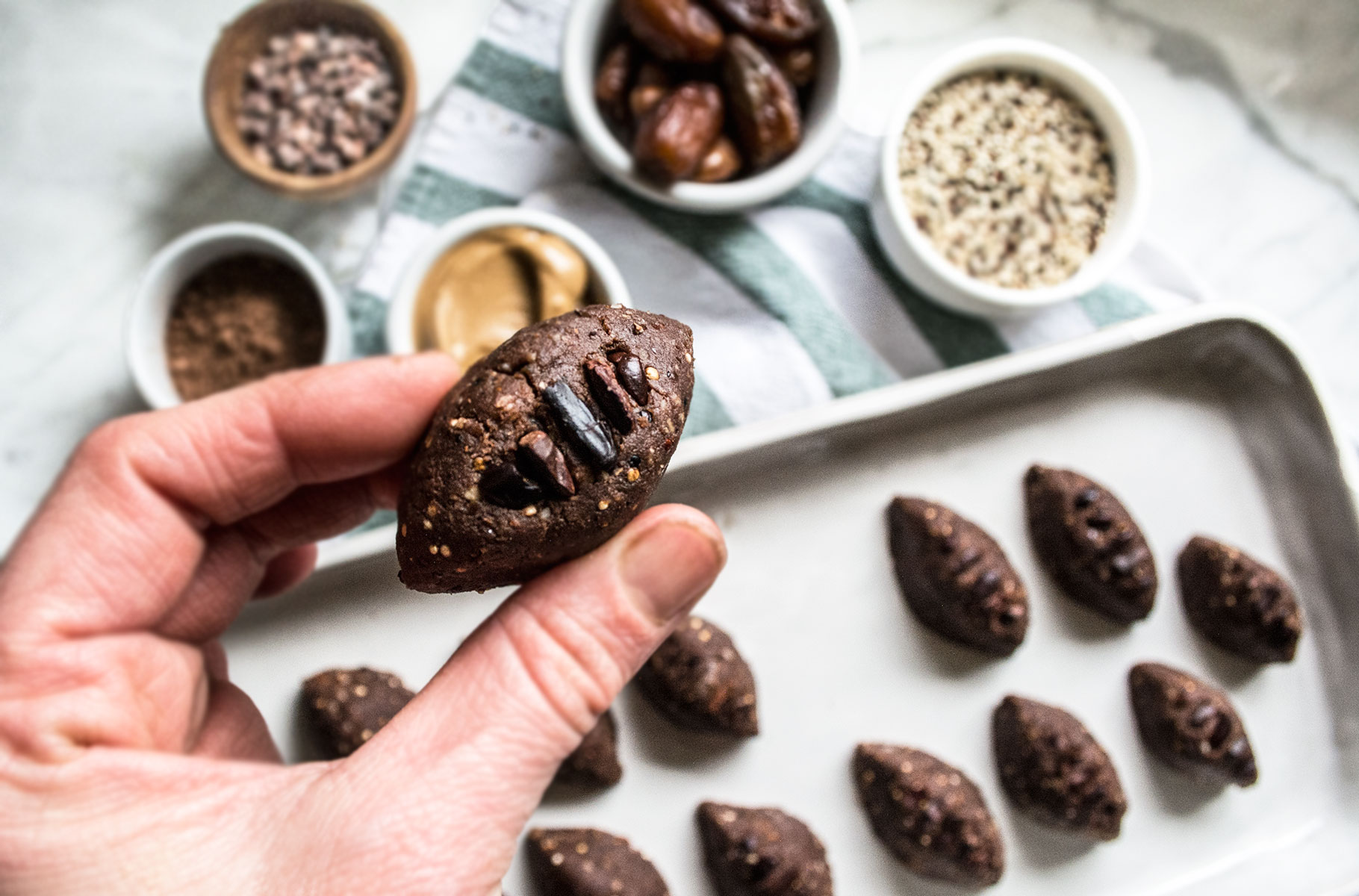 These SUPER One-BOWL Chocolate Football Snacks are gluten-free and vegan, made with simple, whole foods and full of chocolatey goodness! The perfect snack for the big game!
Friends, Sunday – THE SUPER BOWL – is a big day for our family. The Niners are OUR TEAM. My husband has loved them since he was a kid, watching them each week with his dad. The kids have shirts, Josh and I have jerseys, and Brighton's made red and gold flags – we are super stoked!
Ultimate goals for the SUPER BOWL:
Goal #1: NINERS WIN!
Goal #2: GREAT FOOD! Equal parts tasty, healthy, and festive!
Goal #3: GOOD COMMERCIALS!
Since there's little I can do to help the Niners win or ensure the commercials are entertaining and/or heartfelt – my focus is the food! Which brings us to these SUPER One-BOWL Chocolate Football Snacks. These little guys are not only festive and fun for all ages, but they're chock-full of nuts, quinoa, protein, and other healthy ingredients. Sweetened with dates, they're not overly sweet, but the chocolate flavor is rich and the texture is complex with a little crunch from the toasted quinoa.
We had my dad join us to watch the last set of playoff games two weeks ago. It was a sweet day of rest and play. I  made these mini footballs and the No Bake Chocolate Cookies I shared earlier this week as snacks for the day. If I'm honest, as a kid I'd probably go for the no bake chocolate cookies. Let's be real, they have chocolate chips, which is hard to complete with in the eyes of a four year old. BUT, every time Brighton was allowed a cookie, he went for the little footballs. EVERY time. I definitely think he liked the flavor, he wouldn't haven't eaten them otherwise. But the shape won him over. In his mind, he's watching football with his Daddy and Papa, while eating little chocolate football treats – life is good!
It's amazing how something so small, so simple, wins the favor of a little one. But seriously, these bite-size snacks can be whipped up in less than 30 minutes. They'd make a super fun and healthy treat for the big game Sunday!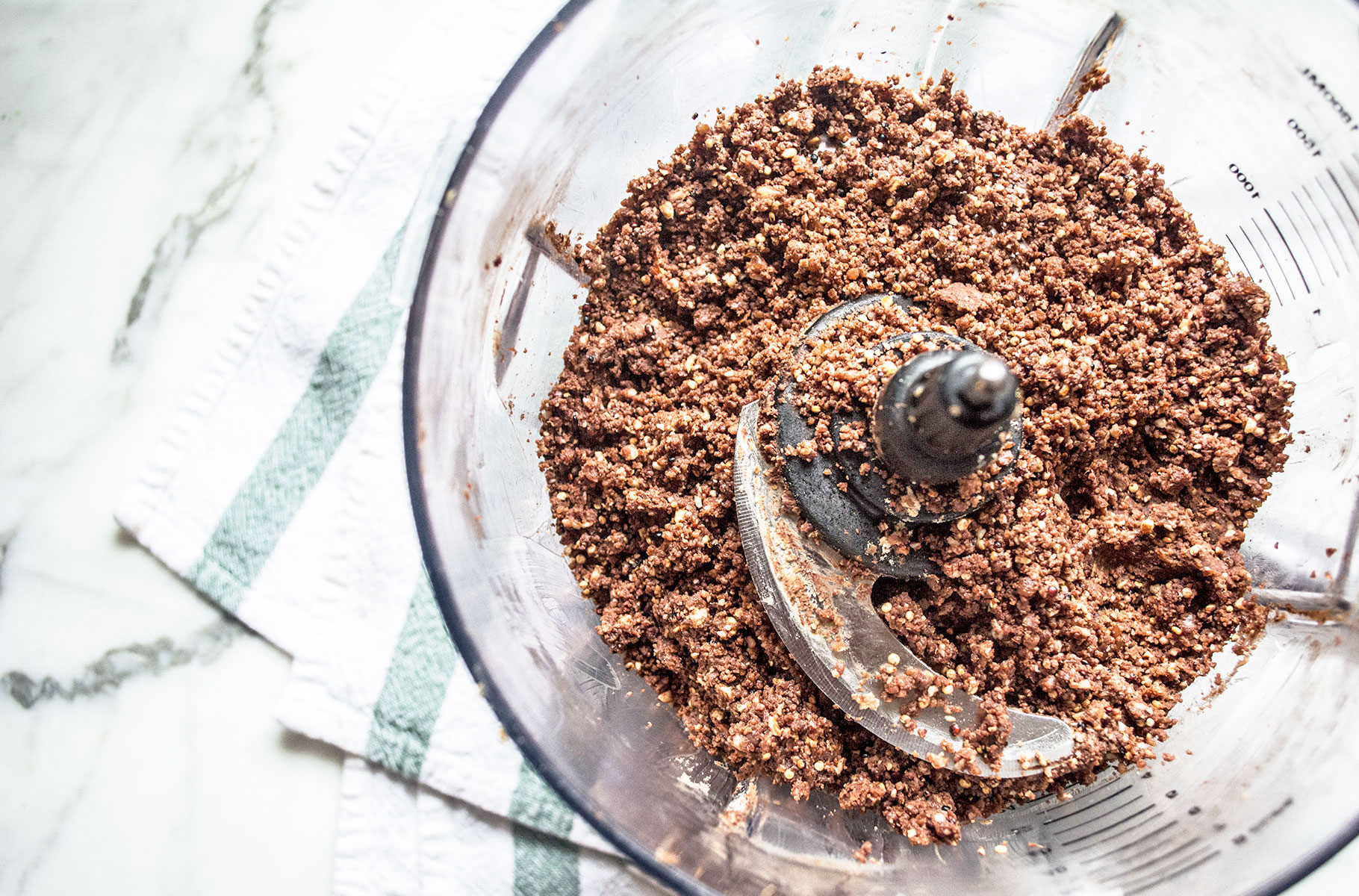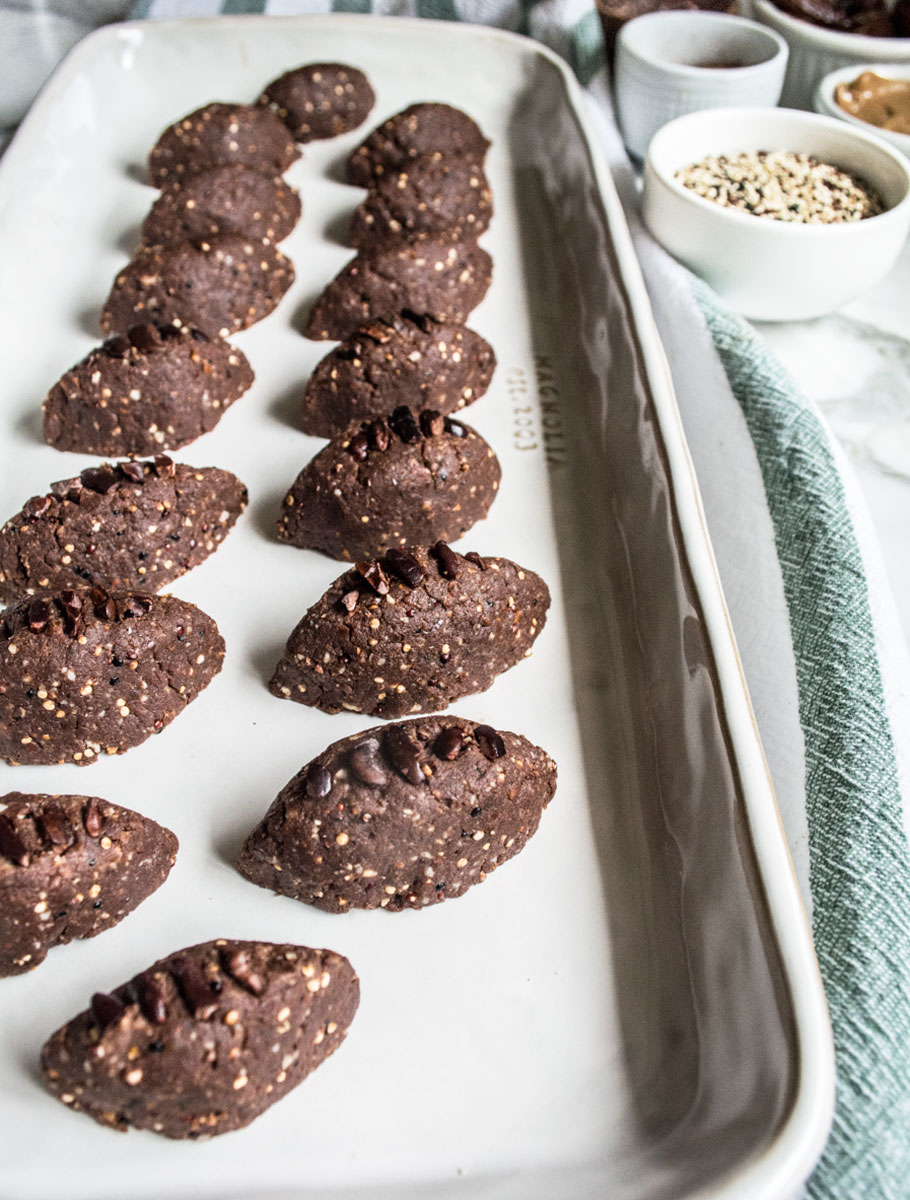 The Deets on these SUPER One-BOWL Chocolate Football Snacks:
4 gm protein, 2 gm fiber in each mini bite!
Vegan
Gluten-Free
Simple Whole Food Ingredients
Pea Protein
No Sugar!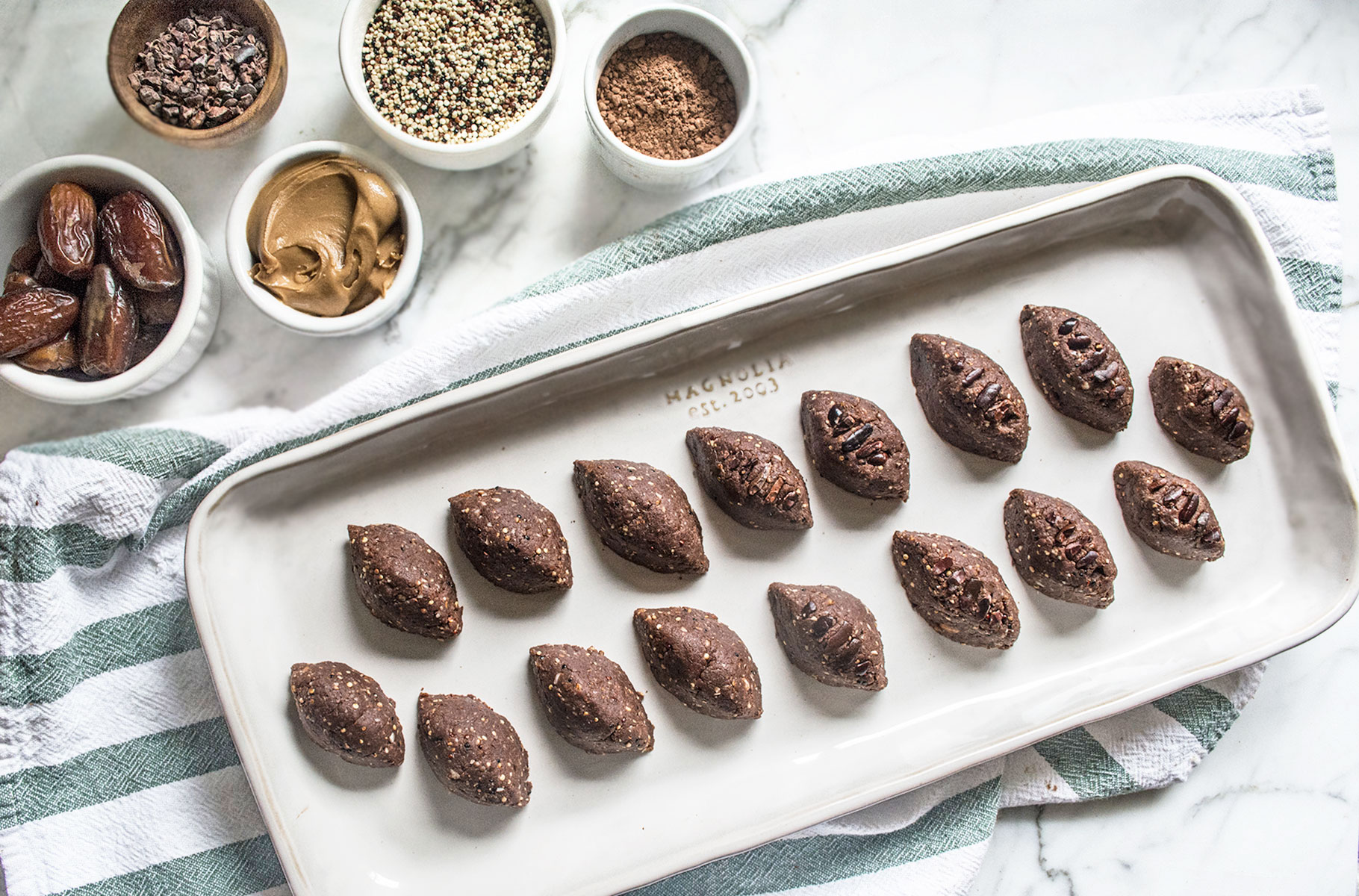 Speaking of super simple AND healthy, am I one of the last to realize that Papa John's has gluten-free and vegan pizza options?! To be honest, we don't order pizza out a whole lot. Occasionally for large groups, but for the most part I've always made it from scratch here at home. BUT food allergies seem to be an ever increasing issue and I don't have a go-to gluten free crust that I feel super confident in. Enter Papa John's and issue resolved. It's literally one of the best gluten free pizza crusts I've had! And I've definitely experimented with a lot of gluten-free pizza crusts – from cauliflower to zucchini to almond flour…you get the point.
The crust is on the thin side and crispy (my fav) but there's definitely a little chew to it for those who like a more traditional style crust, so yummy! I also have had a ton of friends who have little ones with dairy allergies or intolerances themselves. I LOVE that I can easily order a vegan pizza delivered to my house and accommodate any and all dietary needs WHILE still serving up our nation's favorite game-day food! We placed our order and had hot and fresh pizza, tailored specifically to our wants/needs, in under 30 minutes. Yes please and thank you!
If you're looking to host a fun gathering this Sunday for the game and still haven't decided where to order the pizza from, Papa John's has you covered on all the dietary needs, with all the traditional pizza goodness!
SO – I wanna know, are you planning to watch the game? Who are you cheering for?? And, what are your Super Bowl traditions as far as food?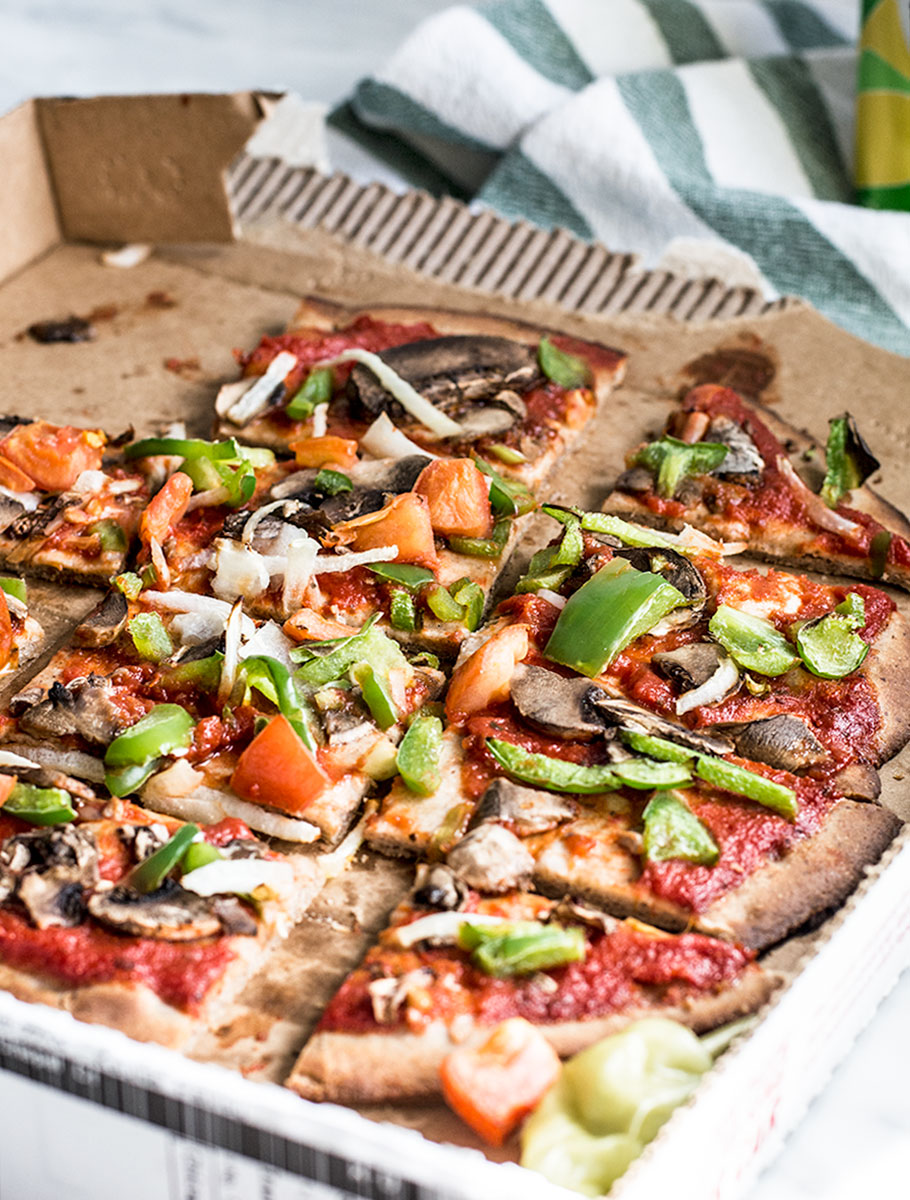 Pictured Above: Papa John's Vegan Gluten-Free Pizza – GF crust with traditional red sauce, onions, peppers, mushrooms, and tomatoes.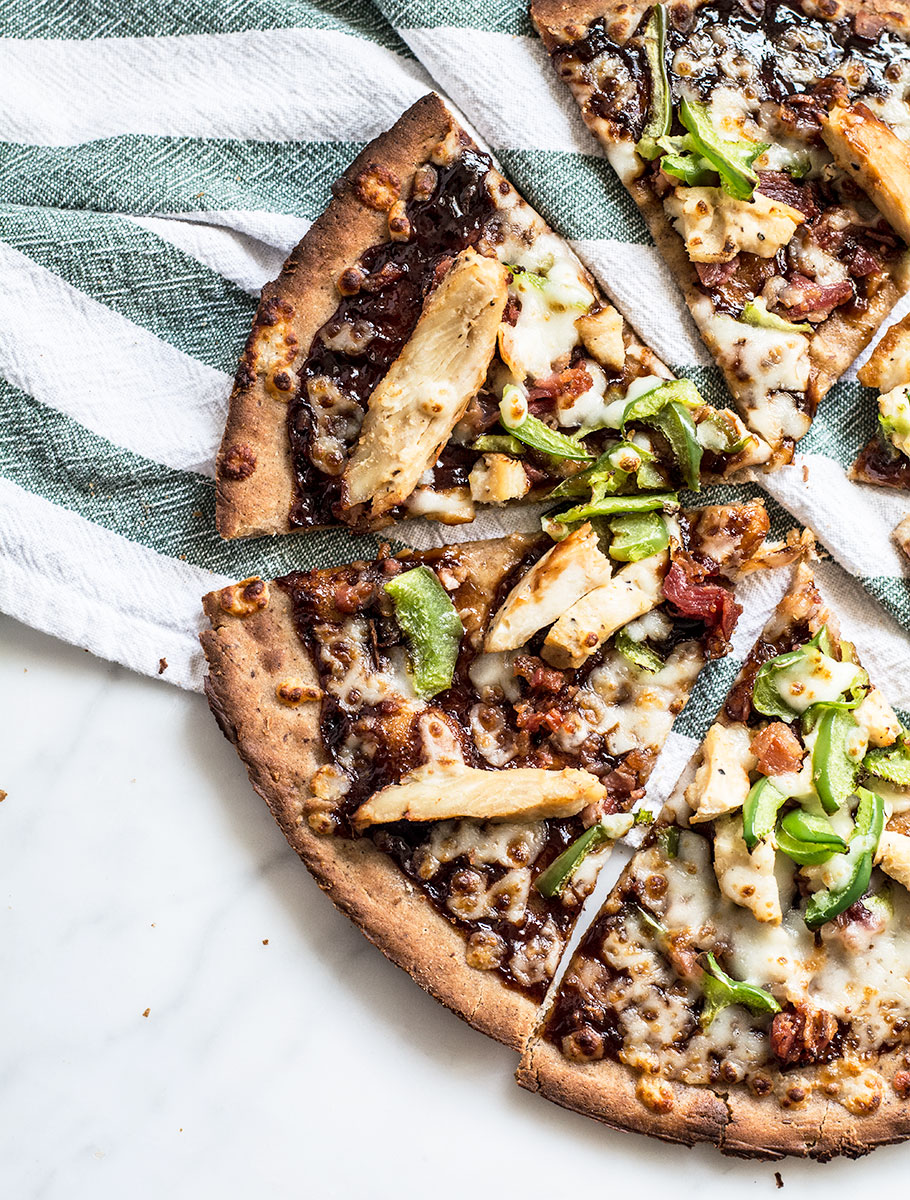 Pictured Above: Papa John's Gluten-Free Pizza – GF crust topped with BBQ sauce, chicken, bacon, bell pepper and light cheese.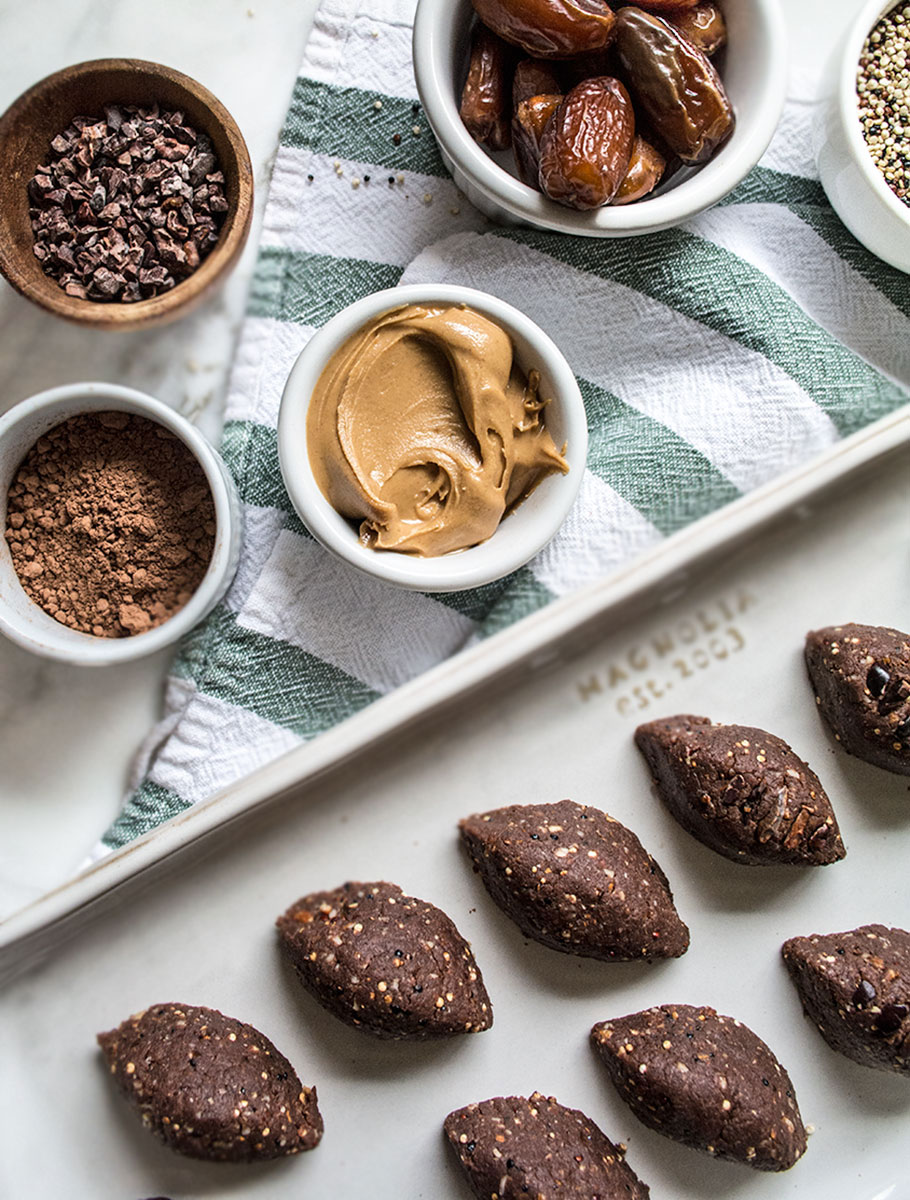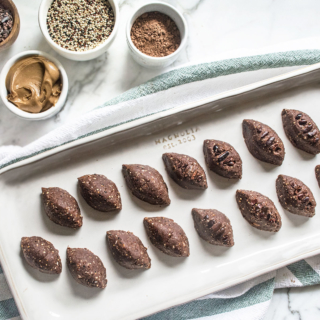 Print Recipe
SUPER One-BOWL Chocolate Football Snacks (GF +Vegan)
These SUPER One-BOWL Chocolate Football Snacks are gluten-free and vegan, made with simple, whole foods and full of chocolatey goodness! The perfect snack for the big game!
Ingredients
1

cup

pitted medjool dates

packed*

3/4

cup

raw or roasted unsalted almonds

3/4

cup

nut butter*

1/3

cup

cacao powder

1/4

cup

dry quinoa

1/4

cup

pea protein*

1

tsp

vanilla extract

1-2

tbsp

water

if needed*

cacao nibs

optional
Instructions
Cover a baking sheet with wax paper and set aside.

Thoroughly rinse the quinoa to remove the saponin (bitter taste) by adding uncooked quinoa to bowl, fill with clean water and soak for a few minutes. Use a wire whisk to move the quinoa around in the water, then strain the quinoa in a fine mesh sieve and rinse with fresh water.

Add wet quinoa to saute pan and cook on stove top over medium low heat (no oil), using a whisk or spatula to stir in pan.

Once the quinoa is hot, the water will absorb and the quinoa will begin to pop.The quinoa will begin to brown and have a nutty flavor when it's ready. This took about 5-6 minutes for me, stir continuously to ensure it does not burn.

Once quinoa is toasted, remove from heat and set aside.

Meanwhile, add pitted dates, almonds and nut butter to bowl of food processor. Blend on high for 15-20 seconds.

Scrape down sides and add pea protein, cacao powder, toasted quinoa, and vanilla extract, continue to blend another 15-20 seconds, stopping to scrap down sides as needed. Mixture should be a fine crumbly consistency -see photos.

Test mixture to see if it will hold together well by pinching a small section between fingers to see if takes shapes and holds. If it feels too dry and does not stick together, add 1-2 tbsp water and continue to blend. Test again.

Once mixture is ready for shaping, scoop out small handfuls, gently roll into a ball, then shape into football. Top with small cacao nibs as the laces if desired. Enjoy!

Store in airtight container for up to 5 days.
Notes
Cover dates in bowl with water and soak 10-15 minutes, drain water.
I used peanut butter, but almond or cashew butter would also work well.
If you don't have pea protein, you can sub peanut butter powder, a flavorless collagen powder or chocolate protein powder.
Add water only if mixture does not hold together well when a small amount is pinched together in hand.
Nutrition
Serving:
1
football
|
Calories:
99
kcal
|
Carbohydrates:
9
g
|
Protein:
4
g
|
Fat:
5
g
|
Saturated Fat:
1
g
|
Polyunsaturated Fat:
1.6
g
|
Monounsaturated Fat:
2.7
g
|
Sodium:
32
mg
|
Potassium:
139
mg
|
Fiber:
2
g
|
Sugar:
5
g
|
Calcium:
2
mg
|
Iron:
4
mg
This links above are sponsored by Papa Johns, but all opinions are my own. Thanks for supporting the brands that keep Lemons and Basil in action!