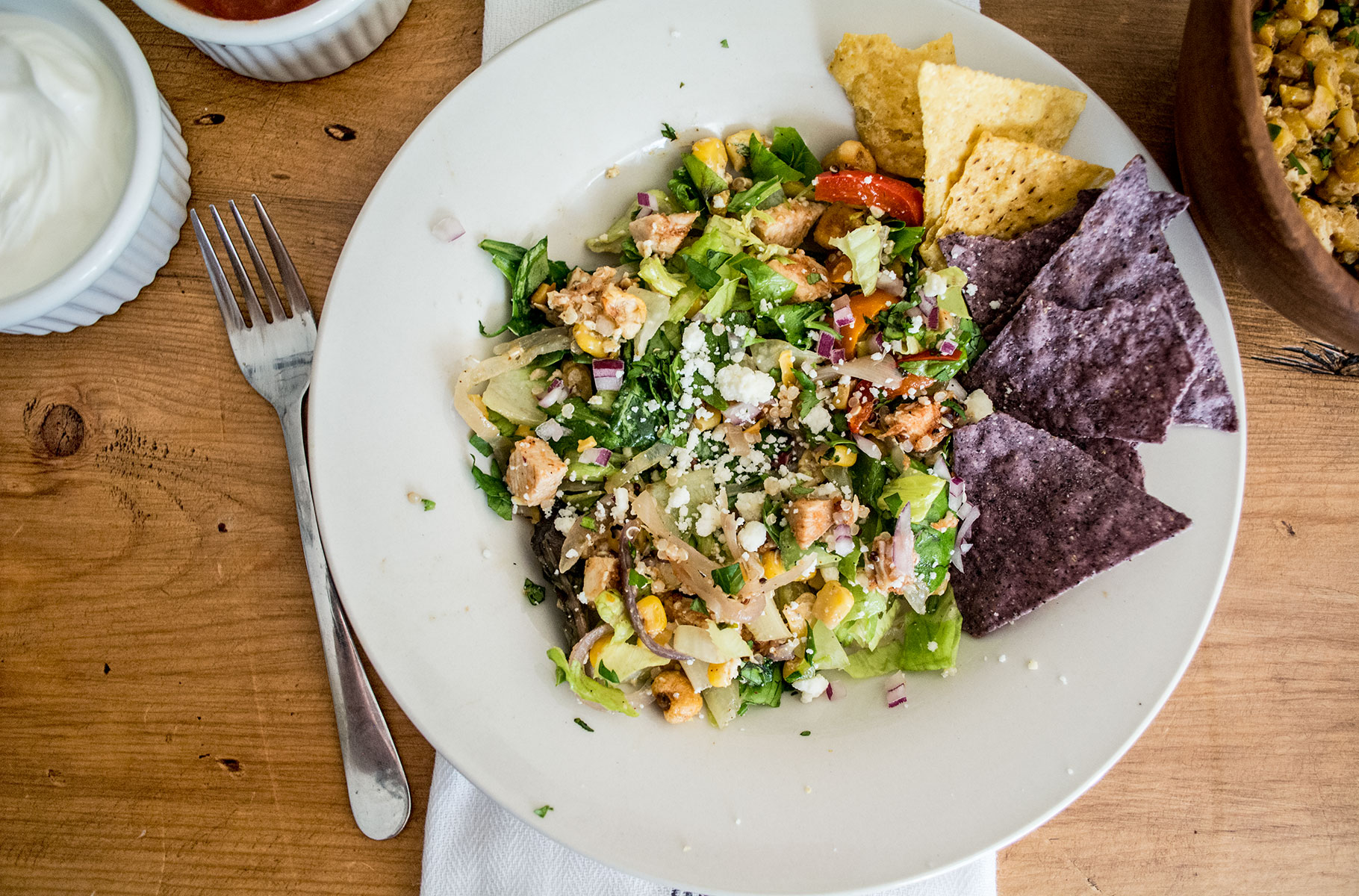 These Healthy Fajita Bowls are an absolute favorite of mine for entertaining. With a large spread of fresh ingredients, it's easy to satisfy everyone!
If I'm honest, inviting guests in our home and cooking a meal for them is fairly intimidating to me. I LOVE hosting people. Love creating a welcoming atmosphere in our home. I love having the opportunity to serve others and hear their stories. LOVE all of it.
But wrapping my head around what food to made, considering any and all food allergies, dietary restrictions and various taste preferences isn't always easy. Add in the fact that I have a food blog, which feels like it heaps on the pressure that the FOOD SHOULD BE REALLY GOOD and honestly, it sometimes overwhelms me.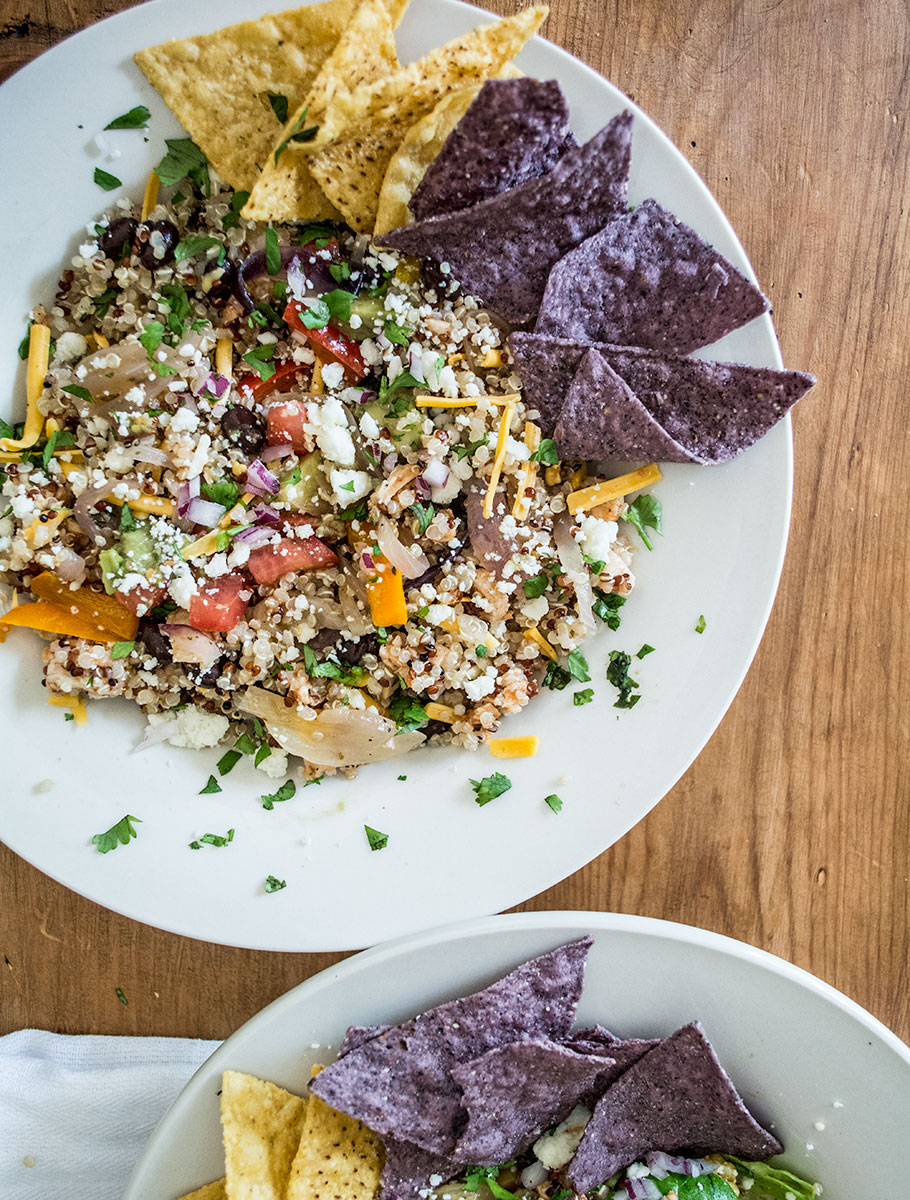 There are those that LOVE meat, any and all. On the opposite spectrum are the vegetarians and vegans. Then there are thoose who are trying to stick to a Keto friendly life-style, and those who can't have any gluten. Others don't have any specific restrictions, but are making every effort to eat wholesome, nutritious food.🙋🏼Add in the particular pallets of the little ones and truly it can be a little hard to meet the needs of everyone, right? But I WANT to meet the needs of everyone. I want to be considerate of any and all dietary needs.
Enter this Healthy Fajita Bowl, and it does just that! With its versatility, it's become one of my absolute favorites to make for company. It's basically a large spread of various sides and toppings that can be paired in a million ways to meet the needs of everyone.
WHAT YOU NEED for these Healthy Fajita Bowls:
Seasoned and Cooked Chicken, Steak, or Shrimp (recipe below is for chicken)
Sautéed Onions and Peppers (using coconut or olive oil)
Large pot of Cooked Quinoa
Fresh Chopped Romaine Lettuce
Black Beans (I use organic canned so I don't have to cook)
Shredded Mexican Cheese
Cotija Cheese
Sour Cream
Sliced Avocado
Organic Tortilla Chips
Chopped Red Onions
Chopped Tomatoes
Salsa
Fresh Cilantro
AND other favorite topping or side I've missed
YES, it's  a LOT of bowls and ingredients. BUT, most of it just chopping and prepping fresh vegetables and opening a can or two. The only actual cooking is the meat, quinoa, and onions/peppers. I've found that MOST people, little ones included, like Mexican inspired dishes. The combination of foods above can easily be morphed into a million options that will hopefully meet the needs of each and every guest.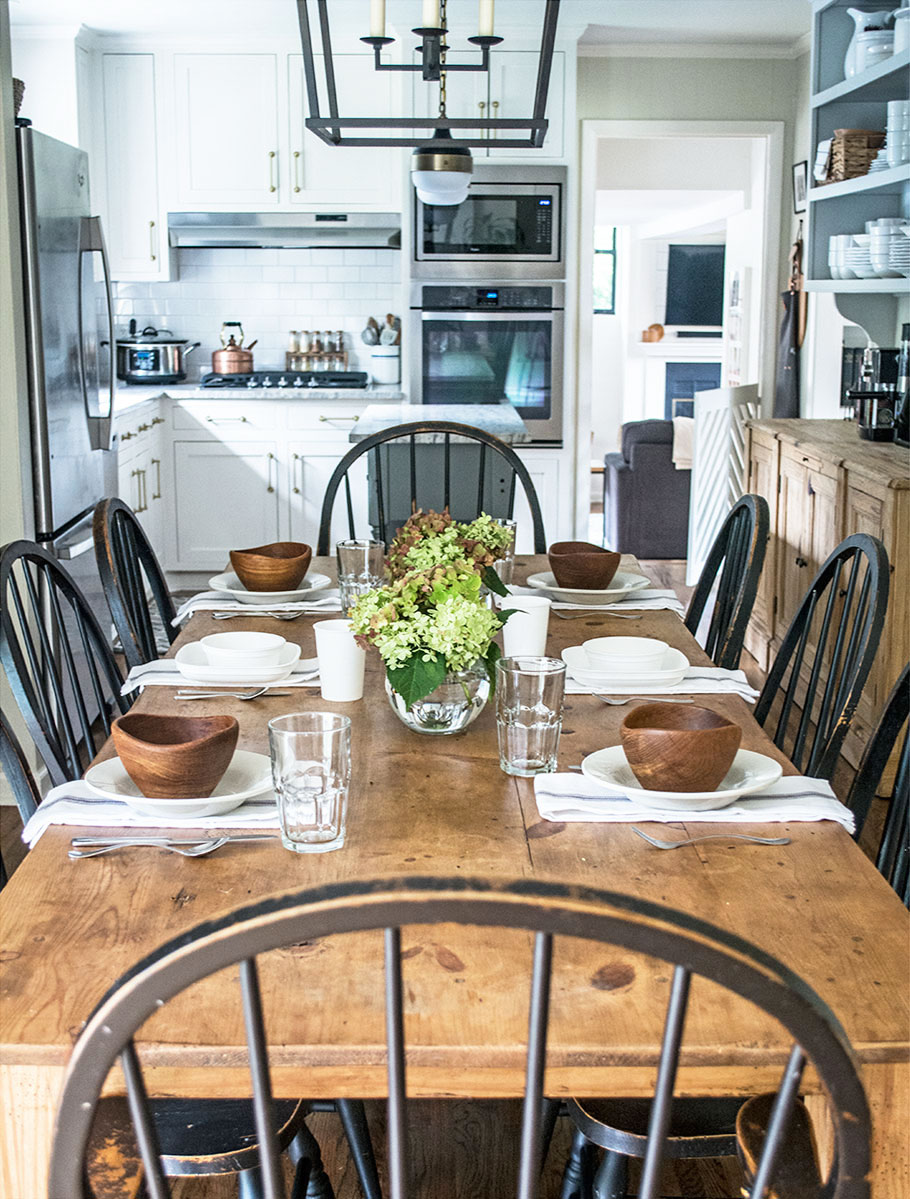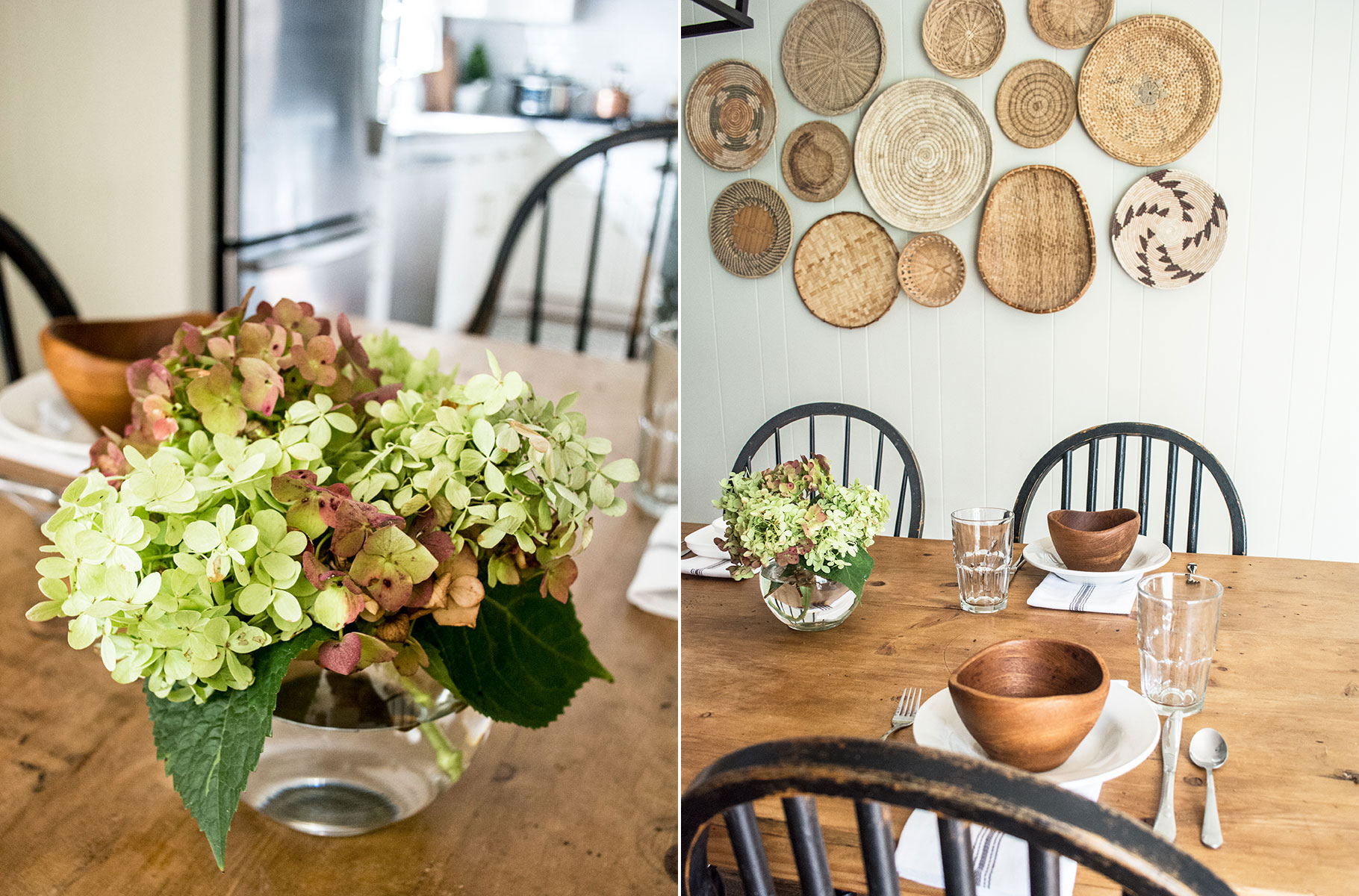 Suggested Combinations for a Variety of Guests:
Meat/Hearty Eaters: Load up on the chicken and quinoa and ALL your favorite toppings.
Vegetarians: Skip the meat and instead, pile high the quinoa, black beans, avocado, cheese, romaine and whatever sounds good.
Gluten-Free: EVERYTHING on the list above is gluten-free, pick your favs and start eating!
Dairy-free/Vegan: Start with the romaine, add in some black beans, avocado, salsa, and sautéed veggies, Top with tortilla chips and you've got yourself a delicious taco salad!
Keto-friendly: Skip the quinoa and beans, start with the romaine, pile on the meat, veggies, sour cream and cheese and dig in!
For Those Particular Little Ones: Mix a bowl of black beans, avocado, cheese, and salsa, stir it up and give them the tortilla chips to dip in it – OR grab a taco size tortilla and make a black bean and cheese or chicken and cheese quesadilla.
Seriously, every time I've made this spread, it's been a winner! With the New Year upon us and everyone looking to get their eating back on track, I hope this gives you a little inspiration for easy ways to host people in your home. OR perhaps a few ideas for various ways to make an easy dinner at home that is sure to satisfy everyone!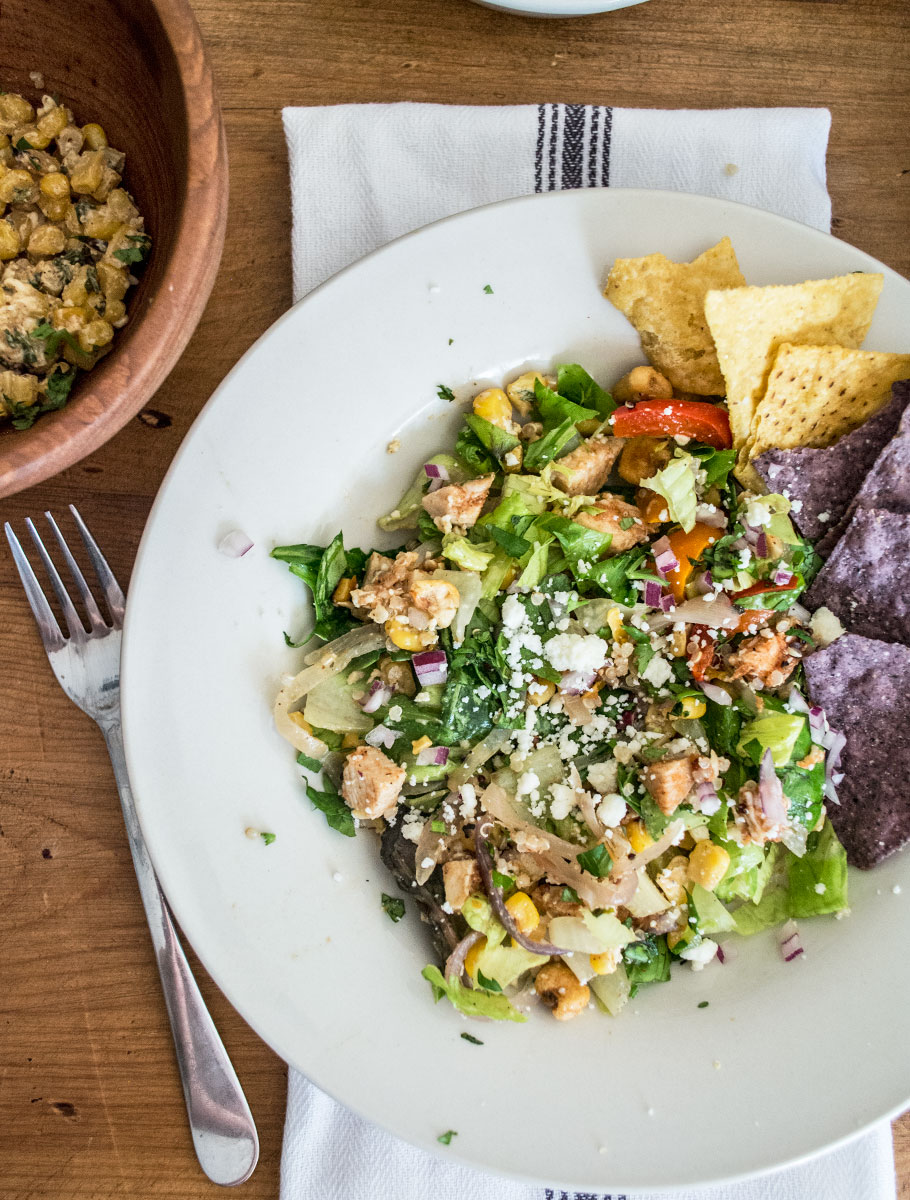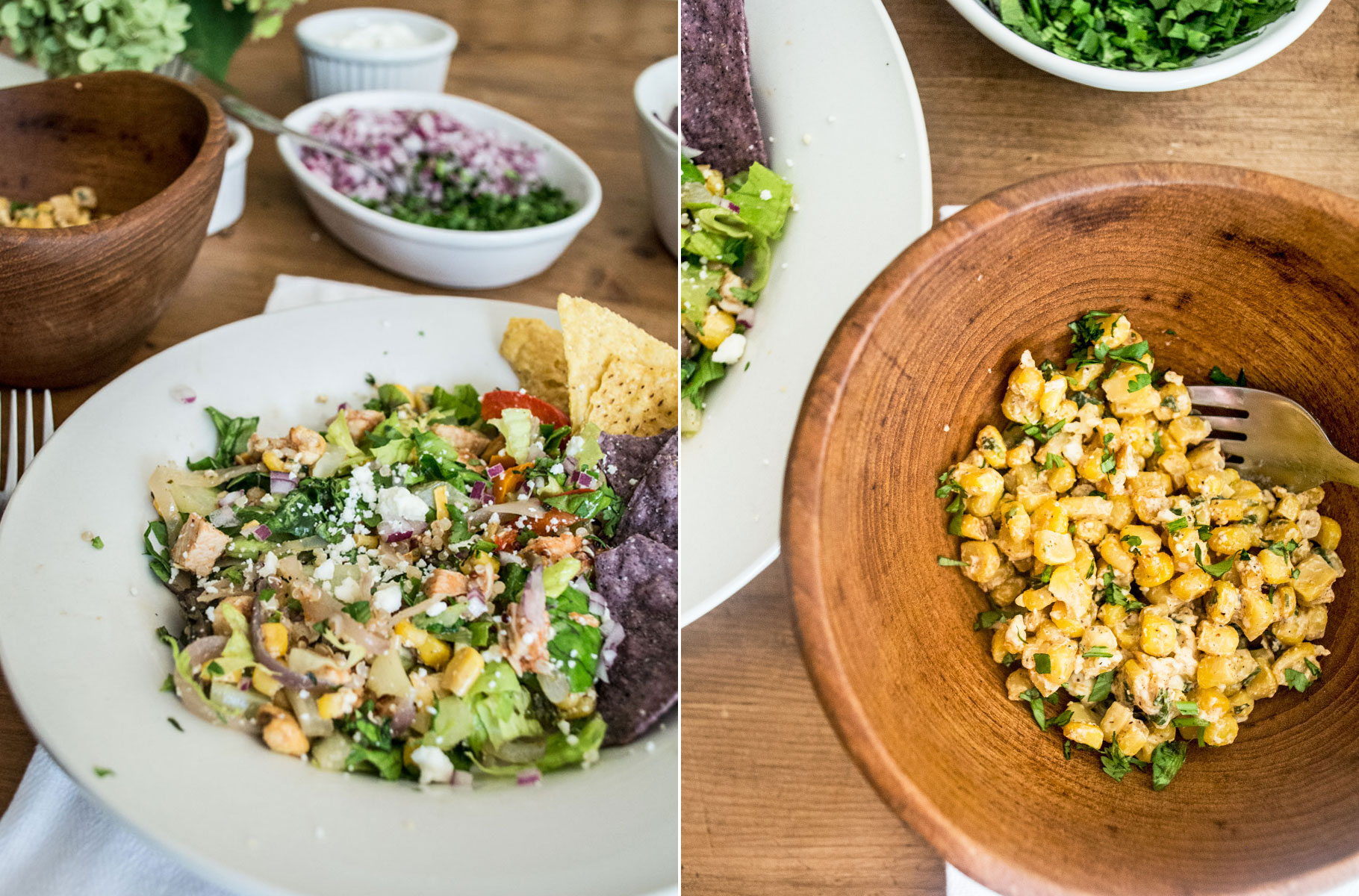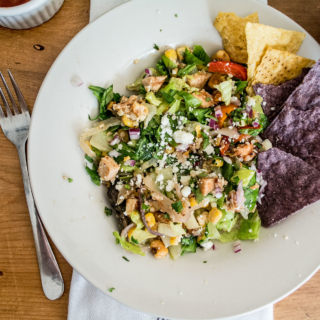 Print Recipe
Healthy Fajita Bowls
These Healthy Fajita Bowls are an absolute favorite of mine for entertaining. With a large spread of fresh ingredients, it's easy to satisfy everyone!
Ingredients
FOR THE CHICKEN:
3

large chicken breasts

1

cup 

roughly chopped sweet onion

2 

cloves

garlic

1-2

chipotle peppers in adobo sauce

1

tsp

dried oregano

1.5

tsp

tsp ground cumin

3/4

cup

canned crushed fire-roasted tomatoes

1/4

cup

water

1/2

tsp

sea salt
FOR THE VEGGIES:
1-2

tbsp

coconut oil

1

large onion

halved and sliced,

1-2

large red, orange or yellow bell peppers

sliced

2

tsp

chili powder

1

tsp

ground cumin

1

tsp

ground coriander

1/2

tsp

garlic powder

salt and pepper to taste
FOR THE QUINOA:
1 1/2

cups

dry quinoa

rinsed

3

cups

water
OTHER FIXINGS:
1

can

organic black beans

rinsed and drained

6-8

cups

romaine lettuce

rinsed and chopped

1-2

cups

shredded cheese

1

cup

cotija cheese

crumbed

2

medium avocados

sliced

1

bag organic tortilla chips
SUGGESTED TOPPINGS: sour cream, salsa, fresh cilantro
Instructions
Add sweet onion, garlic cloves, chipotle peppers, oregano, cumin, fire-roasted tomatoes, water and salt to high speed blender and blend until smooth.

Add chicken breast to slow cooker, pour mixture above over chicken and cook on high for 2-3 hours, or low for 4-5 hours. Check after about 2 hours to see if temperature needs to be adjusted.

Once you are ready to start preparing the rest of the meal, add coconut oil to large pan, followed by sliced onions and pepper and all seasonings, stir to combine and cook over medium heat for 8-10 minutes or until veggies are cooked through. Turn heat to lowest setting until ready to serve.

Meanwhile, add rinsed quinoa to medium pot, along with water, bring to a boil, then reduce to low and simmer approximately 15 minutes. Stir every 5 minutes or so until cooked. Remove from heat

While above items are cooking, add black beans, fresh romaine, shredded cheese, cojita cheese, sliced avocados, tortilla chips and additional toppings to individual bowls. If needed, cover with plastic wrap and return to refrigerator while other items finish cooking.

Once chicken is finished cooking, shred with two forks and add to large bowl, along with the sauce it cooked in.

Add fajita veggies and quinoa to separate large bowls. Line the table or a serving area with all items and allow everyone to make whatever combination they'd like! Enjoy!