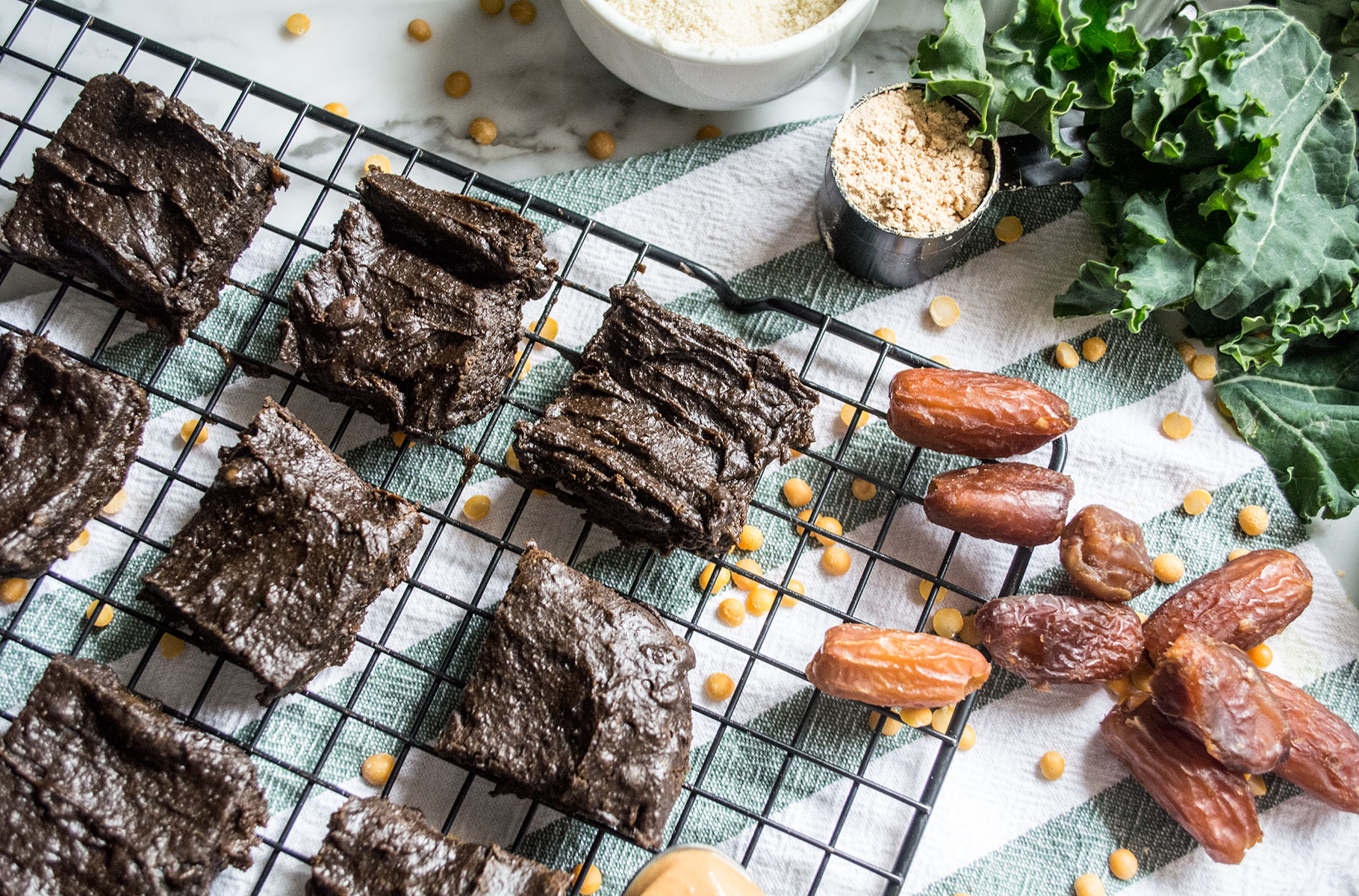 These Superfood Dark Chocolate Protein Brownies are seriously rich and gooey + loaded with 6 grams of protein, 3 grams of fiber and 0 added sugar!
Guys. These brownies. You have to try them. It took me 3 tries, but I think I finally got this recipe nearly perfect. The chocolate flavor is rich and deep, the texture is smooth and gooey, and the prep time is about 10 minutes, 15 tops. They're loaded with hidden veggies, packed with protein, and have no added sugar. 🙌🏻
So you don't have to skip to the bottom, let me give you a quick line up of our ingredients:
dates
peanut butter
almond milk
SPINACH
PEA PROTEIN
Chocolate Peanut butter powder
Honey
Cacao Powder
Almond Flour
That's it. All natural and highly nutritious things.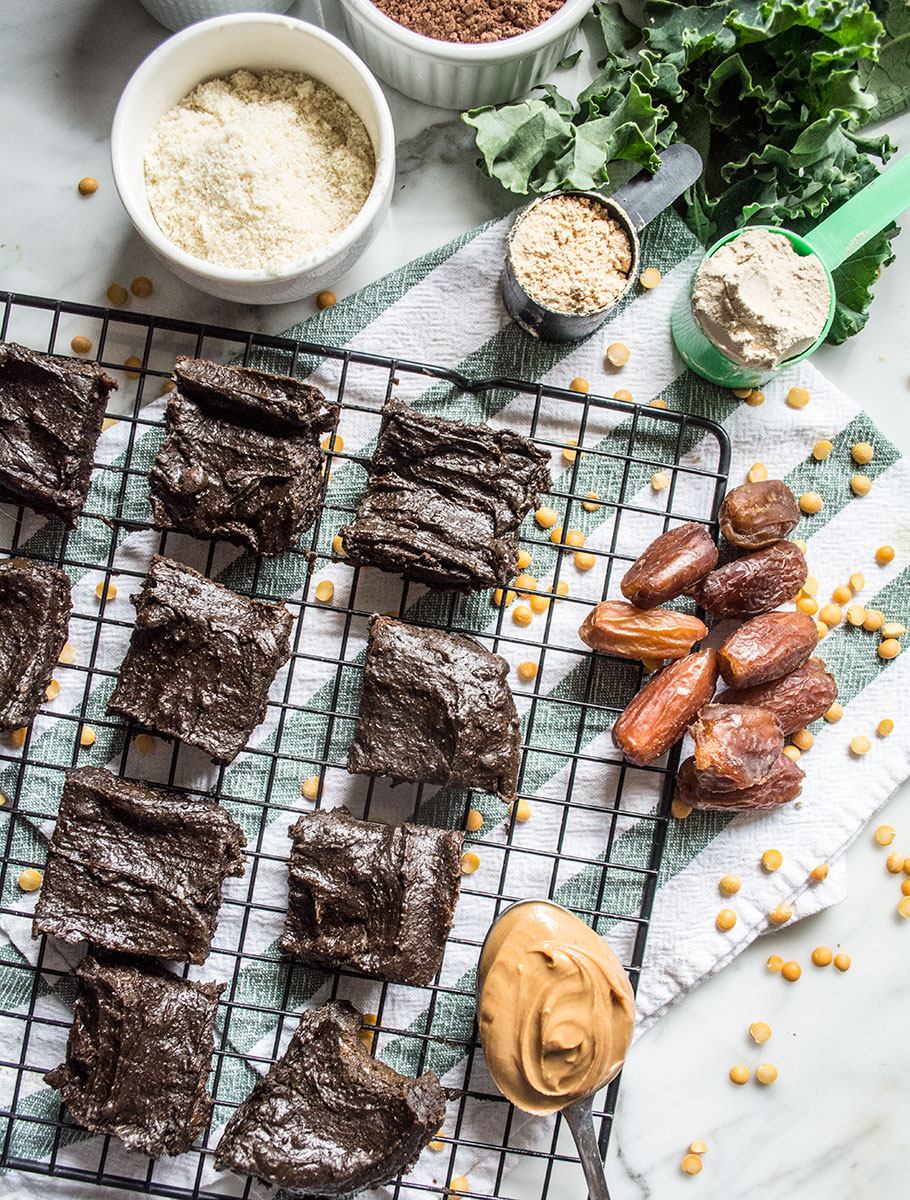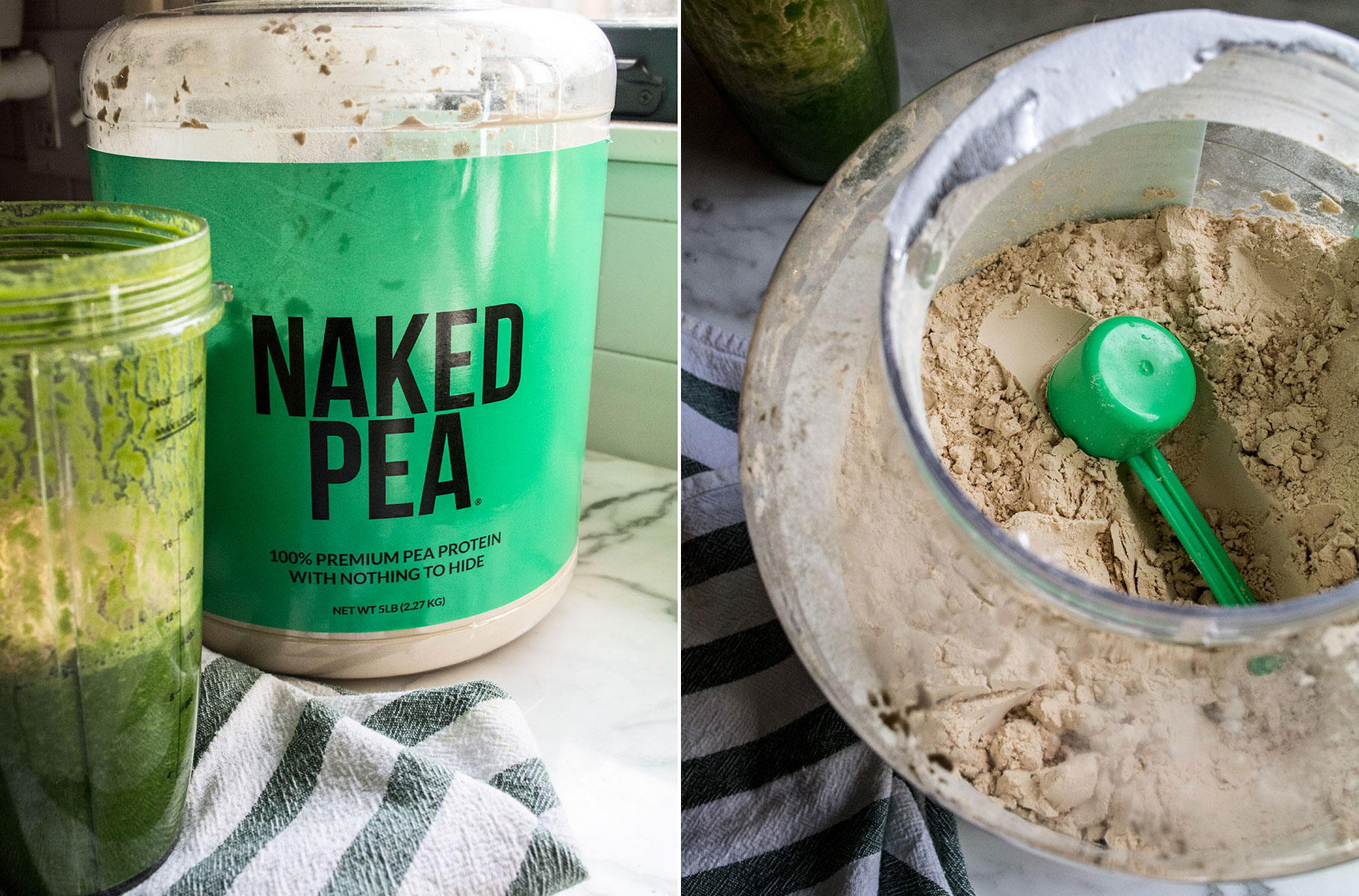 Did you catch those ingredients listed in ALL CAPS? Those are the two reasons we're calling these SUPERFOOD brownies. Because seriously, spinach and peas hidden in our brownies is pretty super. Make these, don't say a word about what's in them, and then try them out on your kids. Or better yet, your husband. If they're anything like my little ones, they'll devour them.
The exact words of my four-year-old upon first bite? "Yummy, yummy in my tummy tummy!" A win for sure!
WHY YOU NEED THESE SUPERFOOD DARK CHOCOLATE PROTEIN BROWNIES:
Hidden veggies – my kids devoured these and so did other kids who are NOT use to healthy sweets!
6 gram protein, 3 grams fiber
Zero added sugar
SUPER rich and fudgy
Gluten-Free
Simple, natural ingredients
Ready in under 45 minutes!
Pea Protein, are you familiar with it? I've only had my own supply of it for a couple months now, but it's been a longtime favorite in several of the natural food bars I buy. And I've loved having it here at the house to throw in smoothies, raw food bars, and now these Superfood Dark Chocolate Protein Brownies.
I've mentioned before I'm just not a huge fan of soy or whey protein. I've used them, but they aren't my favorite for various reasons. However; Pea protein? 100% for it! The pea protein from Naked Nutrition is basically a powder made by extracting the soluble pea protein from peas. Specifically, from yellow split peas. It is not the same as ground peas as most of the starch and fiber is removed. Pea Protein is a great source of protein for all, but especially for vegetarians and vegans. You can read more here.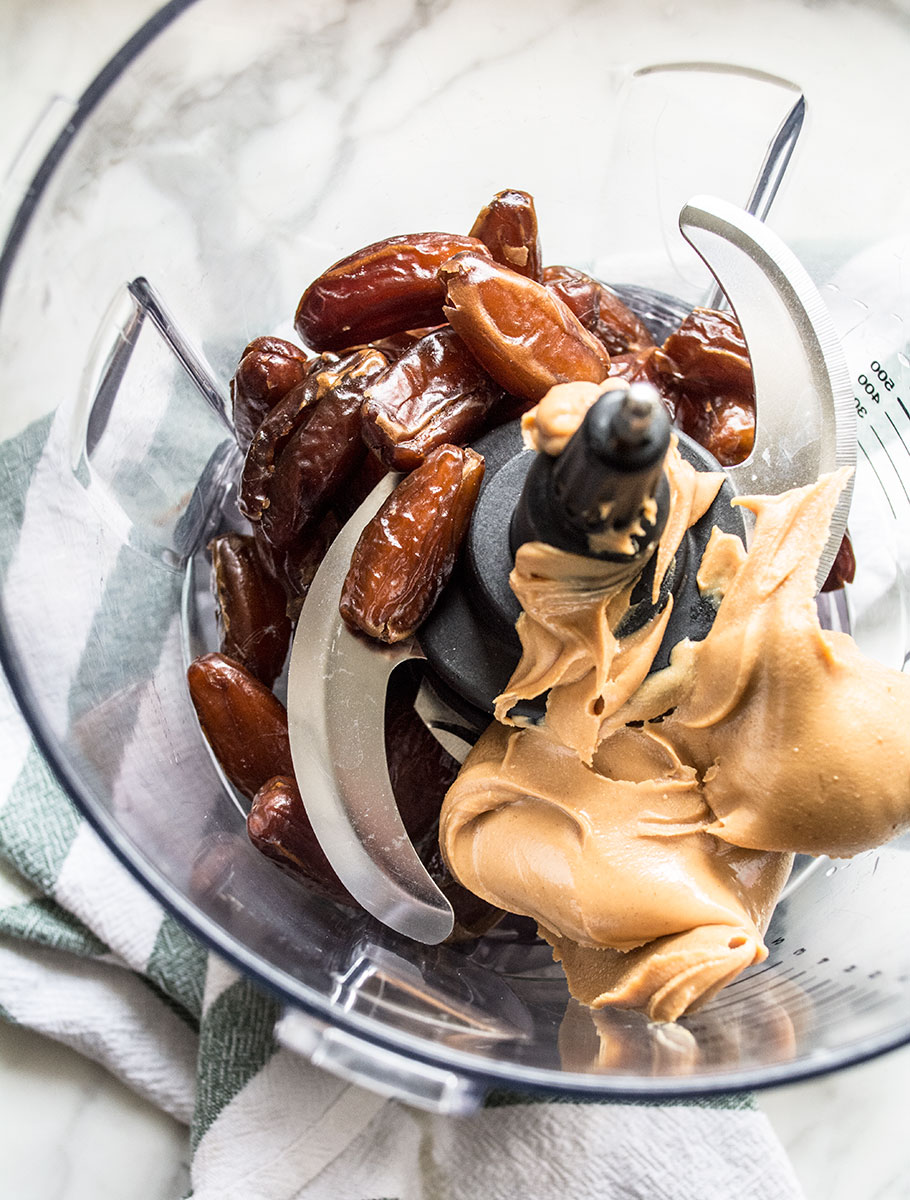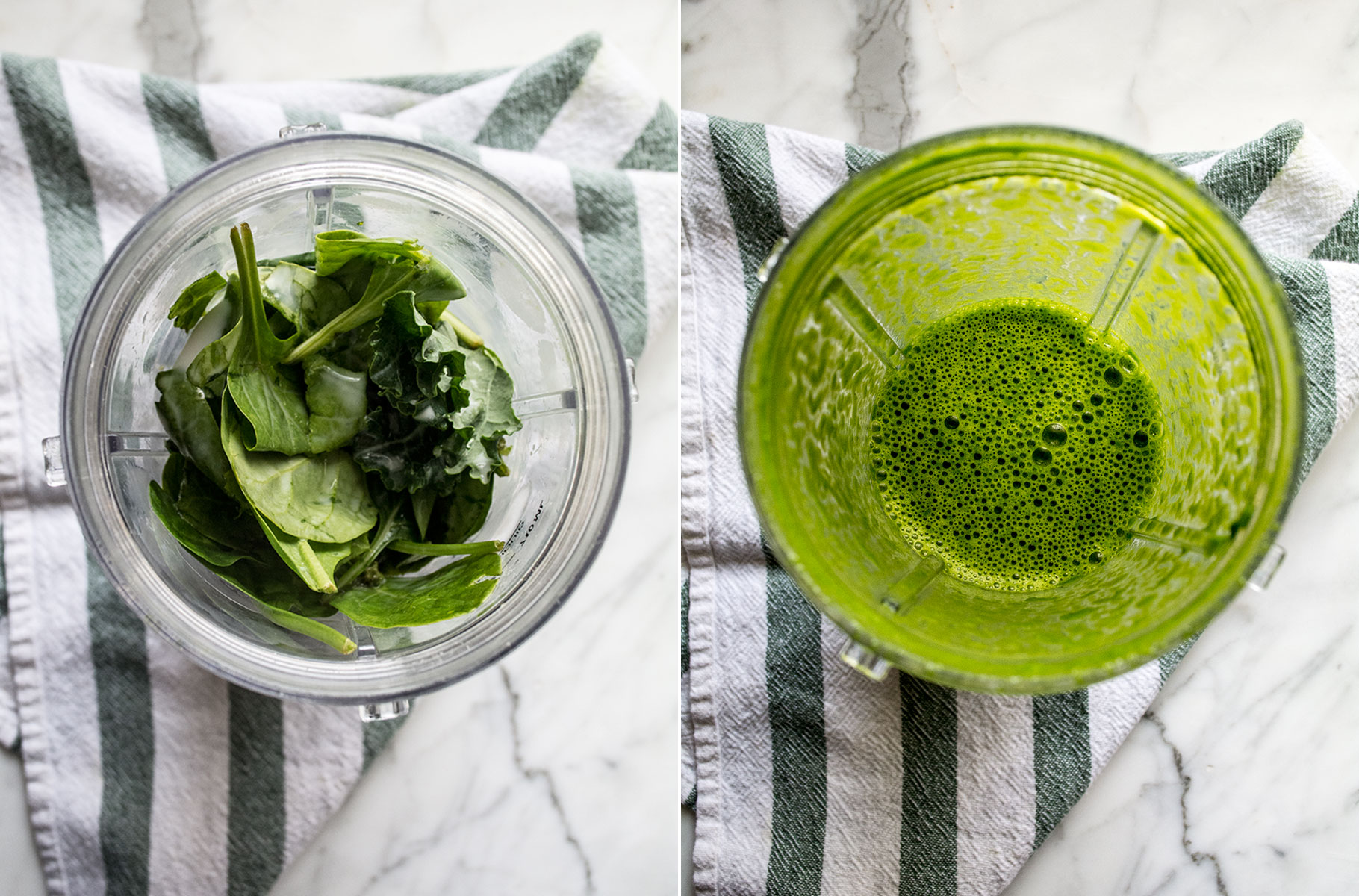 What you Need to know about NAKED Nutrition's Pea Protein:
Exclusively From Farms in the United States and Canada
Vegan
No Artificial Sweeteners, Flavors, or Colors
27 Grams of Protein Per Serving
5.7 Grams of Branch Chain Amino Acids Per Serving
ONE Ingredient: Yellow Pea Protein
Non-GMO, Soy Free, and Gluten Free
Dairy Free
Environmentally-friendly farming practices
BASICALLY YES, YES, and YES!
Take away? Buy some pea protein and make these brownies!! 😋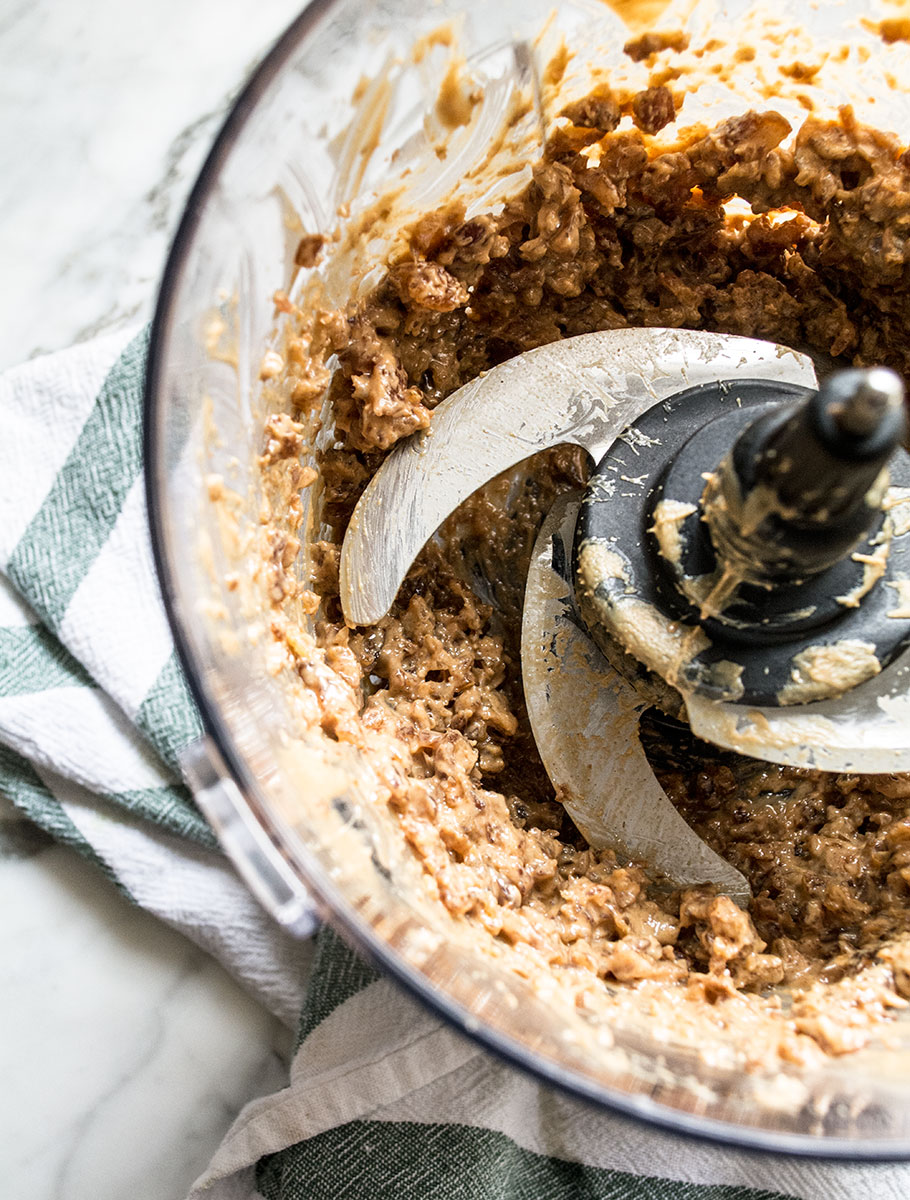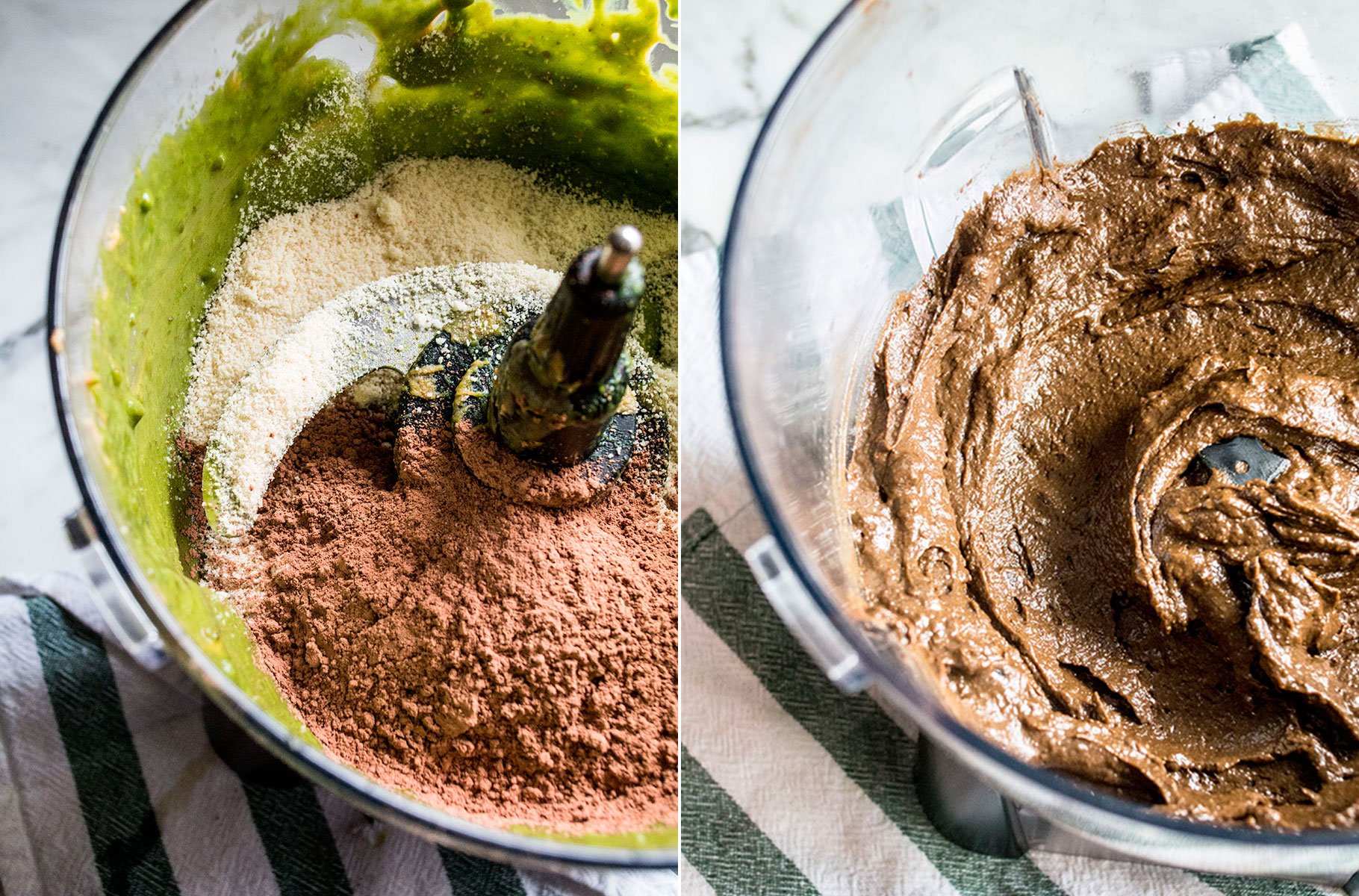 For some of my other favorite brownies and bars full of nutritious ingredients, check out the list below!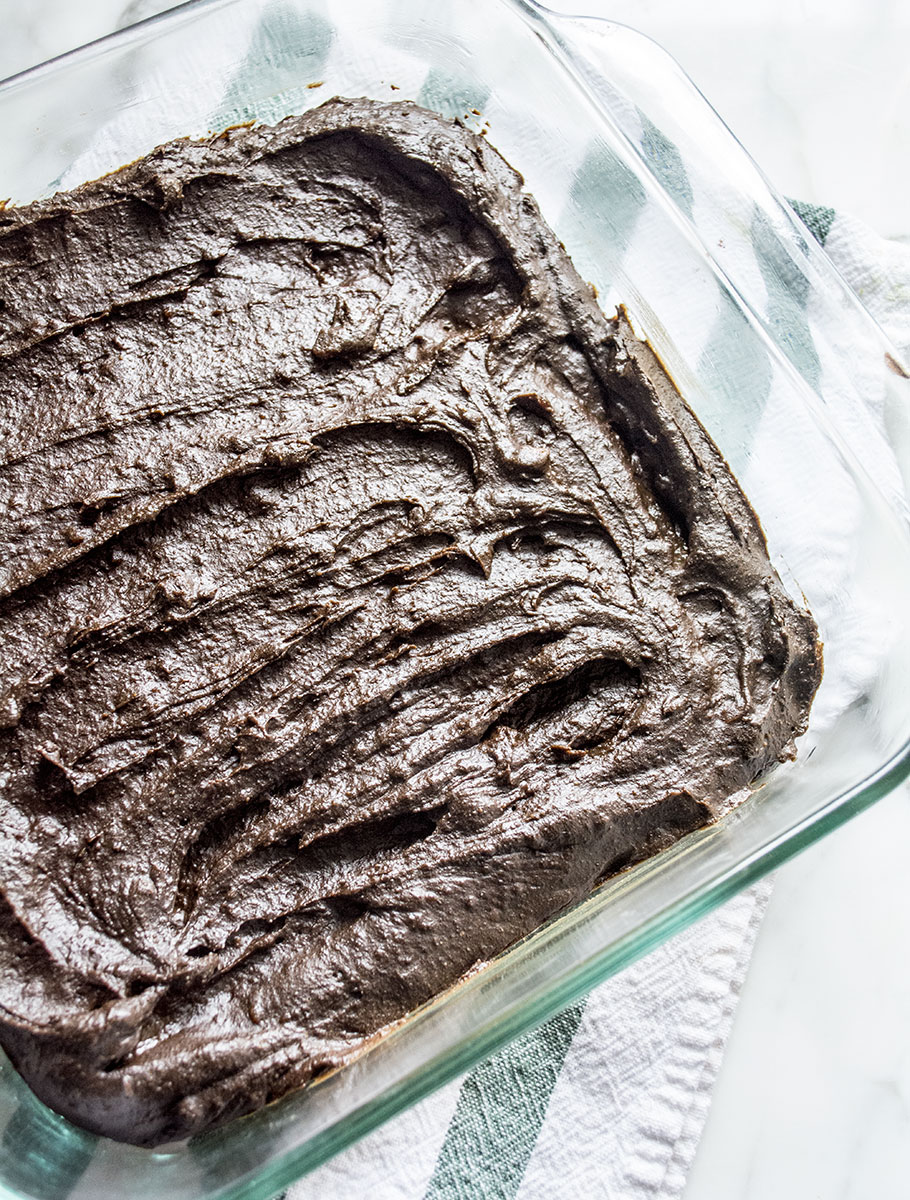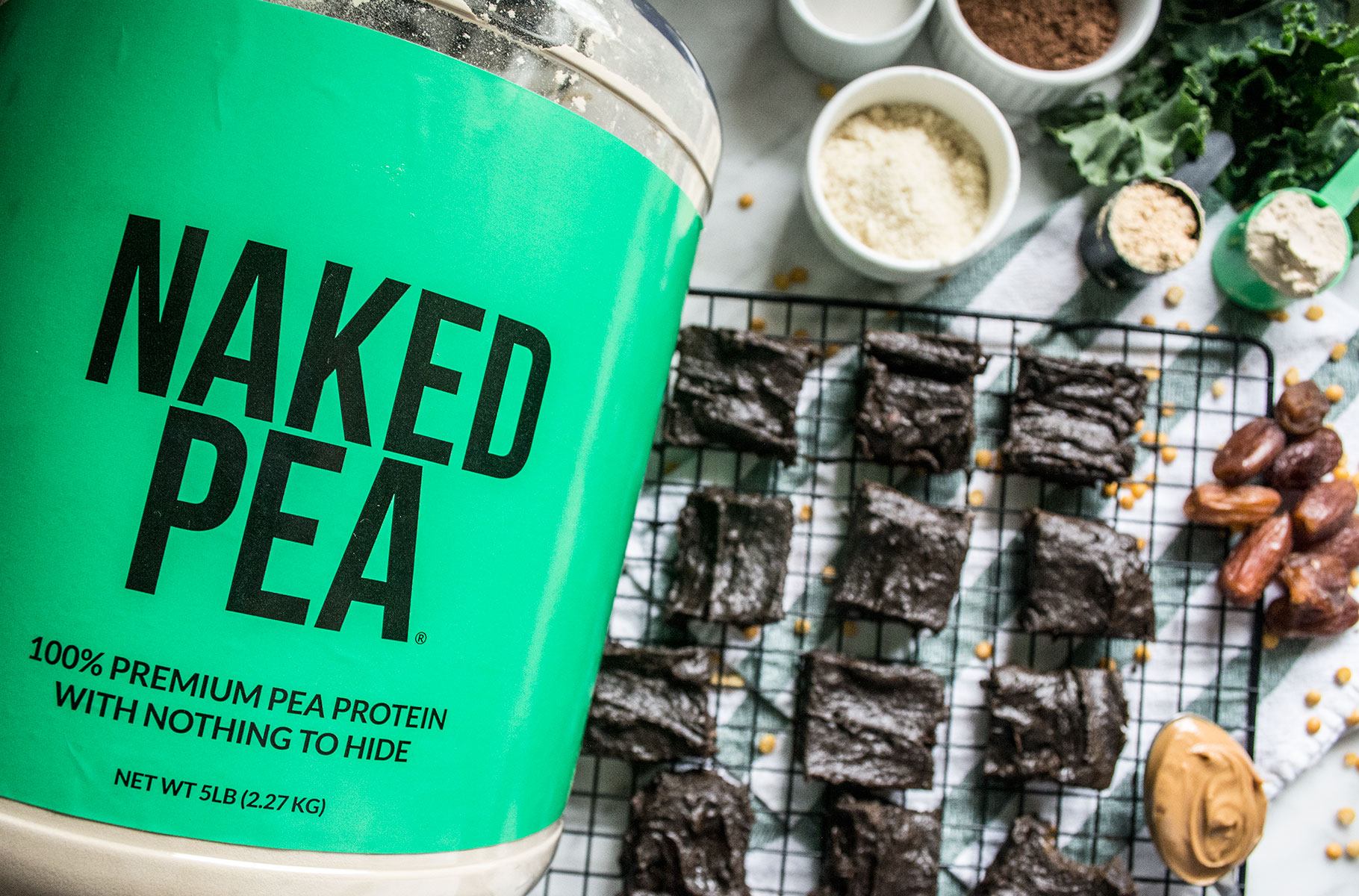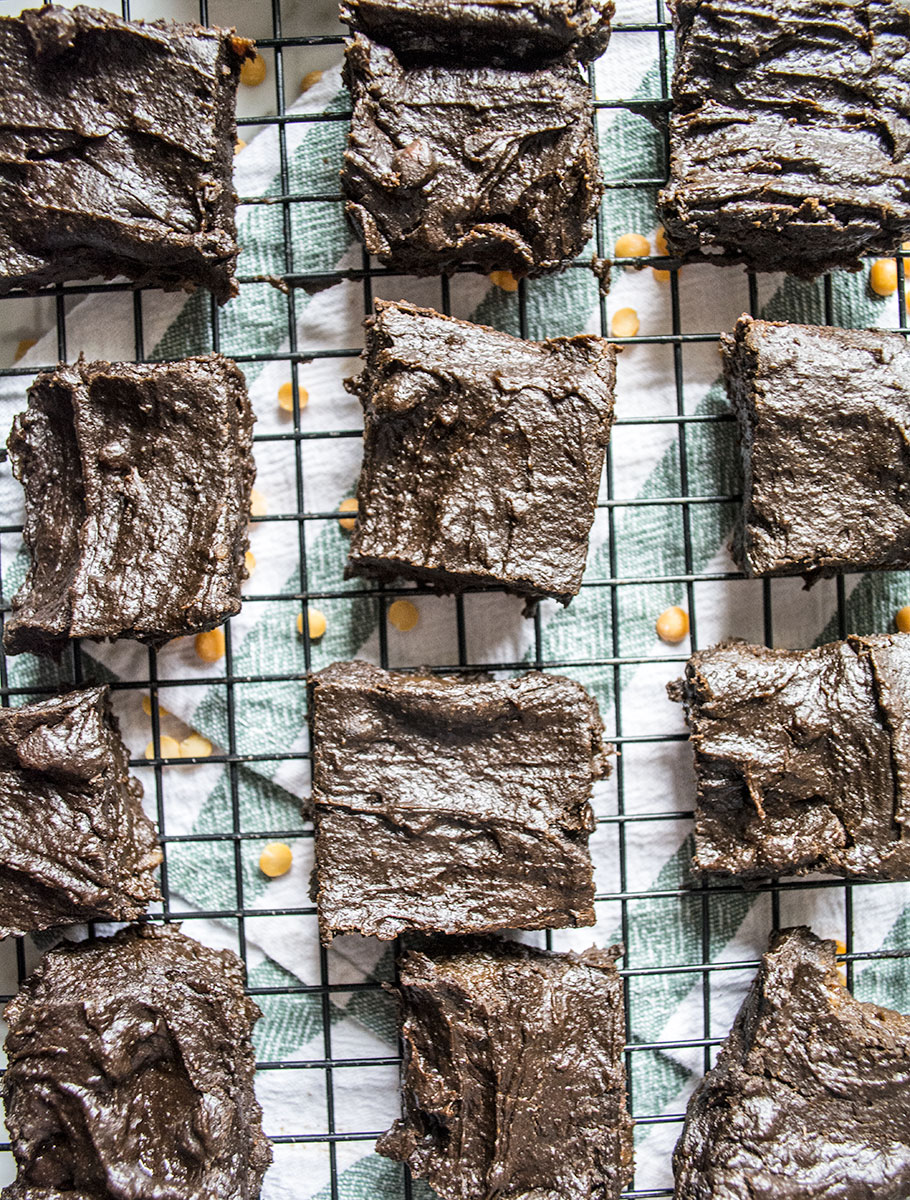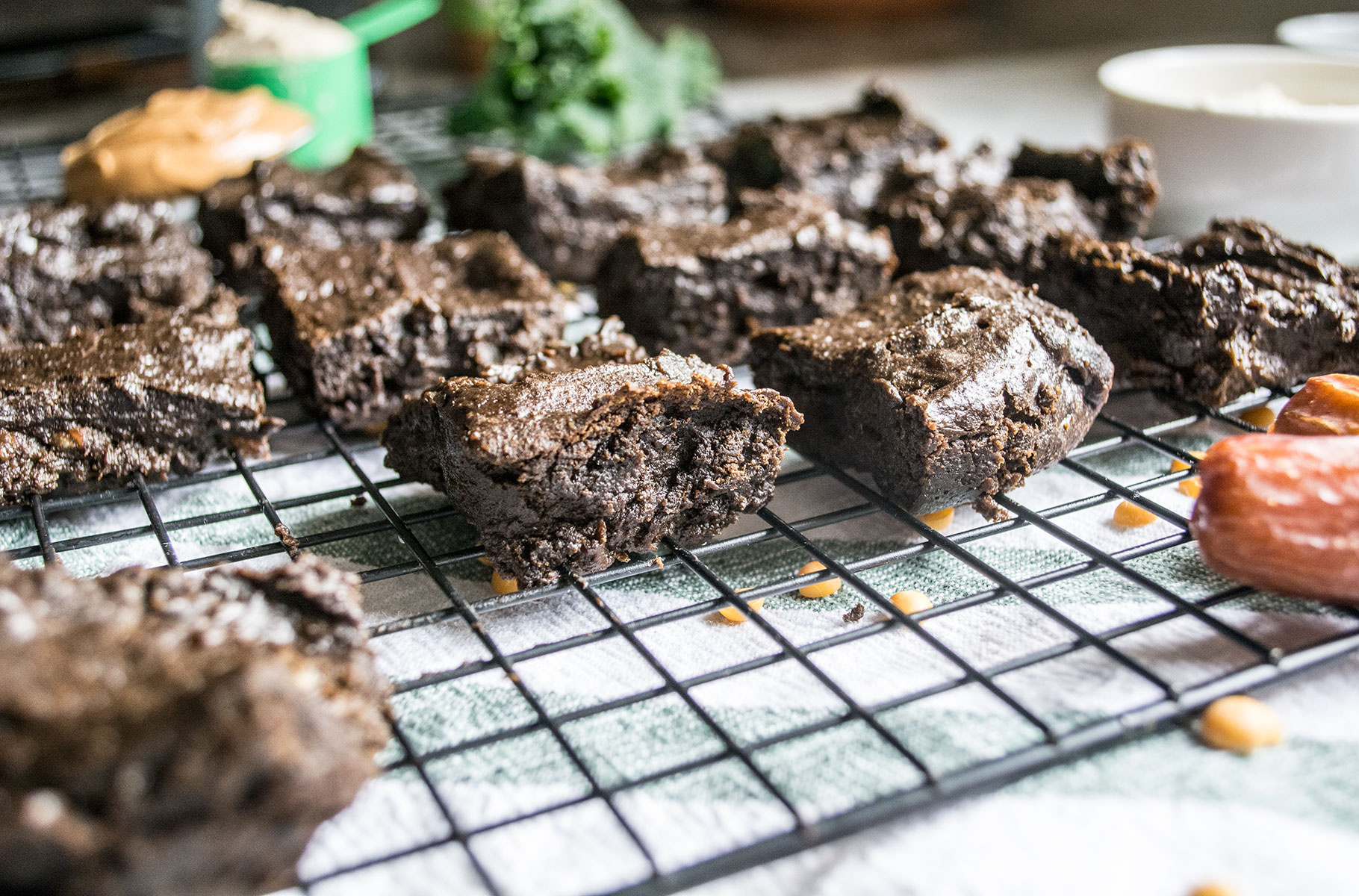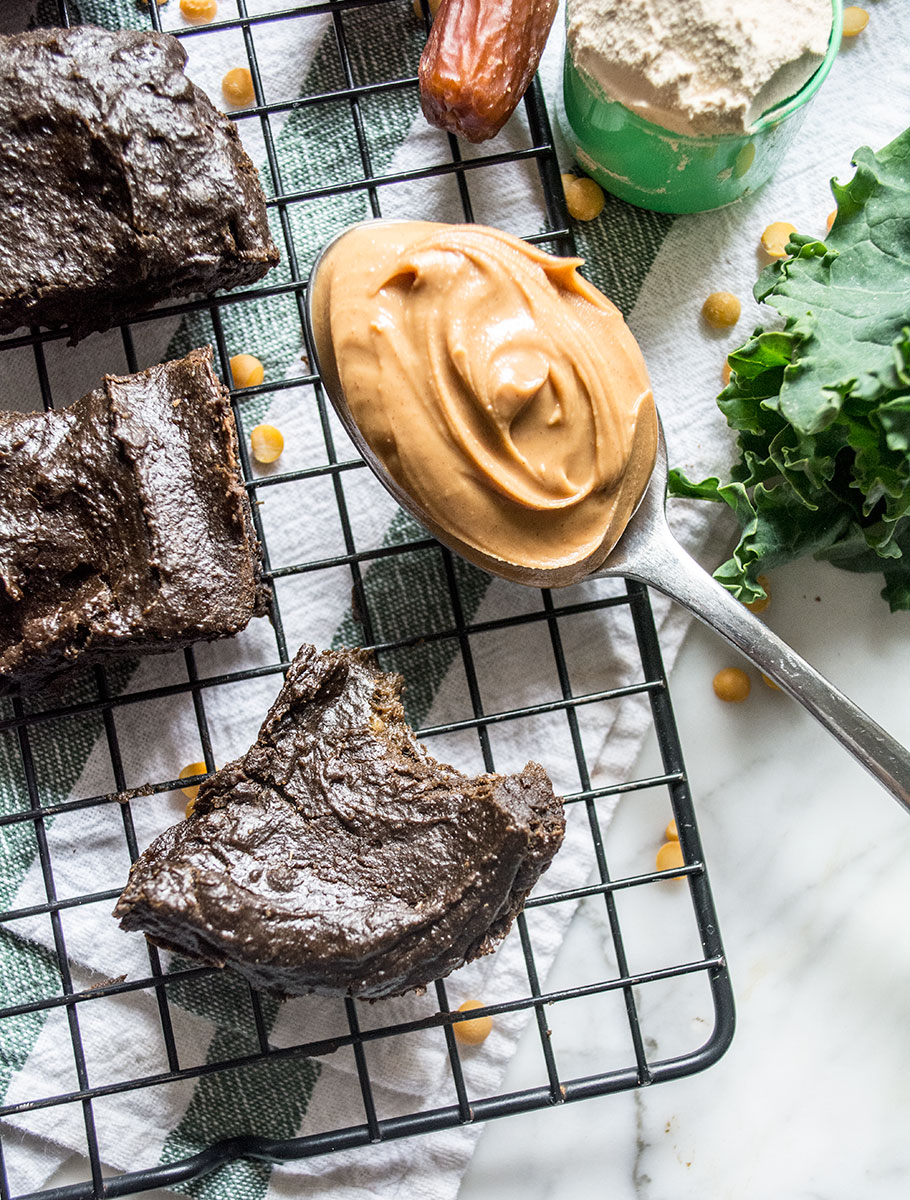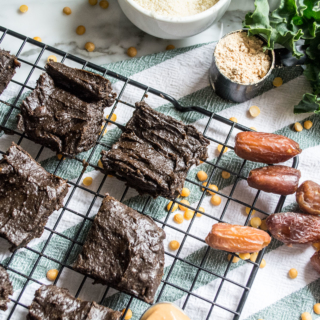 Print Recipe
Superfood Dark Chocolate Protein Brownies
These Superfood Dark Chocolate Protein Brownies are seriously rich and gooey + loaded with 6 grams of protein, 3 grams of fiber and 0 added sugar!

Instructions
Preheat oven to 350 degrees and line an 8x8 glass baking dish with aluminum foil then spray foil with olive oil cooking spray.

Add almond milk, spinach, pea protein, chocolate peanut butter powder, and honey to high speed blender and blend until smooth with no traces of the spinach leaves - approximate 20-30 seconds.

Add dates and peanut butter to food processor and process on high for 20 seconds. Stop and scrape sides, then blend another 10 seconds or so.

Add spinach/milk/pea protein mixture from blender to date and peanut butter mixture, then process 15-20 seconds.

Finally, add almond flour and cacao powder and continue blending another 20-30, stopping to scrape down sides as needed. Texture should be a thick, smooth consistency - see photos.

Add batter to greased dish and bake 18-20 minutes or until toothpick inserted around outer section comes out clean. Allow to cool at least 15-20 minutes before cutting and FULLY cool before storing. (I like to bake mine right at 18 minutes, leaving them a little underdone so they're really fudgy!)

Store at room temperature in air tight container for 2-3 days or refrigerate for up to a week. If stored in refrigerator, allow to come to room temperature before serving for optimal gooeyness. Enjoy!
Notes
If dates are dry, soak in water for 10-15 minutes then drain, prior to using in instructions above.
If you don't have chocolate peanut butter powder, regular peanut butter powder will work. 
Nutrition
Serving:
1
g
|
Calories:
142
kcal
|
Carbohydrates:
18
g
|
Protein:
6
g
|
Fat:
5.5
g
|
Saturated Fat:
0.6
g
|
Polyunsaturated Fat:
0.3
g
|
Monounsaturated Fat:
0.8
g
|
Sodium:
25
mg
|
Potassium:
230
mg
|
Fiber:
3
g
|
Sugar:
12
g
|
Vitamin C:
3
mg
|
Calcium:
4
mg
|
Iron:
3
mg
This post is sponsored by Naked Nutrition, but all opinions are my own. Thanks for supporting the brands that keep Lemons and Basil in action!