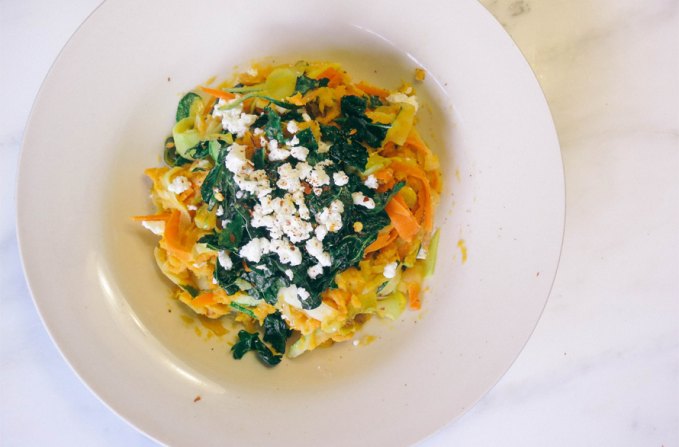 If you are a pasta lover but are trying to reduce the carbs and processed grains, try this Zucchini Pasta dish!
A while back I had been cooking my way through our CSA and when trying to decide what I wanted to create for dinner that night, I remembered the zucchini and summer squash.  I decided to throw a few things together for a pasta dish inspired by some of the Julienne Summer vegetable recipes floating around the web. Some of these dishes included a red spaghetti sauce while others use a little olive oil, salt, pepper and garlic and kept it simple.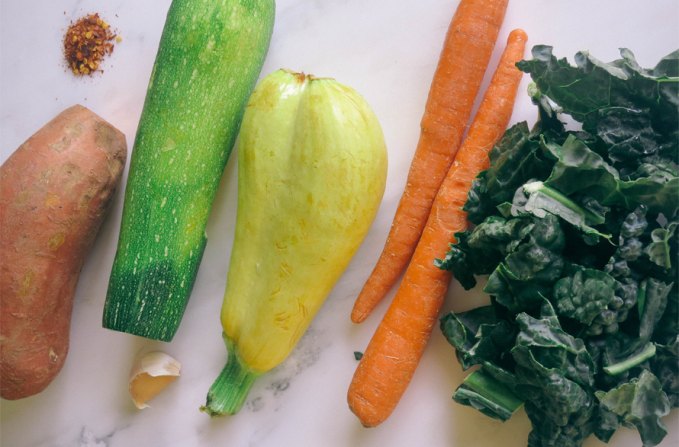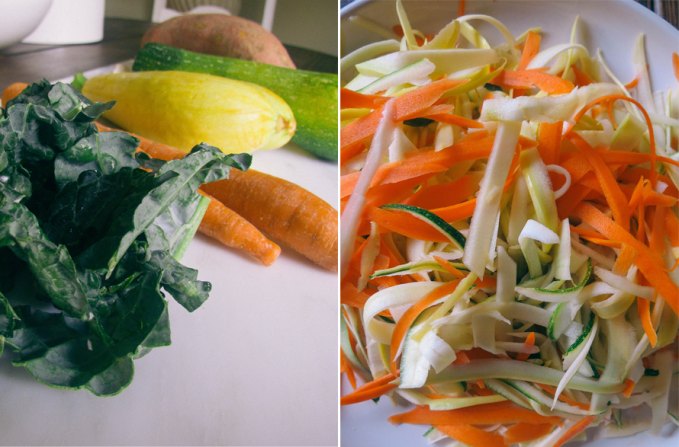 I wanted something a little richer and knew I had some sweet potatoes that needed to be used, plus I use just about any excuse I can find to eat sweet potatoes, so I settled on a zucchini "pasta" dish covered in a sweet potato mash and topped with cooked kale and a little feta. Josh loves spicy foods and being that sweet potatoes are so sweet, I thought a little crushed chili pepper would be the perfect addition. All in all, I'm thrilled with the outcome.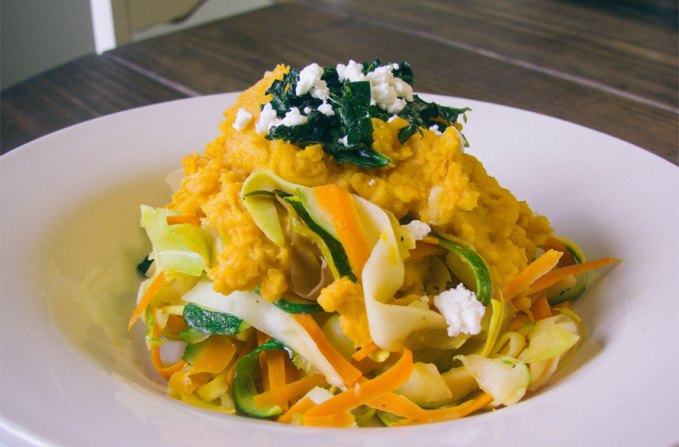 When my meat-loving husband who is really trying to eat clean and cut back a bit on the animal products, looks at me with a big thumbs up and says, "This is a new favorite," I can't help but think, "Yes, a winner!"
Believe me, that is not always the case with my cooking adventures.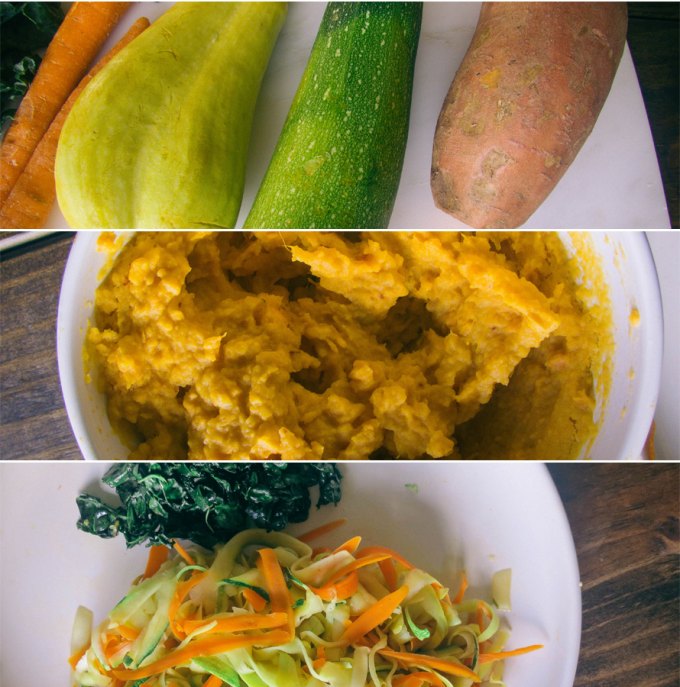 And it's much prettier than regular pasta, look at all those colors! Need some additional incentives to eat this veggie pasta, check out some of the facts below!
BENEFITS OF CARROTS:
Rich in beta-carotene and can help improve vision. It has also been shown to protect against macular degeneration and senile cataracts.
Studies have shown carrots reduce the risk of lung cancer, breast cancer and colon cancer.
The high level of beta-carotene acts as an antioxidant to cell damage done to the body through regular metabolism.  It help slows down the aging of cells.Vitamin A and antioxidants also protect the skin from sun damage. Vitamin A prevents premature wrinkling, acne, dry skin, pigmentation, blemishes, and uneven skin tone.
BENEFITS OF ZUCCHINI/SUMMER SQUASH:
Zucchini is rich in vitamin C, the body needs vitamin C to make collagen, a protein necessary to build bone, skin, cartilage, tendons and ligaments.
Vitamin C also acts as an antioxidant, meaning it protects the cells in the body from the harmful effects of free radicals.
Zucchini contains a useful amount of folate, also known as vitamin B9, which helps the body produce and maintain new cells.
BENEFITS OF KALE:
Kale is a nutritional powerhouse, high in calcium, vitamins A, C and K. It's also a good source of minerals, such as potassium, iron, and manganese.
The fiber content of kale helps lower blood cholesterol levels and reduce the risk of heart disease, especially when kale is cooked instead of raw.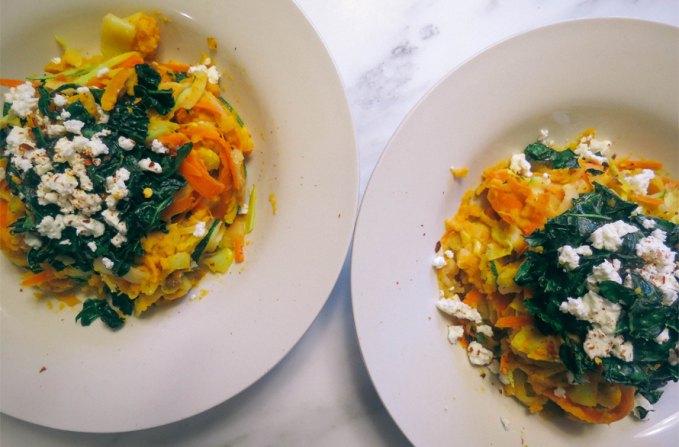 Give it a try and let me know what you think!
Print Recipe
Zucchini Pasta with Sweet Potato and Kale
Zucchini and Squash Pasta with seasoned sweet potato mash and kale
Ingredients
1

zucchini

1-2

summer squash

2

whole Carrots

1

large sweet potato

2

cups

chopped kale

1/2

cup

almond milk

2

tbsp

feta cheese

1

garlic clove

minced

1

tsp

chili pepper
Instructions
Use vegetable peeler to peel/shave zucchini, squash and carrots into a pasta consistency. If you have a mandolin, use it!

Chop kale into small pieces and mince garlic, set aside.

Cook sweet potato in microwave or peel, cube and boil on stove top until soft.

While sweet potato cooks, add all shaved vegetables to pan, spray with a little coconut oil nonstick spray and cook until tender (like pasta).

Once sweet potato is cooked, discard of any skins if left from microwaving, and mash well. Add in half of minced garlic, almond milk and 1/4 tsp crushed chili pepper.

Once the shaved veggies are soft, remove from pan and set aside, add kale to same pan and cook until nearly crispy.

Add your seasoned sweet potato mash to your veggie pasta and stir until well combined. Dish the Sweet Potato Zucchini pasta out on each dish and top with cooked kale, feta cheese and remaining chili pepper - serve and eat!
Notes
* If you love this recipe as much as we did, you may want to invest in a mandolin! *Nutrition Info was figured using MyFitnessPal
Nutrition
Serving:
1
g
|
Calories:
225
kcal
|
Carbohydrates:
44
g
|
Protein:
11.8
g
|
Fat:
1.2
g
|
Saturated Fat:
0.1
g
|
Polyunsaturated Fat:
0.5
g
|
Cholesterol:
1.5
mg
|
Sodium:
313.3
mg
|
Fiber:
9.7
g
|
Sugar:
17.4
g
Nutrition info gathered from WebMD, LIVESTRONG, and Care2