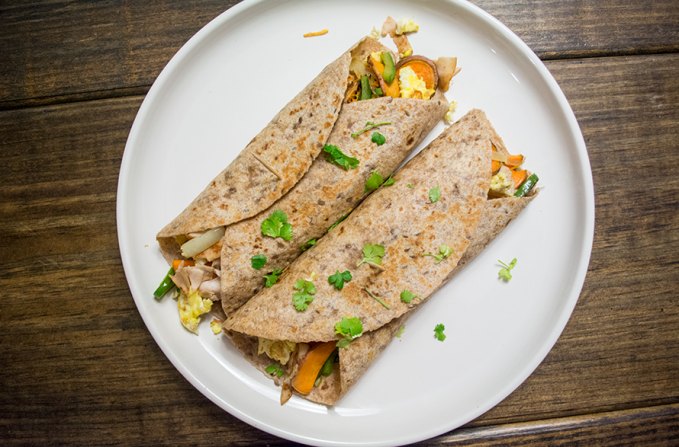 There is absolutely nothing new, great or overly creative about these Easy Breakfast Burritos. But not all meals need to be new, great, or overly creative, right? Sometimes meals just need to be a little hearty, a little comforting, and a lot of tastiness. And that is what these burritos are. Not to mention they are made with ingredients I keep on hand regularly and create a dish that comes together quickly.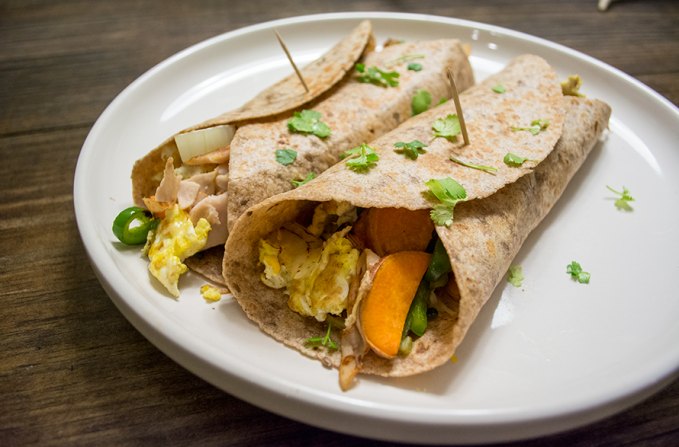 As I mentioned in my About page, I work full-time as an interior designer. I love my job, but because I love my job, it's quite often that I'm leaving the office late and not getting home before 6:30-7pm. So quick fixes like this are essential, they allow us to eat a fairly healthy, balanced meal even with our hectic schedules. I've found, through conversation with family and friends, that a lot of people often pick up take-out or go out to eat on a regular basis, simply because they don't feel like they have time to cook something at home.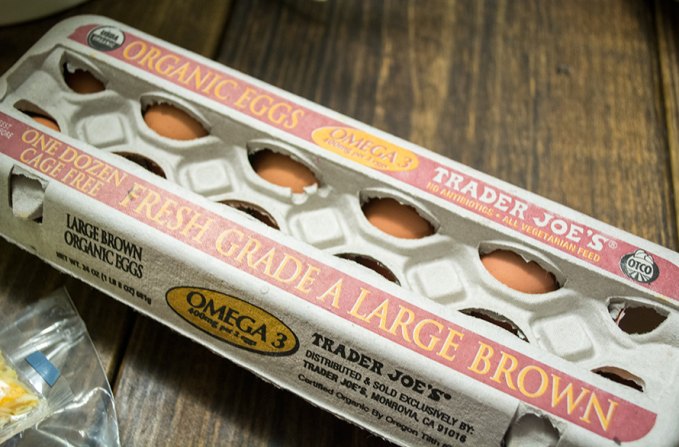 And who can blame them? As Americans, we seem to all be constantly on the go. We feel obligated to be, do, and commit to more things than our plate can typically handle. But we only have one body and it's our responsibility to take care of it, to provide it with balance, proper rest and the nutrition it needs. I think it's safe to say that while restaurants and fast-food chains are making an effort to add healthier items to their menus, cooking something from home, knowing the quality of the oils, vegetables, meats, etc that are used, is the better way to go.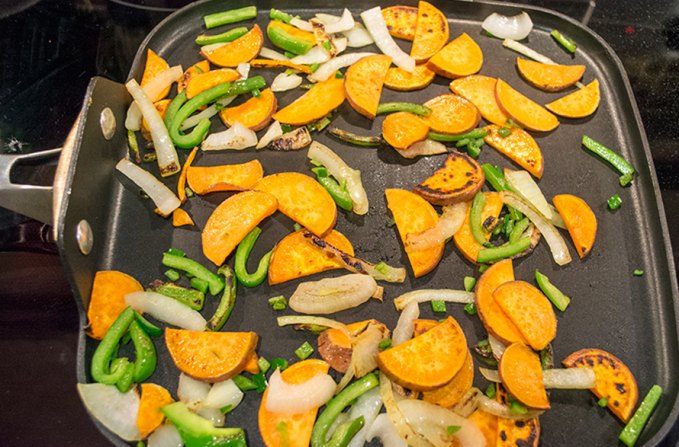 So while I thoroughly enjoy experimenting with a variety of vegetables, fruits, whole grains, legumes, etc, I often save my experimenting for the weekends. When life slows down just a tad and allows time for a little piddling around in the kitchen with my cutting board and camera. Part of my hope through Lemons and Basil, is to provide you with healthy meal ideas that can be made quickly, and with a lot of nutritional value for you and your family.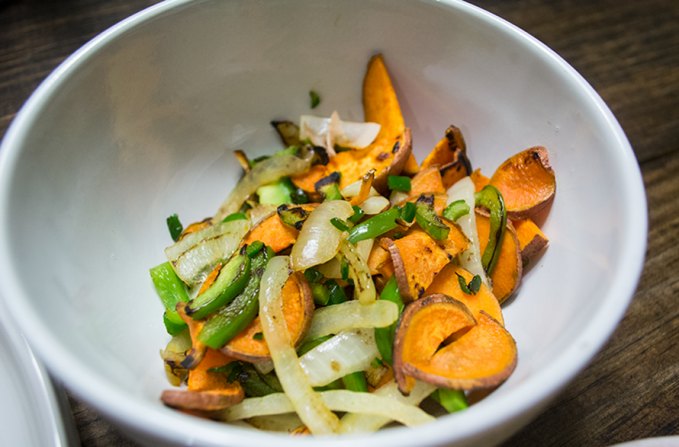 With that said, I did indeed make these easy burritos on a week night, when I was working late, which also means the sun had set (no natural light) and my pictures were rushed, because lets face it, we were hungry! So please forgive the sub-par pictures!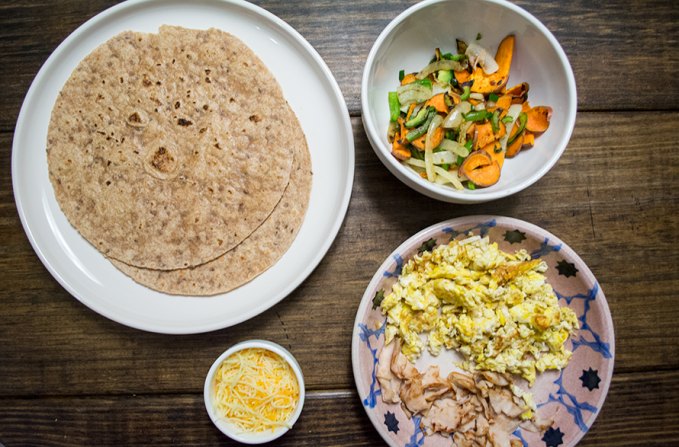 Josh and I don't eat a ton of meat at the house, but we are by no means vegetarian. We typically get our protein in the way of beans, nuts, and lean meats such as the turkey shown in the picture above. We are very fortunate to live near a Trader Joe's that does a lot of the work for us, stocking meats like this turkey that contain no antibiotics, nitrates, nitrites, or MSG and are vegetarian fed. Trader Joe's is also a great source for the other items used in these burritos, including the organic eggs, whole grain tortillas with oats and flaxseed, and shredded cheese where no growth hormones are used.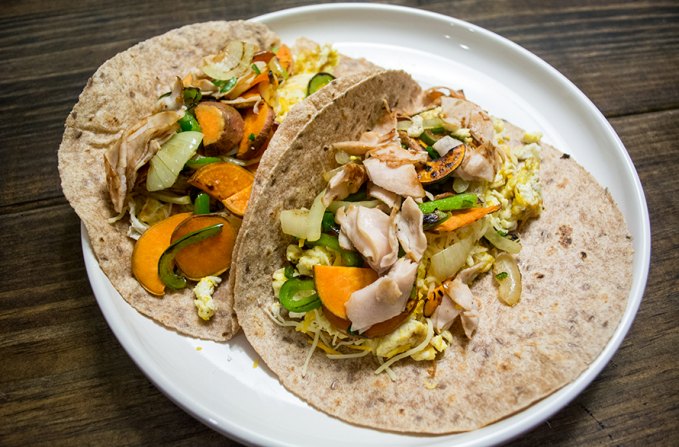 I didn't calculate the nutrition info for these burritos simply because there are so many variable based on what size eggs you use, how much cheese you add, the nutritional information of your tortillas, etc.
I hope this helps inspire you for some quick, healthy meals you can easily prepare for you and your family! What sort of staples do you keep on hand that can be used? I'd love to hear from you!
For a few other time-friendly meal ideas, check out the recipes below:
Zucchini Pasta with Sweet Potato and Kale
Basil Pesto Chickpea Sandwiches
Healthy Mexican Stuffed Sweet Potatoes
Baked Patty Pan with Sweet Potato and Kale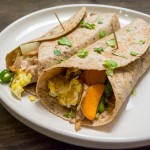 Print Recipe
Easy Breakfast Burritos
Breakfast (or dinner!) Burritos full of eggs, sweet potatoes, peppers, onions and shredded cheese.
Ingredients
2-4

organic eggs

2

whole grain tortillas

2-4

slices

turkey deli meat

chopped

2

small sweet potatoes

sliced small

1/2

large onion

sliced

1/2

bell pepper

sliced

1/4

cup

shredded cheese

Fresh herbs

chopped
Instructions
Add sliced sweet potatoes, onions and bell peppers to pan on stove top and cook until tender. Season with a bit of salt and better. Set aside.

Add chopped deli meat to same pan and cook until warmed and slighly brown. Set aside with cooked vegetables.

Add desired number of eggs to same pan and scramble until done.

Spread out veggies, eggs and Turkey (if desired) down center of each tortilla, sprinkle with shredded cheese and any additional seasoning, wrap up and place back on cooktop for a minute or two on each side to toast the tortilla.

Sprinkle with fresh herbs, serve immediately.