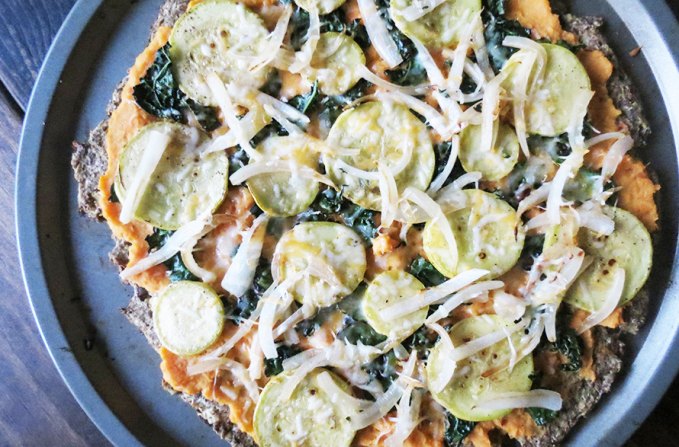 Who knew cauliflower was so versatile? From cauliflower pizza crust to cauliflower Alfredo sauce to cauliflower steak, the options seem to be endless! I first came across a low carb cauliflower pizza crust similar to this one a few years ago when looking for a healthier pizza option. I've made it several times over the years and Josh and I both really like it. Cauliflower is also a great choice for people who are on low carb diets!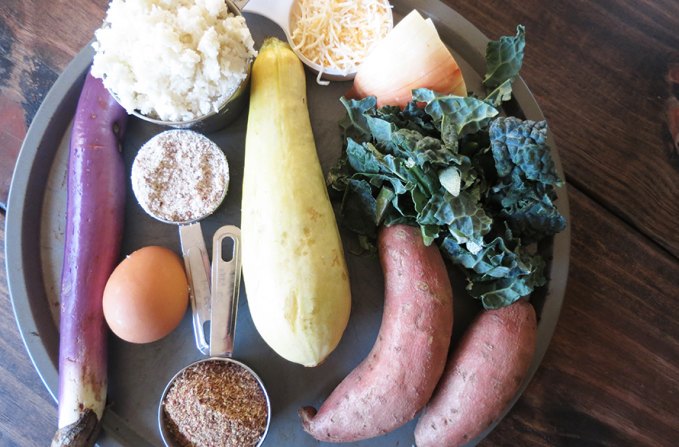 This modified cauliflower pizza crust came as a result of wanting to make a veggie crust, that wasn't loaded with cheese, AND needing to use up some veggies from my CSA. As I mentioned before, I've had lots of eggplant this year in my CSA and have been trying to come up with different ways to use it outside of the norm. Much like the initial cauliflower crust recipe, this one does not hold up like a traditional pizza crust but is better eaten with a fork. I've read a few tricks on various blogs about draining the moisture from the cauliflower to create a crust that holds together a bit better and allows you to pick the pizza slice up. I haven't tried any of these tricks as this point, because I really don't mind eating it with a fork.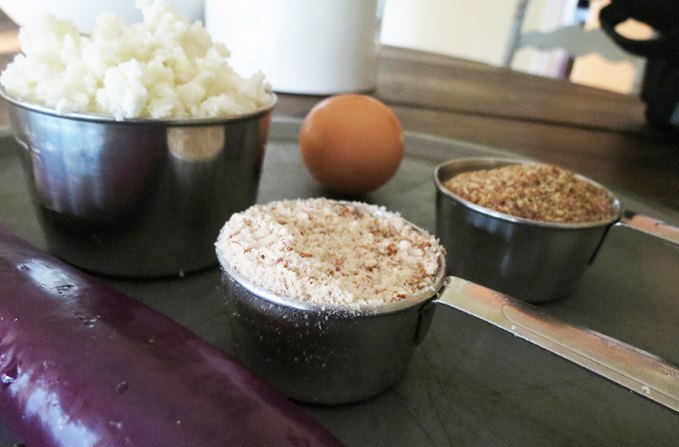 The great thing about this modified crust is that I've added almond meal (protein) and flaxseed (omega-3 and fiber) to boost the nutritional value!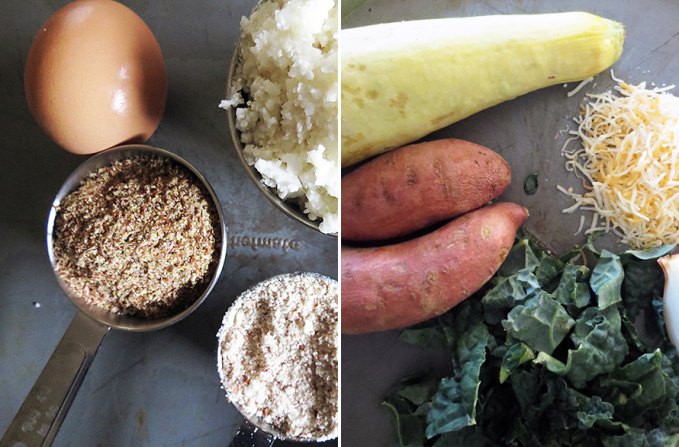 More sweet potatoes?? I know, I know – but they are so good for you and SO tasty. Much like in my Zucchini Pasta with Sweet Potato and Kale recipe, I added almond milk to the mash, which helps thin the mixture and adds a bit of sweetness. The chipotle pepper add a perfect little smokey kick to the dish.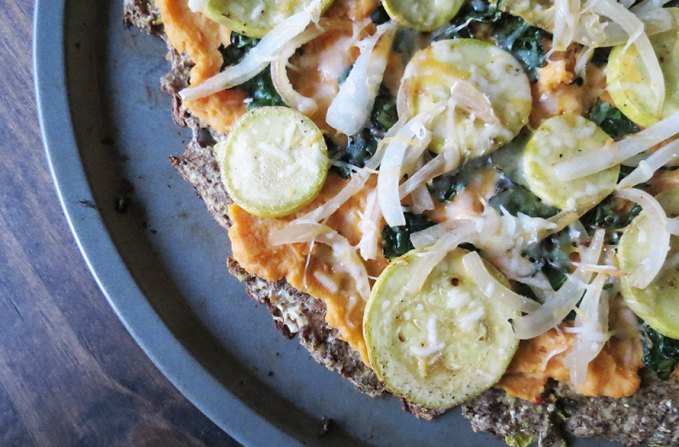 I used yellow squash, onions and kale with a bit of shredded cheese as my toppings (thinking they would pair nicely with the sweet potato mash AND THEY DID!), but you could definitely go a more traditional route and use a tomato based pizza sauce, with whatever veggies and/or meat toppings you prefer.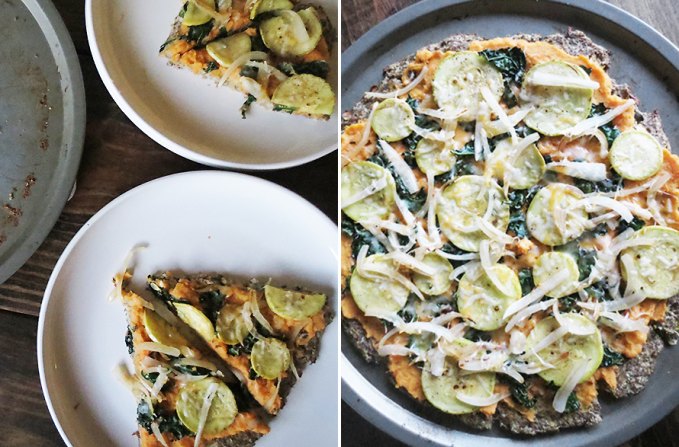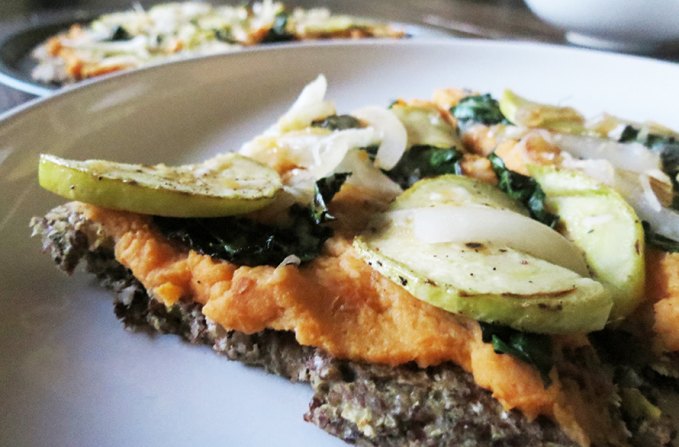 BENEFITS OF CAULIFLOWER:
Studies have linked cauliflower to prevent against bladder cancer, breast cancer, colon cancer, prostate cancer, and ovarian cancer.
Cauliflower contains 

detoxification activities and sulfur-containing nutrients to boost the body's detoxification of unwanted toxins.

As an excellent source of vitamin C, and a very good source of manganese, cauliflower provides us with two core conventional antioxidants.
As an excellent source of vitamin K, cauliflower provides us with one of the hallmark anti-inflammatory nutrients.
The fiber content of cauliflower—nearly 12 grams in every 100 calories—makes this cruciferous vegetable a great choice for digestive system support.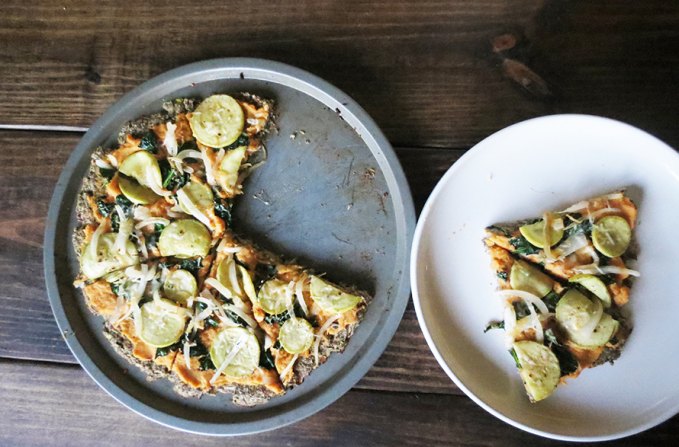 This pizza dish is definitely unique, but it packed a lot of good nutrition and we really liked it! I hope you'll give the crust a try or at least a variation of it, let me know if you do!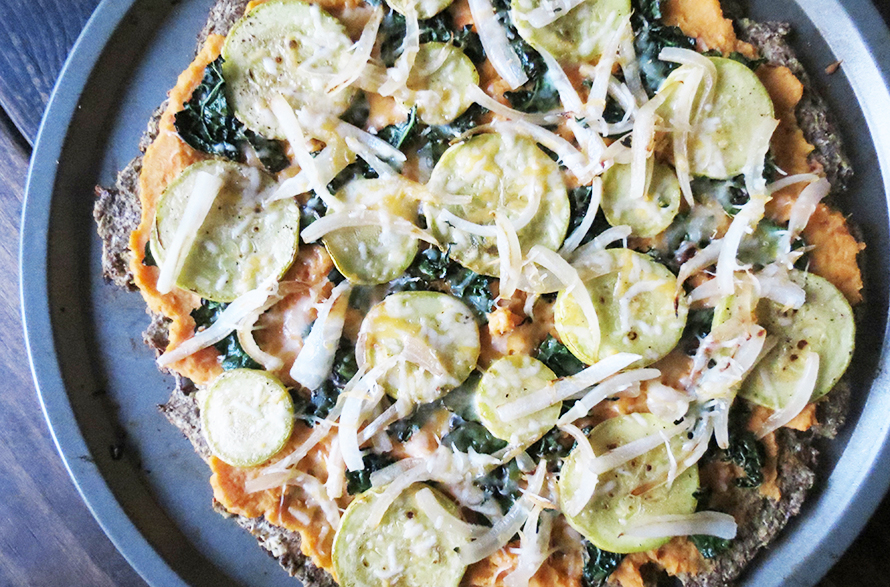 Print Recipe
Cauliflower Eggplant Pizza Crust with Sweet Potato Mash and Veggies
Cauliflower and eggplant pizza crust, topped with sweet potato mash, kale, onions and squash. (grain-free!)
Ingredients
Cauliflower eggplant crust:

2

cups

riced cauliflower

1

small eggplant

¼

cup

flax

¼

cup

almond meal

1

egg

1 /2

tsp

garlic

minced

½

tbsp

spicy spaghetti seasoning

Sweet potato mash:

2

small sweet potatoes

½-1

chipotle peppers in adobe sauce

finely chopped

½

tsp

garlic

minced

¼

cup

almond milk

Toppings:

Large handful kale

chopped

½

onion

sliced

1

yellow squash

sliced

¼

cup

shredded cheese
Instructions
Preheat oven to 400 degrees and grease pan with coconut or olive oil.

Peel skin from small eggplant and cut into small cubes, add eggplant and cauliflower to food processor and rice.

Cook Riced vegetables in microwave 4-5 minutes in large microwave safe bowl.

Add almond meal, flaxseed, egg and seasoning to cooked vegetables and stir until well blended.

Spread out onto pizza pan and smooth until approx 3/8″ thick, bake for 15 minutes.

While crust bakes, microwave sweet potatoes or peel and boil on stove top until flesh is soft.

Mash sweet potatoes with fork in bowl and add in chipotle pepper, minced garlic and almond milk, stir until well combined.

Add kale, onions and squash to pan and saute until tender crispy.

Smooth sweet potato mash over baked crust, top with cooked kale, onions and squash and finish with shredded cheese.

Bake for another 5-10 minutes or until cheese is melted and veggies are soft.
Notes
Nutrition info includes sweet potato mash and toppings listed. Calculated using MyFitnessPal.
Nutrition
Serving:
1
g
|
Calories:
109
kcal
|
Carbohydrates:
13.1
g
|
Protein:
5.2
g
|
Fat:
4.3
g
|
Saturated Fat:
1.8
g
|
Polyunsaturated Fat:
1.2
g
|
Cholesterol:
28.8
mg
|
Sodium:
181.6
mg
|
Fiber:
3.7
g
|
Sugar:
4.6
g
Benefits of cauliflower taken from WHFoods.com