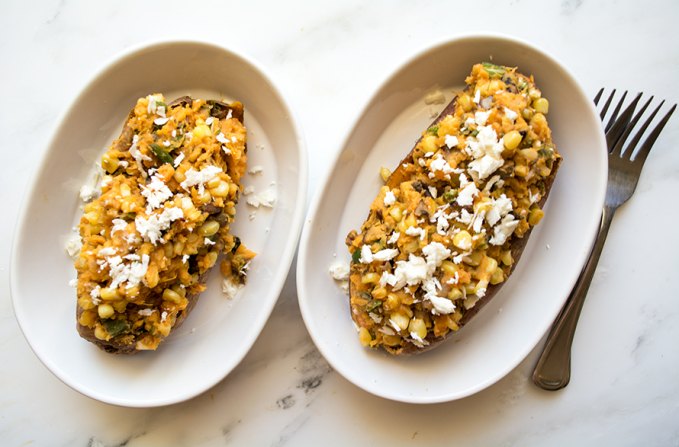 What's the old saying, "everything but the kitchen sink?" That sorta describes these stuffed sweet potatoes. I picked up my new CSA this week and in order to make room in the fridge, I wanted to finish up my remaining veggies from last week's CSA. SO, out came the last eggplant, couple ears of corn and okra.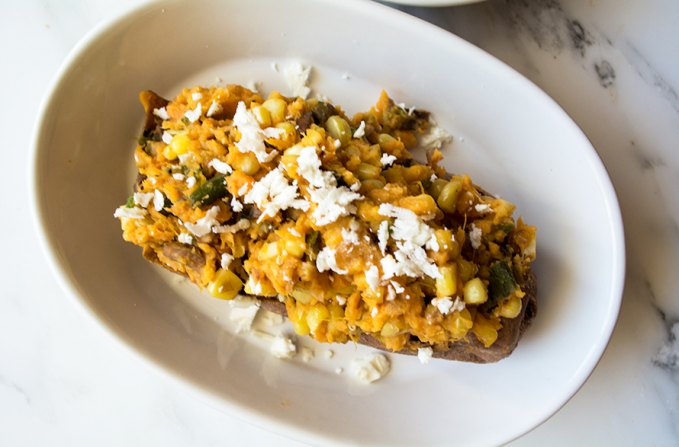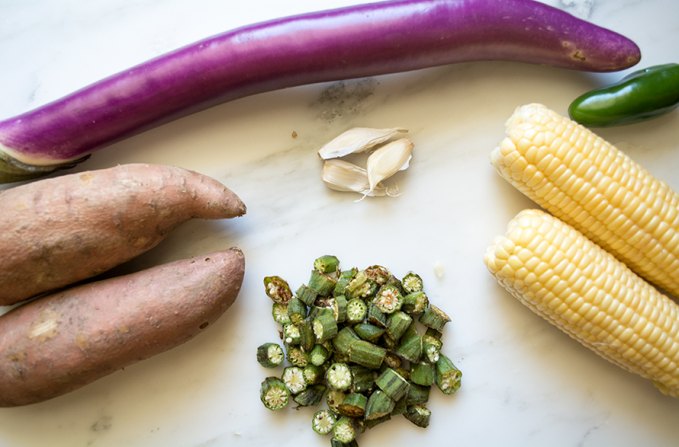 I have a confession…
I am 27 years old, profess to love all veggies and yet have never eaten okra. While I've technically lived in the South since 4th grade, my mom didn't fix much good ole country cookin such as fried okra, grits, biscuits and gravy, etc. She always made wonderful home cooked meals, but they were typically a little healthier, lacking some of the butter and heartiness that often accompanies our Southern dishes. (Thanks for looking out for us, Mom!)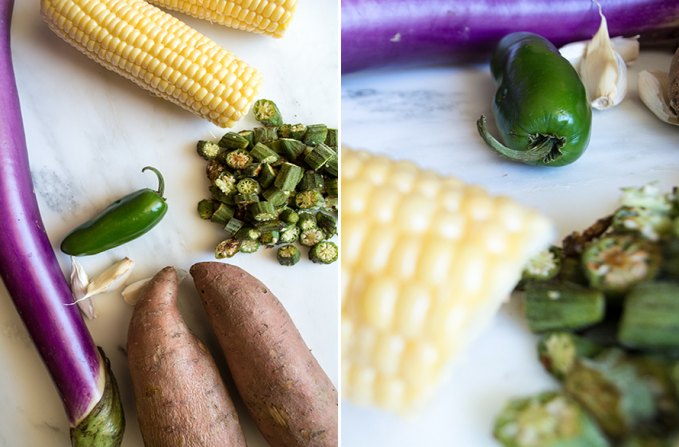 Anyway, several weeks ago at work, we spent several days setting up for a large Fall event that we do yearly for one of our clients. We use a lot of fresh fruits and vegetables to decorate the tables and there was an abundance of fresh okra. Some of the others were eating it raw and said it was one of their favorites – really?! So as a self-professed veggie lover, I took the plunge and tried it raw, at first it wasn't too bad…and then the slime set in….anyone know what I'm talking about? Yuck! The seeds and insides of fresh okra are seriously like snot. I couldn't do it.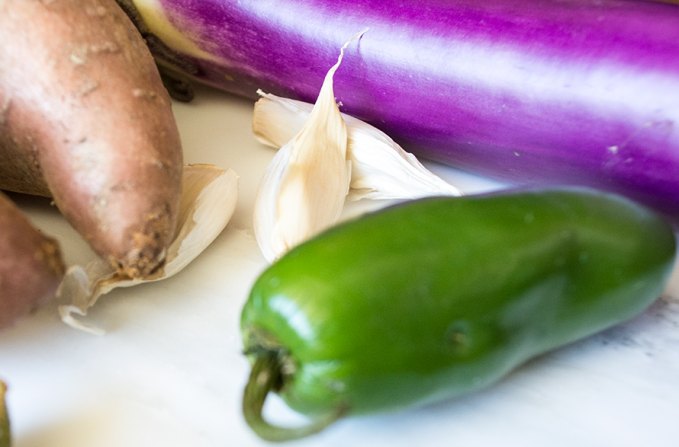 But the odd thing? My texture-sensitive husband who gets weirded out by peppers and onions was completely fine with the slimy insides.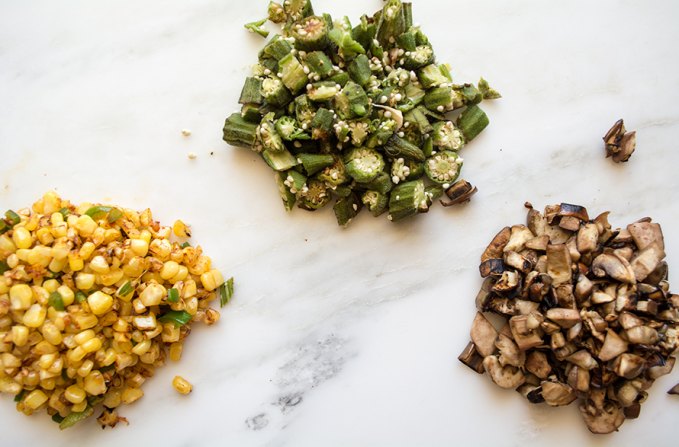 Determined to find a way to eat these little greed pods without battering and frying them, I chopped them up, sprayed with a little coconut oil cooking spray, sprinkled some salt and pepper and roasted them for about 20 minutes. Thankfully, the roasting helps dry out the slimy insides and they were actually pretty good!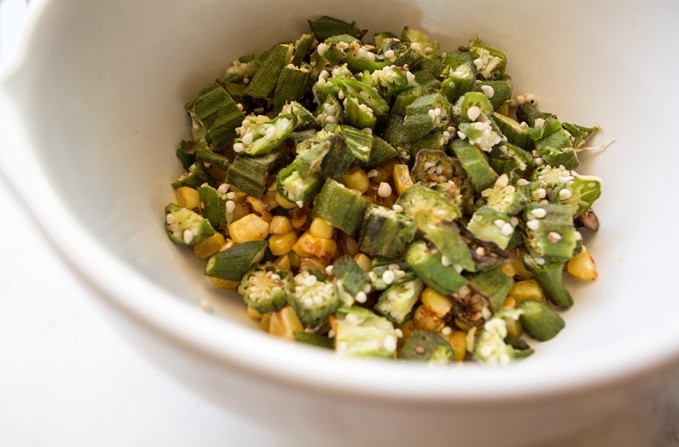 I think next time, I'll roast them a little longer, the thin pieces that browned and got a bit crispy were my favorite.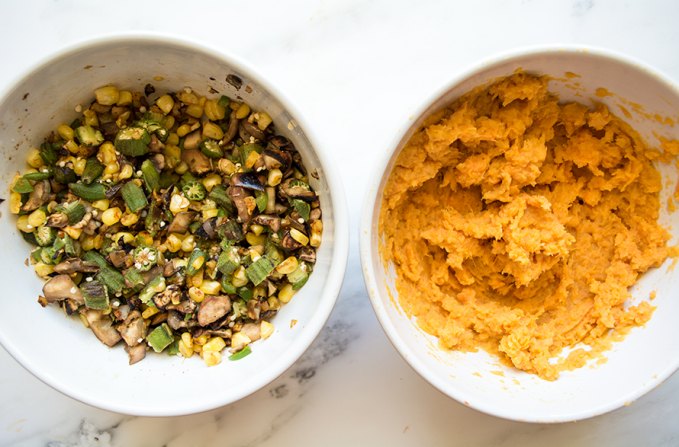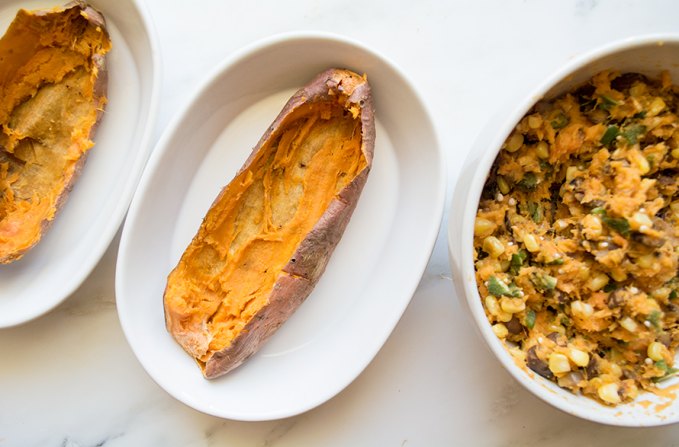 Short disclaimer: At this point I was pretty hungry, I made these after getting groceries Saturday afternoon and didn't get home until about 2 and still hadn't had lunch. So you'll have to forgive my poorly hollowed sweet potato skins, it's a bit embarrassing! Still, a little almond milk added to the cooked sweet potatoes, mix in the cooked veggies, put the mixture back in the skins, top with some feta cheese and they turned out pretty tasty and definitely filling!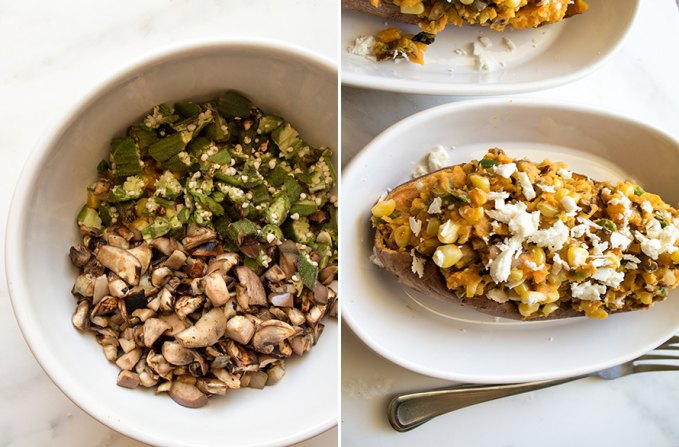 BENEFITS OF OKRA:
Okra contains vitamins, minerals and antioxidants that are capable of preventing damage to cells caused by environmental factors and stress.
Okra's physiological effects are credited to the carbohydrates it contains.
It's Anti-diabetic effect is due to the fiber in okra as it is able to slow down sugar absorption to the blood.
Okra's Lipid-control effect is due to the soluble fibers of okra, called pectin, which are able to lower blood cholesterol by 10%.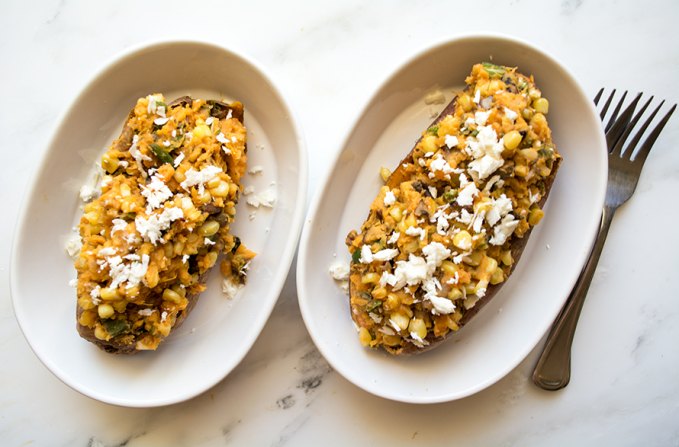 This combination was not necessarily one I would have put together in hopes of creating the perfect dish, but rather one made based on the items I had on hand and needed to use up. Does this happen to you? What dishes do you create in an effort to use up produce before it goes bad? I hope you'll give these stuffed sweet potatoes a try, or something similar to them!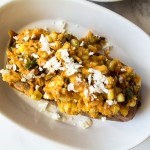 Print Recipe
Stuffed Sweet Potatoes with Okra - Cleaning out the fridge!
Stuffed Sweet Potatoes loaded with Okra, Eggplant, Corn, Peppers and Feta Cheese!
Ingredients
2

medium sweet potatoes

2

ears of corn

2

cups

eggplant

chopped

1

poblano pepper

finely diced

1

cup

okra

roasted

2

cloves

garlic

minced

1/4

cup

almond milk

vanilla unsweetened

2

tbsp

Fat Free Feta Cheese crumbles
Instructions
Preheat Oven to 350 degrees.

If time permits, bake sweet potatoes in oven for 30-40 minutes. For limited time, bake sweet potatoes in microwave.

Chop okra into small pieces, spray pan lightly with coconut cooking spray, add salt and pepper and roast in oven for approx 15-20 minutes or until cooked/crispy.

Add finely diced peppers, garlic and corn to pan on cooktop and saute until corn begins to brown. Set aside in large bowl.

Add chopped eggplant to same pan and cook until soft.

Cut top section of baked skin off sweet potatoes and scrape out cooked flesh.

In separate small bowl, mash cooked sweet potato flesh with fork and add almond milk, stir until well combined.

Combine cooked vegetables in large bowl, then add sweet potato mash and stir until mixed.

Dish out sweet potato and veggie mixture into two prepared skins, top with feta cheese crumbles and bake in oven for additional 5 minutes.

Serve immediately!
Nutrition
Serving:
1
g
|
Calories:
266
kcal
|
Carbohydrates:
72.8
g
|
Protein:
8
g
|
Fat:
1.8
g
|
Saturated Fat:
0.1
g
|
Polyunsaturated Fat:
0.6
g
|
Cholesterol:
1.5
mg
|
Sodium:
204.5
mg
|
Fiber:
9.5
g
|
Sugar:
16.6
g
Benefits of Okra taken from naturalnews.com.