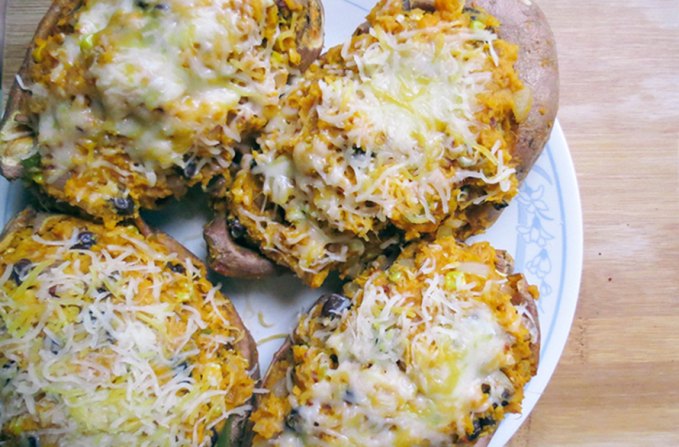 Cloudy with a chance of rain, high 70. Sounds like perfect August weather for a waterpark, right? WRONG!
We spent this past weekend with our dear friends in the Smoky Mountains. My parents have a camper they keep over there, so we made plans to go Friday night and come back Sunday afternoon. We pre-bought tickets to Dollywood Splash Country a month or so ago with the intentions of spending Saturday at the park enjoying the warm (ha) weather and wild water rides, then going on a hike or two Sunday morning before heading for home.
So while we did make it to Splash Country and managed to have a pretty good time, the sun made very little appearance and it was definitely not the warm day we had hoped for. On the positive side, the lines were short as you can imagine. So we froze our behinds off, shivering in line from one ride to the next before cutting our time there short and changing into dry clothes. Once changed and warmed up, we set out for ice cream (my favorite) and rented a couple of movies before heading back to the camper.
And that's where these little Healthy Mexican Stuffed Sweet Potatoes came into play! Sorry for the awful pictures and lighting – I took these really late, like 10pm.. which for an early bird is late!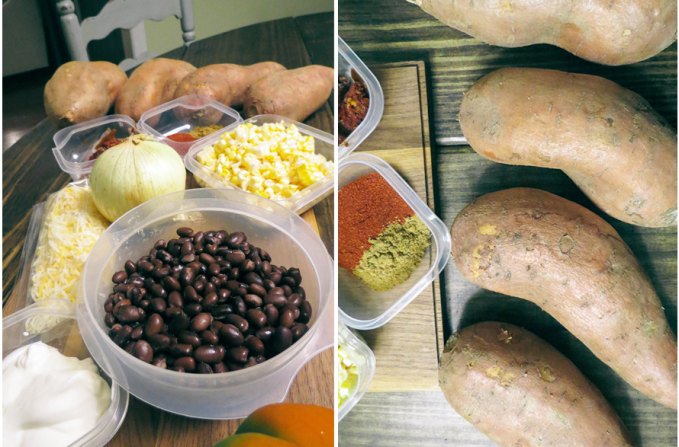 Eating healthy on road trips/weekend outings can definitely be a challenge.
We planned ahead for the food to see what we could come up with that would be easy to do in a small kitchen, yet healthy and nutritional so we could all stay on track! Besides, we knew we had to leave some room for ice cream, as we love finding local creameries on our weekend trips together.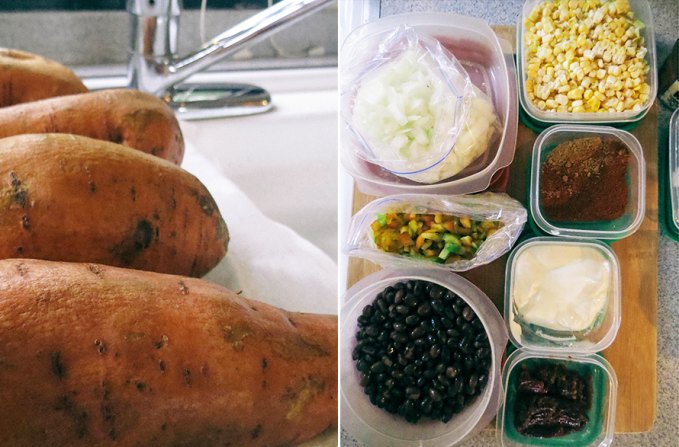 In an effort to keep cooking/prepping time to a minimum, I chopped up the veggies and pre-washed the beans at the house before we left, so dinner came together quickly and turned out pretty tasty. Not to mention it was full of nutrition!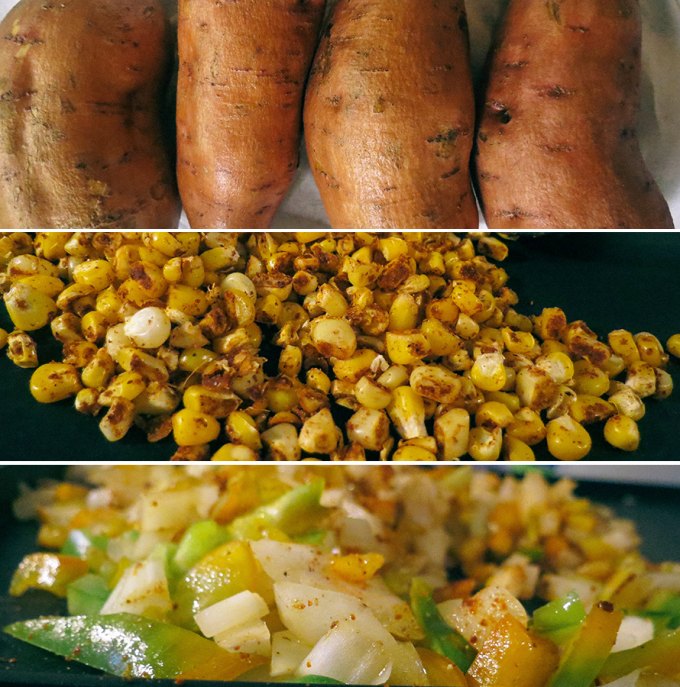 The kitchen in the camper is small but more than adequate. Rather than using the oven and stove top, we opted to use my mom's electric skillet for the veggies and the microwave to cook the potatoes, this helped the meal come together a little quicker!
*Be sure to include the chipotle peppers in adobo sauce, they add a nice smoked spiciness to the dish, a perfect complement to the sweetness of the potatoes and roasted corn!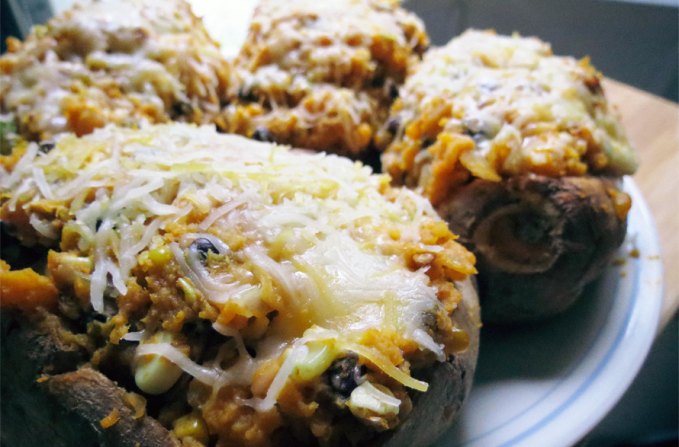 I've made these before for Josh and myself, but it was fun to share them with others. And on a rainy night in a small camper, they hit the spot!
Give them a try and let me know what you think!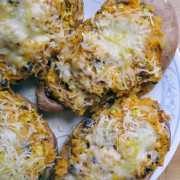 Print Recipe
Healthy Mexican Stuffed Sweet Potatoes
Mexican Stuffed Sweet Potatoes filled with roasted corn, black beans, onions, bell peppers and chipotle peppers in adobe sauce.
Ingredients
4

large sweet potatoes

2

ears of corn

1

can organic black beans

1

small sweet onion

chopped

1/2

tablespoon

coconut oil

1

medium bell pepper

chopped

1-2

canned chipotle peppers in adobo sauce

minced

1/4

cup

light sour cream

1/2

cup

light shredded Mexican cheese blend

1

tablespoon

chili powder

1/2

tablespoon

cumin

1

teaspoon

garlic powder

salt and pepper as desired
Instructions
Preheat oven to 350 degrees and bake washed sweet potatoes 45-60 minutes. If short on time, you can cook sweet potatoes in the microwave using the "potato" setting.

While sweet potatoes are baking, place corn in a dry skillet (no butter or oil) and cook on medium heat. Sprinkle with a little salt and pepper, as well as half the chili powder, cumin, and garlic powder. Let corn roast for several minutes before stirring. Then stir, and cook for another 3-5 minutes, again without stirring. Continue this until corn is browned and roasted on the outside. Set aside in a small bowl.

Saute chopped onion and bell pepper in skillet with coconut oil and remaining chili, cumen, and garlic powder over medium heat until onions are soft and translucent. Set aside with roasted corn.

Add black beans to skillet and heat until warm, remove and set aside with corn, onions and peppers.

Remove sweet potatoes from oven (or microwave) and cut off top of each potato. Remove cooked flesh from the sweet potatoes and scoop into large bowl. Leave the skins of the potatoes in tact along with a thin layer of potato to help hold skins together.

Mash the flesh of the sweet potato by hand with fork in large bowl and add sour cream and minced chipotle adobe peppers to cooked sweet potatoes, stir until mixed well.

Add roasted corn, cooked veggies and heated beans to sweet potato mixture and stir until combined.

Scoop filling into the skins and top each with 1 tablespoon shredded cheese. Broil for about 4-5 minutes or until cheese is melted. Serve hot!
Nutrition
Serving:
1
g
|
Calories:
379
kcal
|
Carbohydrates:
75.7
g
|
Protein:
15.5
g
|
Fat:
5.6
g
|
Saturated Fat:
3.8
g
|
Polyunsaturated Fat:
0.7
g
|
Cholesterol:
12.5
mg
|
Sodium:
552
mg
|
Fiber:
11.2
g
|
Sugar:
18.7
g
Adapted from Pinch of Yum's Healthy Mexican Sweet Potato Skins.