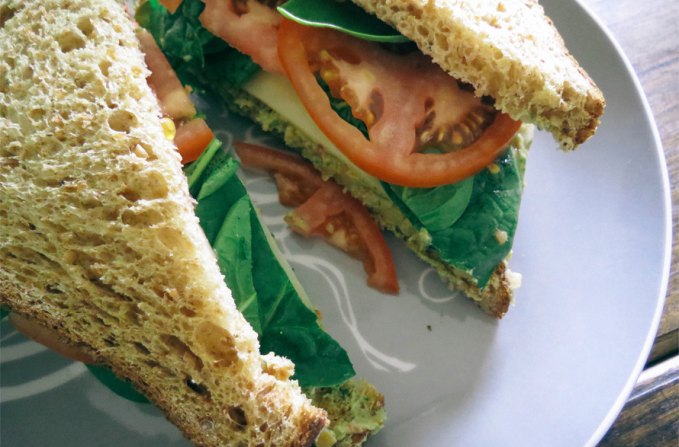 I love chickpeas. I love to add them to my daily lunch salad, I love to use them in cookies to replace the flour, and I definitely love them as the star of these Basil Pesto Chickpea Sandwiches.
If you read my last post on Healthy Mexican Stuffed Sweet Potatoes, then you know that we had planned a trip to the Smokies with our friends only to have our plans thrown out the window with a steady stream of rain throughout the weekend.These little sandwiches were planned to be made ahead and packed for our Sunday afternoon hike, only the hike didn't happen. Instead we packed up the camper early Sunday and headed back to Nashville where we made the sandwiches at our house and watched Argo. Great movie, if you haven't seen it yet!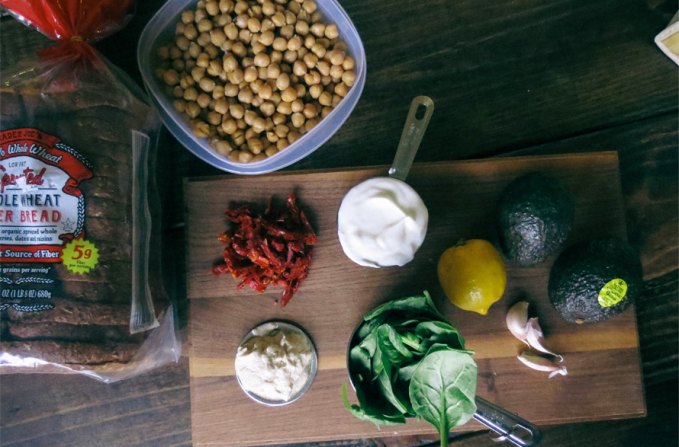 Shown above: sprouted bread (my favorite), chickpeas, sun-dried tomatoes, spinach, greek yogurt, avocados, garlic, lemon and tahini – I mean really, how can you go wrong with a combination of these things?!? However, you'll notice I forgot to show the basil in this picture, pretty lame seeing as it's the first ingredient in the title, huh? Oops.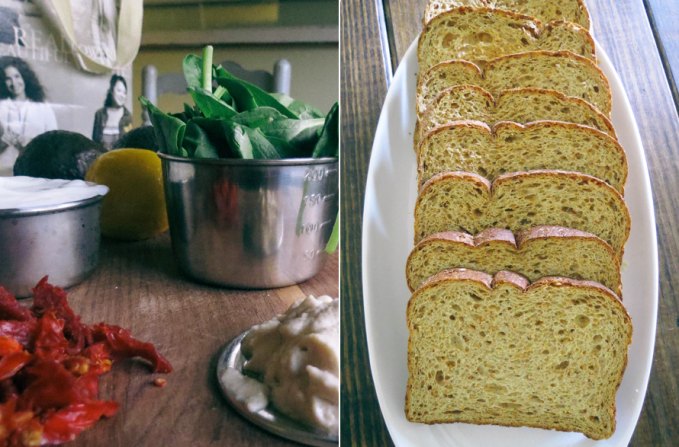 The flour used to make sprouted bread is made from sprouted grains which provides more protein, vitamins and minerals than refined flours. While we don't eat a ton of bread, we typically go with sprouted bread when we do, aside from its additional health benefits, I love its grainy texture!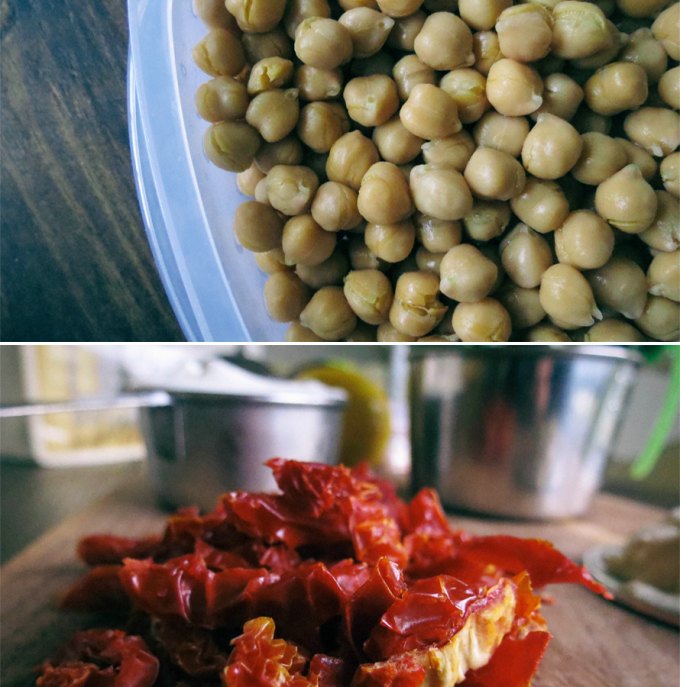 Much like the stuffed sweet potatoes, I had done most of the prep work earlier in the week for these sandwiches, so they came together quickly and made for a perfect late afternoon lunch.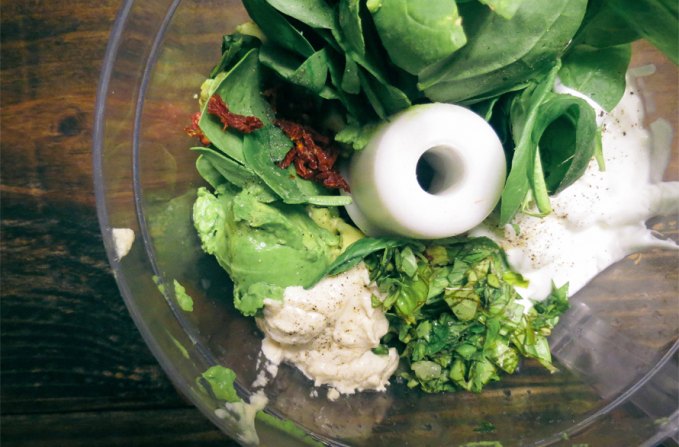 I may have forgotten to show the basil in the picture of ingredients earlier but at least I didn't forget to add it to the basil pesto!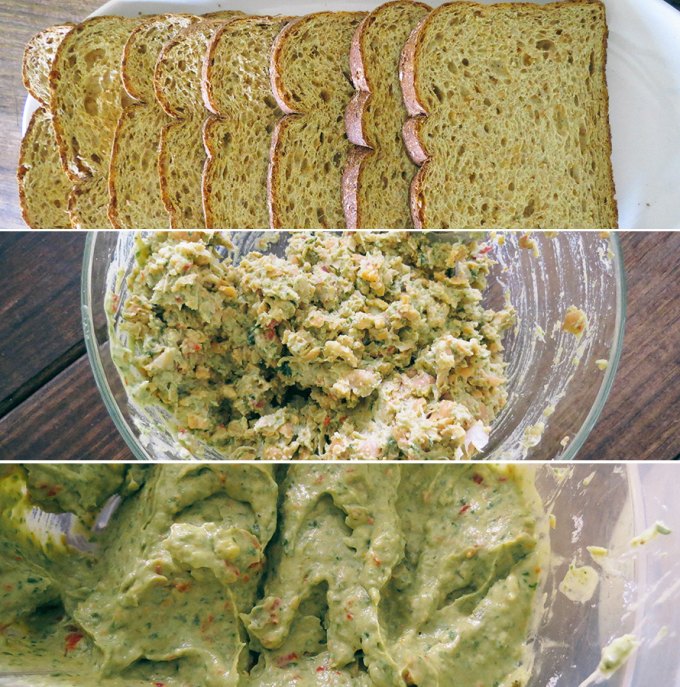 We used fresh spinach, lite Muenster cheese, red bell pepper and tomatoes for our sandwich fixings, I opted for the spinach and tomato on mine and it did not disappoint!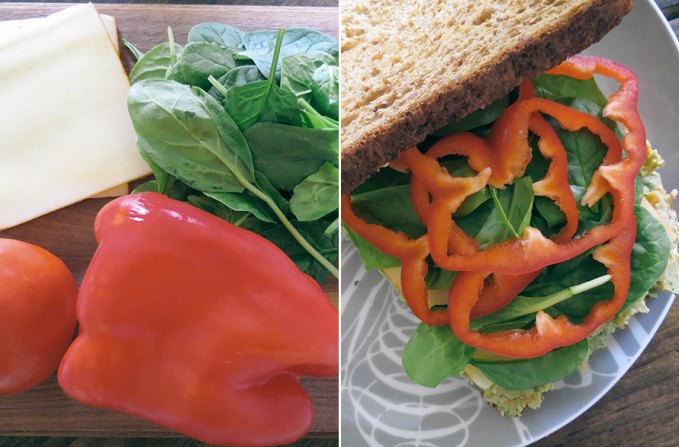 Josh is still getting use to the texture of things like chicken salad, egg salad, or in this case basil pesto chickpea salad on his sandwiches, but he said the flavor was great and he's coming along on the texture. I also highly recommend toasting the bread, it provides the perfect crispness.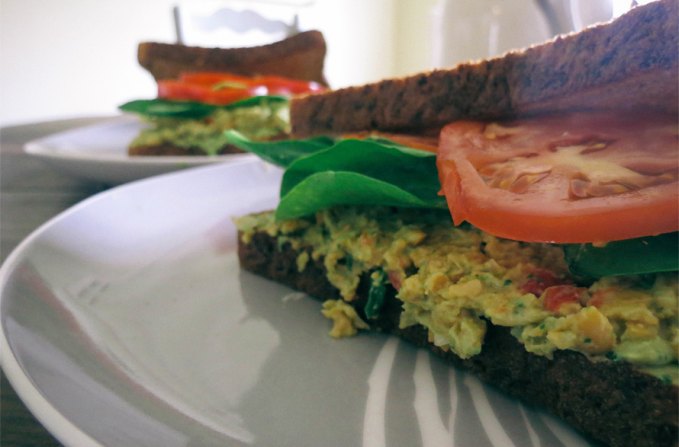 BENEFITS OF CHICKPEAS:
Chickpeas are naturally low in fat, high in dietary fiber and rich in vitamins and minerals.
Adding chickpeas into your regular diet helps manage a healthy weight, boost intestinal health and reduce risk of developing type 2 diabetes as it helps to lower blood sugar.
The fiber in chickpeas lessens the strain on your intestine, reducing the risk of diverticulitis and constipation.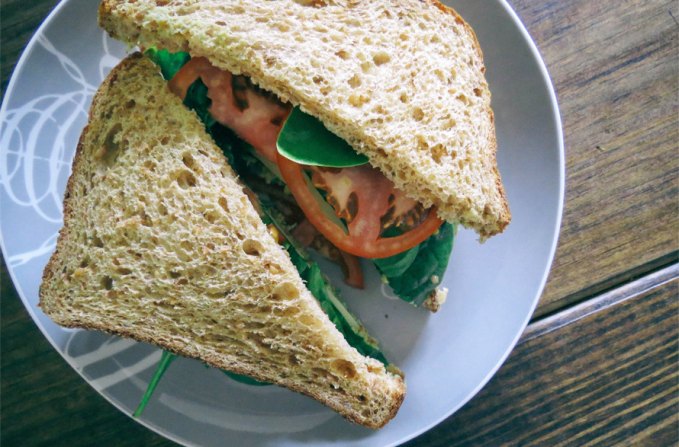 I hope you give these little sandwiches a try, and if you do I'd love to know what you think and what fixings you used with yours!
Print Recipe
Basil Pesto Chickpea Sandwiches
Basil Pesto Chickpea Sandwich with toasted sprouted bread, tomato, bell pepper, and fresh spinach
Ingredients
2

cups

canned chickpeas

drained & rinsed

2

avocado

1/4

cup

sun dried tomatoes

chopped

1/4

cup

fresh basil

chopped

2

cloves

garlic

minced

1

cup

baby spinach

1/2

cup

plain greek yogurt

2

tablespoon

tahini

salt & pepper

juice of a lemon

8

slices

of wheat bread
Instructions
Dry chickpeas and transfer to cutting board.

Roughly smash chickpeas with the back of a fork or a potato masher on the cutting board. Once mashed, set aside in medium bowl.

Combine sun-dried tomatoes, chopped basil, minced garlic, baby spinach, greek yogurt, tahini sauce and lemon juice in a food processor and process until creamy.

Transfer half the "pesto" to the bowl with the chickpeas and combine with a spoon.

Toast bread lightly in toaster or oven.

Use remaining pesto to spread on each slice of toasted bread.

Spoon Basil Pesto Chickpea mixture onto slice of bread, add fixings of your choice and finish with remaining slice of bread.

EAT!
Notes
*Nutrition info does not include bread or fixings.
Info gathered using MyFitnessPal
Nutrition
Serving:
1
g
|
Calories:
244
kcal
|
Carbohydrates:
29.1
g
|
Protein:
10.9
g
|
Fat:
9.6
g
|
Saturated Fat:
0.2
g
|
Sodium:
200
mg
|
Fiber:
10.2
g
|
Sugar:
4.1
g
Original recipe found at Running to the Kitchen.
Nutrition info gathered from LIVESTRONG.