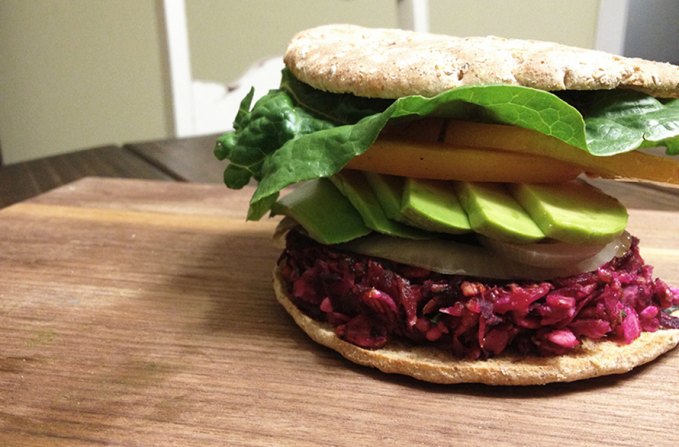 Josh and I went to the Nashville Farmers Market this past Saturday to see what they had to offer in the way of local, all natural produce. We typically get all our groceries from Trader Joe's, but want to make a better effort to support small farms in our community. We were a bit disappointed to find that there was little available in the way of organically (meaning no pesticides, food additives, genetically modified organisms, etc) grown fruits and vegetables. I realize that to farm this way is more difficult and time-consuming, which then results in typically more expensive goods – all things which present challenges for farmers to make the commitment to farm organically and sustainably. Still I couldn't help but be surprised by the lack of organically grown options. In fact, more than one vendor/farmer was somewhat put-off when I asked how they grew their vegetables and whether or not they used pesticides.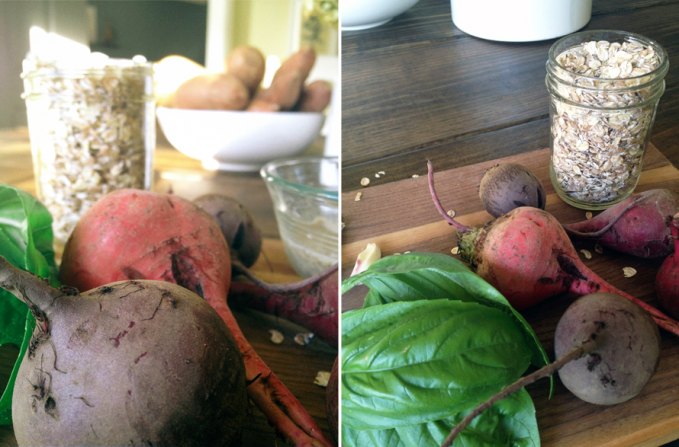 We did however, come across a small booth set up by Six Boots Growers' Collective. This is a group of three farmers, who each have their own farm, but together they are committed to farming pesticide free and locally grown with sustainable and biodynamic practices. They didn't have a whole lot left by the time we got there (good for them!) but they did have some beets. So after eagerly chatting with them about their farming practices, we went ahead and purchased a pound of these small lovely little root vegetables. I had just seen a grilled beet burger recipe posted by Green Kitchen Stories and I knew I wanted to try a similar recipe with these beauties. If you are not already familiar with Green Kitchen Stories, they have such a great blog with wonderful recipes and absolutely beautiful pictures. I highly recommend subscribing to them!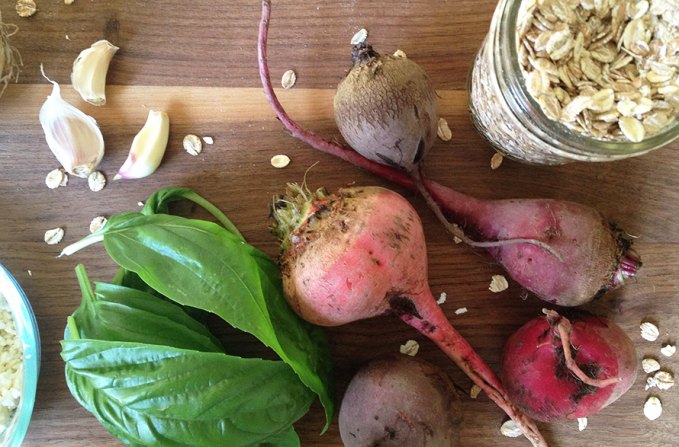 These beet burgers are full of grated beets, oats, feta cheese and fresh basil. I opted to use flax eggs rather than regular eggs for the added Omega-3, but I may try the regular eggs next time as I think they would be a better binding agent. I also used about half the amount of feta cheese as Green Kitchen Stories used in their recipe as that was all I had on hand. The flax eggs and quantity of cheese may have effected how the patties held together, but the flavor wasn't lacking!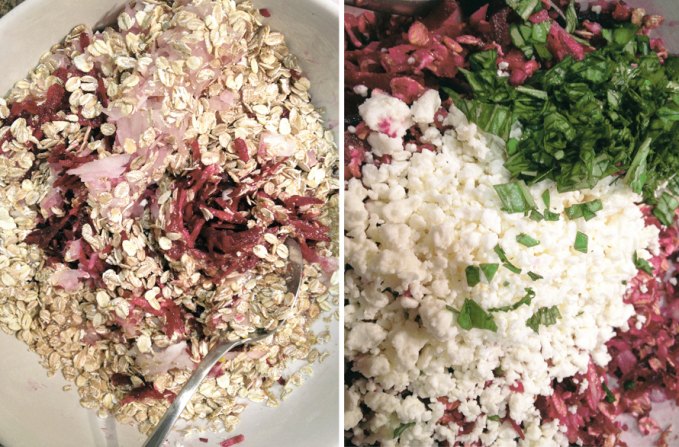 We opted to top our Beet Burgers with sliced avocado, tomatoes, romaine lettuce, caramelized onions and just a touch of mayonnaise.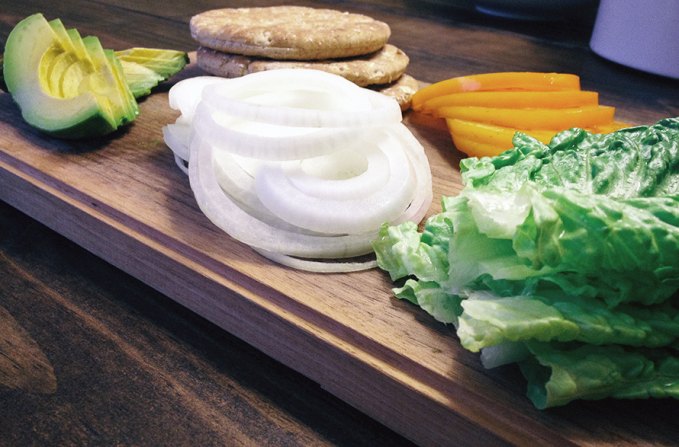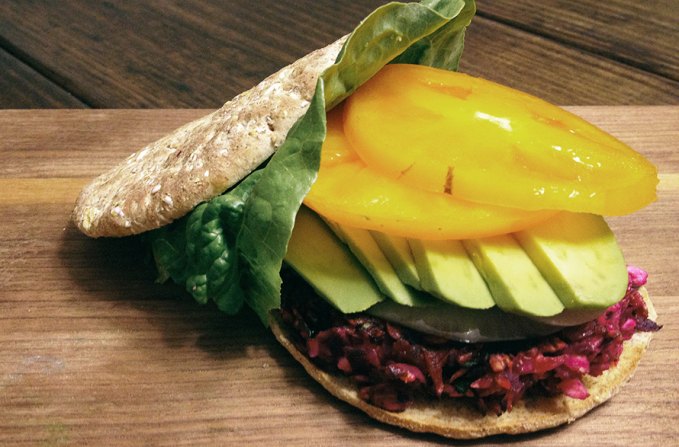 Josh is not a big fan of beets, but with the feta cheese, basil and garlic for flavoring, then paired with the other toppings, he actually liked them! Of course what I'm not showing you in these pictures is the slice of Muenster cheese I added to his, might have had something to do with him liking them!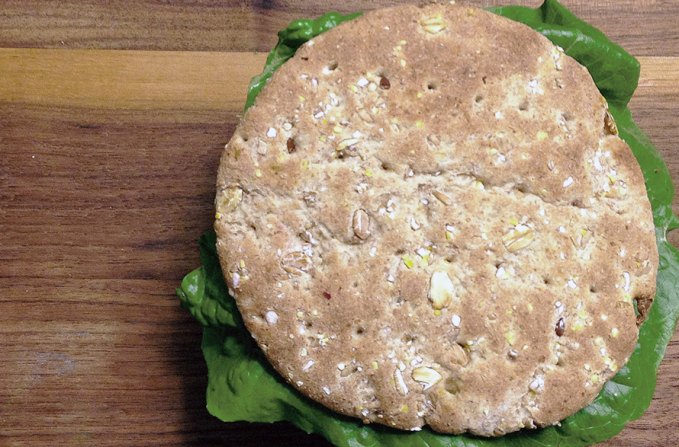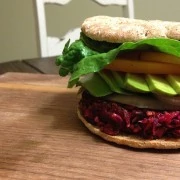 Print Recipe
Beet Veggie Burger
Beet Veggie Burgers filled with oats, feta cheese, and fresh basil.
Ingredients
3

cups

grated raw beetroots

1 1/2

cups

rolled oats

1

small onion

3

oz

feta cheese

2

garlic cloves

1

tbsp

extra virgin olive oil

2

flax eggs

substitute with regular eggs if preferred

1

handful fresh basil

chopped

salt and pepper as desired

suggested toppings: avocados

tomatoes, romaine lettuce, caramelized onions
Instructions
Peel and grate beets and onions on box grater. Mince garlic.

Place grated beets, onions and minced garlic in mixing bowl.

Add in olive oil, flax eggs, and rolled oats and mix until well blended.

Add in feta cheese, chopped basil, salt/pepper and stir.

Set aside for approx 30 minutes to allow oats to soak up liquid and mixture to set (do not skip this step, as it helps the patties hold together).

Form 6-8 patties with your hands, if mixture does not hold together, add additional oats.

Coat pan with coconut oil cooking spray and fry them on each side until golden.

Serve with selected bread/buns and toppings of choice.
Nutrition
Serving:
1
g
|
Calories:
132
kcal
|
Carbohydrates:
20.4
g
|
Protein:
6.4
g
|
Fat:
3.1
g
|
Saturated Fat:
0.3
g
|
Polyunsaturated Fat:
0.8
g
|
Cholesterol:
1.1
mg
|
Sodium:
98.2
mg
|
Fiber:
2.6
g
|
Sugar:
0.6
g
Recipe adapted from Green Kitchen Stories.