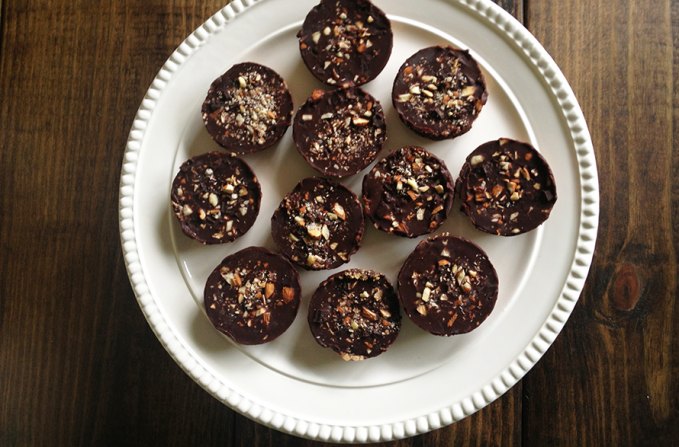 I do my best to eat healthy as much as possible. It just so happens that I love vegetables, fruits, legumes, nuts, etc – things which fortunately are good for me. Whether I have grown to like these things because they are good for me or if they are just what my taste buds crave, I'm not really sure. However, while I don't care for fried food, greasy burgers or processed junk, I do love…and I mean LOVE sweets.
I am happy as a clam to eat loaded salads, whole grains, and healthy fats, but when I want to cheat? Give me dark chocolate, rich creamy ice cream, homemade gooey brownies, pumpkin whoopie pies, warm snickerdoodles, Grandma's peanut butter balls….have I made my point? Essentially, I am a self-proclaimed sugarholic.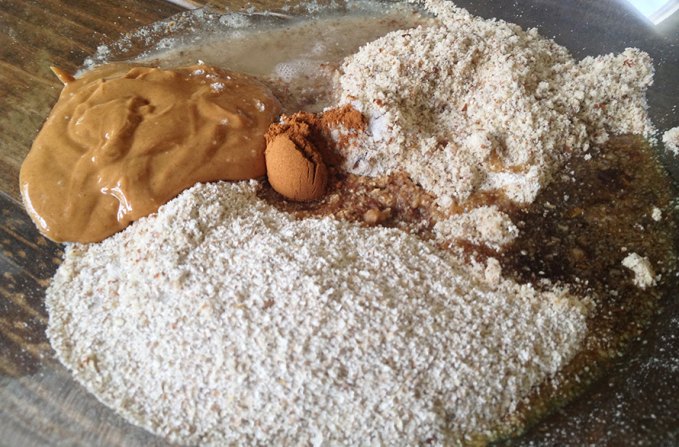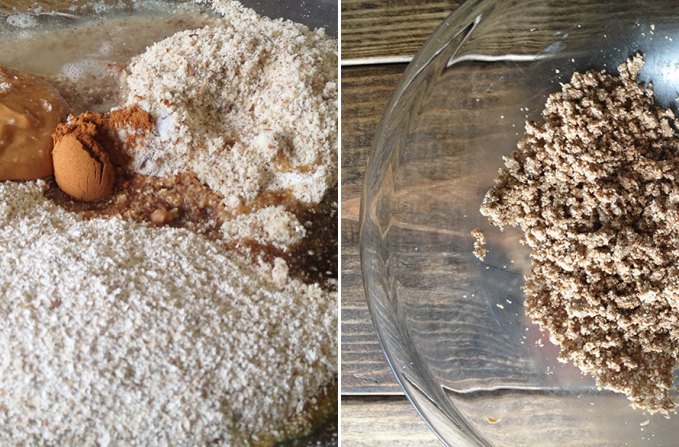 SO, the fact that these delicious and healthy peanut butter cups are full of almond meal, organic whole oats, coconut oil, pure maple syrup, all natural peanut butter and dark chocolate means that I can both satisfy my overwhelming sweet tooth AND be healthy. Assuming I control myself and stop at just one…while there are a lot of healthy benefits to these little cups, they aren't exactly low-calorie.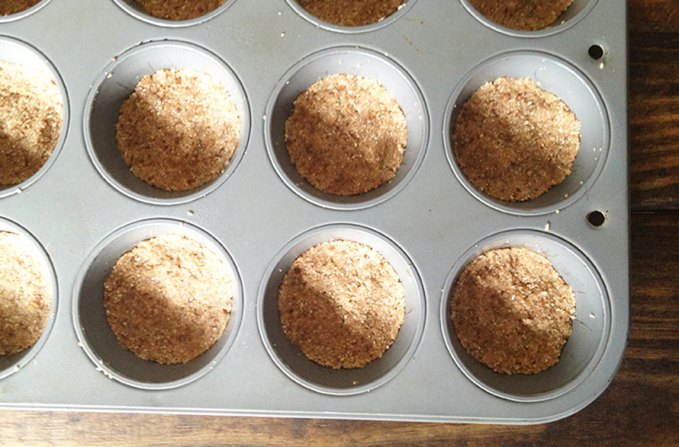 So many reasons to make these NOW!
Almond Meal: Good for the brain, high in protein, helps lower bad cholesterol, promotes healthy heart.
Organic Whole Oats: High in fiber, helps prevent heart disease and diabetes, helps lower bad cholesterol
Coconut Oil: Builds resistance to viruses and bacteria that cause illness, helps thyroid and blood-sugar control, increases digestion (and that's just to name a few benefits!)
Pure Maple Syrup: an excellent source of manganese and good source of zinc
Natural Peanut Butter: great source of protein
Dark Chocolate: Rich in antioxidants, can help lower blood pressure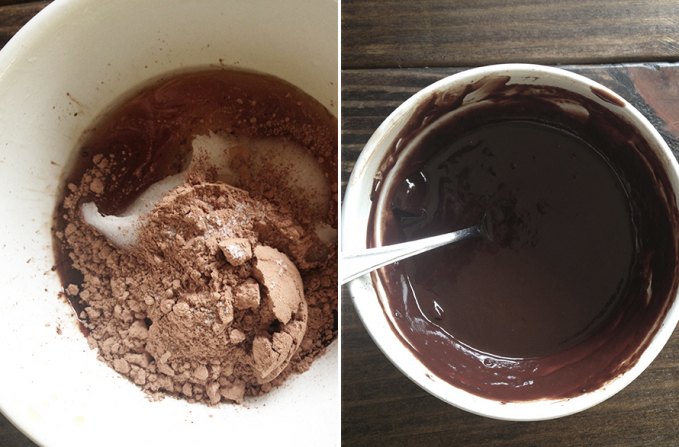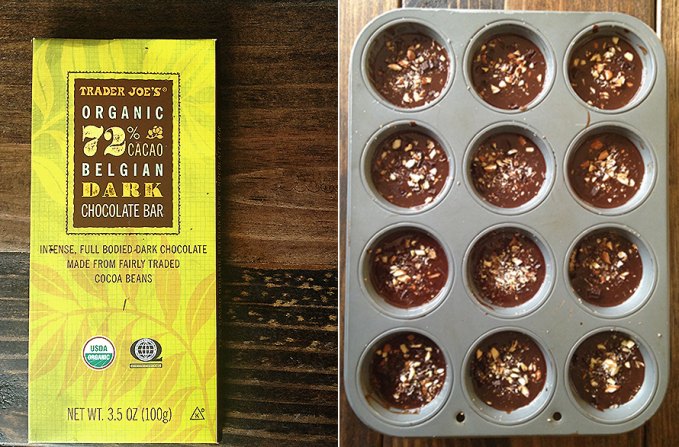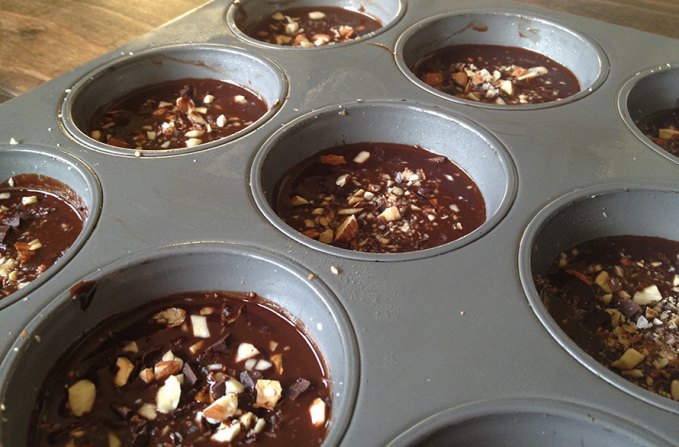 I will say, the coconut flavor in these is definitely noticeable, so if coconut is not your thing, these may not be for you. HOWEVER, being that coconut oil is SO good for you…you should learn to like it and make it your thing! Just a friendly suggestion.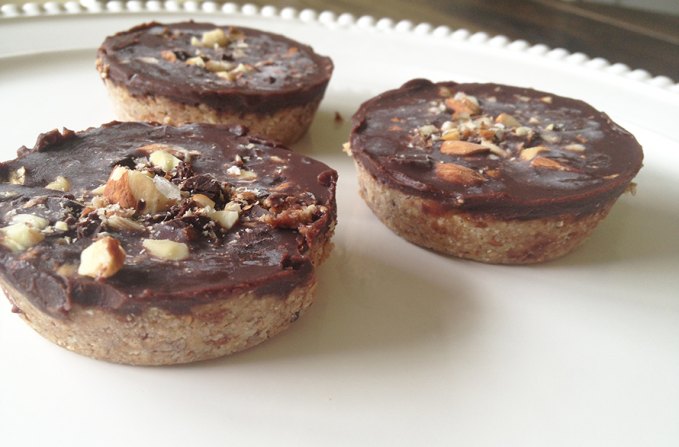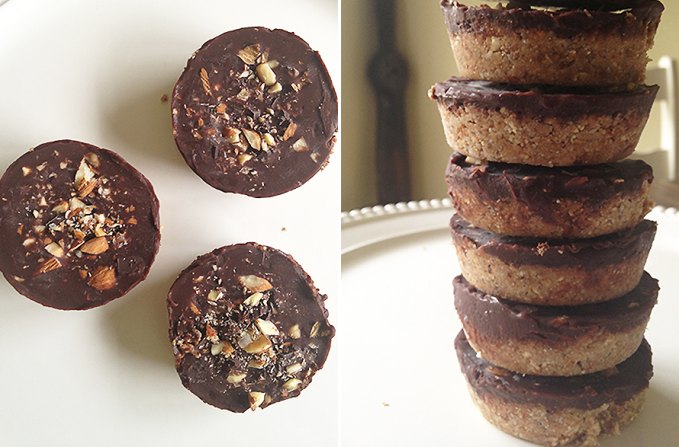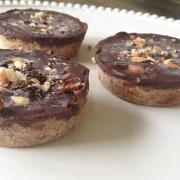 Print Recipe
Healthy Peanut Butter Cups
Healthy take on a not so healthy favorite - peanut butter cups! These delicious small desserts are made with almond meal, oat flour, peanut butter, maple syrup and cocoa.
Ingredients
for the base

1

cup

almonds meal

1

cup

rolled oats

ground into a flour

4

tablespoons

peanut butter

3

tablespoons

coconut oil

warmed if necessary

2

tablespoons

pure maple syrup

1/2

teaspoon

cinnamon

1/2

teaspoon

pure vanilla extract

1/8

teaspoon

fine grain sea salt

for the topping

6

tablespoons

coconut oil

1/4

cup

pure maple syrup

1/4

cup

cocoa powder

2

oz

dark chocolate bar

1/4

teaspoon

fine grain sea salt
Instructions
Add almonds and oats into a high-speed blender and blend on high until a flour forms. Dump into a large bowl and break up any clumps with your fingers.

Add the nut butter, coconut oil, maple syrup (or agave), cinnamon, vanilla, and salt into the bowl. Stir until thoroughly combined. The dough should be fairly sticky like cookie dough.

Line a mini (or regular) muffin tin with paper liners or use a silicone muffin holder. Portion the dough into each muffin cup and press down until even and smooth.To make the chocolate sauce: Whisk together the coconut oil, sweetener, cocoa powder, and salt until no clumps remain. Spoon the sauce over top each of the cups, distributing evenly. Garnish cups with sliced almonds if desired.Place in the freezer in a flat area for 30-45 minutes, until firm. Pop out the cups & enjoy immediately! These are best consumed straight from the freezer.
Notes
Optional garnish: sliced/chopped almonds, cacao nibs, unsweetened coconut flakes, sea salt
Nutrition
Serving:
1
g
|
Calories:
272
kcal
|
Carbohydrates:
17.3
g
|
Protein:
5.3
g
|
Fat:
21.2
g
|
Saturated Fat:
11
g
|
Polyunsaturated Fat:
3.8
g
|
Sodium:
55.7
mg
|
Fiber:
3.4
g
|
Sugar:
7.6
g
Original recipe from Oh She Glow's, Raw Almond Butter Cups.