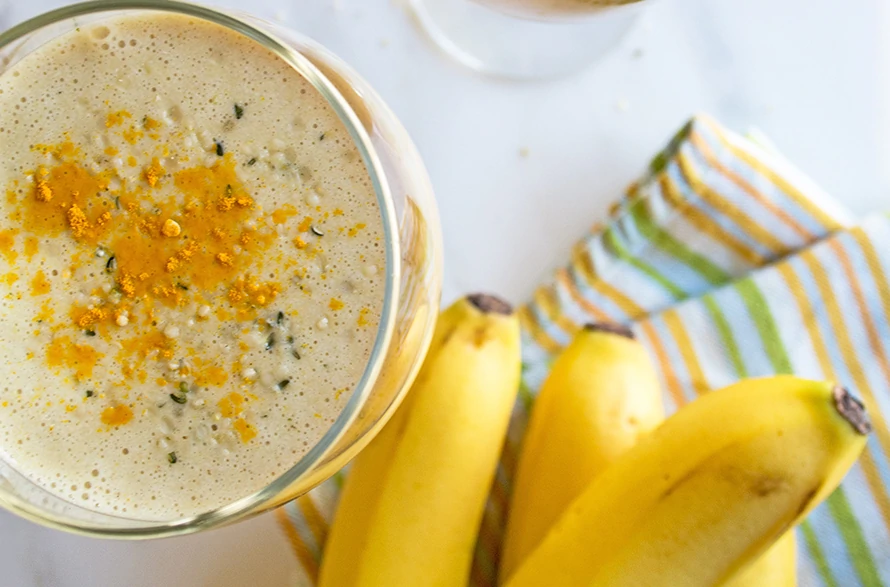 It's Friday, the sun is shining and the high is 70 degrees. I believe a celebration is in order, and lets start it with this Spring inspired, fresh Turmeric Banana Smoothie with Ginger!
I have read so many wonderful things lately about turmeric and how good it is for the body, it has the ability to help prevent cancer, improve asthma, speed up healing process among so many other benefits – which I'll dive into in just a minute.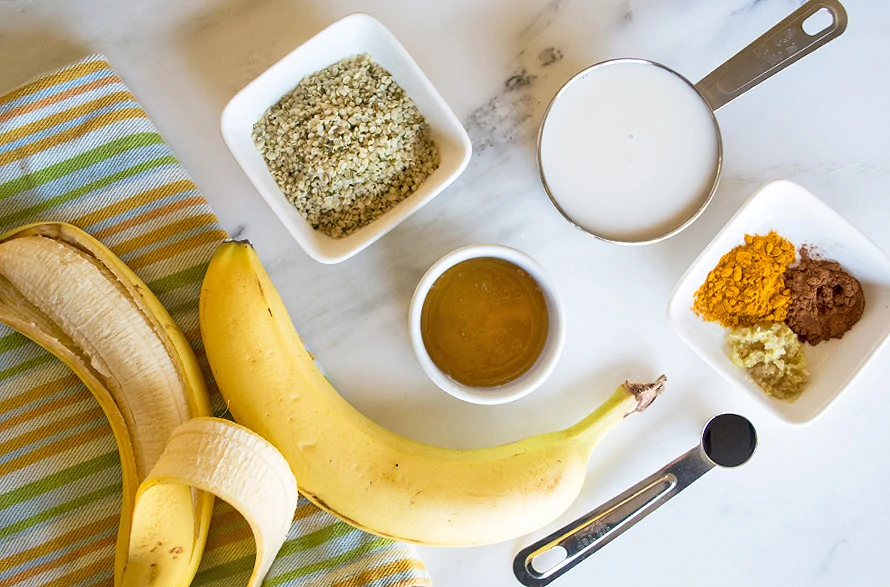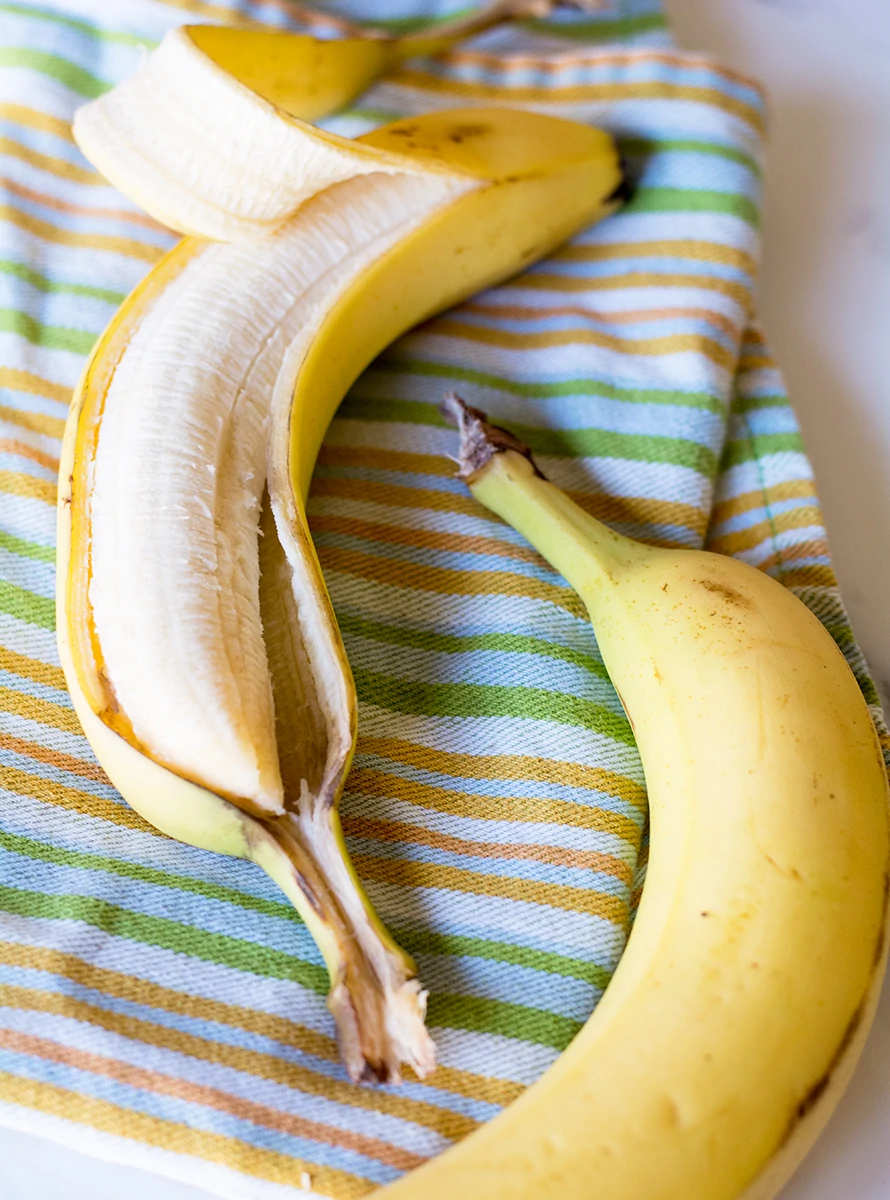 SO, needless to say, when I read about a spice, herb, or special ingredient that has been proven to be so beneficial, I have to check it out and see how I can introduce it into our daily diet. I was a bit hesitant after smelling it to add it to this sweet smoothie, especially with the pairing of the ginger, but OH MY. This smoothie is good! And good really doesn't do it justice, it is sweet, while possessing a refreshing spiciness that somehow leaves you looking at the bottom of the empty glass wishing there was more.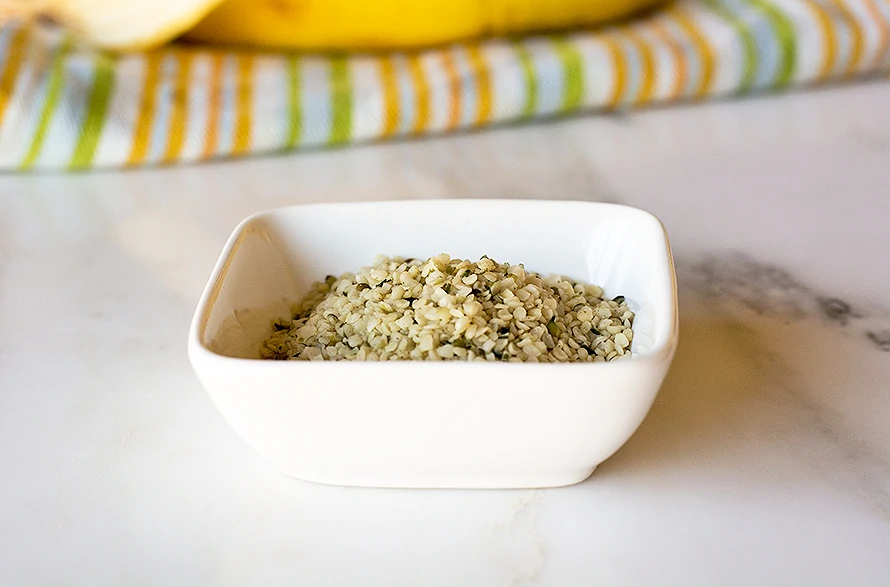 Quite often I take something to Josh, then walk away as he asks "what is this?" In this case, I nonchalantly said "a new smoothie, just try it" then I discretely watched him from the kitchen to see his initial reaction. When he looked up with that pleasantly surprised expression and said "this is good, what's in it?" I couldn't help but get a bit giddy!
It's never a good thing when he's dug into it and I have to probe with the "well…what do you think?" Regardless of his careful, yet positive feedback, I'm always left thinking, he doesn't really like it. Then I go into the whole, "what would you change about it"? To which he answers, "I don't know, maybe use less ingredients".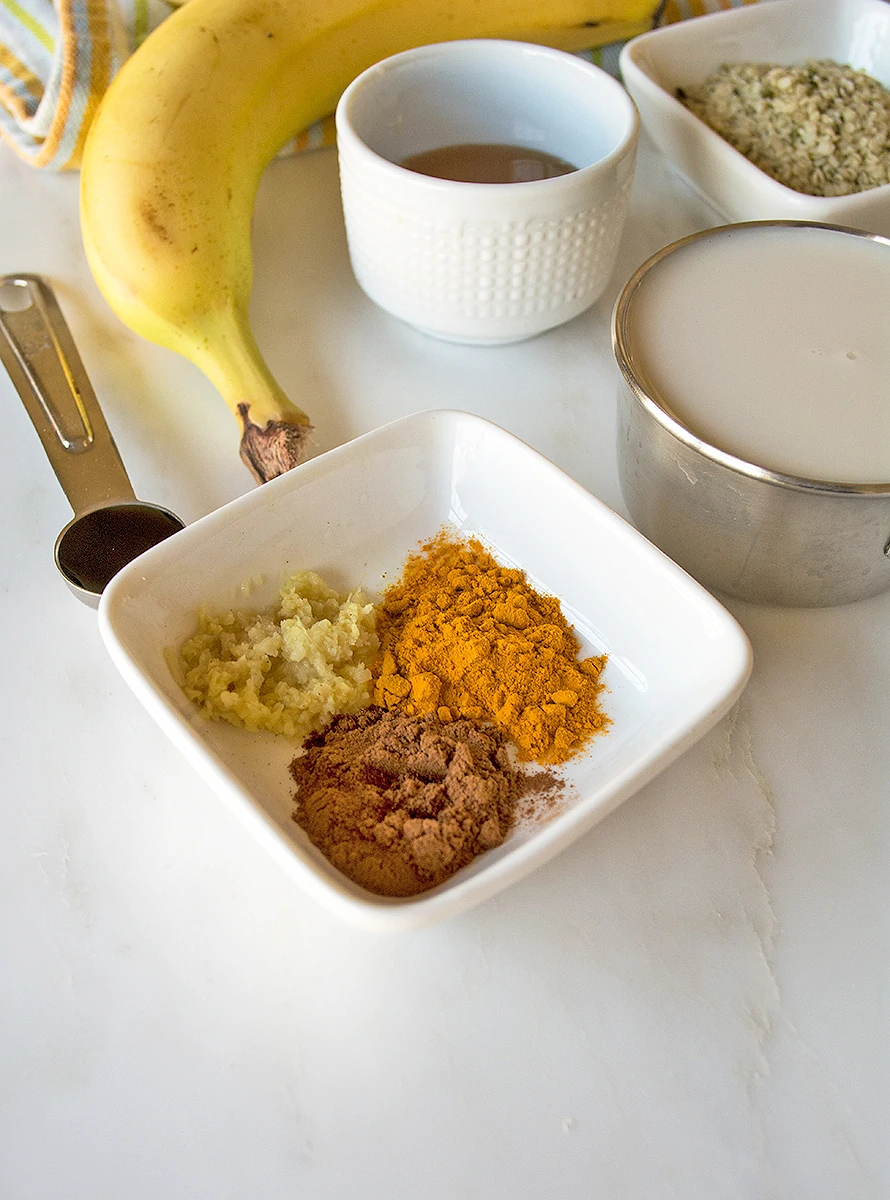 I tend to like the combination of several ingredients, where he prefers things to be a bit more simplified.
Anyway, this conversation happens often, but it's those times that he doesn't know I'm watching and he readily volunteers his accolades, that I swell up inside, knowing this is one for the blog.
The honey and vanilla help balance the spiciness of the turmeric, ginger and cinnamon, while the hemp seeds add a bit of protein and fiber to give you energy. Then of course, there are the bananas, the perfect base for any smoothie.
If you're in the market for an affordable blender, here are some highly rated options!
Here are some added benefits of Turmeric:
Natural anti-inflammatory
Natural antibiotic and antiseptic
Speeds up the healing of wounds
Improves digestion and helps prevent gas and bloating
Natural blood purifier
Natural skin tonic and aids in improving skin conditions such as psoriasis and eczema
Slows progression of MS and helps prevent progression of Alzheimer
Lowers cholesterol and helps heal stomach ulcers
Helps prevent cancer such as breast, prostate, skin, colon, lymphoma and leukemia and can also reduce side effects of chemotherapy
Aids in fat metabolism and weight management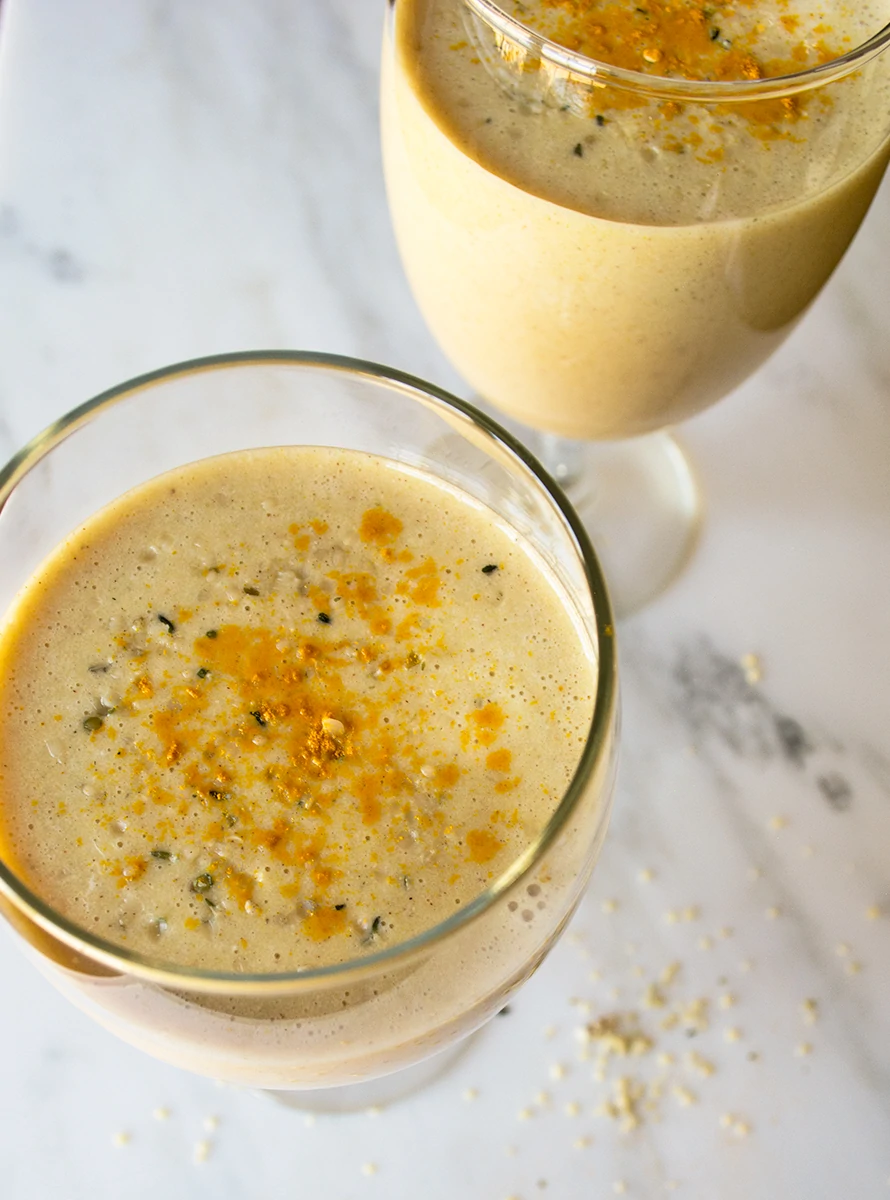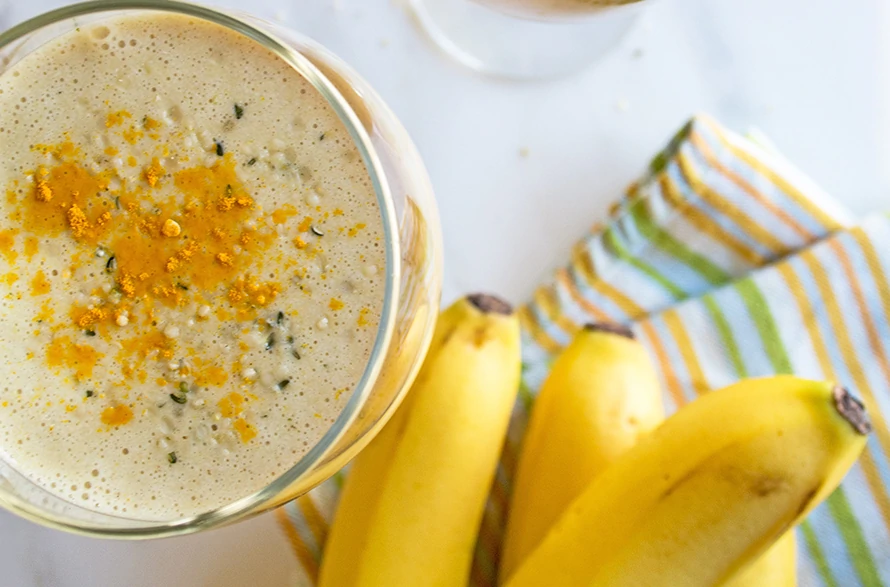 Whether you have a busy weekend ahead or plans to get some needed R and R, find some time to add this refreshing Turmeric Banana Smoothie to the mix!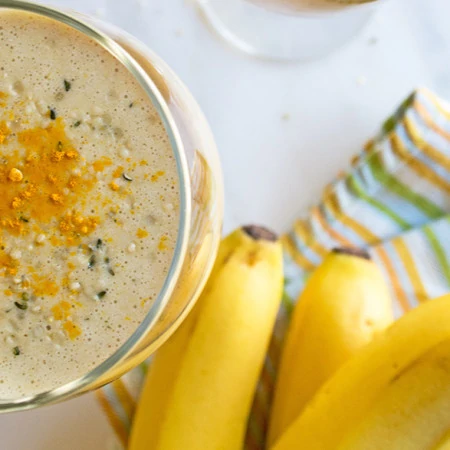 Print Recipe
Turmeric Banana Smoothie with Ginger
This Turmeric Banana Smoothie with Ginger is the perfect Spring inspired smoothie – fresh, colorful, and most importantly, tasty!
Ingredients
2

medium-sized bananas

1 1/2

cups

Vanilla Almond Milk

Unsweetened

2

tbsp

hemp seeds

1/2

tsp

turmeric

1/2

tsp

ginger

minced

1/2

tsp

ground cinnamon

1 1/2

tbsp

honey

1/2

tsp

vanilla extract

6-8

ice cubes
Instructions
Add all ingredients to NutriBullet or Blender

Blend 20-30 seconds or until smooth and creamy

Top with additional hemp seeds and turmeric, if desired
Nutrition
Serving:
1
g
|
Calories:
245
kcal
|
Carbohydrates:
43.6
g
|
Protein:
5.5
g
|
Fat:
7.1
g
|
Saturated Fat:
0.6
g
|
Polyunsaturated Fat:
4.4
g
|
Sodium:
137.4
mg
|
Fiber:
5.3
g
|
Sugar:
27.4
g
Health Benefits of Turmeric taken from www.edibleharmony.com.