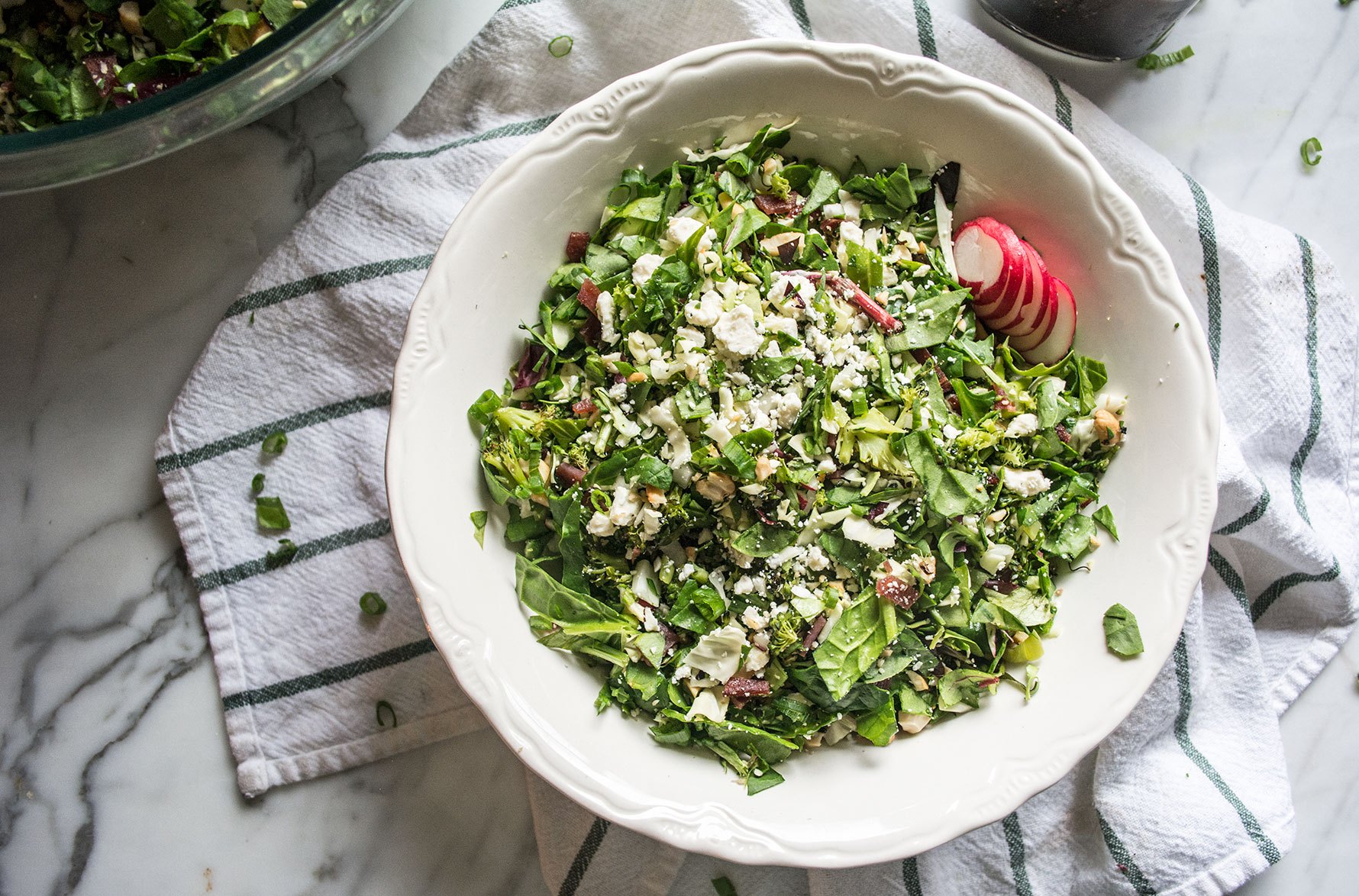 We recently joined some friends of ours to see Gregory Alan Isakov perform live at the Ryman. I wasn't familiar with him before the show, but his indie-rock-folk style is definitely a genre I like and it turned out to be a really great show. Wanting to find somewhere close to eat dinner before the show, we made reservations at Little Fib in downtown Nashville. It's the new restaurant inside the Renaissance hotel and just around the corner from the Ryman.
A friend of ours is the hotel's Manager of Operations and he had a hand in the decor and concept behind the Little Fib – it's essentially an American-retro dining experience with a nod to the rich history of Nashville. He's also the one responsible for putting a honey bee farm on the rooftop of the Renaissance – such an innovative idea! Not only does the hotel use the honey in their available menu items, but they partnered with a local brewery to create a signature honey ale that is now on tap in the restaurant.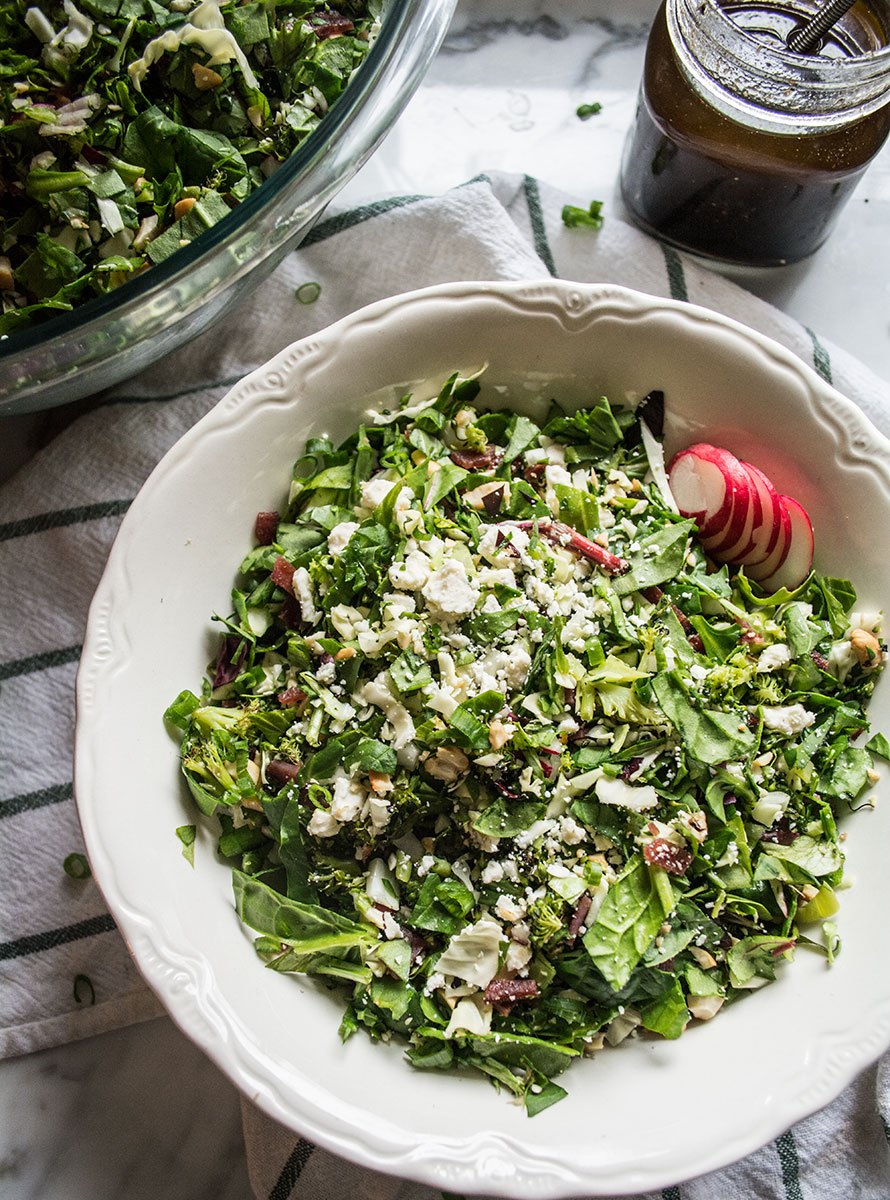 Our friend was able to join us for a bit during dinner and he ordered several appetizers for the table – so generous! Starting with the Cornbread Madelines, which were served with their local honey, they were tender and moist, full of flavor. The Gruyère Fondue was also among those he suggested/ordered, which was served with toasted bread, tater tots, and raw veggies, a great, unique combination! However, the Crispy Brussel Sprouts stole the Appetizer Show as far as I'm concerned. Topped with a maple-bacon vinaigrette and crispy onion straws, I could have liked the plate…don't worry, I didn't. 
Regardless of how much I enjoyed the Brussel Sprouts, the Grilled Broccolini Chop Salad I ordered was the highlight of my meal. Honestly, I'm not typically a bacon girl, I don't dislike it, it's just not something I seek out. However, this TN grass-fed bacon was perfectly paired with grilled broccoli, toasted cashews, blue cheese, cucumber, and raddichio. Each ingredient was chopped into bite-size pieces, brilliantly distributing the flavor and crunch, then covered in a honey vinaigrette. Let's be real, salads are sorta my go-to thing when ordering out and this Grilled Broccoli salad was one of the best I've had in a while!
Enough so, that a week later I was still thinking about it, which ultimately inspired this Roasted Broccoli Blue Cheese and Bacon Chopped Salad! I made a few changes here and there for convenience or preference – roasting the broccoli rather than grilling it, turkey bacon instead of pork, cabbage in place of raddichio… you get the idea. But overall I'd say the two are pretty similar. And the homemade Honey Balsamic Vinaigrette came together like the perfect high-five.
Reasons you NEED This Chopped Broccoli Salad in your Life:
Chopped salads are always the best, so much flavor and crunch in every bite!
Broccoli + Bacon + Blue Cheese…need I say more?
You can easily buy precooked bacon or a vegan bacon alternative to save on cook-time without sacrificing flavor!
It's January, you're trying to eat healthier, and there is NOTHING boring about this salad!
Five-Minute simple homemade dressing – no preservatives, no additives, no brainer!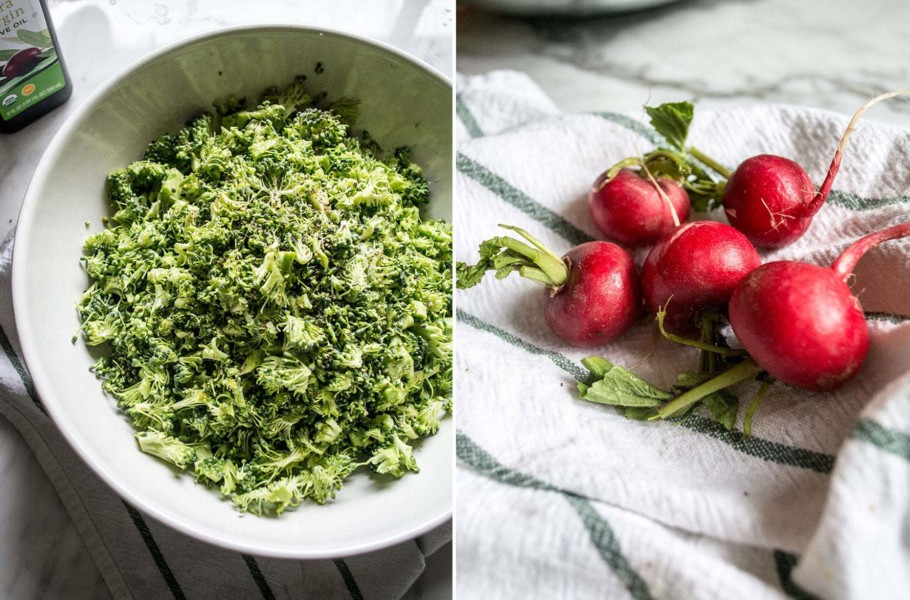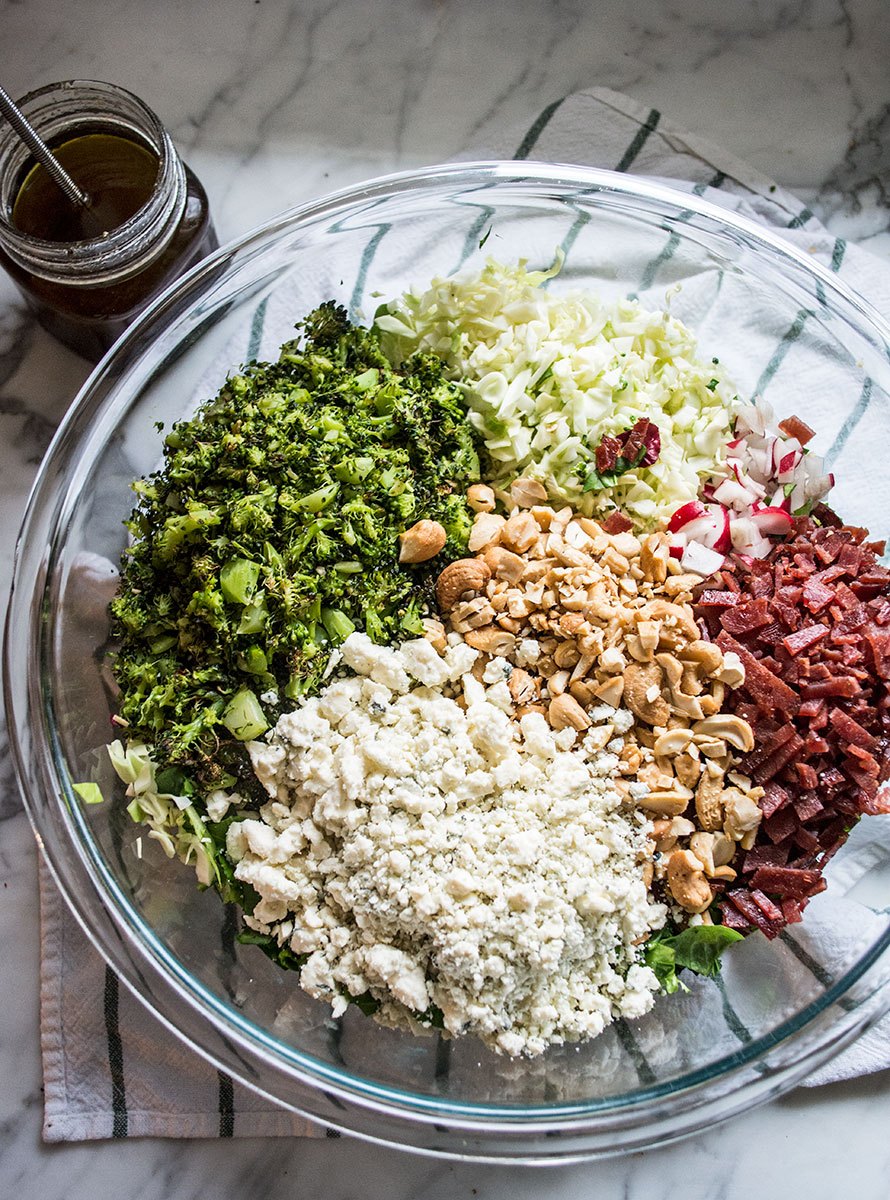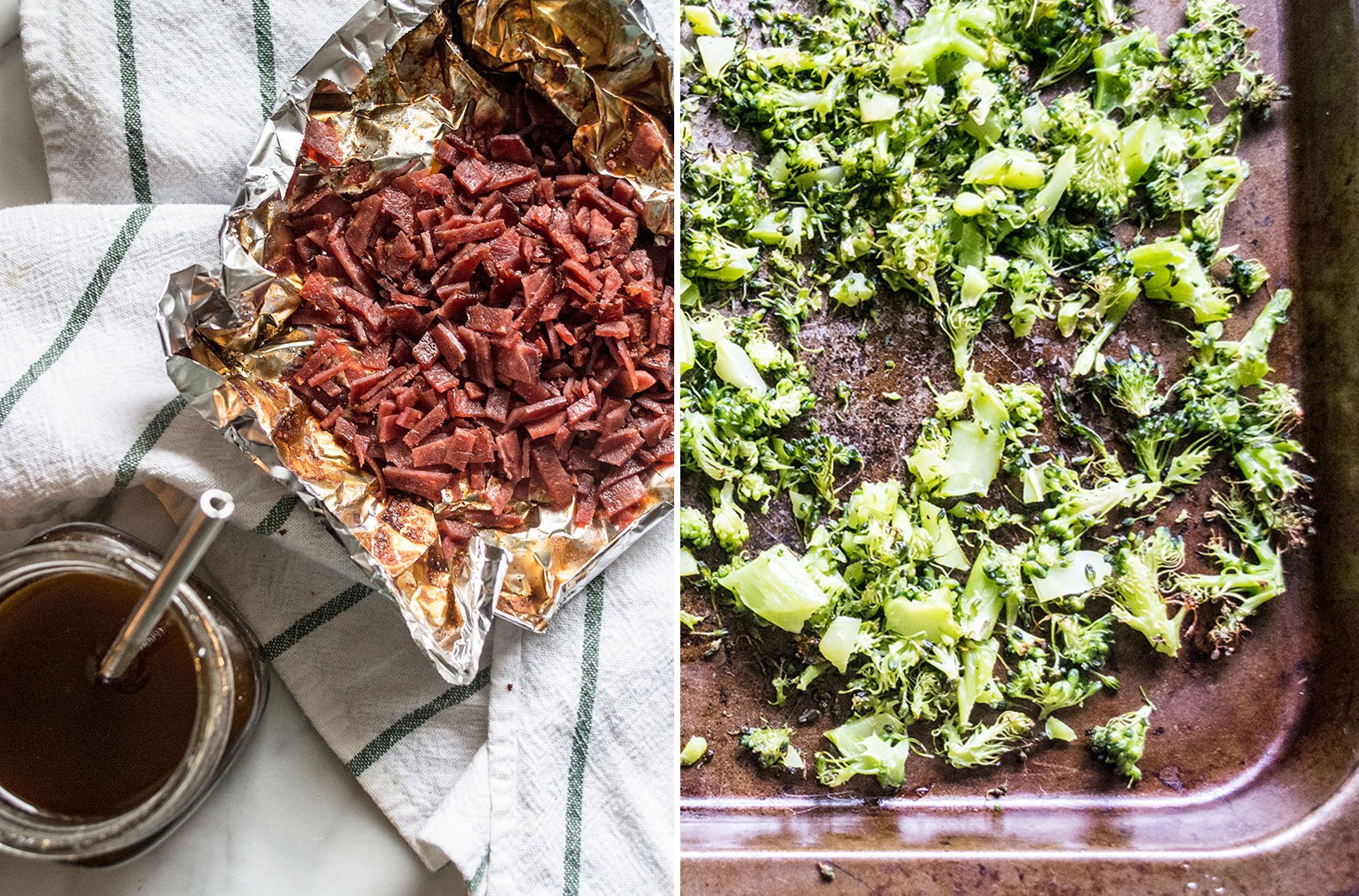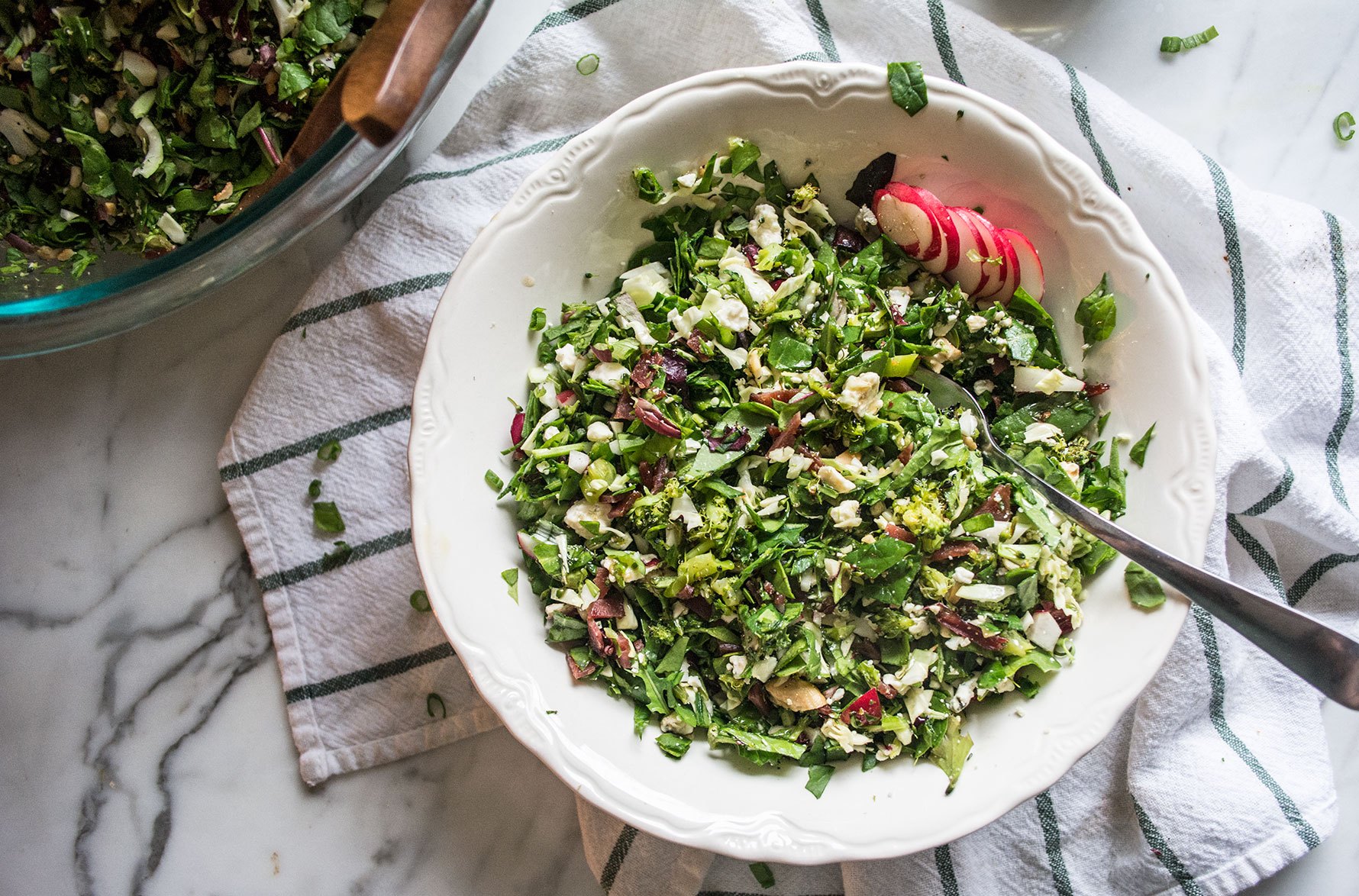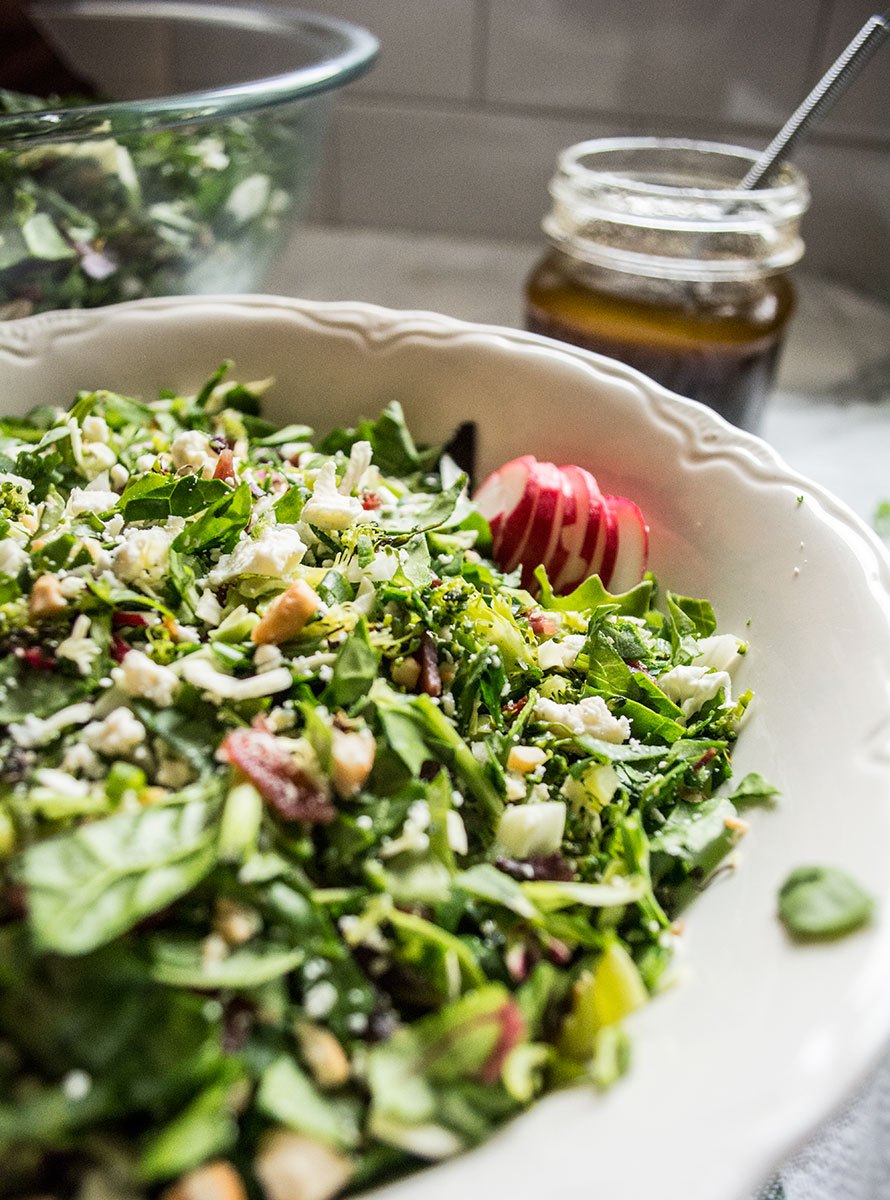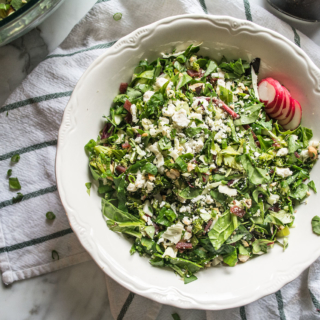 Print Recipe
Roasted Broccoli Blue Cheese and Bacon Chopped Salad
This Roasted Broccoli Blue Cheese and Bacon Chopped Salad is AMAZING - full of texture and crunch in every bite and loaded with savory goodness!
Ingredients
CHOPPED SALAD:

4-5

cups

broccoli

chopped

1

tbsp

extra virgin olive oil

salt and pepper

6-8

cups

organic mixed greens

chopped

2

cups

cabbage

finely chopped

8

slices

turkey bacon

cooked and chopped*

3/4

cup

unsalted roasted cashews

roughly chopped

4

ounces

crumbled blue cheese*

4

small radishes

finely chopped

HONEY VINAIGRETTE DRESSING:

1/2

cup

+ 1 tbsp extra virgin olive oil

2

tbsp

apple cider vinegar

2

tbsp

balsamic vinegar

2

tbsp

raw honey

2

tsp

sea salt

1/2

tsp

dijon mustard

1

tsp

black pepper
Instructions
Preheat oven to 400 degrees.

Add chopped broccoli to large bowl, drizzle with olive oil, sprinkle with salt and pepper, then toss to coat. Spread broccoli out on large baking sheet and roast for 12-15 minutes or until cooked through. Remove and allow to cool.

While broccoli cooks and cools, add all dressing ingredients to medium mason jar, tighten lid and shake well or use a small whisk to stir and blend. I tend to go light on dressing, so this made way more than I needed, but it stores well in the refrigerator for future uses.

Add chopped mixed greens (I used a blend of organic spinach, kale, and spring mix), cabbage, and radishes to a large bowl. Then top with cooked and cooled bacon and broccoli, along with roughly chopped cashews and blue cheese. Toss or stir until all ingredients are well mixed.

Distribute evenly among 4 bowls, top with additional cashews or blue cheese if desired along with fresh chives. Drizzle with Honey Balsamic Vinaigrette and dig in!