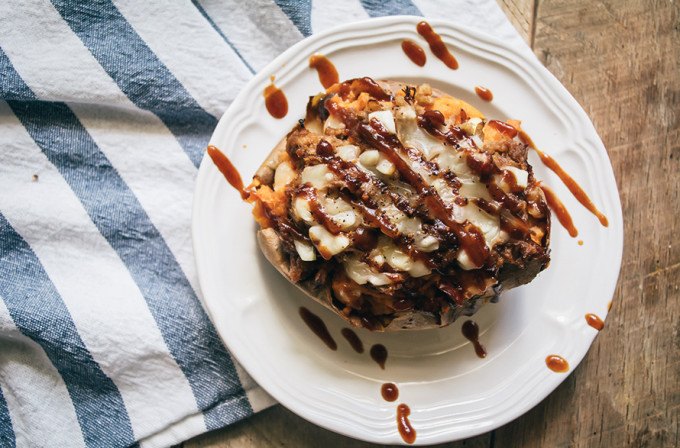 I'm sorry…come again, *Pork*? As in meat?! Yup, you got it! This is perhaps the second, maybe third recipe on the blog that calls for meat. Shocking, I know! I've mentioned before that Josh and I end up eating a lot of vegetarian meals, but we are not vegetarians. And throughout my pregnancy, and now with nursing Brighton, I am continuously being encouraged to make sure I get enough protein in my diet. I do manage to get a decent amount through eggs, dairy, and beans, but I've definitely found myself eating more meat this past year. And speaking of nursing my newborn baby, that consumes a large majority of my time these days. So when it comes to dinner, I'm constantly looking for ways to make easy healthy and flavorful recipes, and these Loaded BBQ Pork and Veggie Sweet Potatoes check all the boxes!
I spent some time the other day walking the freezer aisles of Walmart to see what might be available to help make our dinners quick and easy, while adding in that missing protein, and yet still resulting in something healthy with little to no preservatives/additives. Birds Eye and Farm Rich® both had several great options. Josh is a pretty big fan of pulled BBQ, so while I typically gravitate towards chicken, this Farm Rich® Smokehouse Dry Rub Smoked Pork grabbed my attention. Not only is it high in protein, but it is all natural, made of quality cuts of meat, smoked for hours, and contains absolutely no preservatives or additives. When a product has ingredients I either can't pronounce or am not familiar with, I typically shy away from those, however this Dry Rub Smoked Pork contains only pork, salt, and spice.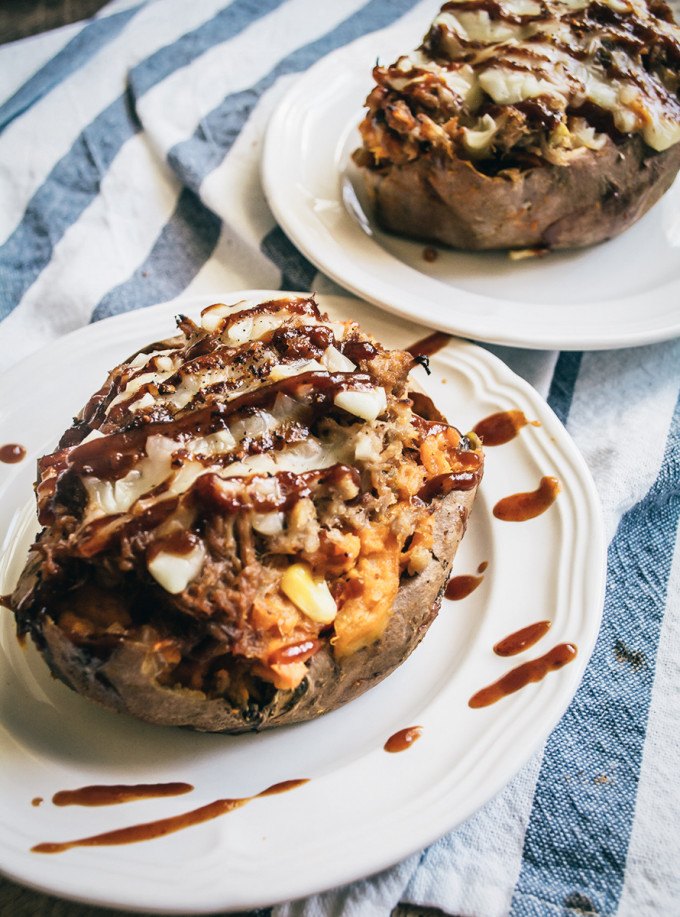 For those of you who have followed along for any length of time, you likely know of my deep affection for sweet potatoes. One of the ways I love to eat them is by baking and stuffing them with veggies, cheese, and in this case, pork! In the past, I shared these Healthy Mexican Stuffed Sweet Potatoes which are a favorite of ours, but again life with a baby is a little different these days. There are nights when chopping the veggies and measuring out each spice is totally doable, then there are nights when I need there to be as minimal prep work and hands on time as possible. Fortunately Birds Eye Flavor Full vegetables has several easy options to make this possible. These steamfresh vegetables are not only healthy, but rich in flavor, combining popular vegetables with mouth-watering flavors, such as this Barbecue Sweet Corn.
I mentioned before that Josh is a big BBQ fan, so when I saw this Birds Eye Barbecue Sweet Corn, along with the Farm Rich® Dry Rub Smoked Pork, I immediately started pondering what I could make using these two ingredients for a healthy flavorful dinner. Being that I love to mix sweet and savory, combining the smoked pork and barbecue corn, along with some black beans, then shoving them into the baked flesh of sweet potatoes, only to be topped with melted Muenster cheese and a drizzle of BBQ sauce seemed like the natural thing to do. So bake, mix, shove, and drizzle is exactly what I did, and oh my, were these good!
Don't be intimidated by the overall cook time, nearly all of it is completely hands off. I was able to get the potatoes and pork into the oven to bake for an hour, while I continued to do other things around the house. Once the potatoes and pork finished baking, I removed them from the oven to allow the potatoes to slightly cool, while the steamfresh barbecue corn quickly cooked in the microwave. After that, it was only a matter of scooping out the insides of the sweet potatoes, adding them to a large bowl, tossing in the black beans and barbecue corn, along with a little BBQ sauce, and briefly stirring the mixture to combine. I then scooped the veggie mixture back into the shell of each potato, topped them with the BBQ pulled pork, sprinkled the chopped Muenster Cheese, and before I knew it, dinner was served, my tastebuds were satisfied, and my belly was full!
For those of you looking for an easy way to get additional vegetables and nutrition in your dinners, without sacrificing the flavor, this recipe does exactly that, I hope you'll give it a try!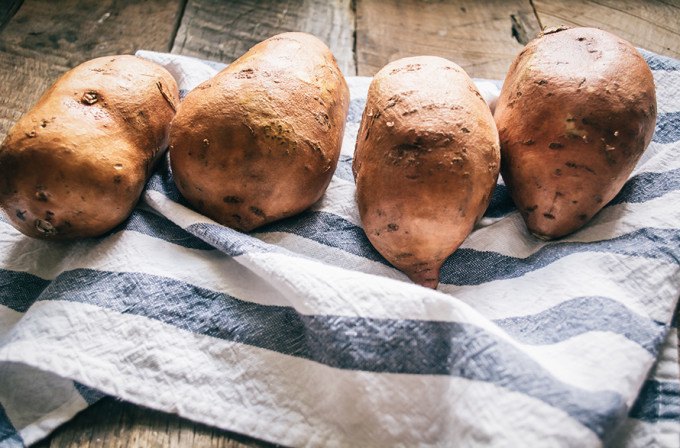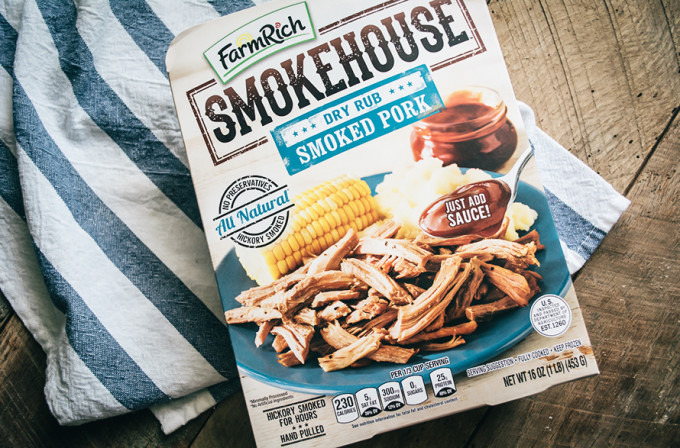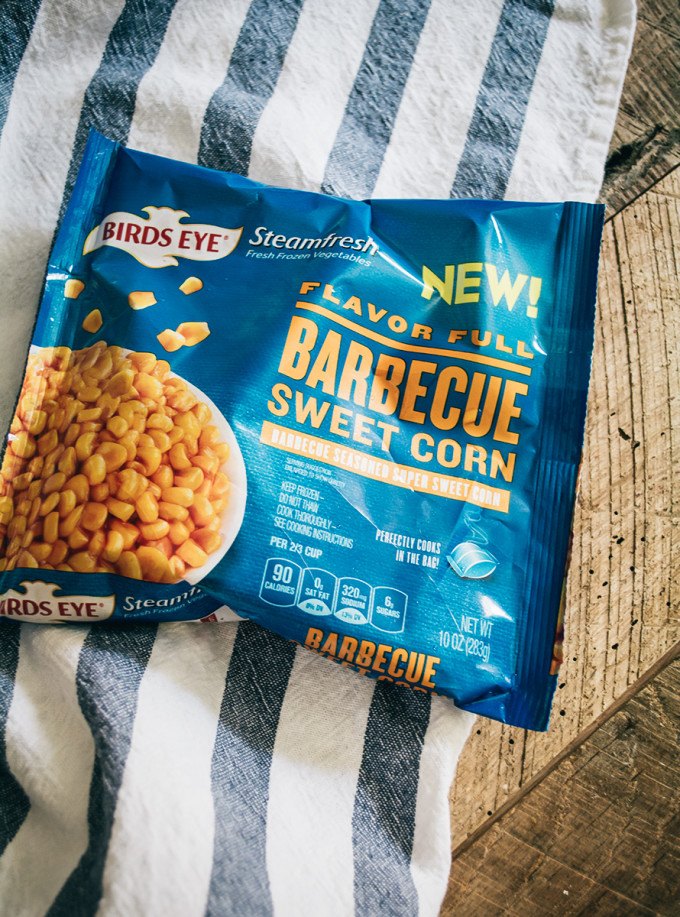 If you'd like to give these Birds Eye Vegetables or Farm Rich Smokehouse products a try, they have a current promotion! For a limited time, earn $0.75 on Birds Eye Vegetables and unlock $1.00 off one Farm Rich® Smokehouse product with Ibotta while supplies last. If you haven't used Ibotta, you have to download the app available on iOs and Android. Before you shop, be sure to unlock the rebates for both Birds Eye Vegetables and Farm Rich® Smokehouse. Then, shop! Buy the products that you've unlocked at major retailers. Finally, verify your purchase by scanning your barcodes and submitting a photo of your receipt!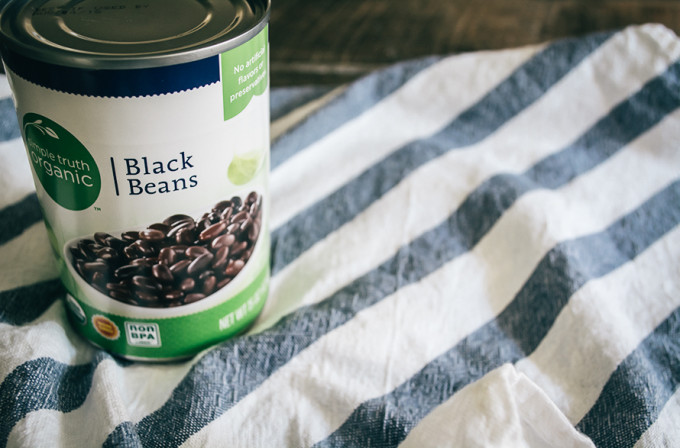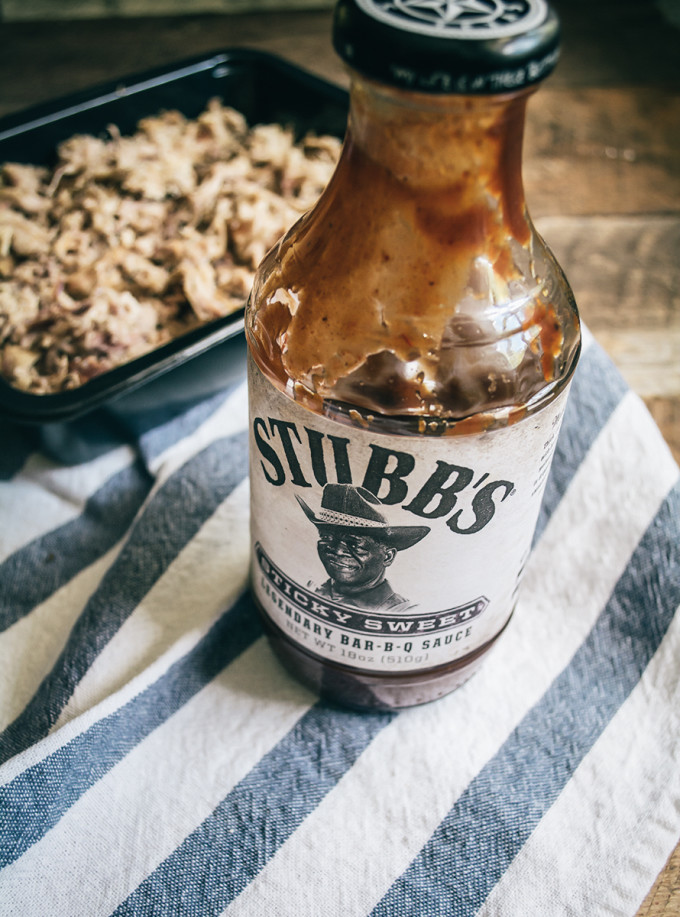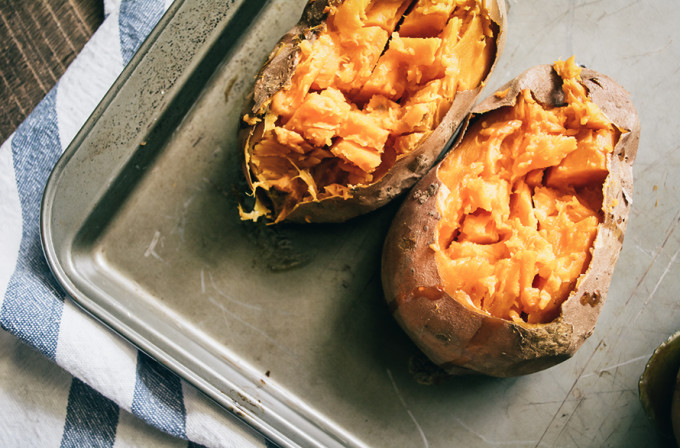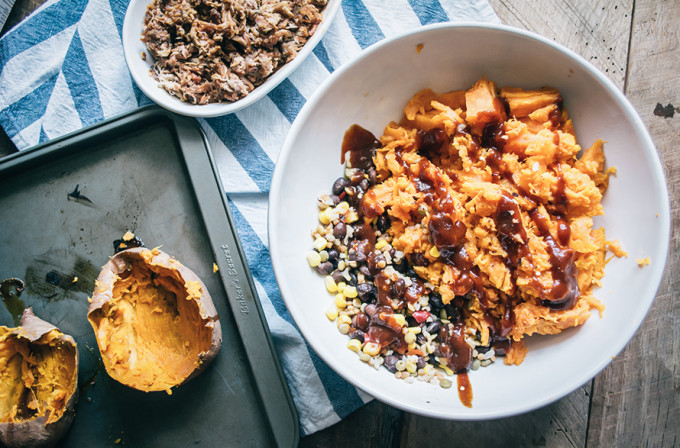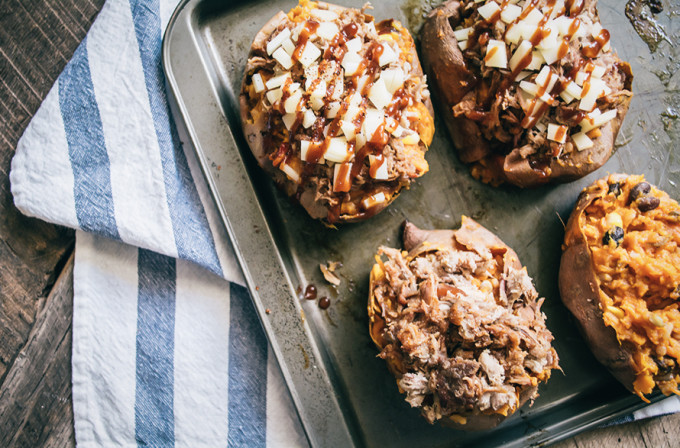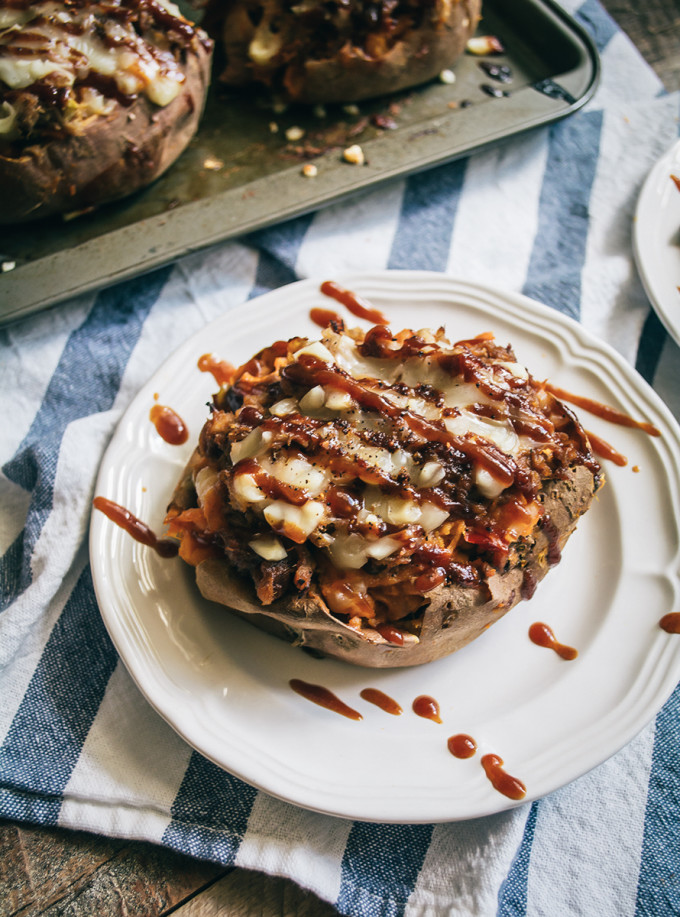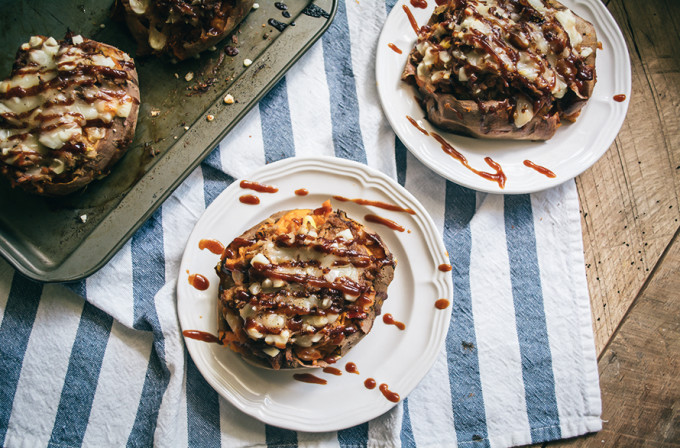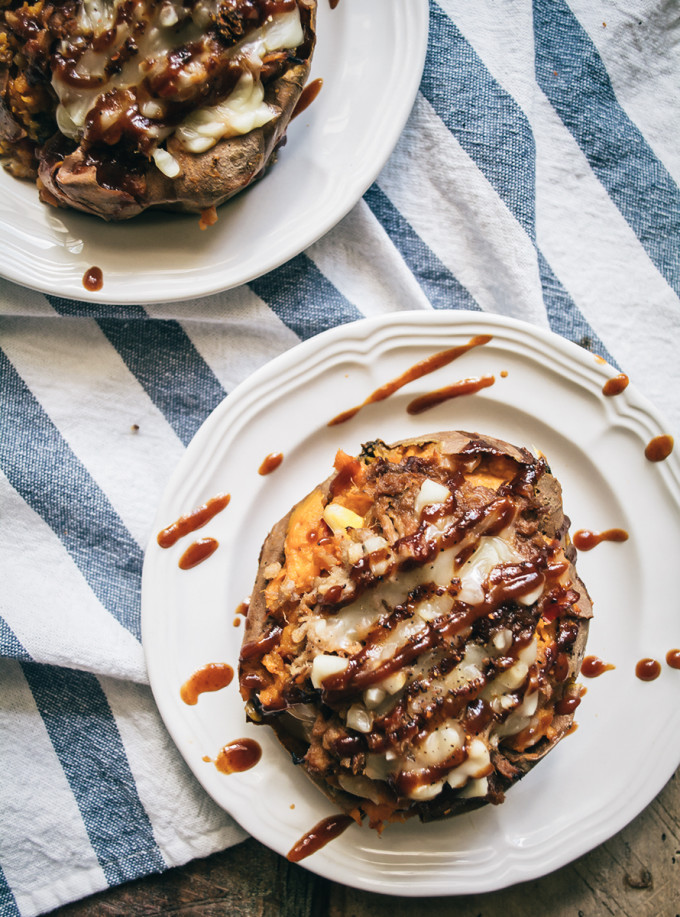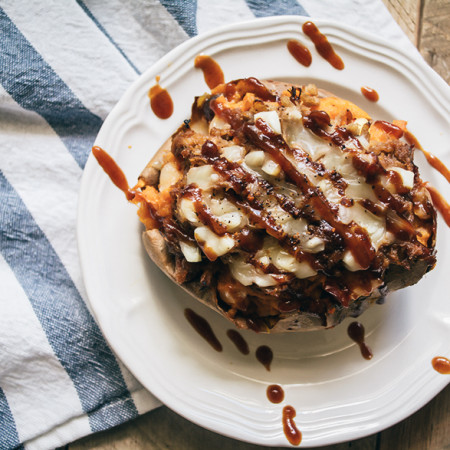 Print Recipe
Loaded BBQ Pork and Veggie Sweet Potatoes
These Loaded BBQ Pork and Veggie Sweet Potatoes boast a lovely smokey flavor, while requiring very little hands-on time, making a healthy dinner that much easier!
Ingredients
4

medium sweet potatoes

1/2

package Farm Rich® Smokehouse Dry Rub Smoked Pork

1

cup

cooked Birds Eye Steamfresh BBQ Sweet Corn

1/2

cup

black beans

rinsed and drained

3

oz

chopped Muenster cheese

5

tbsp

Stubbs BBQ sauce

divided

BBQ Rub and Seasoning with Coffee & Garlic

optional
Instructions
Preheat oven to 375 degrees.

Scrub sweet potatoes and prick each one several times with fork. Add to baking pan (line with aluminum foil to avoid cleanup) and bake 50-60 minutes or until cooked through.

Once potatoes are in the oven, remove Dry Rub Smoked Pork from the plastic package, add to provided tray, cover with aluminum foil, and bake for 30 minutes. Remove after 30 minutes, stir, and bake additional 25 minutes.

When the potatoes and pork have approx 5-10 minutes left to bake. Add Bird's Eye Flavor Full Barbecue Sweet Corn to the microwave and cook for 5-6 minutes (see directions on back for additional details).

Once the sweet potatoes are cooked, allow to cool for a few minutes, then cut off tops and scoop out the cooked flesh of each potato, add to a large bowl. Leave the skin of the potatoes in tact along with a thin layer of potato to help hold skins together.

Once the Steamfresh BBQ Sweet Corn has cooked, add 1 cup to the bowl with the cooked sweet potatoes. Store remaining corn in fridge for another use.

Add 1/2 black beans, plus one tbsp BBQ sauce to corn and sweet potatoes, then using large fork, mash the sweet potatoes and stir to combine all ingredients.

Once the pork has cooked, add two tbsp BBQ sauce to 1/2 the tray (store remaining half in the refrigerator for future use).

Scoop sweet potato filling into the skins, then top each with BBQ pulled pork and chopped Muenster cheese. Drizzle with additional 2 tbsp BBQ sauce, then bake another 6-7 minutes or until cheese has melted. Sprinkle with BBQ Rub and Seasoning with Coffee and Garlic, if desired. Serve!
This post is part of a social shopper marketing insight campaign with Pollinate Media Group®, Birds Eye®, and Farm Rich® but all my opinions are my own. #pmedia #FullnRichFlavor  http://my-disclosur.es/OBsstV