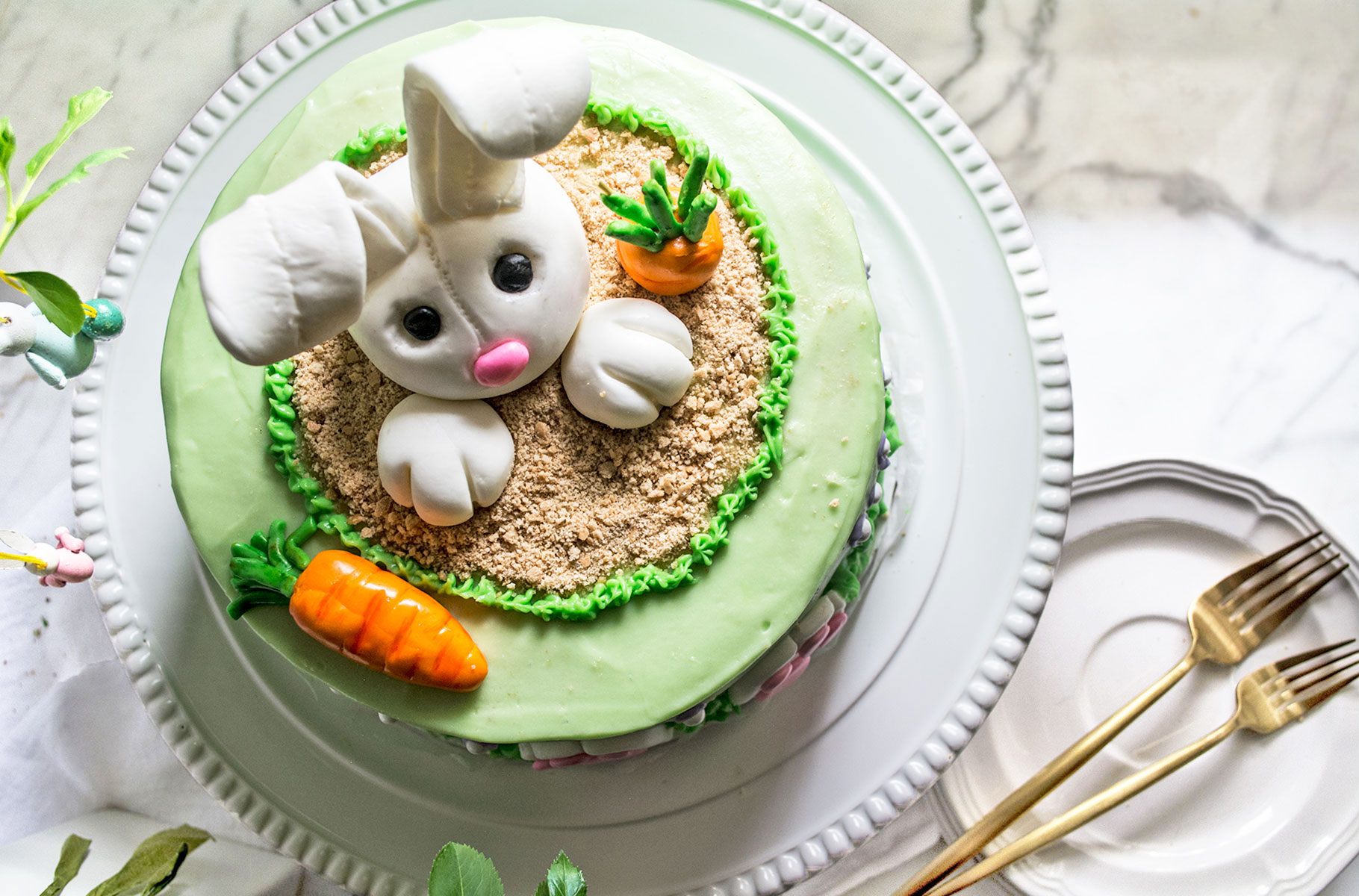 This Lemon Strawberry Cake with Lemon Cream Cheese Buttercream is delightfully addicting and perfect for Easter and Spring! I can't say that it's Paleo, Gluten-free, or healthy (definitely NOT)… but it IS super yummy, and made from scratch with love!
I think this Easter is one we'll always remember. And one that looks different than we imagined 6 weeks ago. But the day is here, and however different it may be than we initially envisioned, He is Risen, and I'm so grateful!
This past week, we've read the Bible stories centered around Jesus's crucifixion and resurrection over and again. Between these readings, the devotions from Brighton's preschool, and all our conversation around what this means for us, I think he's getting it. It's so sweet hearing the questions he has.
While we've talked a lot about the reason we celebrate Easter, we've also filled the week with fun festivities – including making this bunny cake. I used a homemade fondant recipe (basically just marshmallows and powdered sugar) to make the bunny and carrots. Then frosted the cake with a lemon cream cheese buttercream. The bunny and cake aren't perfect, but the kids LOVED it, and I had a lot of fun making them and hearing their little voices call out "it's a bunny!". 😊
What I love about this Lemon Strawberry Cake with Lemon Cream Cheese Buttercream:
So much lemony goodness
The sweetness of the strawberry preserves is a lovely compliment to the tart lemon
Festive for Spring!
Happy distraction while we're social distancing…
Yum, Yum, and more Yum!
I asked Josh if he wanted a lemon cake or carrot and he choose lemon. I wanted to bring in a fruit filling of some sort and kept it simple using a jar of organic strawberry preserves. And wanting to make sure the lemon flavor really shined, I went ahead and added lemon to the buttercream. In the end, I'm really happy with the turn out. It's just so perfect for Spring.
If you're looking for some healthier fun Easter Treats, try these Gluten-Free Sugar Cookies or these No-Bake Chocolate Peanut Butter Bird's Nest Cookies.
I'll be back next week with a healthy new recipe! Happy Easter 💚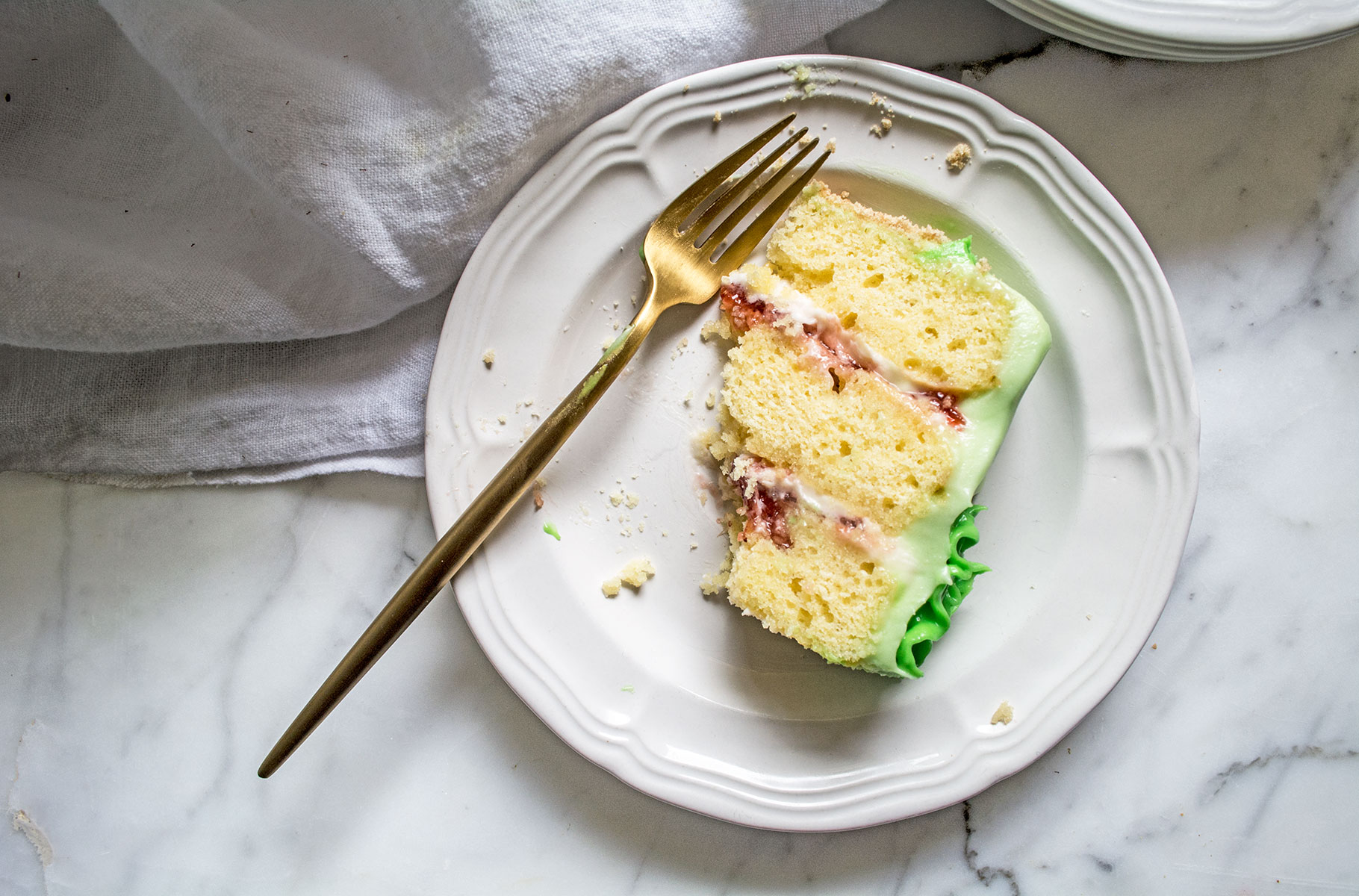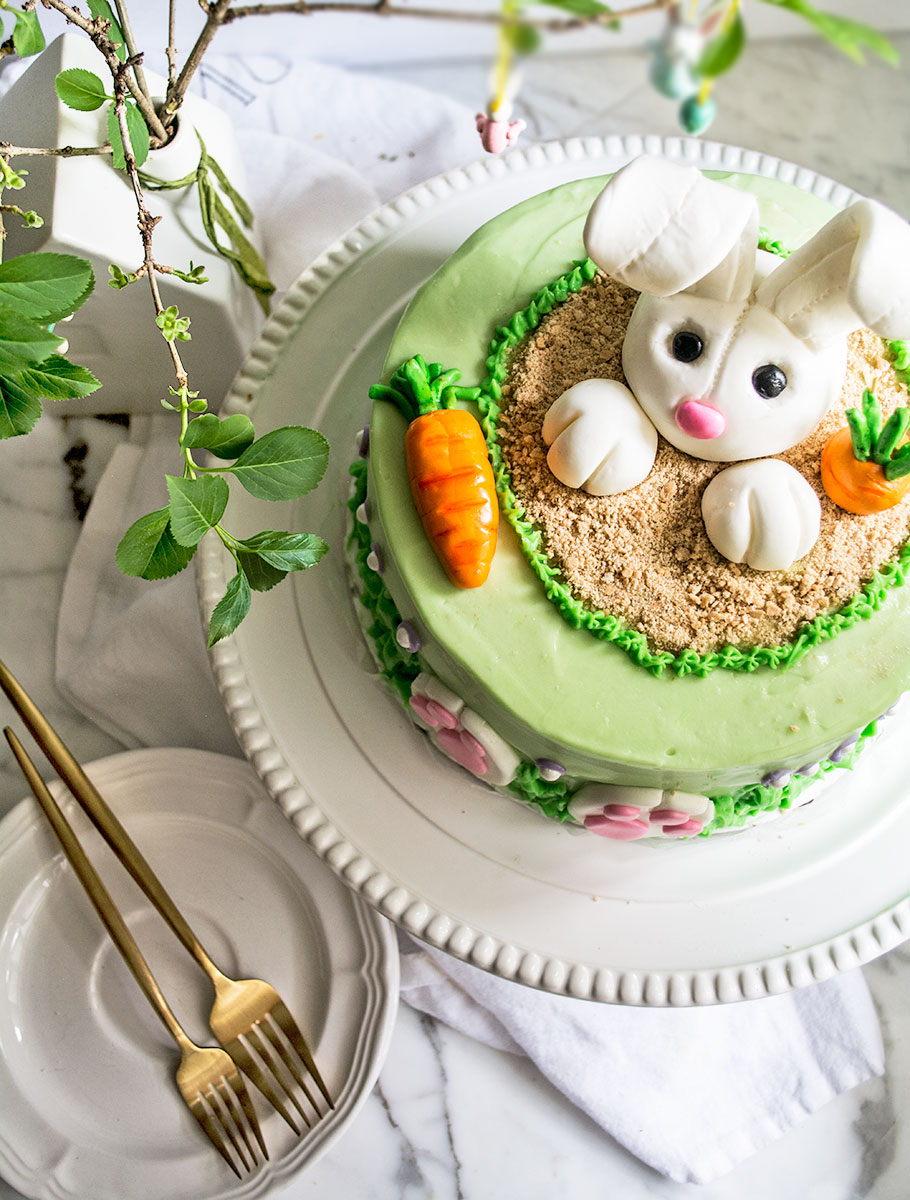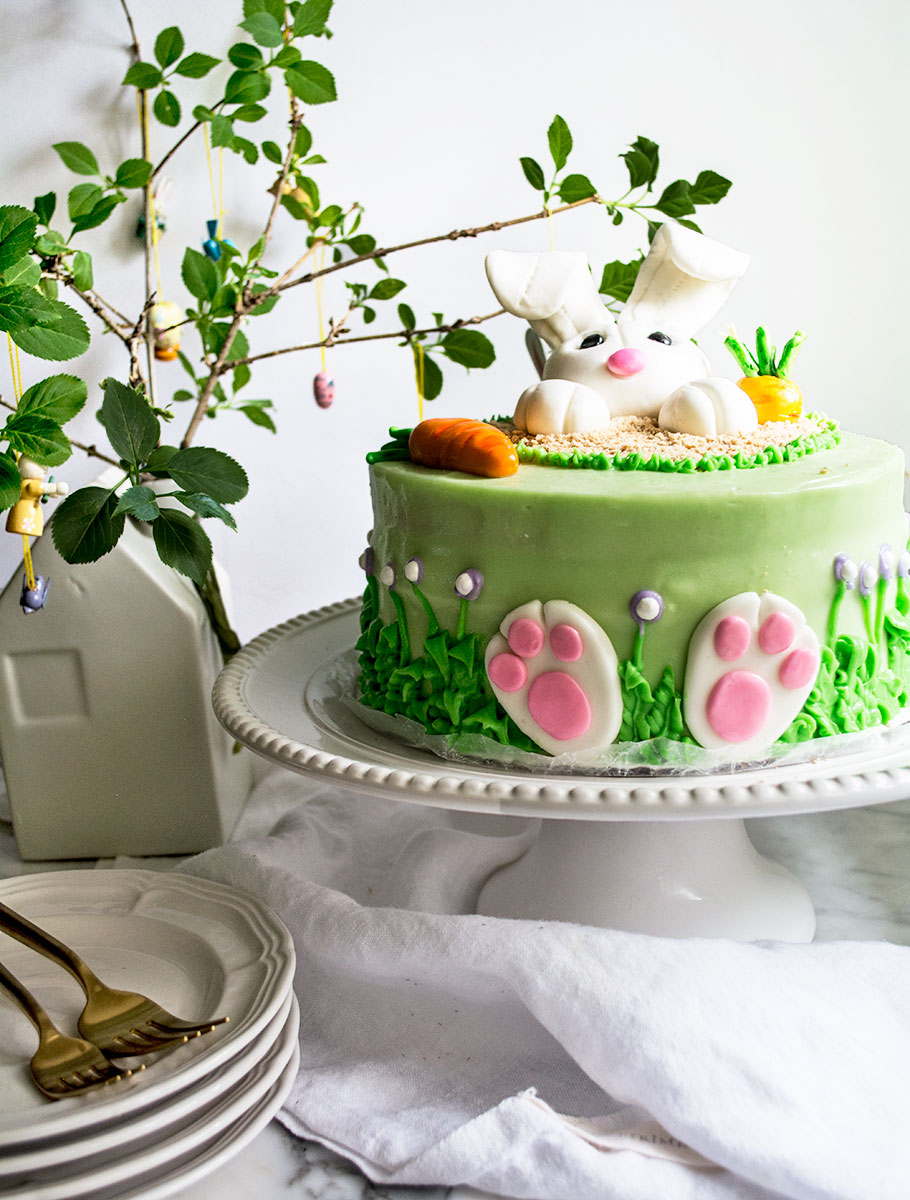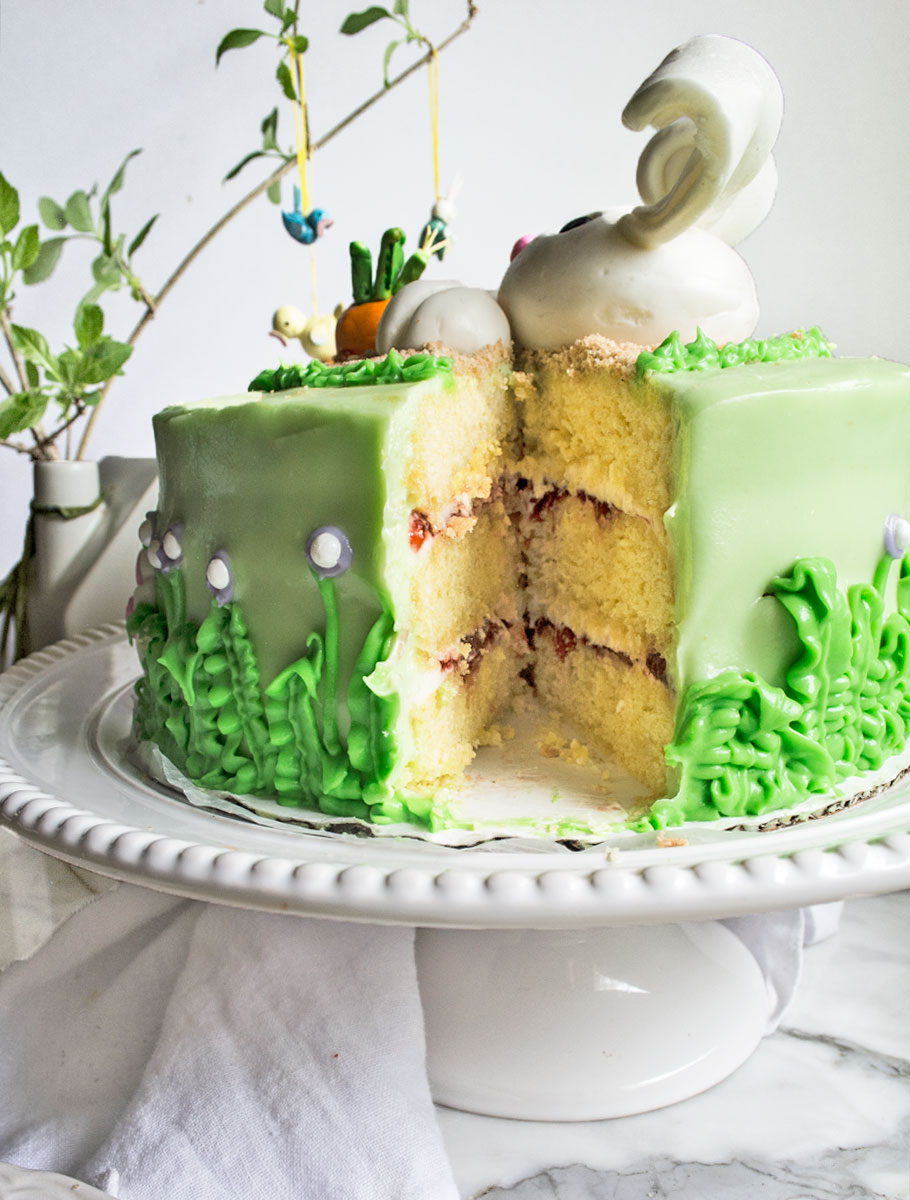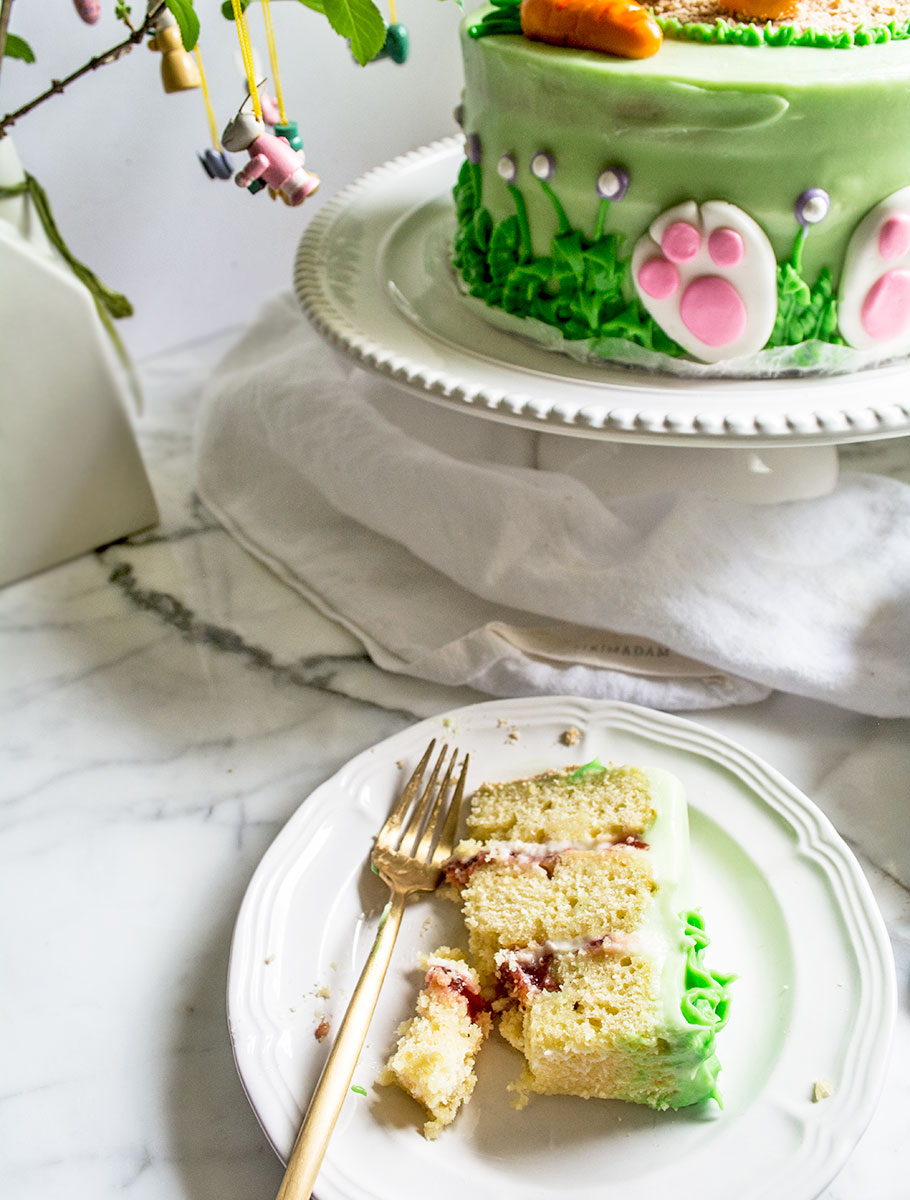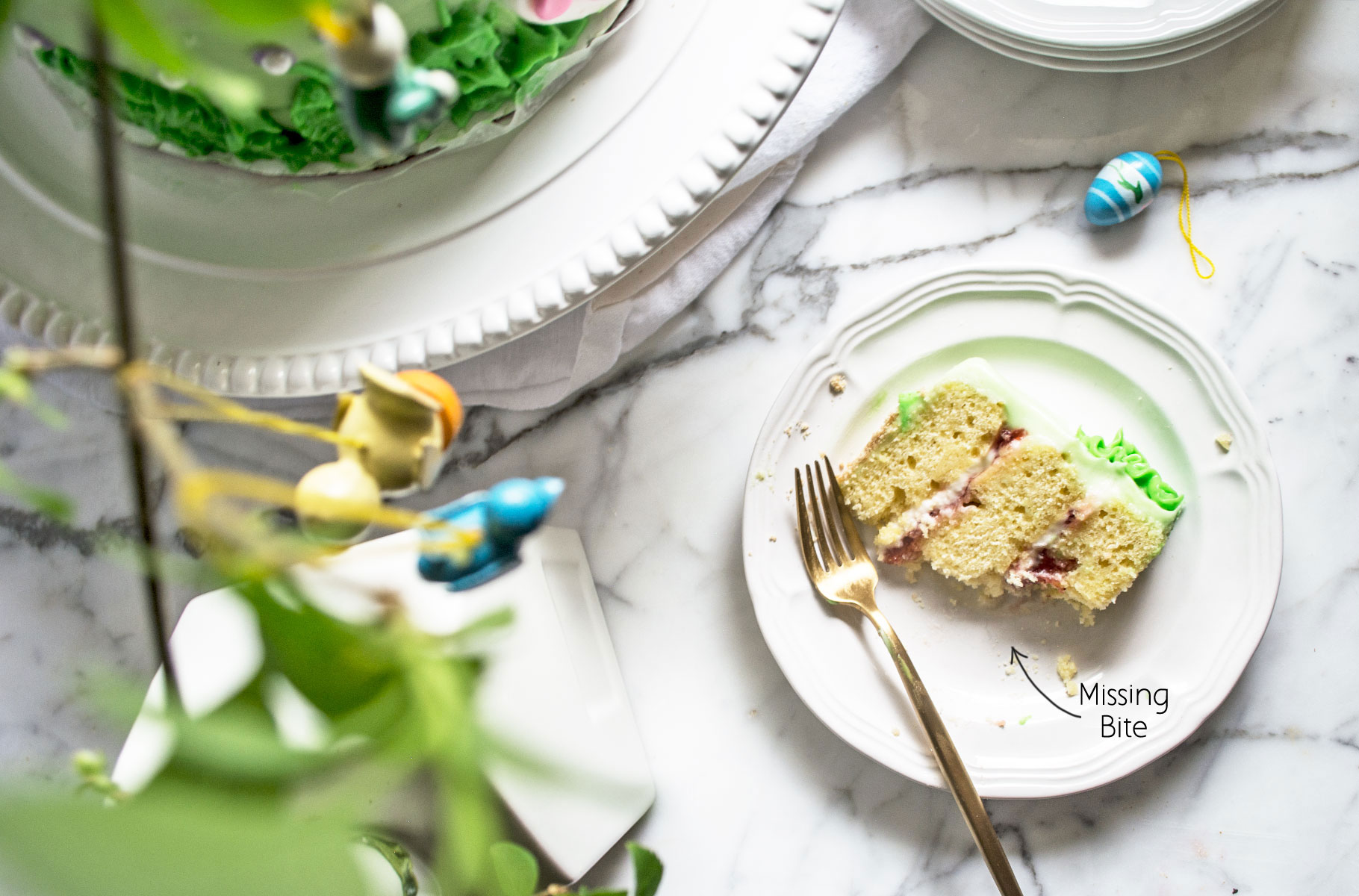 Notice bites keep going missing as I photograph…😋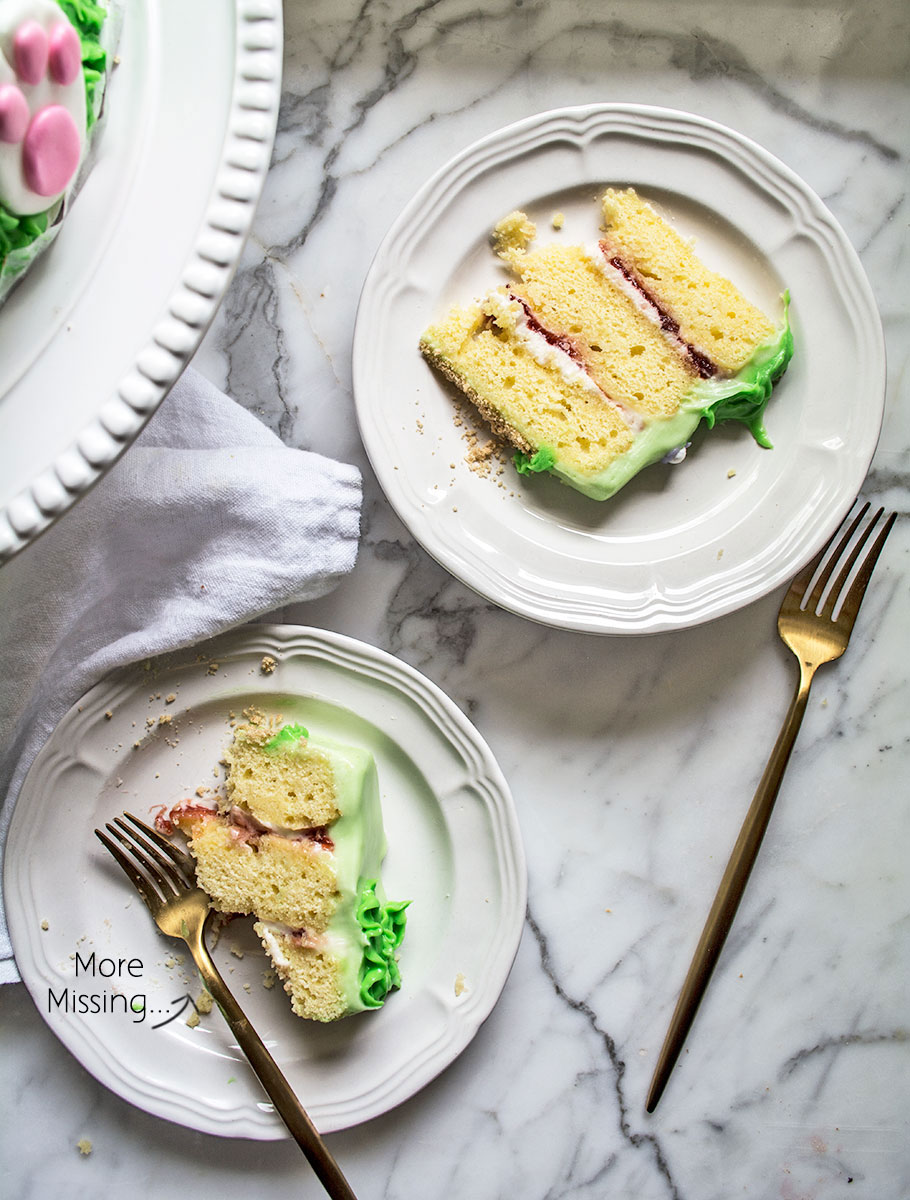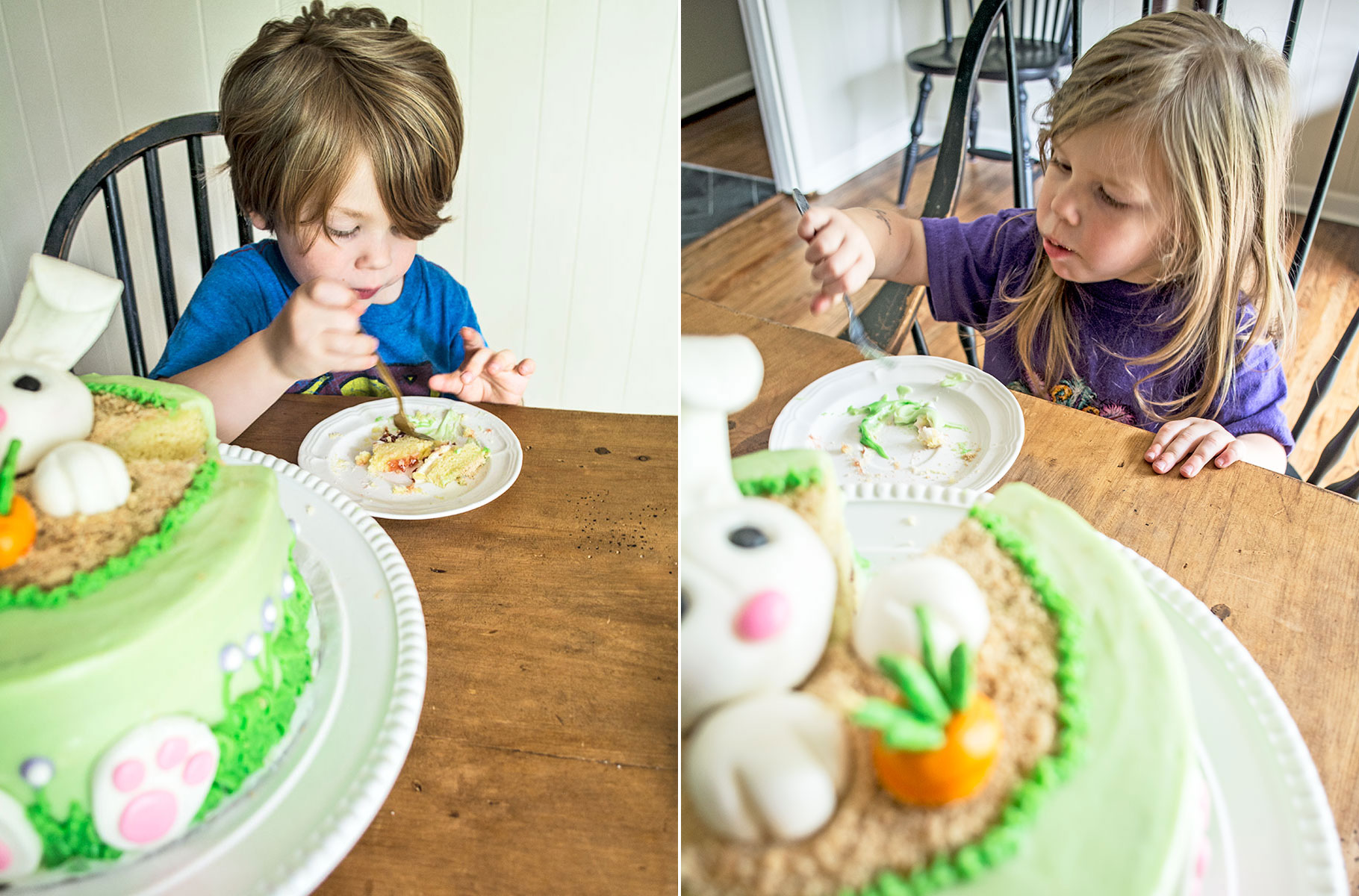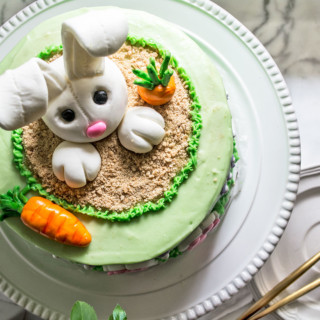 Print Recipe
Lemon Strawberry Cake with Lemon Cream Cheese Buttercream
This Lemon Strawberry Cake with Lemon Cream Cheese Buttercream is delightfully addicting and perfect for Easter and Spring!
Ingredients
FOR LEMON CAKE LAYERS:
3/4

cup

unsalted butter

room temperature

1 1/2

cups

white sugar

3/4

cup

Greek Yogurt

whole milk*

1 1/2

tsp

vanilla extract

2

tbsp

lemon zest

finely grated

3

whole eggs + 1 yolk

2 1/2

cups

all purpose flour

1

tbsp

corn starch


1

tbsp

baking powder

1/2

tsp

baking soda

1/2

tsp

salt

1/2

cup

milk

I used 2%

1/2

cup

fresh lemon juice
FOR STRAWBERRY FILLING:
12

oz

strawberry preserves
FOR LEMON CREAM CHEESE BUTTERCREAM
2

sticks butter

room temperature

16

oz

cream cheese

room temperature

2

tsp

vanilla extract

1/4

cup

fresh lemon juice

5-6

cups

powdered sugar*
Instructions
INSTRUCTIONS FOR CAKE:
Preheat oven to 350 degrees

Line three 8" round cake pans with nonstick spray, flour and parchment paper.


Add butter and sugar to bowl of electric mixer, cream using paddle for 3-4 minutes or until light and fluffy, stopping occasionally to scrap down the sides.

Add Greek yogurt, vanilla extract and lemon zest, then mix until combined.

Add eggs one at a time, followed by the single yolk. Scrape sides each time you stop to add next egg + yolk.

In a separate bowl, combine AP flour, cornstarch, baking powder, basking soda and salt. Whisk to combine then set aside.

In small bowl, combine milk and lemon juice. Slowly, add dry ingredients to butter mixture, alternating with milk/lemon juice. Mix until well combined, stopping to scrap down sides as needed.

Divide cake batter evenly between the three 8 prepared pans and bake for 22-23 minutes or until a toothpick inserted in the center comes out clean or with only a few crumbs.

Allow cakes to cool 3-4 minutes, then take a butter knife and run it around the outside edges of each cake then flip and remove from pans and allow to continue cooling on rack.

If you're making the cake ahead, once the cake is almost fully cooled, wrap each layer in 2 layers of plastic wrap, then seal each one in a gallon freezer bag, add them to a large baking sheet and freeze. (I do this with all my cakes, allows me to make them in stages, helps trap the moisture and makes frosting them easier later!)
FOR BUTTERCREAM:

Beat cream cheese and butter in mixer until well combined. Scrap down sides as needed.

Add vanilla and lemon juice, then continue mixing until well blended.

Add powdered sugar, one cup at a time until sugar is incorporated. Store Lemon Cream Cheese Buttercream in refrigerator until ready to frost cake.
TO ASSEMBLE CAKE:
Spread a small amount of frosting on cake board or cake pedestal to keep first layer in place, followed by first cake layer. Again I freeze my layers first, so I just pull them out of the freezer and start the assembling while still frozen. Once first layer is on board/pedestal, pipe or layer frosting around the outside edge of the cake. This creates a boarder to keep the strawberry preserves from running out the sides.

Add the strawberry preserves, spreading out in an even layer. You'll use half of the 12 oz jar on the bottom layer and the rest on the middle layer, none on top.

After you have your layer of strawberry preserves, add a layer of the buttercream and smooth into an even layer. Add middle layer of cake and repeat with piping the frosting around outer edge, layer of preserves, then buttercream. Finally top with top cake layer, add frosting to top and outer edges, then smooth and decorate as desired.

Store cake in refrigerator. Allow cake to sit at room temperature for 10 minutes or so before serving.
Notes
Substitute with sour cream if needed in place of Greek Yogurt.
I always make my cakes ahead of time and freeze them.
If you're not piping the frosting, you can taste buttercream as you go and use less sugar. If you are planning to pipe, you'll likely need the full 6 cups
Cake layers adapted from Life Love and Sugar.