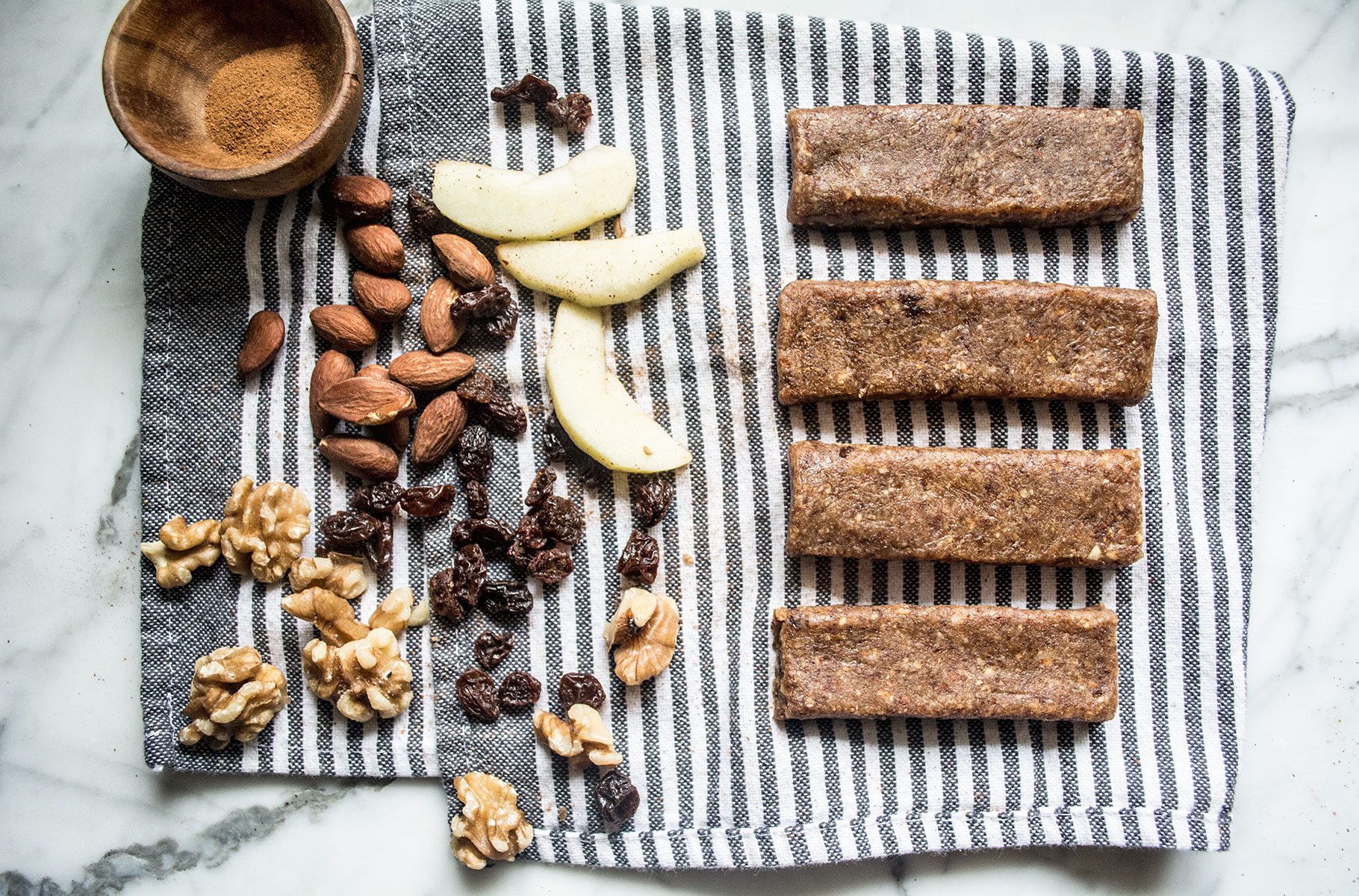 These Homemade Apple Pie Lara Bars are super easy and super affordable! I LOVE Lara Bars, but also love making them at home for less. If the Apple Pie flavor is a favorite of yours, I think you'll love these!
Josh always ends up being my guinea pig when it comes to food, including these Lara bars. I made them on a Sunday afternoon when he was home and brought him a half of two bars. One half, an actual Apple Pie Lara bar and the other, my homemade version. He didn't even realize I brought him two separate kinds of bars! He just ate them both and said they were good.🤣
I asked him if he thought they tasted similar and he said he thought they were the same! Part of that was he was preoccupied…but the taste and texture really is so similar. I will say that the nuts in my version are more finely ground than in the actual Lara bars. If you prefer to leave the almonds and walnuts in small pieces rather than finely ground, add them last. You can follow the directions as written and process all ingredients, with the exception of the walnuts and almonds, to a smooth consistency, then add the nuts and pulse until you get the nuts to your desired size.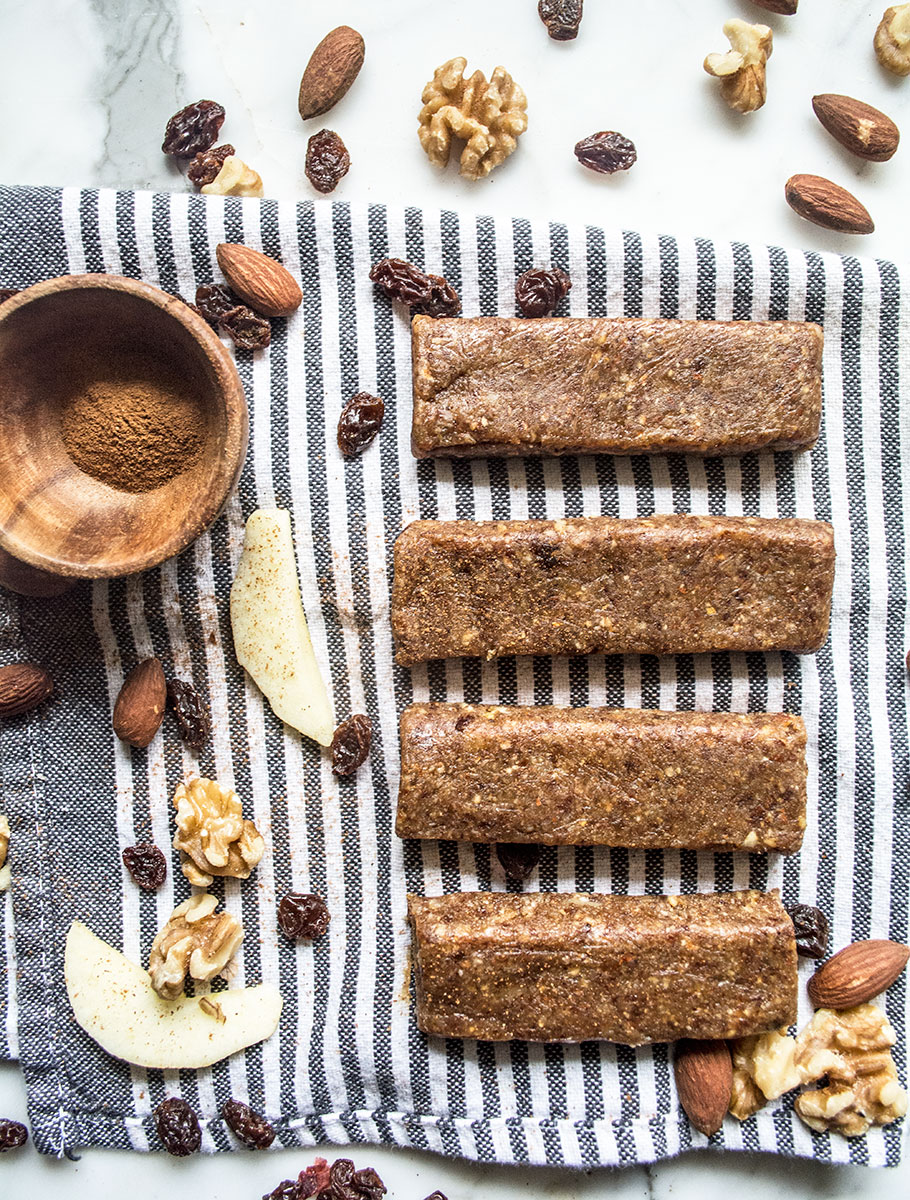 Homemade Apple Pie Lara Bars
Taste just like the actual Lara Bars
Vegan
Gluten-Free
Dairy-Free
Easy to take on the go
5 grams protein, 4 grams fiber
SO. YUMMY
One of my favorite things about making raw food bars at home is the versatility. It's so easy to use whatever nuts and dried fruit you have on hand. I did use raisins in this recipe because I really wanted to try and mimic the actual Apple Pie Lara Bars, but I'm typically more of a dried cranberries kinda girl. And while I love walnuts, my dear Grandmother stocks me up on pecans every year, so I always have them ready to go. With homemade bars, these substitutions can so easily be made based on availability or preference.
I also love to add a scoop or two of flax or hemp seeds to up the nutrition and sneak it into my little ones. Because little ones are ALL about the bars, right? Speaking of which, if you're looking for other healthy bars for little ones (or you!), check out some of my other favorite bar recipes below!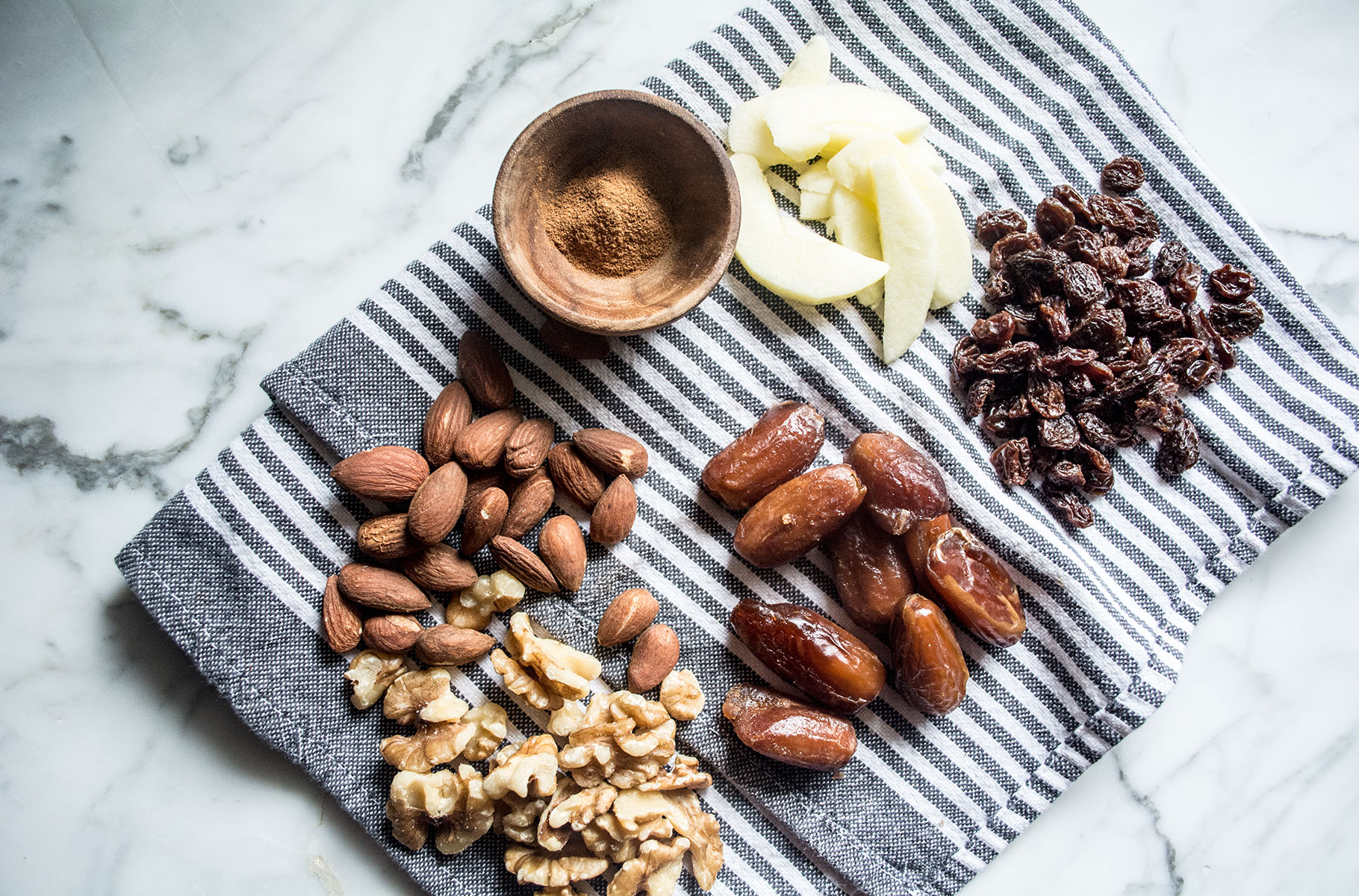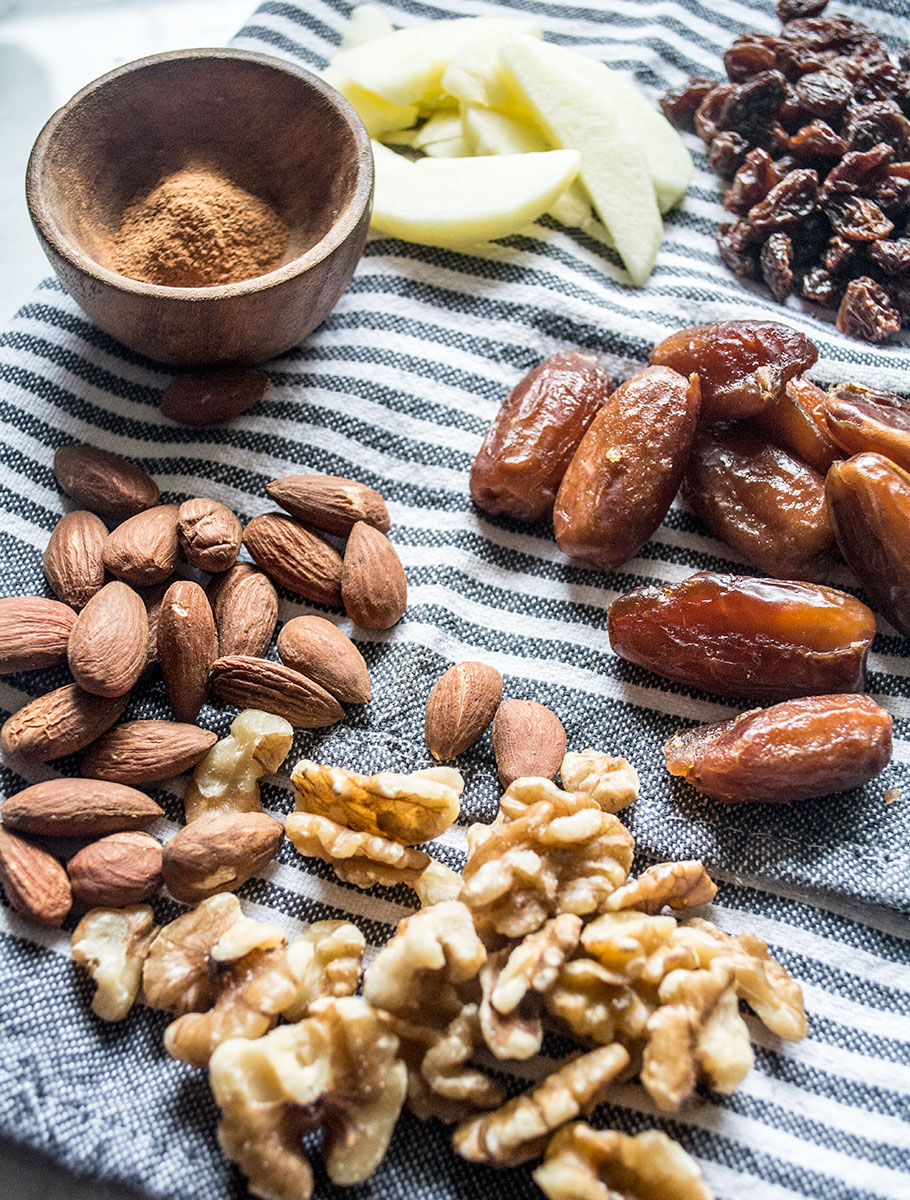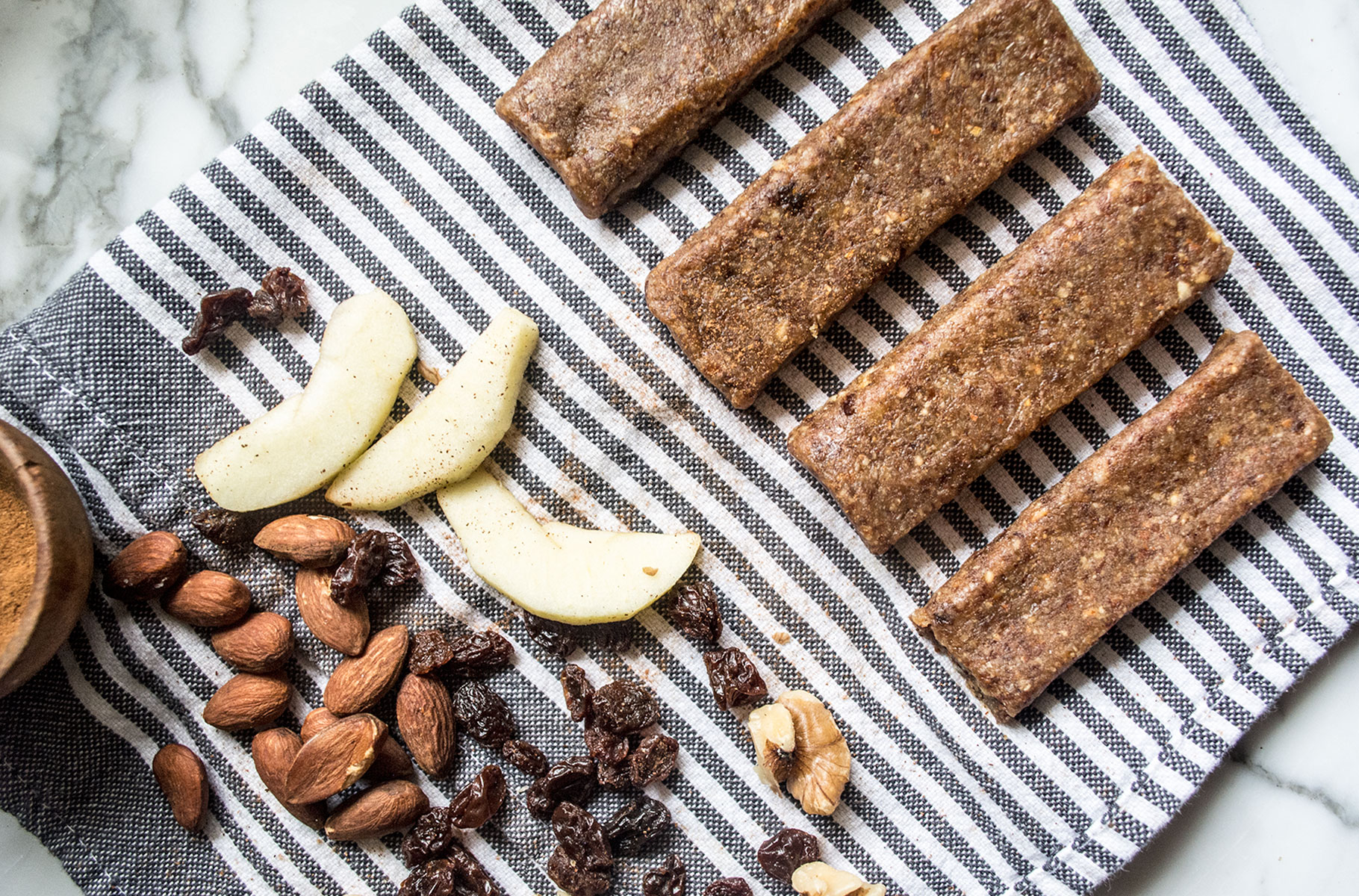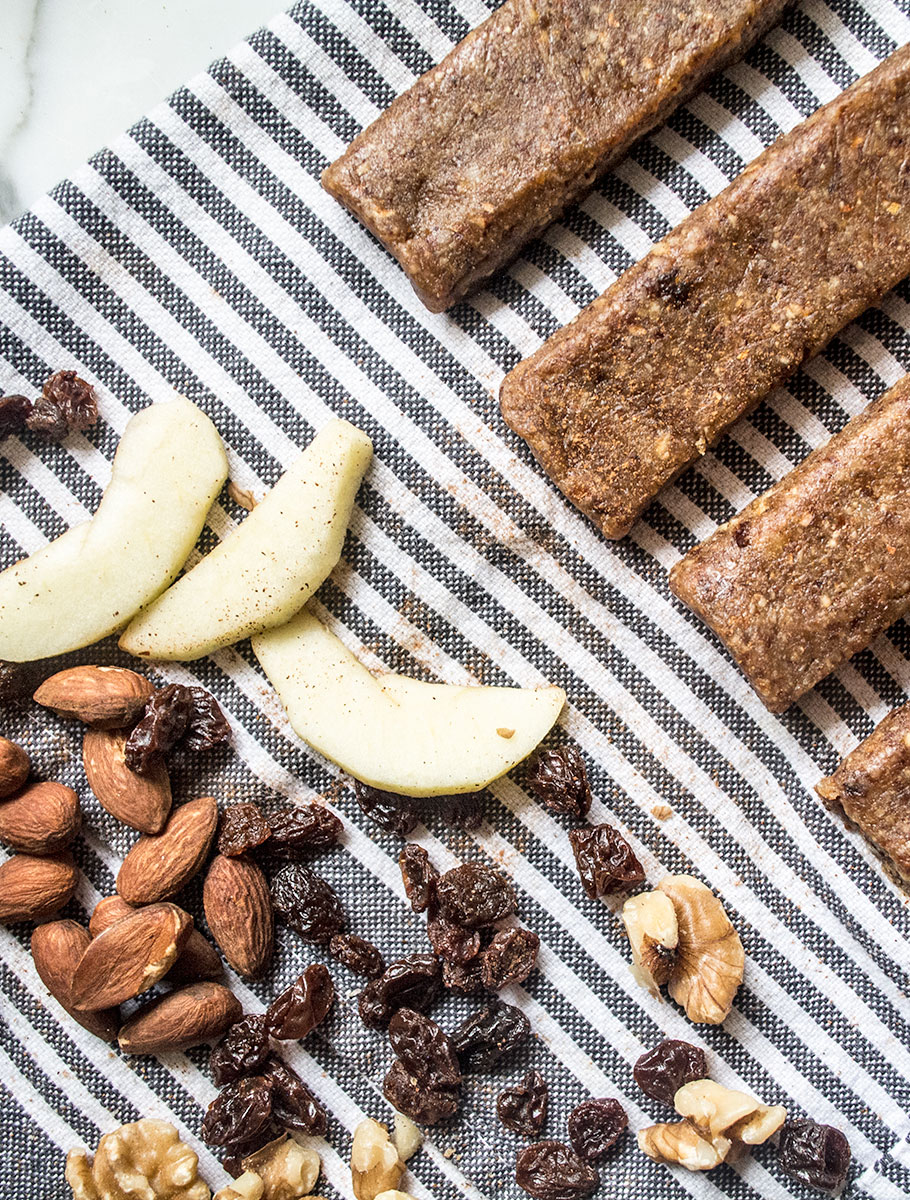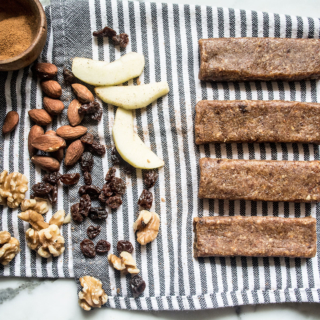 Print Recipe
Homemade Apple Pie Lara bars
These Homemade Apple Pie Lara Bars are super easy and super affordable! I LOVE Lara Bars, but also love making them at home for less. If the Apple Pie flavor is a favorite of yours, you're sure to love these!
Ingredients
1

cup

pitted dates

packed*

1

cup

almonds

3/4

cup

freeze dried apples

measured before processing to powder**

3/4

cup

walnuts

1/2

cup

raisins

1/2

tsp

cinnamon

1

tbsp

water

optional
Instructions
Add almonds and pitted dates to the bowl of a food processor and process 10-15 seconds.

Scrape down sides and add ground freeze dried apples, walnuts, raisins and cinnamon to the bowl and continue to process until a fairly smooth consistency is reached. You should be able to pinch some together and have it holds it's shape. If it's too dry, add 1/2-1 tbsp water and pulse another 5-10 seconds, then try the "pinch test" again.

Line an 8x8 pan with plastic wrap, then add mixture to pan and spread out evenly, pressing firmly with your fingers. Once mixture is evenly spread, use the back of a spatula to level the bars out, again pressing firmly. I like to add plastic wrap to the top of them and press down firmly to help smooth them out.

Refrigerate for 30-40 minutes then cut into 10 bars, wrap individually in plastic wrap so they're ready to take on the go! Store in refrigerator for up to a week. Enjoy!
Notes
If not using Medjool dates, soak Deglet or other dates in water for 15 minute before using, then drain water. I often use Deglet dates because they're so affordable.
Measure 3/4 cup freeze dried apples BEFORE ground, then add them to Nutritbullet or ninja maker and process to a fine powder.

Nutrition
Serving:
1
bar
|
Calories:
221
kcal
|
Carbohydrates:
25
g
|
Protein:
5
g
|
Fat:
12
g
|
Saturated Fat:
1
g
|
Polyunsaturated Fat:
5.6
g
|
Monounsaturated Fat:
4
g
|
Sodium:
2
mg
|
Potassium:
261
mg
|
Fiber:
4
g
|
Sugar:
19
g
|
Vitamin C:
1
mg
|
Calcium:
6
mg
|
Iron:
6
mg