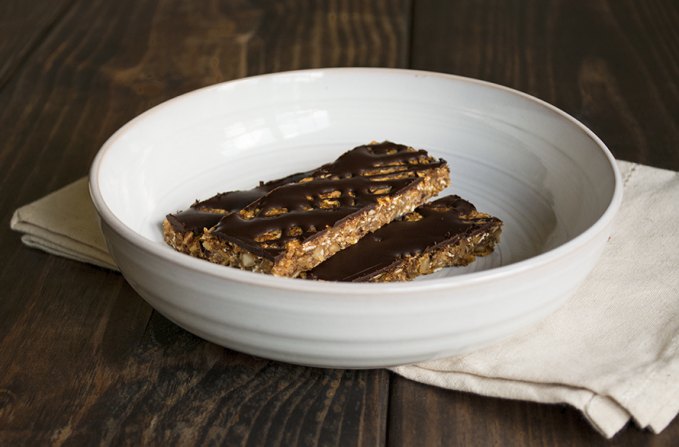 I love the fall. I love the crisp autumn mornings, love the smell of drying leaves, love wearing layers and scarves, love the idea of a bonfire with roasted marshmallows and s'mores, love to hike in the mountains and marvel at the changing colors, I could go on and on. And I guess I already have. But needless to say, fall is my favorite time of the year. Which is why we chose this time of the year to visit Vermont.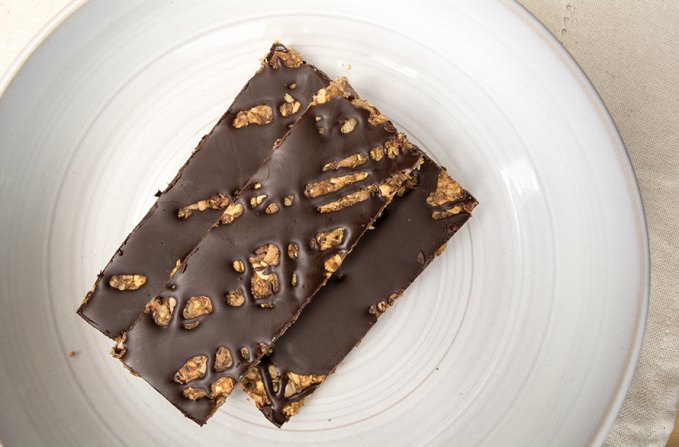 Josh and I just got back from visiting the New England area, specifically Vermont, with his parents a few weeks ago. Truly, more than once, a feeling that I was meant to live in Vermont swelled up inside of me. Now granted, we did visit during one of the most beautiful times of the year, the colors were absolutely incredible. The foliage is so beautiful there in the fall, that they have names for people like us, they call us Leaf Peepers. Vermont actually has a large industry built to support the tourism they receive during these autumn months.
Aside from the beautiful colors, the state is full of small business, local restaurants, Mom and Pop Bed and Breakfasts, there are little to no chains. Only in Burlington, one of Vermont's biggest cities, did we even see a Best Western hotel and a few larger chain stores and restaurants. They have done their best to keep large corporations out of the state in an effort to support small, locally owned businesses. As a result, everything is so quaint and charming. So you have lovely old homes, cute small cafes, gorgeous bed and breakfasts and lovely people all placed in an incredible and colorful scenery, who wouldn't want to live there?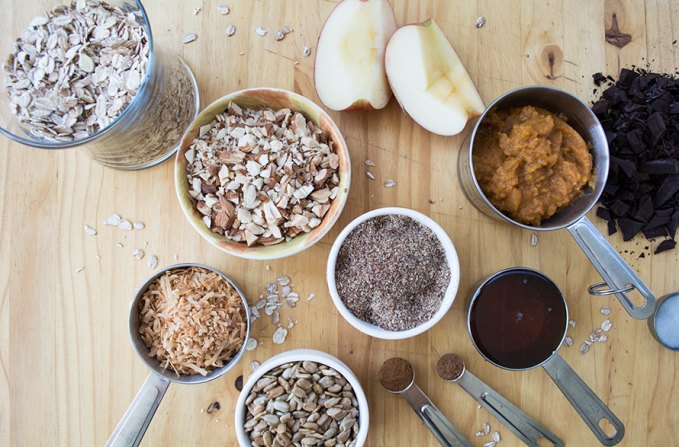 Now, once the cold and snow sets in, I'm not sure I'd find it so charming. But for now, Vermont will remain in my memory as a picture-perfect place to live. And the best part about it all? I feel like I get fall twice! We were there the first week of October and while it was still warm in Nashville, there everyone had their pumpkins on the porch, scarecrows in the yard and mums by the front door. Then, upon returning to Tennessee, the mornings are cooler, the mums are out and at the entrance to every grocery store are pumpkins of all shapes and sizes. Hence, fall twice.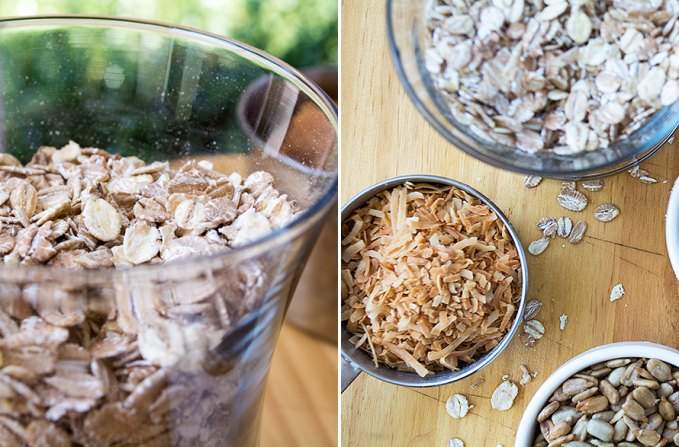 Enough about Vermont for now, I plan to do another post before too longer sharing a bit more on the places we stayed, the things we ate and the gorgeous pictures we captured. For now, lets talk about these Chocolate Covered Pumpkin Breakfast Bars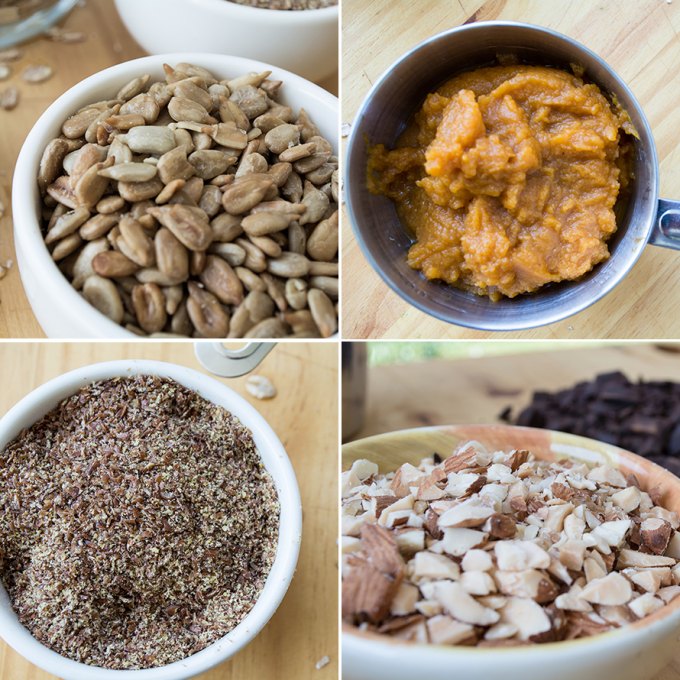 These are a tasty, healthy and festive breakfast bar, and what breakfast bar isn't better covered in chocolate?? I must admit, when I started these bars I had planned on calling them granola bars, but the consistency wasn't quite as crunchy, crispy, or chewy as I like my granola bars to be. Instead, the texture came out much more like a bar would be, only because of it's loaded nutrition value, it feels like a breakfast bar rather than a dessert bar.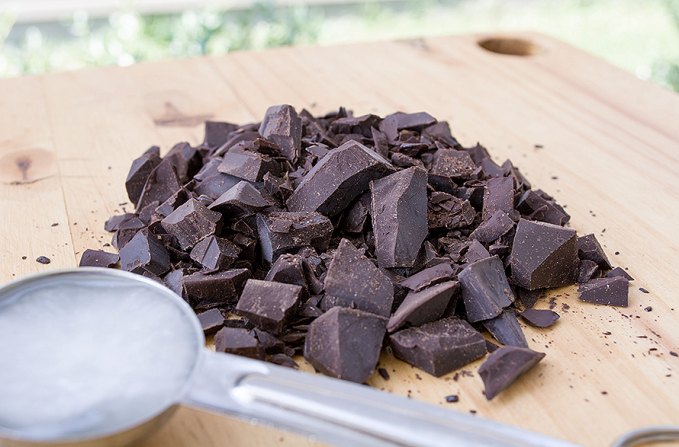 Regardless of what it's called, it's good and good for you! When I made it, all I had on hand for the chocolate was unsweetened bakers chocolate, while this worked with the addition of a little stevia and honey, I would definitely go with a dark chocolate bar, dark chocolate chips or bittersweet bakers chocolate next time. I love stevia in my coffee, but it's taste is a bit more distinct (at least to my palate) when added to chocolate.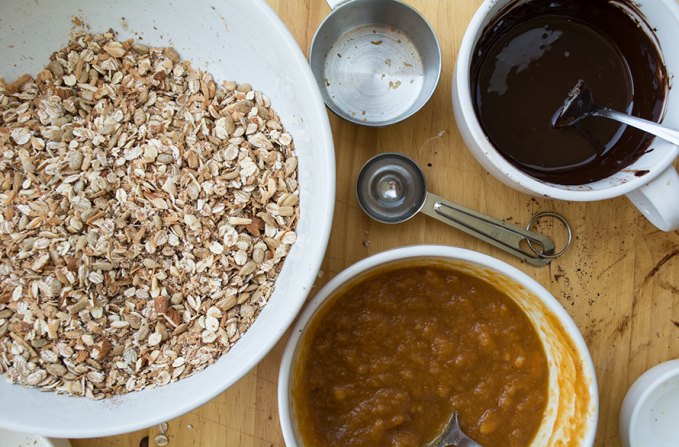 Notice the pictures of a couple of apple slices, but no apple slices on the ingredients list? That's because I didn't have any applesauce, so I put a couple of peeled slices through my Nutribullet and it worked great.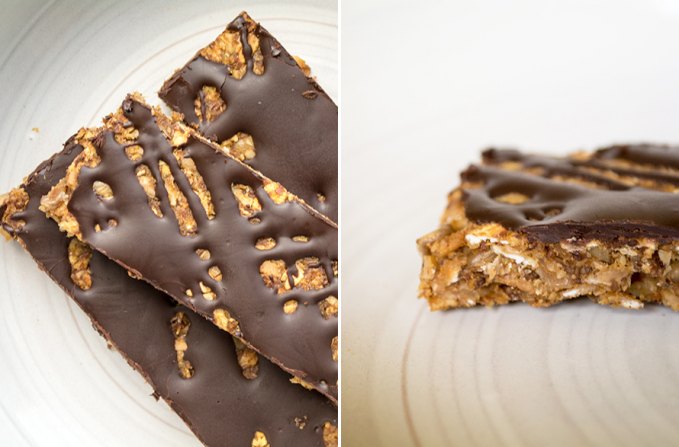 BENEFITS OF PUMPKIN:
Pumpkin is a low calorie vegetable and contains no saturated fats or cholesterol.
Rich in dietary fiber, anti-oxidants, minerals, vitamin-A, vitamin-C and vitamin-E.
Contains high levels of vitamin-A, which is a powerful natural anti-oxidant and is required by the body for maintaining the integrity of skin and mucus membrane.
Pumpkin is an excellent source of many natural poly-phenolic flavonoid compounds such as α, ß carotenes, cryptoxanthin, lutein and zea-xanthin.
It is also rich source of minerals like copper, calcium, potassium and phosphorus.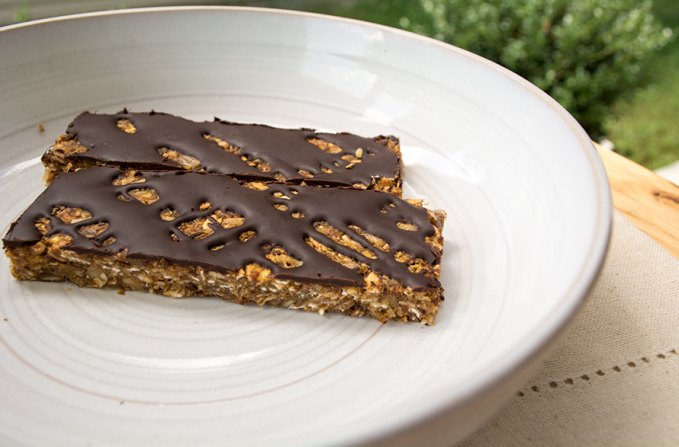 If you're looking to swap up your morning routine and wanting something pumpkin to celebrate fall setting in, these Chocolate Covered Pumpkin Breakfast Bars are definitely worth trying!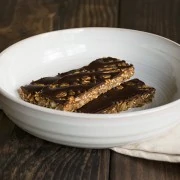 Print Recipe
Chocolate Covered Pumpkin Breakfast Bars
Chocolate covered pumpkin breakfast bars loaded with whole oats, sliced almond, flaxseed and sunflower seeds!
Ingredients
2/3

cups

sliced/chopped almonds

1 3/4

cup

whole oats

1/2

cup

ground flaxseed

1/2

cup

sunflower seeds

1/2

cup

toasted shredded coconut

1/2

tsp

cinnamon

1/4

tsp

pumpkin pie spice

1/2

tsp

salt

3/4

cup

pumpkin puree

1/4

cup

applesauce

1/3

cup

honey

1/2

cup

dark chocolate

can use semi-sweet baking chocolate, dark chocolate chips or favorite dark chocolate candy bar

1

tbsp

coconut oil

1

tsp

honey

if desired for additional sweetness
Instructions
Preheat Oven to 350 degrees and grease 9x13 pan.

Combine all dry ingredients in large bowl, stir.

Combine all wet ingredients in smaller bowl, stir.

Add wet ingredient to dry ingredients and stir until well combined.

Spread the mixture into the prepared pans and press firmly with a spatula to evenly fill.

Bake 10 minutes, then remove from oven and press down firmly with spatula.

Bake additional 10 minutes, press firmly with spatula then bake last 5-10 minutes watching carefully to ensure they do not get too dark.

Let pumpkin bars cool slightly, then melt chocolate and coconut oil (honey if desired) and drizzle over bakes bars.

Set bars in refrigerator until chocolate hardens.
Notes
Nutrition info will vary based on the chocolate you use for the topping.
Nutrition
Serving:
1
g
|
Calories:
160
kcal
|
Carbohydrates:
16.7
g
|
Protein:
4.3
g
|
Fat:
9.8
g
|
Saturated Fat:
3.5
g
|
Polyunsaturated Fat:
3.3
g
|
Sodium:
49.2
mg
|
Fiber:
4.4
g
|
Sugar:
5.7
g
Nutrition benefits taken from nutrition-and-you.com.