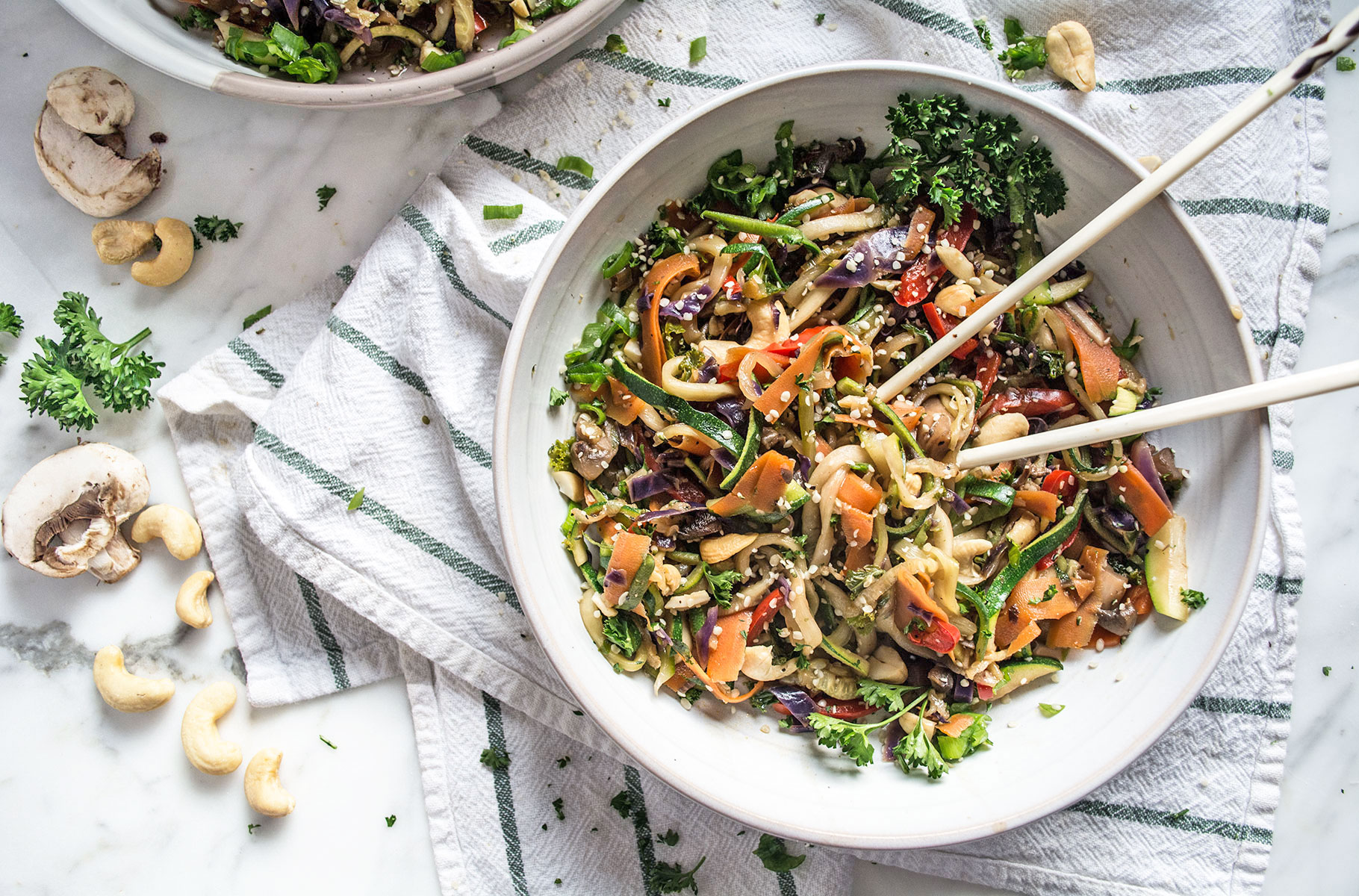 This Vegetarian Zucchini Lo Mein is ready in under 30 minutes, full of fresh Asian-Inspired flavors, and bursting with vitamin-packed ingredients! PLUS it's soy-free, gluten-free, and vegan-friendly!
I initially planned to share this recipe with you on St. Patrick's Day. Intending to gush over the various shades of green to be found in this delightful dish. But honestly, with everything that's going on in our world right now, it just seems somewhat insignificant. I am excited to share this recipe with you and it does have a significant amount of green. But rather than playing up the fun tradition this year, let's just focus on the health benefits this dish has to offer. And the importance of nourishing our bodies with foods packed with vitamins and minerals. Perhaps now more than ever.
Because in a world where the flu, strep and COVID 19 seem to be spreading at a rapid rate, taking care of our bodies, and building our immune systems seems like our best course of action.
Aside from taking the necessary precautions with some social distancing, washing of hands and disinfecting things, of course.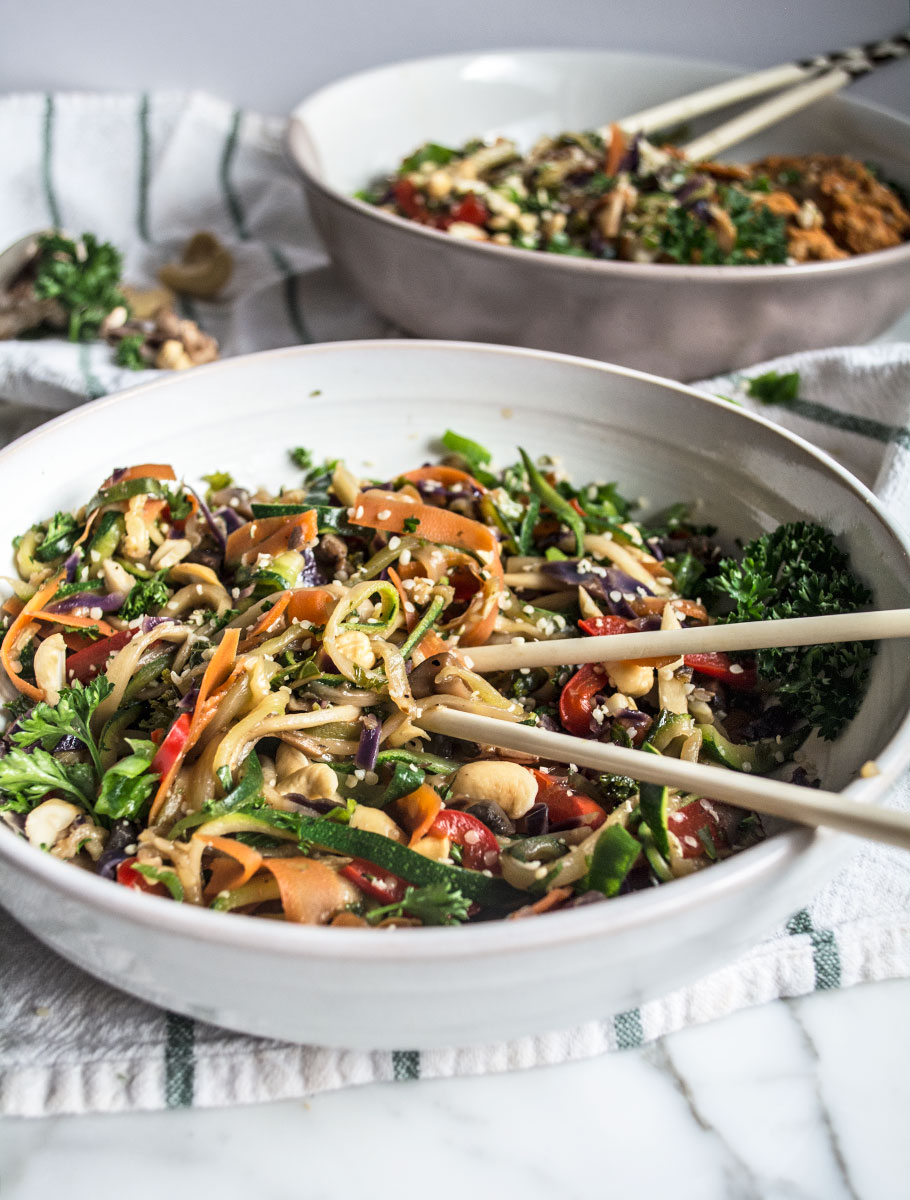 Truly, I don't want to be in a state of panic right now. I don't want to live in or make decisions based on fear. God's Word says that He has not given us a spirit of fear, but of power and love and of a sound mind. It's not always easy to hold on to that peace. If I'm not intentional in where I fix my thoughts and hope, I quickly find myself rattled and anxious. Especially when I think about those in my life who are more at risk to the Coronavirus. But I'm making an effort to commit my worries to Him and praying for wisdom in this odd season of life.
I'm also doing my best to make sure my family and myself are taking our vitamins, drinking lots of water, and eating wholesome foods. We're definitely having a few fun things, too. The kids are going a little stir-crazy being home so much. So a treat here and there, along with a change in activity, seems to be a good way to keep the days moving along in a positive way.
Okay, getting back to the reason for this post – this Vegetarian Zucchini Lo Mein! I love Asian-inspired dishes, and this is for sure a new go-to. It's quick and easy and bursting with flavor, texture and nutrition. Plus, it's so colorful, an added benefit to help counter the dreariness of all the rain we've had the past several days/weeks.
Reasons to Love this Vegetarian Zucchini Lo Mein:
Ready in 30 minutes

Vegetarian and Vegan-Friendly

Soy-Free, Gluten-Free

Bursting with colorful, nutritious vegetables

SUPER flavorful

Easy to boost the protein with the addition of tofu, shrimp, chicken, or steak
One of my favorite things about this dish, aside from the flavor, is the texture. The carrots, cabbage and kale bring in a lovely, heartiness, that blends perfectly with the tender zucchini noodles. The cashews lend a needed crunch that perfectly balances the overall texture. The sauce is sweet without being too sweet, and while there is no soy in the sauce, the spices and seasonings used in the Oceans Halo sauce beautifully replicate the traditional soy flavor found in Asian dishes.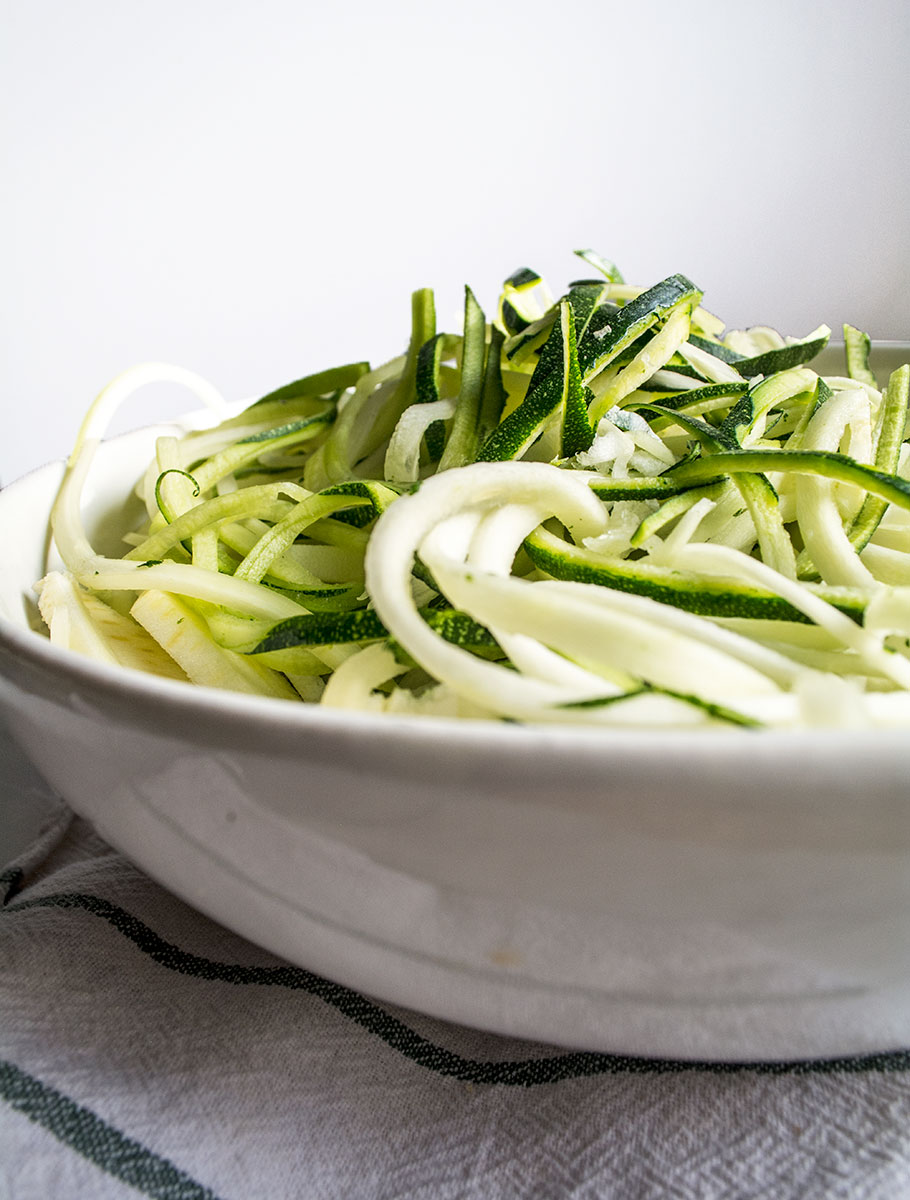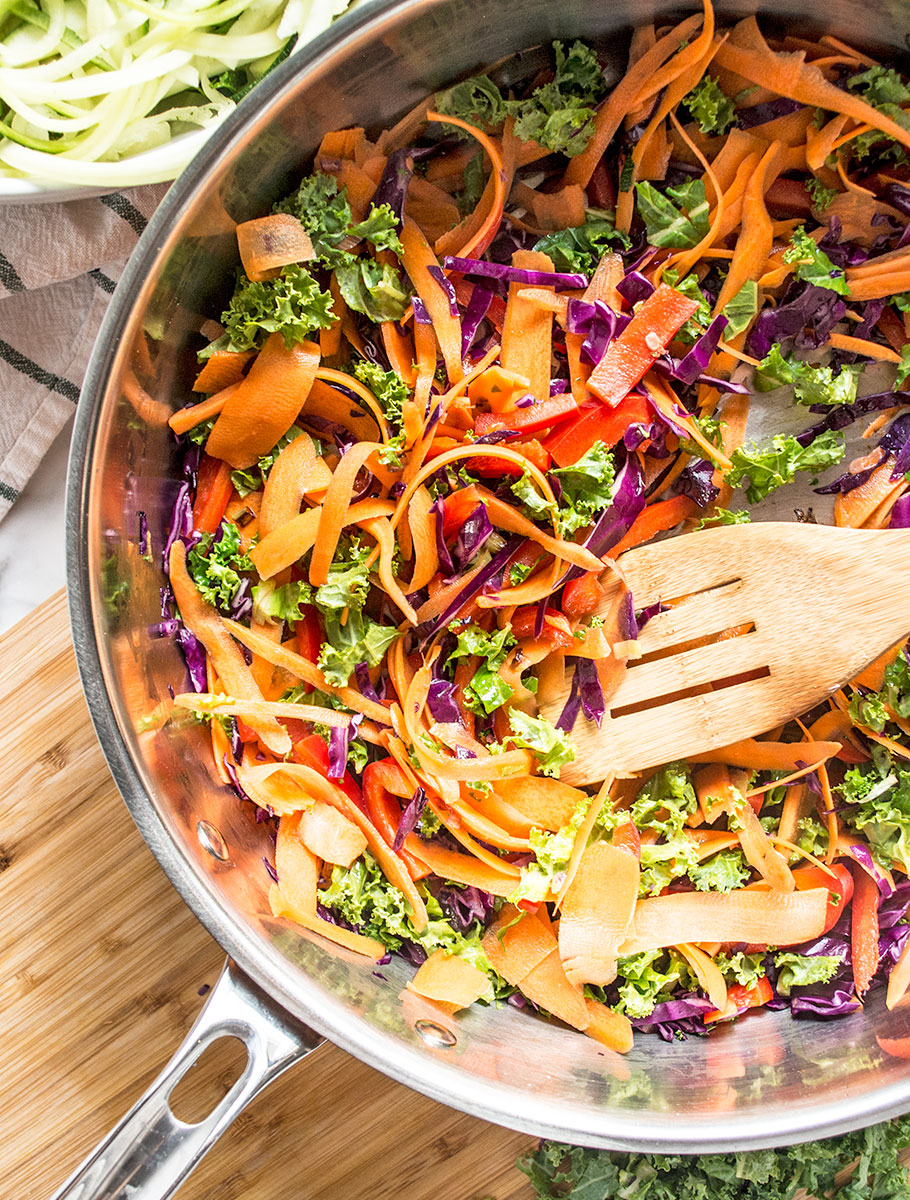 If your favorite Asian restaurant has its doors temporarily closed for the near future, let me highly recommend trying this dish! That's of course assuming that all grocery stores keep their doors open! Surely they have to..right?!
Speaking of doors closed, that leads me to another thought. Meal Delivery Services. Have any of you tried them? Do you like them or have a favorite?
With the government recommending we stay home as much as possible, and with more and more companies temporarily closing their doors, are meal delivery services exactly what we need? I can't help but think perhaps what started as a convenient way to help busy families eat home-cooked meals, might now be the perfect way to help families stay home and keep potential germs from spreading.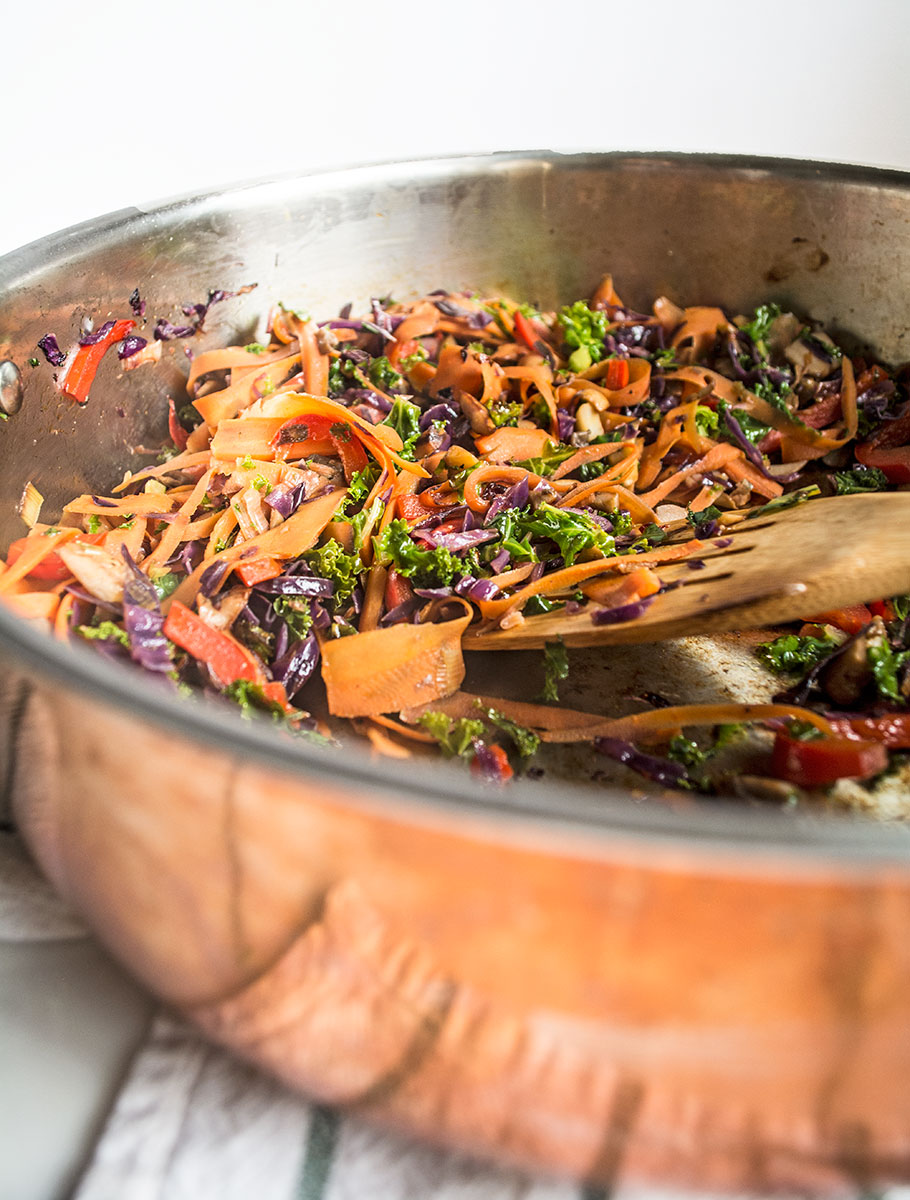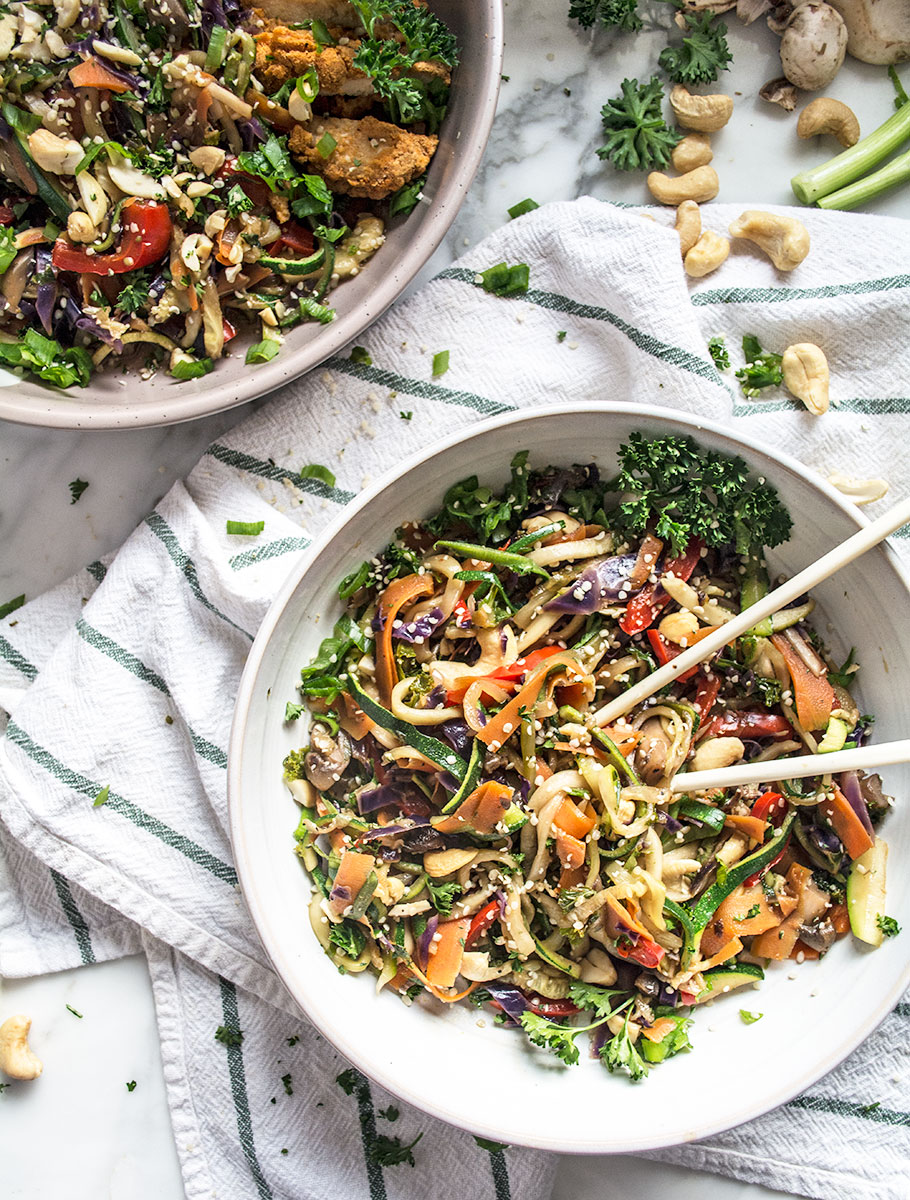 Or at least maybe now is the ideal time to try a meal delivery service if you've been on the fence?
On the fence is exactly where I find myself. I love cooking at home, and I love being creative in the kitchen. But I can also see the benefit and convenience of using a service where the meal planning, developing ingredient list, and shopping is done for you. Add in the bonus of it being delivered to my door at a time when we're all being encouraged to go out as little as possible, and maybe now it is the ideal time for a trial.
I would so LOVE to hear from you. Would love to know which ones you've tried and what strikes you as the most beneficial aspect. Do you feel like the money is worth the time saved for those of you with such busy schedules?
From the research I've done, it seems like nearly all services are set to easily accommodate a variety of eating styles – vegan, vegetarian, meat, gluten-free, etc.  We don't seem to struggle with wasted leftovers in our house. But I know several of my friends who have said the home delivery services help with the appropriate proportions, eliminating so much wasted food.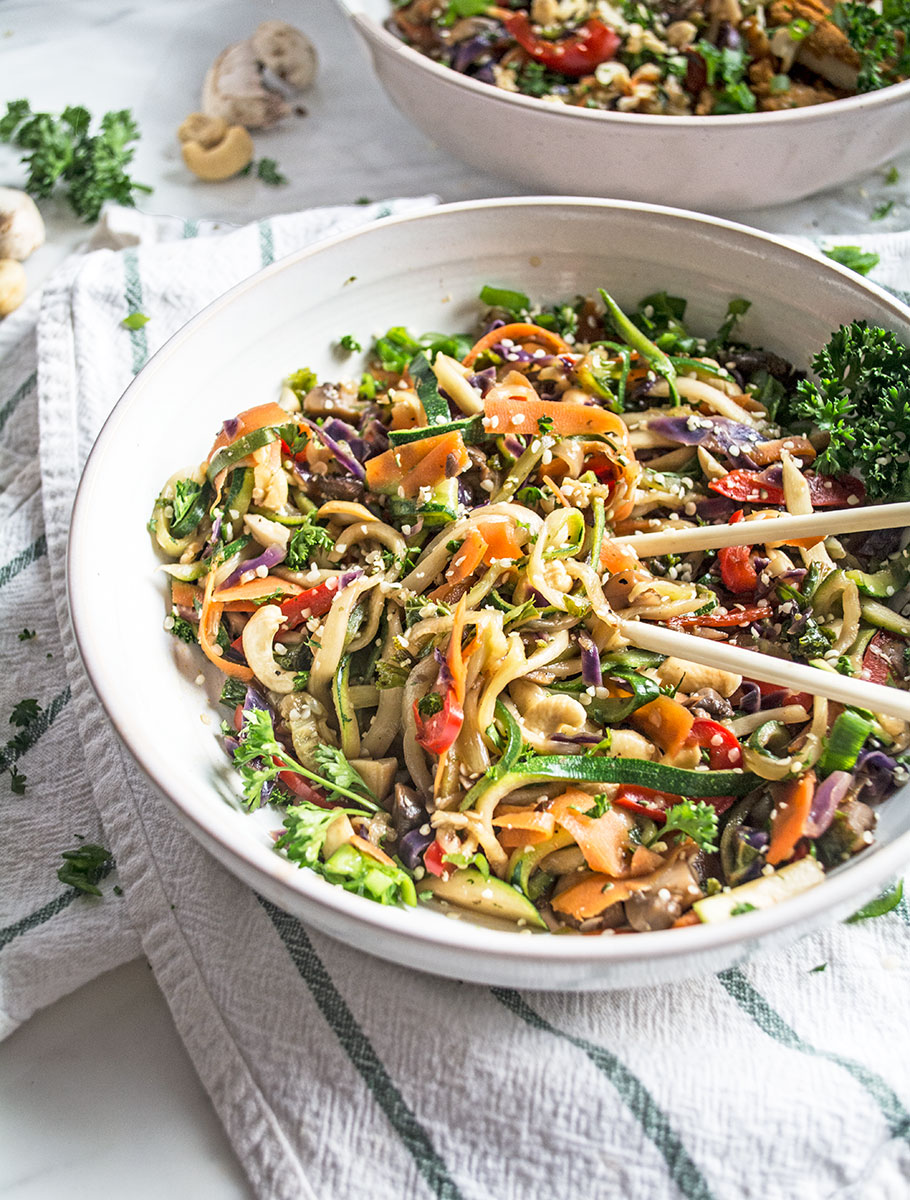 Considering a Meal Delivery Service?
For those of you who have been considering a meal delivery service, especially with the circumstances as they are, here is a list of all the available meal delivery services in different areas along with honest reviews here. The website meticulously ranks the best meal kit delivery services and their specialties so that you get exactly what you ordered. Which is important right? No one wants to place an order based on what their family needs or can eat, only to not get what you ordered…
I'll keep you posted if I decide to give one a go over these next few weeks. With all the recommendations of staying home, I just might! And I'd really love to hear from you on your own experiences of having recipes and ingredients delivered to your door.
Until next time, wishing you and yours good health!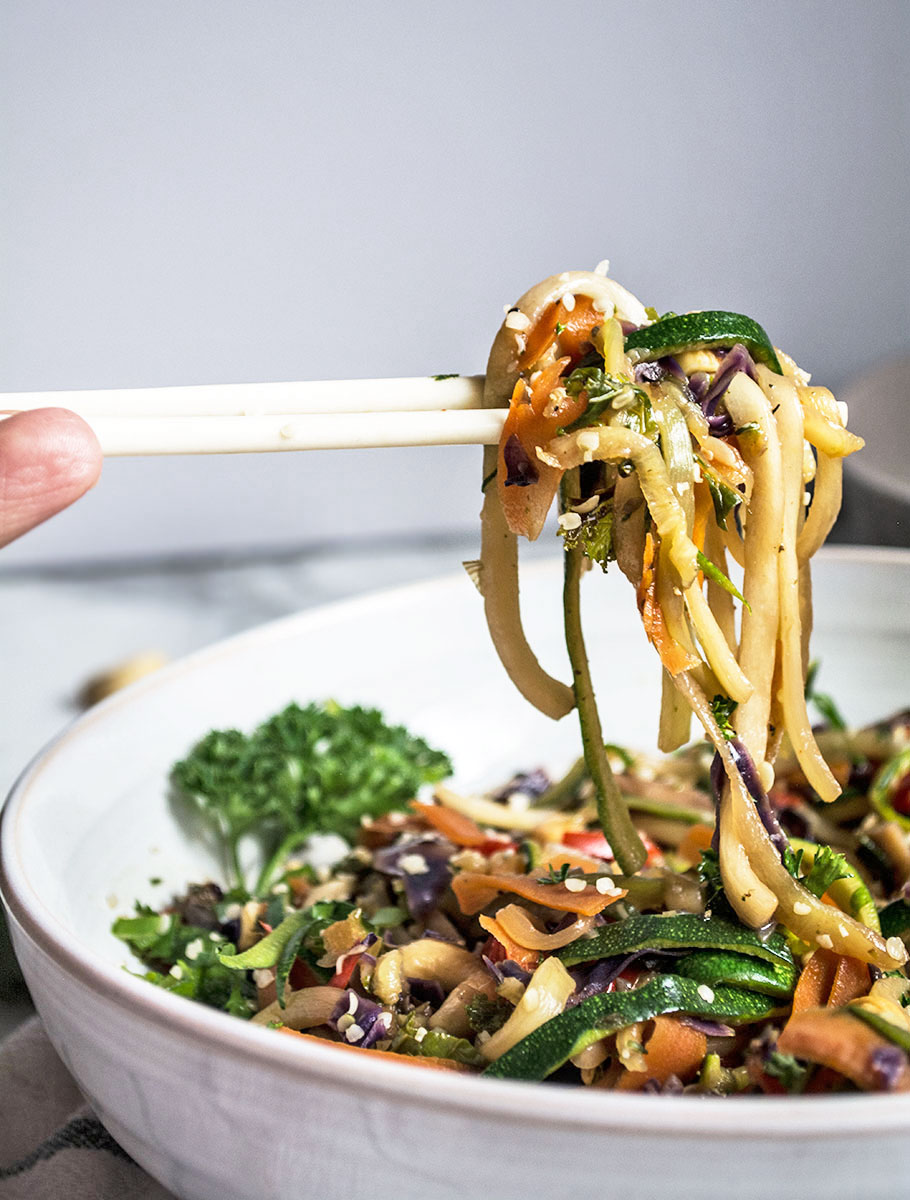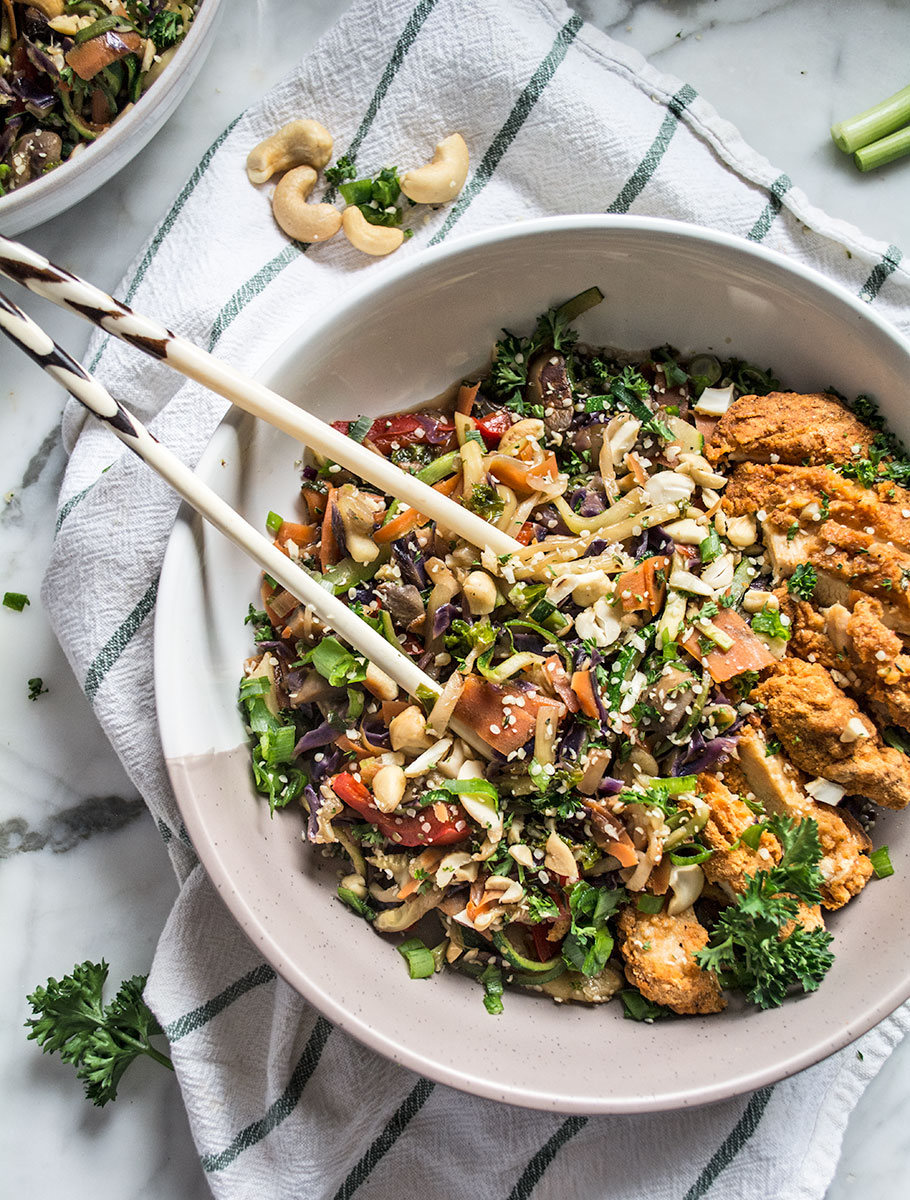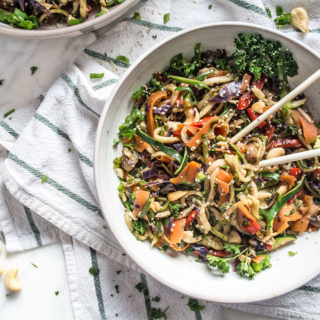 Print Recipe
Vegetarian Zucchini Lo Mein
This Vegetarian Zucchini Lo Mein is ready in under 30 minutes, full of fresh Asian-Inspired flavors, and bursting with vitamin-packed ingredients! PLUS it's soy-free, gluten-free, and vegan-friendly!
Ingredients
FOR THE SAUCE:

1/4

cup

Oceans Halo No Soy Soy-Free sauce

1

tsp

sesame oil

1

tsp

raw honey

substitute with maple syrup for vegan

FOR THE LO MEIN:

2

large zucchini

spiraled into noodles

1

tbsp

sesame oil

1

bunch green onion

chopped (white and green divided)

2

large carrots

julienned

1

large bell pepper

matchstick

1

cup

cabbage

shredded

1

cup

kale

chopped

1

cup

mushrooms

chopped

3

tbsp

cashews

roughly chopped

Protein of choice

optional*

GARNISH:

chopped green onion

hemp hearts

fresh herbs
Instructions
Add all ingredients for sauce, no soy soy-free sauce, sesame oil and honey, to a small mason jar and whisk or add lid and shake.

Then add 1 tbsp sesame oil to large skillet with the chopped onions (white pieces) and cooked 1-2 minutes. Once onions begin to become translucent, add carrots, bell pepper, and cabbage, cook additional 3-4 minutes, stirring frequently.

Finally add mushrooms and kale and cook until all veggies are soft, 3-4 minutes.

Add fresh zucchini noodles and sauce to skillet, stir to combined, cover with lid and cook approximately 3 minutes, or until zucchini noodles are cooked to your preference. Careful not to overcook.

Divide among 2 or 3 bowls, add roughly chopped cashews and optional protein (chicken, steak, tofu) garnish with onions, fresh herbs and hemp hearts. Enjoy!
Notes
For additional protein, top with cooked chicken, steak, or tofu. I added Caulipower's Spicy Chicken to my husbands and he loved it!
Nutrition info does not include optional protein.
Nutrition
Serving:
2
people
|
Calories:
260
kcal
|
Carbohydrates:
31
g
|
Protein:
12
g
|
Fat:
14
g
|
Saturated Fat:
2
g
|
Polyunsaturated Fat:
5
g
|
Monounsaturated Fat:
6
g
|
Sodium:
690
mg
|
Potassium:
945
mg
|
Fiber:
6
g
|
Sugar:
17
g
|
Vitamin A:
307
IU
|
Vitamin C:
216
mg
|
Calcium:
70
mg
|
Iron:
11
mg