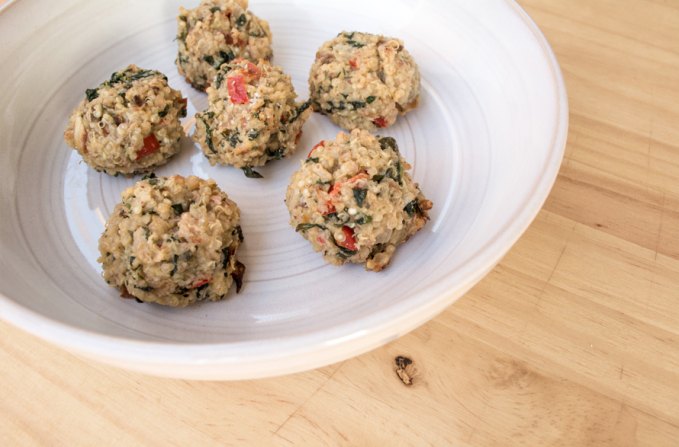 Let's talk meatballs.
I've never really been much of a fan. Red meat, in general, isn't something I crave or have to have. I do eat it occasionally, and even have a fabulous Grass Fed/No Hormones/No Antibiotics Beef Supplier, my father-in-law!
I admit, I can definitely appreciate the occasional roast, steak or casserole. But hamburgers, meatballs, meatloaf, not my fav. If I do eat these things, flavor is key. I don't like to be able to taste the plain ground beef, sorta grosses me out.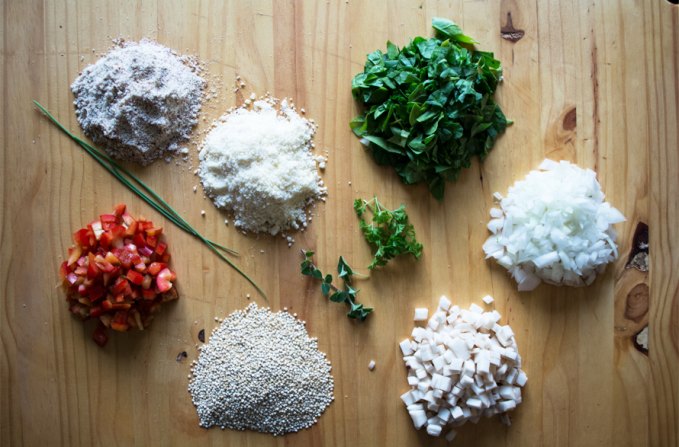 All that to say, I don't believe I've ever actually made beef meatballs. Nor do I think I ever will. They're just not for me.
Enough about MEATballs, lets talk about these veggie meatless meatballs. If I remember correctly, Josh took his first bite and said "these are good, is there meat in them?", they're that good.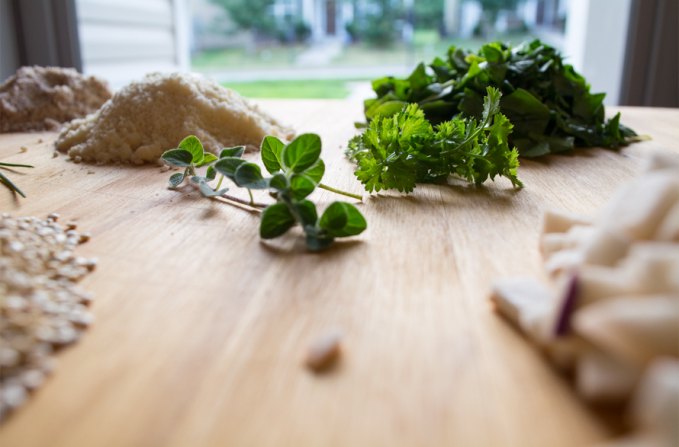 The parsley, oregano, chives, and parmesan cheese create the mouth-watering flavor while the quinoa and almond meal help give it that meaty texture.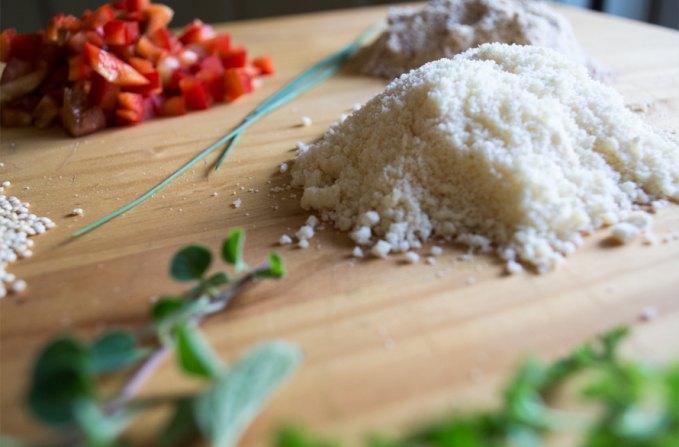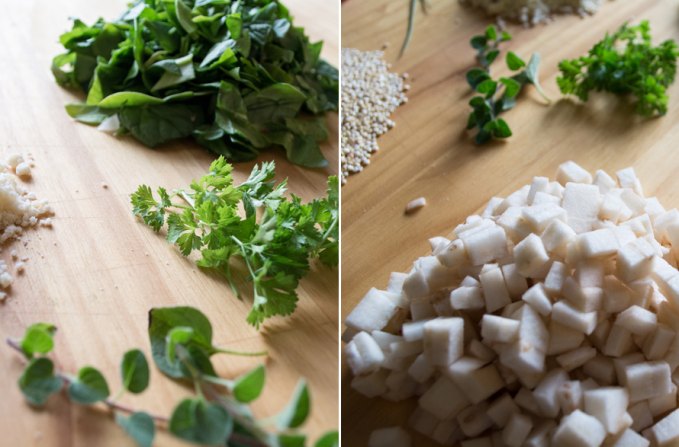 On a side note, I planted a herb garden this year in a giant pot on my front porch and have loved having fresh herbs readily available. They add SO much flavor, but can be expensive to buy for each recipe. Before my garden I would typically just substitute with dry herbs, which still works, but nothing beats the fresh herbs.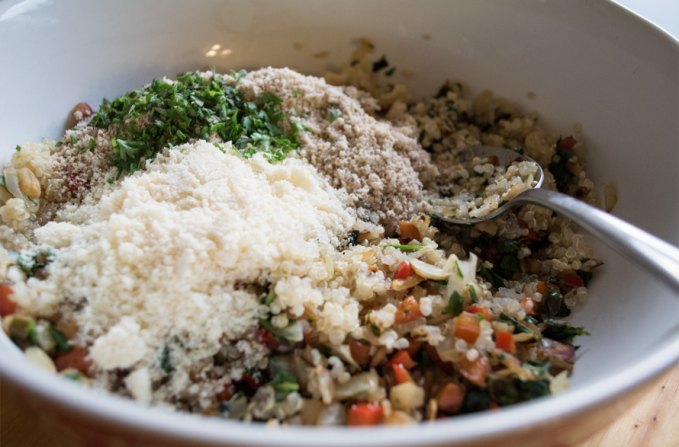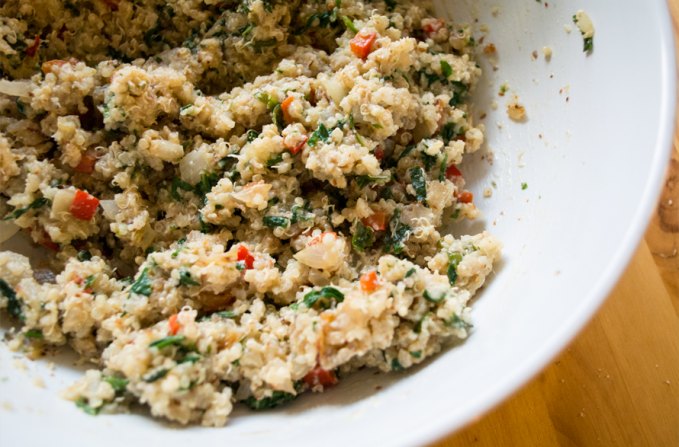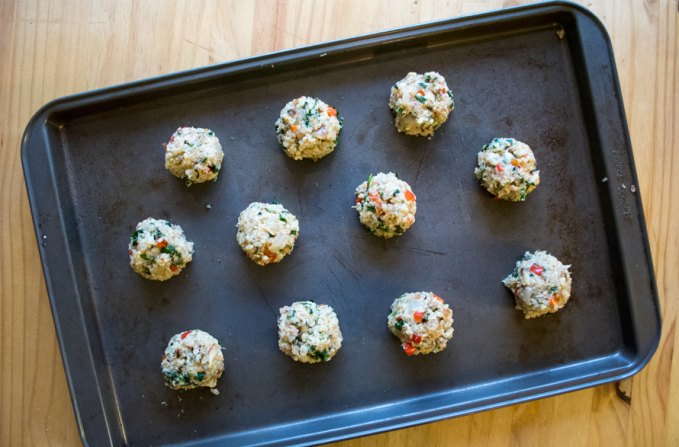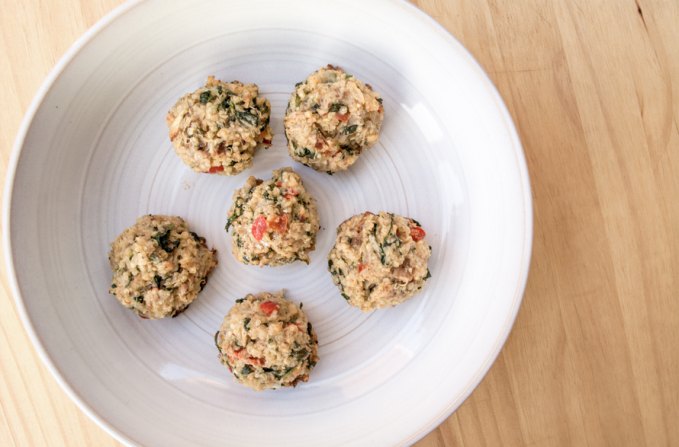 The marinara sauce shown below was left over from my Paleo Grain Free Pizza Crust with tomatoes and grilled corn recipe. Of course any spaghetti or marinara sauce will work, Trader Joe's makes a couple really good ones with simple ingredients and no msg, preservatives or additives.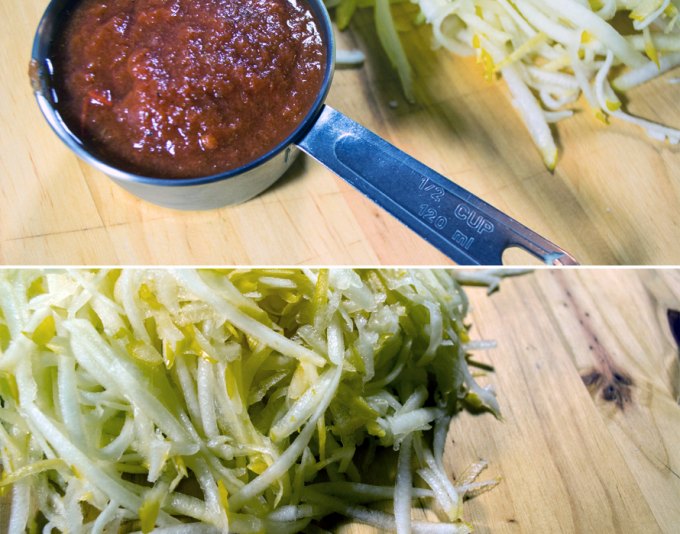 I created this dish in the summer, before spaghetti squash was in season, so I used patty pan squash (it was in my CSA) and prepared it much like I did my Zucchini Pasta. If I were to make these veggie meatballs now, I would definitely pair them with some spaghetti squash and a tomato based sauce.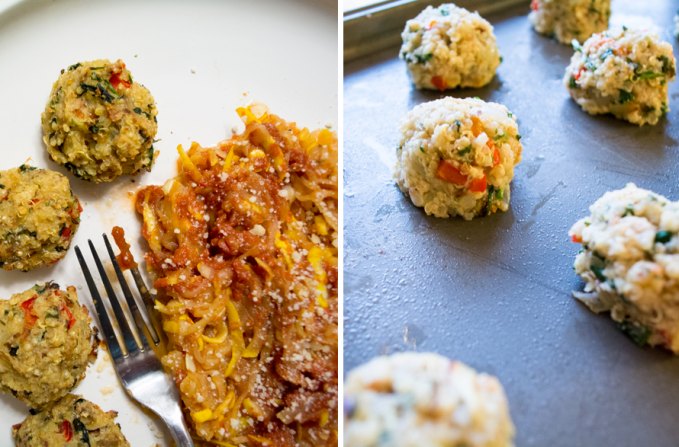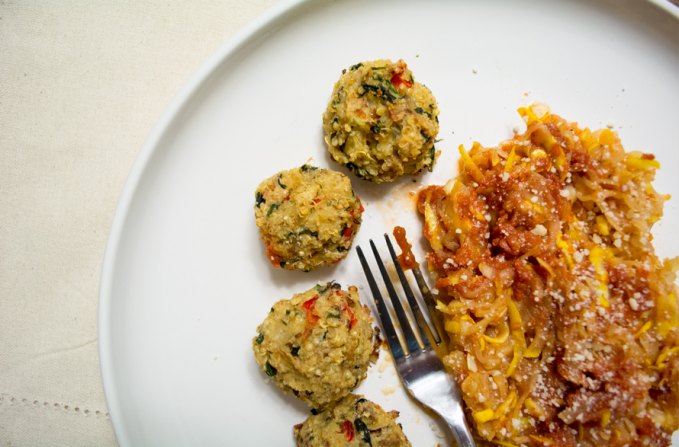 The best thing about these veggie meatballs, aside from their taste, is how quickly they come together. Not to mention, they are a great way to hide vegetables so your kids (or husband) won't know they're eating them!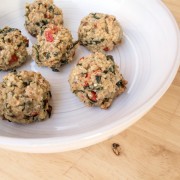 Print Recipe
Vegetarian Quinoa Meatballs and Patty Pan Pasta
These Vegetarian Quinoa Meatballs are loaded with quinoa, eggplant, spinach, and almond meal - bursting with flavor, you won't even miss the meat!!
Ingredients
1/2

cup

uncooked quinoa

cooked according to packet instructions

1/2

tbsp

coconut oil

1/2

red bell pepper

finely diced

1/2

sweet onion

finely diced

1

cup

eggplant

peeled and chopped

3

cups

baby spinach

chopped

2

tbsp

fresh herbs

chopped (parsley, chives, oregano)

1/2

cup

almond meal

1/2

tsp

garlic powder

1/2

tsp

onion powder

1/2

tsp

dried oregano

1/4

cup

parmesan cheese

1

egg

lightly beaten

1/2

tsp

sea salt

fresh ground pepper
Instructions
Preheat oven to 350° degree and spray pan with coconut oil cooking spray.

Heat coconut oil in a large nonstick skillet over medium-high heat. Add in red pepper and onion and sauté for 5-7 minutes. Add in the eggplant and sauté another 3-5 minutes. Lastly, add in baby spinach and continue to sauté until spinach is wilted. Remove skillet from heat and set aside.

Add cooked quinoa to a large mixing bowl. Add in sautéed veggies and gently stir.

In small bowl, mix almond meal, garlic powder, onion powder and dried oregano.

Add in the fresh herbs, almond mixture, parmesan, salt and pepper to quinoa and veggies, stir to evenly distribute. Lastly, add in the egg and gently mix until just combined.

Take heaping spoonful of mixture into your hand and roll into "meatball" form and place on baking sheet. Continue to do this until all meatballs have been formed.

Bake the meatballs for 25 to 30 minutes or until slightly golden.

Serve as appetizers, with your favorite marinara and pasta, spaghetti squash or as a meatball sandwich!

Store leftovers in fridge.
Notes
*If you don't have eggplant, try substituting with mushrooms!
*When forming the "meatballs", the mixture will seem very sticky, this keeps them moist, they will firm up once baked, don't worry about the stickiness!
Nutrition
Serving:
1
g
|
Calories:
55
kcal
|
Carbohydrates:
5.1
g
|
Protein:
2.4
g
|
Fat:
2.9
g
|
Saturated Fat:
0.8
g
|
Cholesterol:
13.1
mg
|
Sodium:
47.1
mg
|
Fiber:
1.1
g
|
Sugar:
0.8
g
Recipe inspired by Blissful Basil's Quinoa, Spinach and Mushroom Meatballs