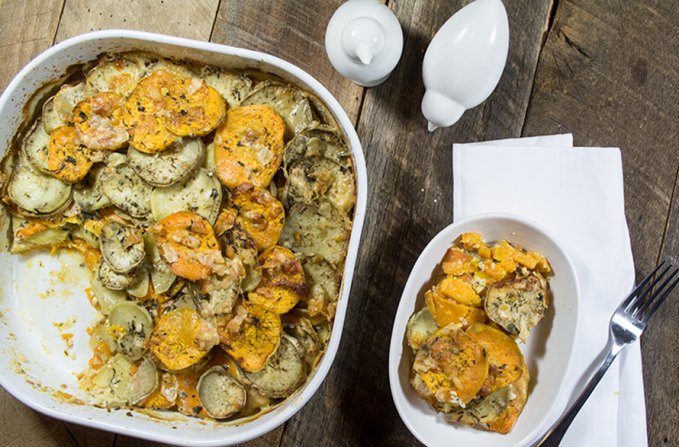 Merry belated Christmas!
I hope Christmas brought you joy and peace, along with rest and time with family and friends! We celebrated Christmas with my family on Christmas Eve and had an absolutely  wonderful time. So much to be thankful for. We devoured a lovely feast for dinner. Ham with sweet potato casserole, green bean casserole, mashed potatoes, deviled eggs,salad, bread. Essentially, lots of carb! But somehow it wouldn't feel right any other way.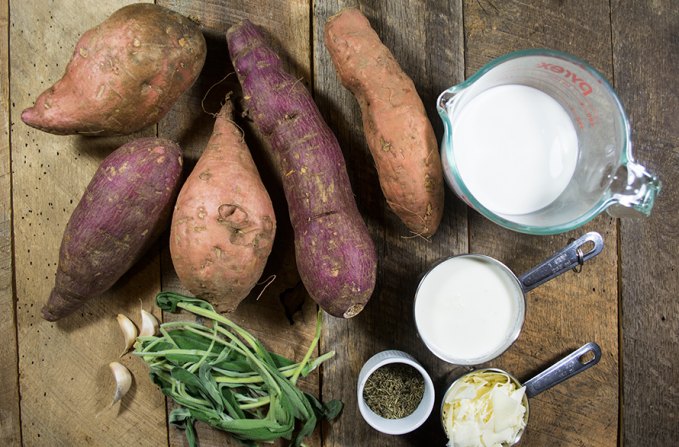 After dinner we piled up in the living room and read the Christmas story, then spent some time reflecting a little on the past year and the things the Lord has done in our lives.
This has been a family tradition for years and helps us keep our focus on the true meaning of Christmas. We finished the evening by opening gifts while sipping Dad's homemade wassail, which was seriously amazing!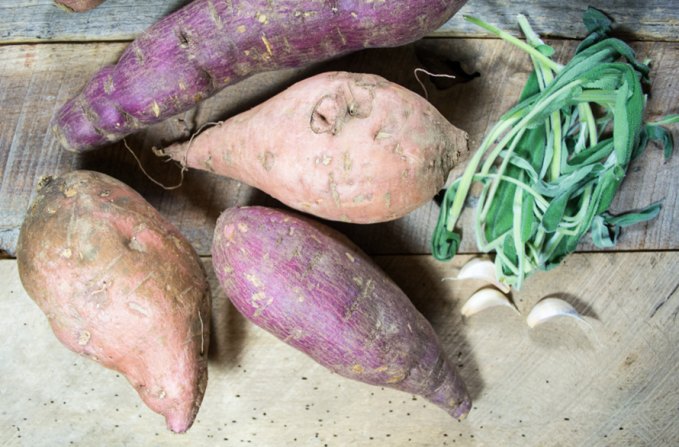 The older I get, the more I've come to appreciate tradition and it's role in our lives. In my mind, the traditions we adopt somehow help define us, our childhood, and the things that were and are still important to us. Some of my favorite memories were created through these traditions.
With that said, I think it's also important to flow with things and allow life to happen naturally. It's okay for traditions to adapt, mold, or change.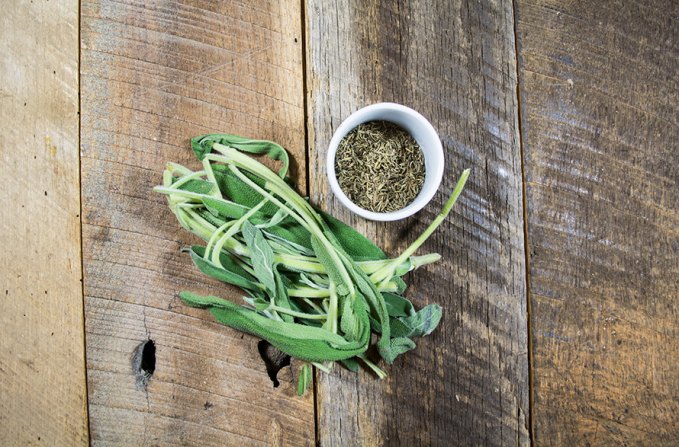 I realize I am rambling, but what I'm trying to get to spit out is that Josh and I have been fortunate enough to still partake in our family traditions this year and yet have added a bit of a curve ball to the mix. After we celebrated with my family Christmas Eve, yesterday (Christmas morning) we boarded a plane and flew to New York City!! To say I am excited would be an understatement. I have always wanted to go and am thrilled to be experiencing it for the first time and plan to enjoy every minute of it, make that second of it!.
I mean really, is there a better, or more romantic, time of the year to visit New York than Christmas?!?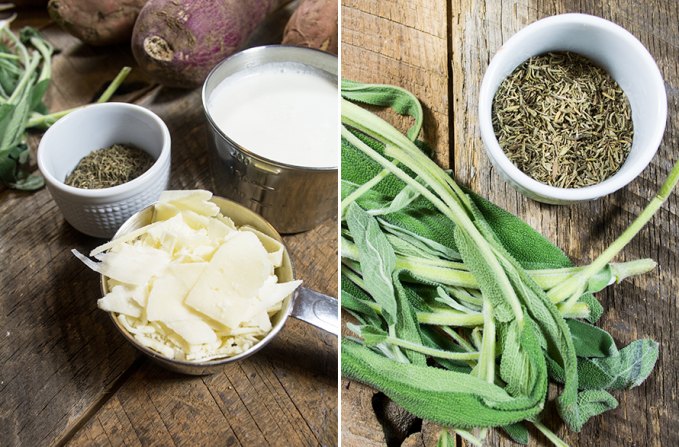 We have tickets to Broadway, plans to ice skate in Central Park, and have mapped out a route to experience the local culture of the various neighborhoods throughout the city. I can't wait to get back and share pictures and stories with you.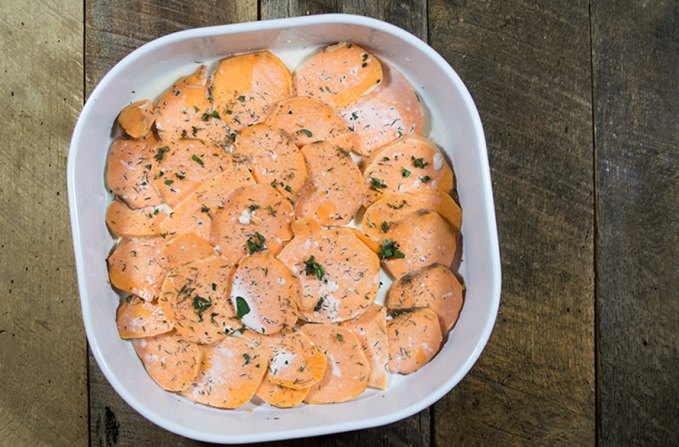 In the mean time, I hope to post some pictures of our trip to Facebook and Instagram, so check in from time to time!
Now that I've talked your ear off, lets talk about this Sweet Potato Gratin. And let me start by saying, this may not be the healthiest dish on the table, nor the prettiest, but it's likely to be the tastiest!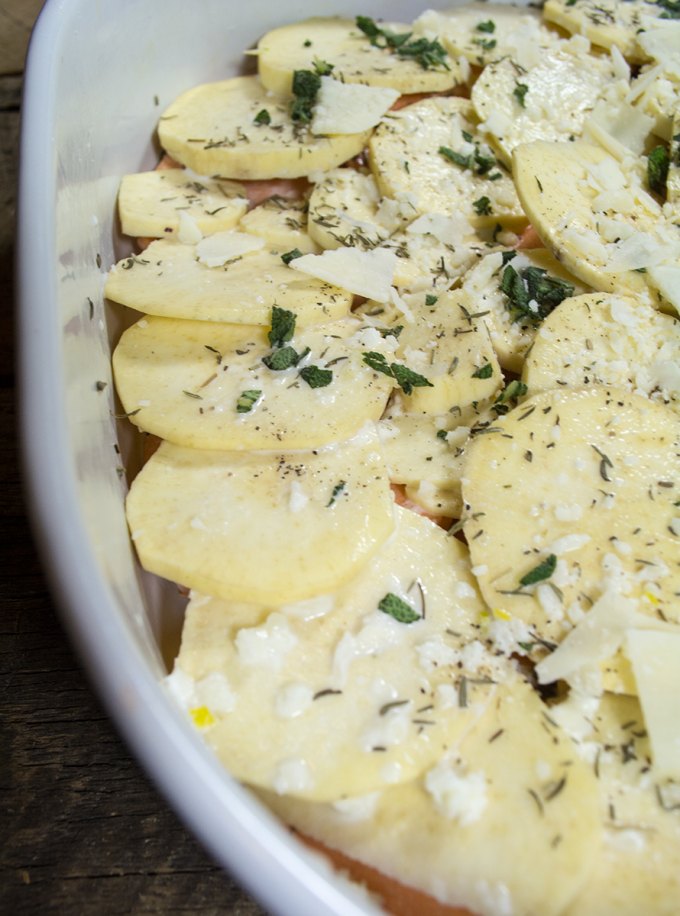 I made this the same evening I made the Roasted Brussels Sprouts. We had some friends over for dinner and I was making an effort to cook a variety of dishes while using up the remaining items in my CSA. I had plenty of sweet potatoes and came across this gratin. I don't typically go for the cream based recipes, but as I've mentioned before, when it comes to having company, my goal is not purely healthy, but rather healthy and tasty.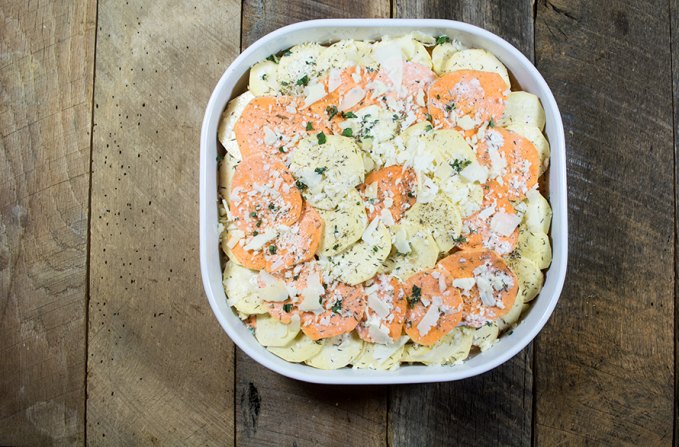 So while this one is a bit more of an indulgence than some of my other side dishes, I highly recommend it!
Mmmm, look at all those herbs. When it comes to fresh or dried herbs, I must admit, I often follow "the more the merrier" rule. I mean, can you really have too much thyme or sage?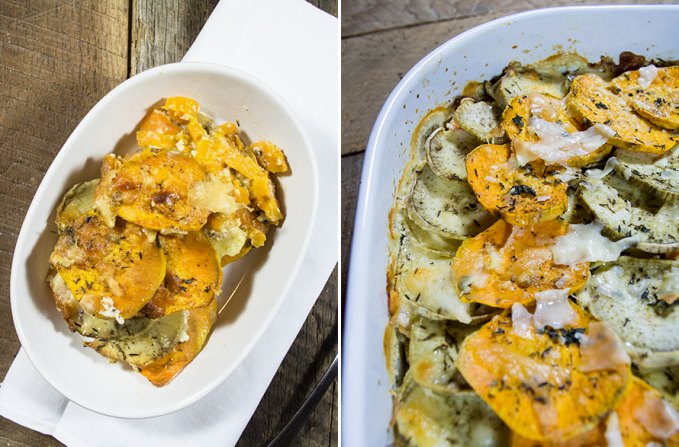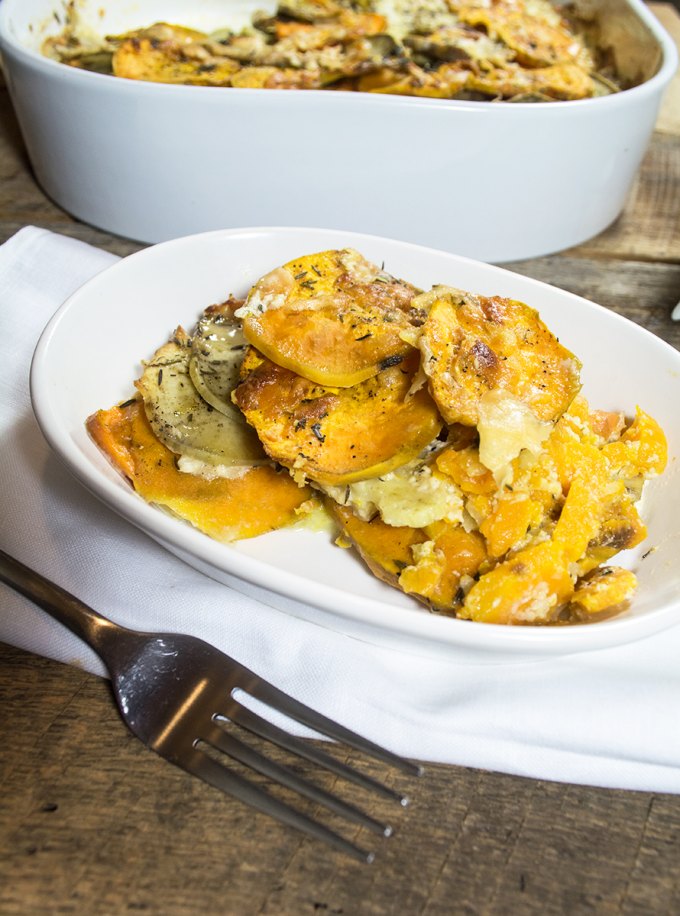 The garlic, herbs and parmesan bring the perfect savory balance to the innately sweet potatoes.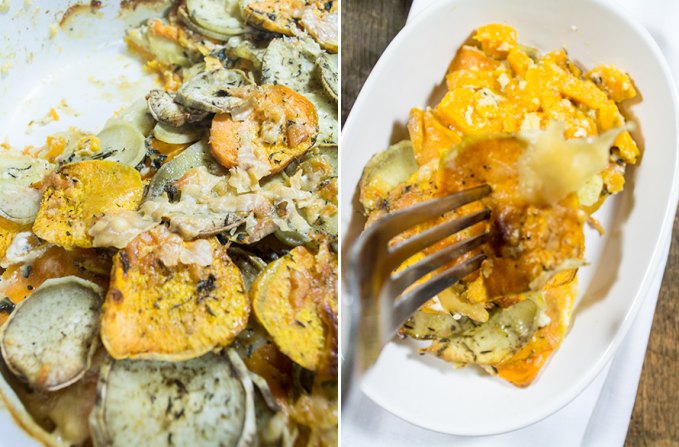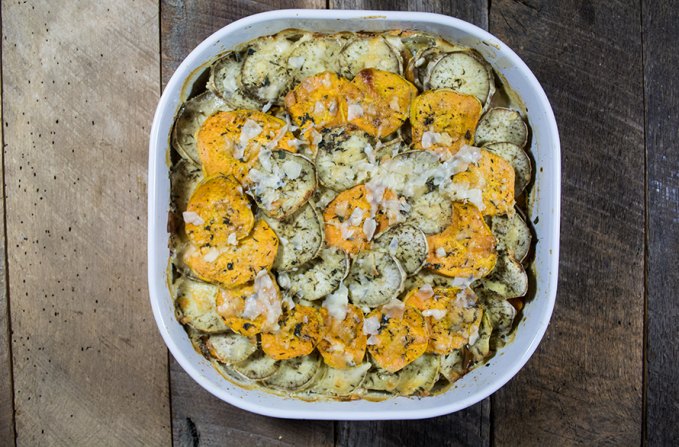 As always, if you give it a try, I'd love to hear back from you!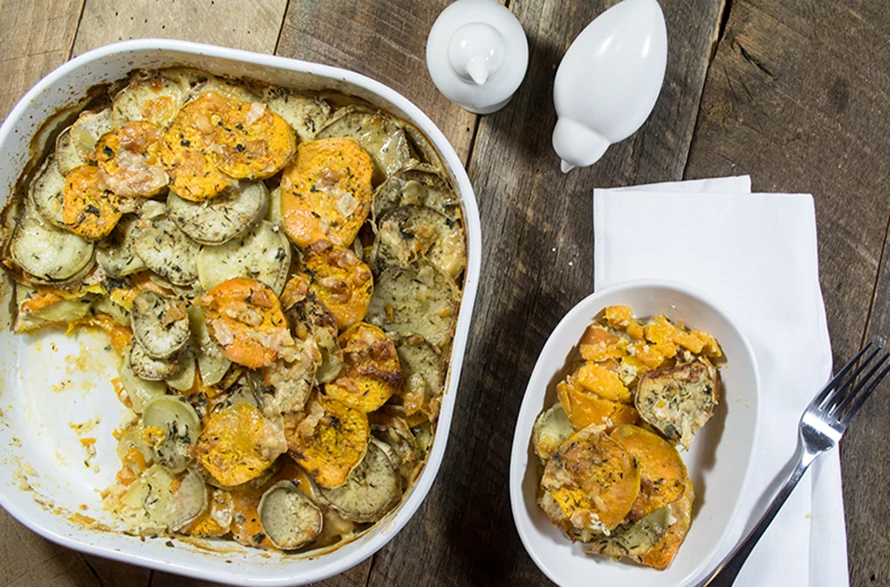 Print Recipe
Sweet Potato Gratin
Sweet Potato Gratin, loaded with whipping cream, fresh sage, garlic and parmesan cheese!
Ingredients
1/4

tbsp

butter

softened

3/4

cup

regular whipping cream

1 1/4

cups

half and half cream

3

cloves

garlic

minced

5

large sweet potatoes

peeled and thinly sliced, about 1/8 inch thick

2

tbsp

fresh sage

very finely chopped

1

tbsp

dried thyme

3/4

cup

freshly grated Parmesan cheese

salt and pepper
Instructions
Pre-heat oven to 400 degrees and use the softened butter to generously grease a baking dish that measures 9 x 13 x 2 inches (or equivalent)

Add the cream, half and half cream, garlic, and ¼ tsp salt to a medium sauce pan. Bring the liquid to a boil over medium heat, then decrease the heat to medium-low and allow to simmer for another 20 minutes. Remove the pan from the heat, and set aside.

Reserve the most uniform and attractive sweet potatoes slices for the top layer. Use any broken or small slices of sweet potato in the middle layers.

To assemble the Gratin, spoon approximately ¼ cup of the cream into the bottom of the prepared baking dish. Place a layer of sweet potatoes, slightly over lapping in the bottom of the dish. Ladle another ¼ cup of the cream over the sweet potatoes, sprinkle about 1/4-1/2 tsp each of the fresh sage and dried thyme, as well as a pinch of salt & pepper, and finally 1 Tbsp. of parmesan cheese. Continue the layers until you run out of potatoes. When you get to the last layer pour all the remaining cream over the top, add herbs, salt and pepper, but do not sprinkle the final layer of cheese.

Lay a sheet of aluminum foil loosely over the top, and bake covered for about 30-35 minutes, then remove the foil and bake for another 20 minutes.

Sprinkle the remaining cheese over the top of the potatoes and bake for additional 15 minutes or until potatoes are cooked.

The gratin is done when a paring knife is easily inserted into the center. Remove from the oven and allow to cool for about 10 minutes before serving.
Nutrition
Serving:
1
g
|
Calories:
237
kcal
|
Carbohydrates:
22.3
g
|
Protein:
6.2
g
|
Fat:
13.3
g
|
Saturated Fat:
8.8
g
|
Polyunsaturated Fat:
0.1
g
|
Cholesterol:
57.2
mg
|
Sodium:
155.2
mg
|
Fiber:
3.3
g
|
Sugar:
10.4
g
Recipe adapted from Loaves n Dishes.