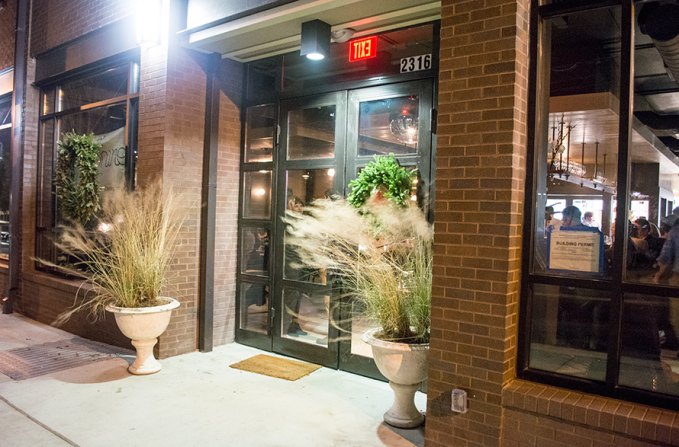 I had the honor of being invited to the "Soft Opening" of Josephine, a new restaurant in the trendy 12 South area of Nashville.
Josephine is a joint venture by Miranda Whitcomb Pontes (Burger Up) and Jim Lewis (Community Hospitality) along with head chef, Andrew Little. The restaurant is considered an American eatery, featuring small bite, seasonal vegetables, house-made pastas and dumplings, as well as a variety of proteins such as steak, quail, and scallops, to name a few!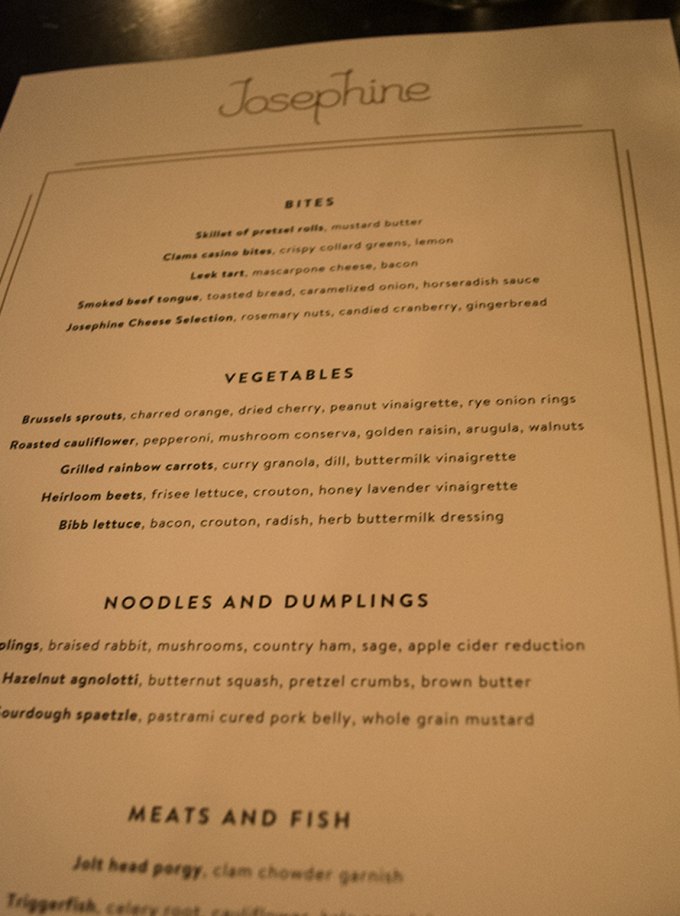 The grand opening took place this past Friday evening, December 6th, beginning with dinner, and is now in full swing, serving from 11 a.m. to 10 p.m. Monday and Wednesday through Saturday, and 10 a.m. to 10 p.m. on Sundays. The price point is mid-range, with no featured dish over $22 and small bites and vegetables ranging from $6-$14.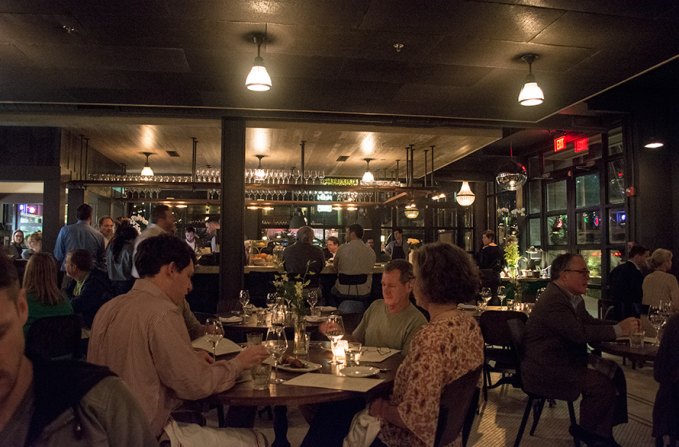 I didn't get nearly as many pictures of the interior as I would have liked, but there is a lovely combination of vintage wood and stainless steel table tops, a large leather banquette, white mosaic subway tile floors with a black border, a couple strategically placed chandeliers, and large antique mirrors along the back wall for a bit of glamour.
The bar area is centralized in the restaurant serving from three sides, while the kitchen is open to the dining area and possesses the perfect pairing of practical subway tile with stainless steel industrial light fixtures and a touch of reclaimed wood.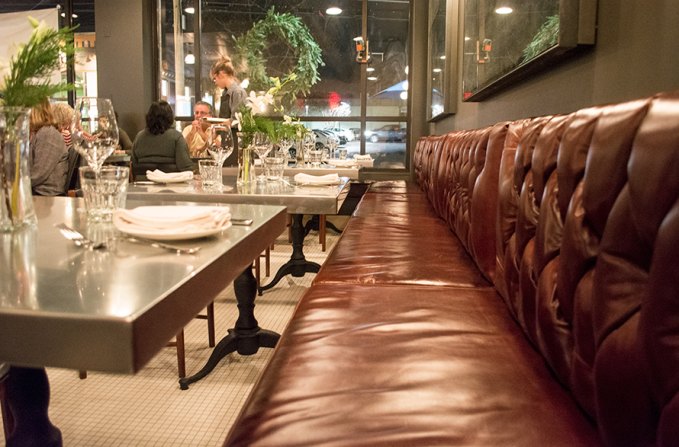 To see additional pictures of Josephine's interior, check out their Facebook page here!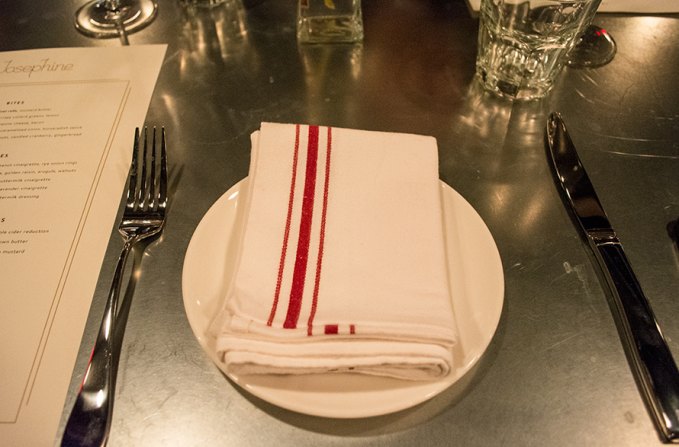 Loved the white linen napkin with a subtle stripe of red.
We ordered a few things off each section of the menu and the chef and servers pace it out so you receive the small bites first, followed by the vegetables and pastas/dumplings before brining out the main entrée. I loved the way the menu was set up and the pattern they follow to allow some time between each dish. It created a very laid back feel and allowed us to fully enjoy each dish mixed with conversation before moving on to the next thing.
The servers also brought out a new fork and knife after each dish was served!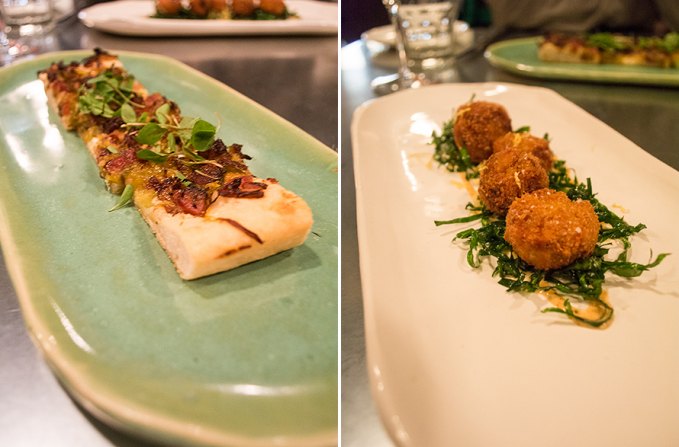 Shown above are the two small plates we selected. Left: Leek tart, mascarpone cheese, bacon. Right: Clams casino bites, crispy collard greens, lemon.
I think the Leek on the left may have been my favorite of the night, I'm not even a huge bacon fan, but the flavor could not have been better! The Clam Bites were also wonderful, the crispy collard greens were the perfect touch.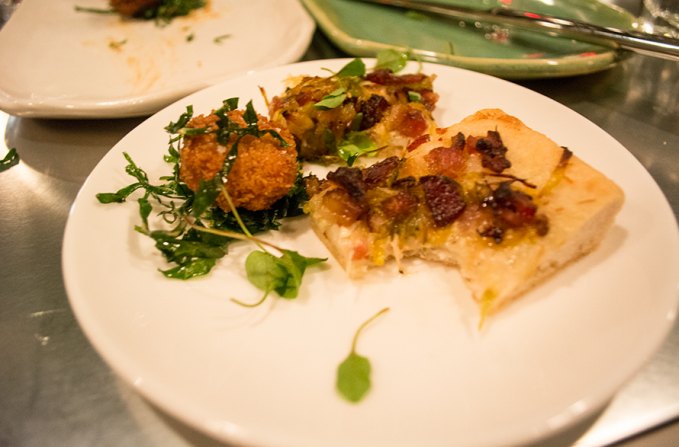 Next up, Vegetables!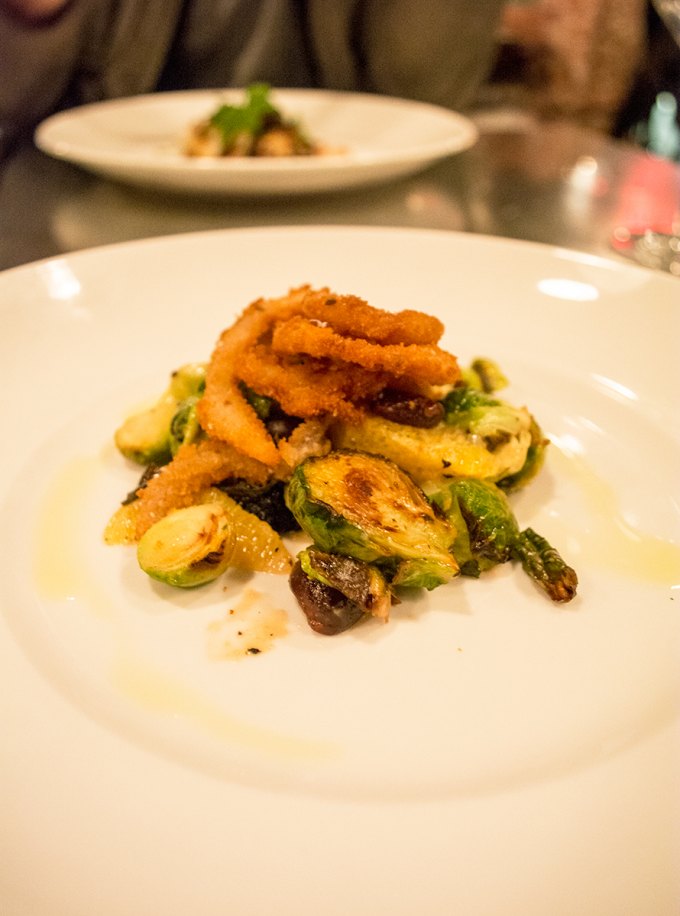 I ordered the Brussels sprouts, charred orange, dried cherry, peanut vinaigrette, rye onion rings (shown above).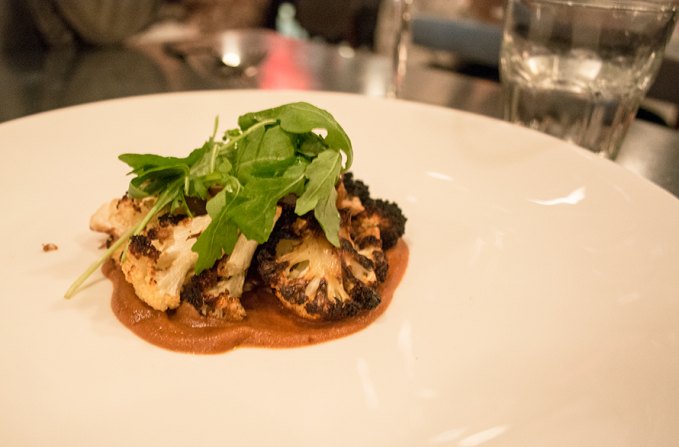 While Josh ordered the Roasted cauliflower, pepperoni, mushroom conserva, golden raisin, arugula, walnuts (shown above).
Again, both selections were incredible, in the end I was partial to my Brussels sprouts, as I loved the touch of sweetness brought in with the charred orange and dried cherries. But Josh's Roasted cauliflowers were also tasty and the pepperoni really came through in this sauce, complimenting the cauliflowers and arugula.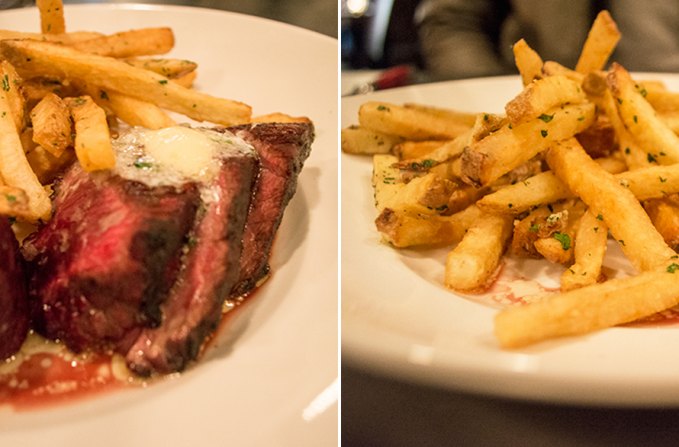 Josephine steak, fries, herb butter (shown above)
No surprise here, when it came to the main entrée, Josh couldn't resist the steak and fries! The steak was a little too rare for my taste, be he thoroughly enjoyed it. The fries were lovely in that they were not overly salty but rather seasoned with a little butter and fresh herbs.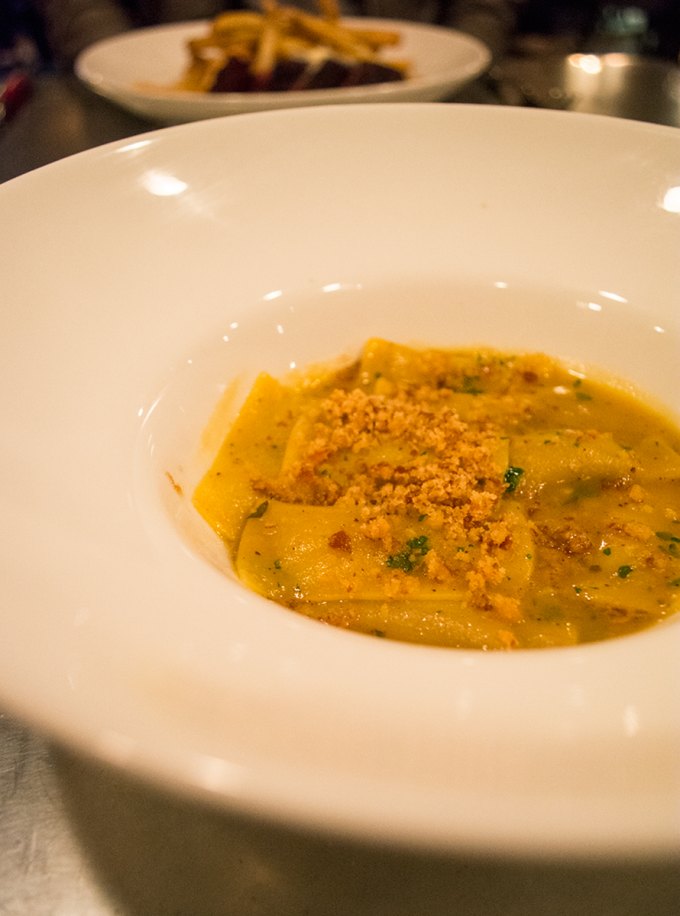 Hazelnut agnolotti, butternut squash, pretzel crumbs, brown butter (shown above)
Now, I'm not much of a pasta girl, but two people highly recommended this Hazelnut agnolotti and with the mention of butternut squash, I was sold! And I was in no way disappointed, it's essentially a ravioli with the butternut squash sauce and topped with the pretzel crumbs. I'm embarrassed to say I stole a few of Josh's fries to soak up the remaining sauce, I figured that was better than licking the bowl, right?!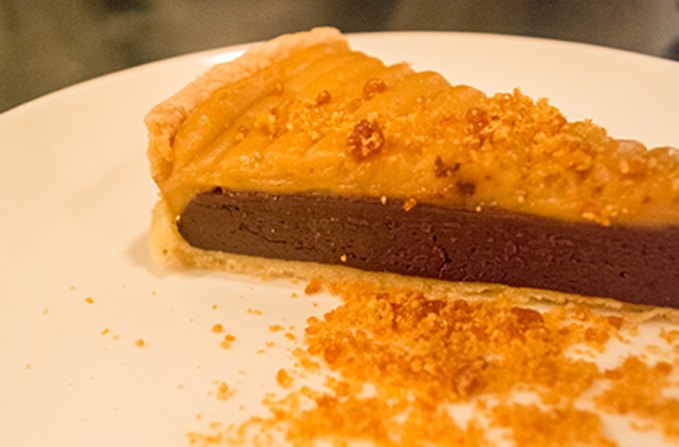 Chocolate ganache tart, peanut mousse, sweet and salty peanuts (shown above)
And just when we thought it couldn't get much better, our server said they had some desserts for us to choose from, my weakness.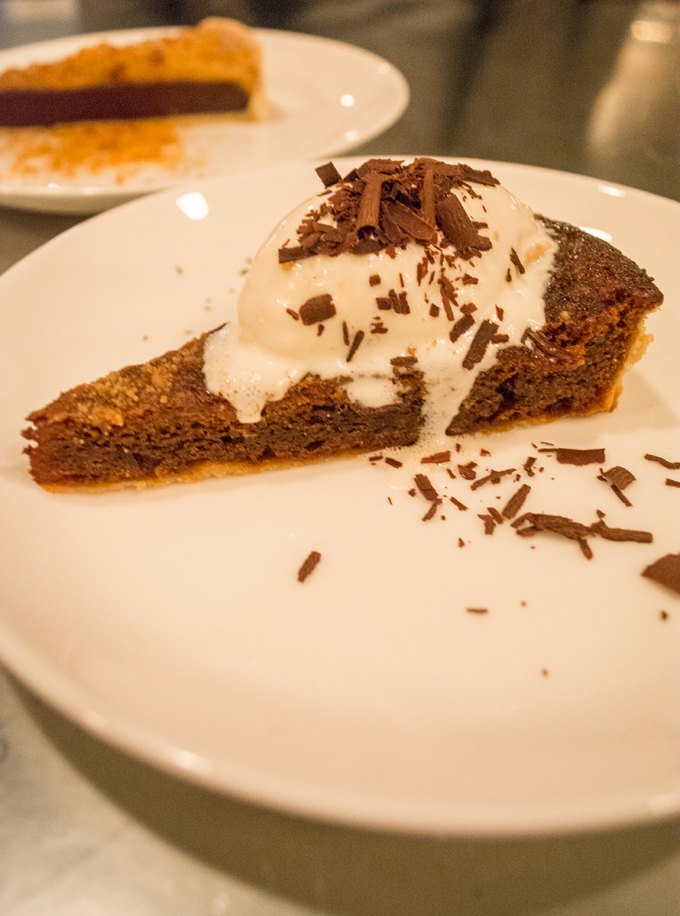 Sorghum molasses crumb tart, brown butter almond brittle ice cream (shown above)
Josh ordered the Chocolate ganache tart (first picture) and I went for the Sorghum molasses crumb tart, with the intentions of sharing. Both incredible, but I must say the Sorghum molasses stole the show! The chocolate ganache is a dark chocolate, which is typically my favorite, but it somehow just didn't quite complete with the molasses tart topped with almond brittle ice cream. Again, I had to reframe from licking the plate.
All in all, the food at Josephine's was incredible, the atmosphere thoroughly enjoyable, and the servers were polite and knowledgeable. For a "Soft Opening", we were thoroughly impressed, I hope the Grand Opening was just as successful!
Let me know if you eat here, I'd love to hear about your experience!