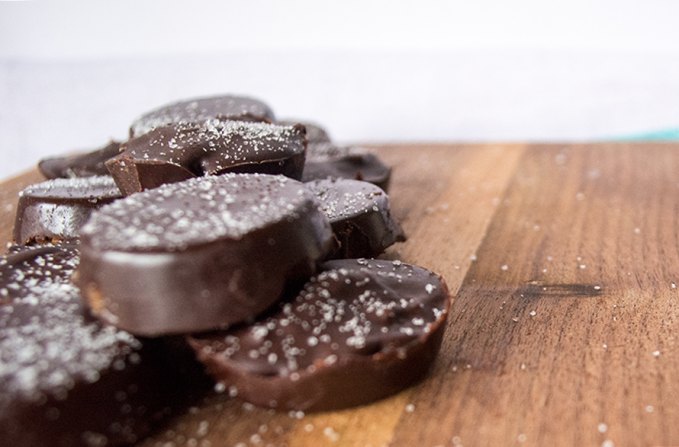 I think I've trained my taste buds over time to love most healthy foods. Not all of them, but a lot of them. So sometimes I'm a little hesitant to rave about something I've made and love myself, in fear that those who maybe are not accustom to eating healthier meals, may be disappointed or turn up their noses at the typical things you'll find here on Lemons and Basil.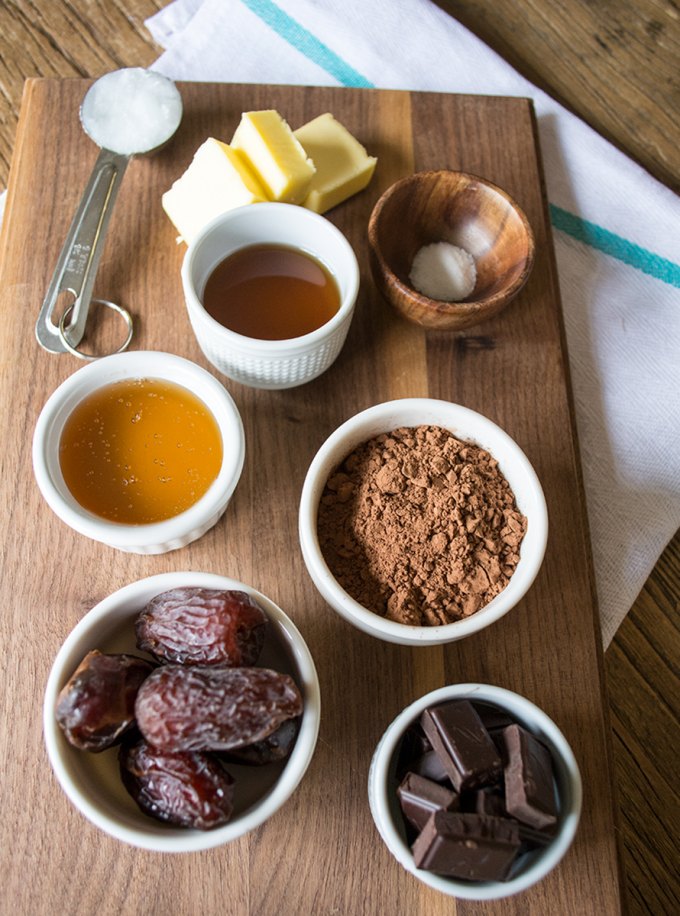 But today, I am going to throw caution to the wind and tell you that these Dark Chocolate Salted Caramels are AMAZING!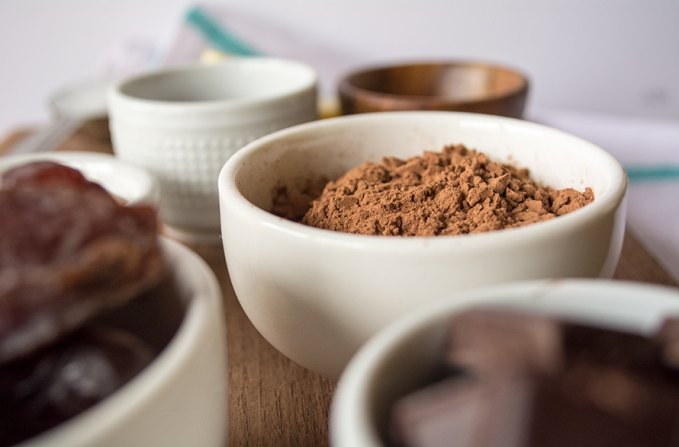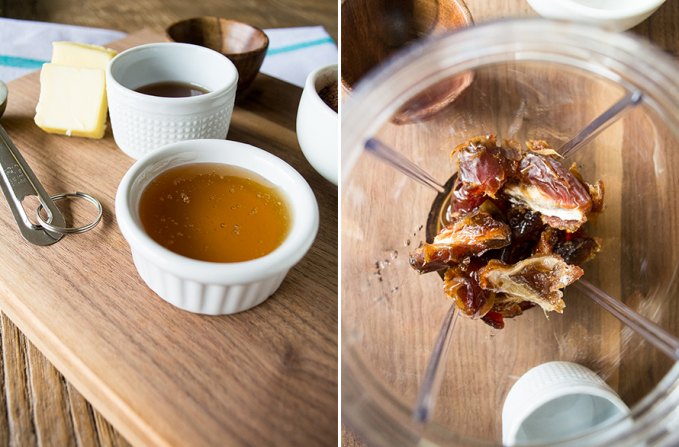 And while I love eating clean and can appreciate things sometimes tasting "healthier" as a tradeoff because they are healthier, I also know and love my sweets and know a good, rich, dark chocolate, salted caramel when I taste it. And these are exactly that!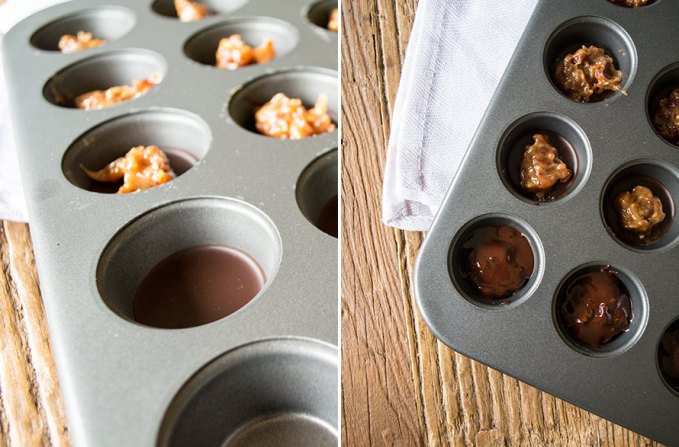 I wouldn't necessarily say they are healthy, I mean you can't eat these and expect your body to respond like it would to a detox kale smoothie. But they are made using no refined sugars, and include ingredients such as dark chocolate, raw honey and dates, along with a little organic butter and coconut oil.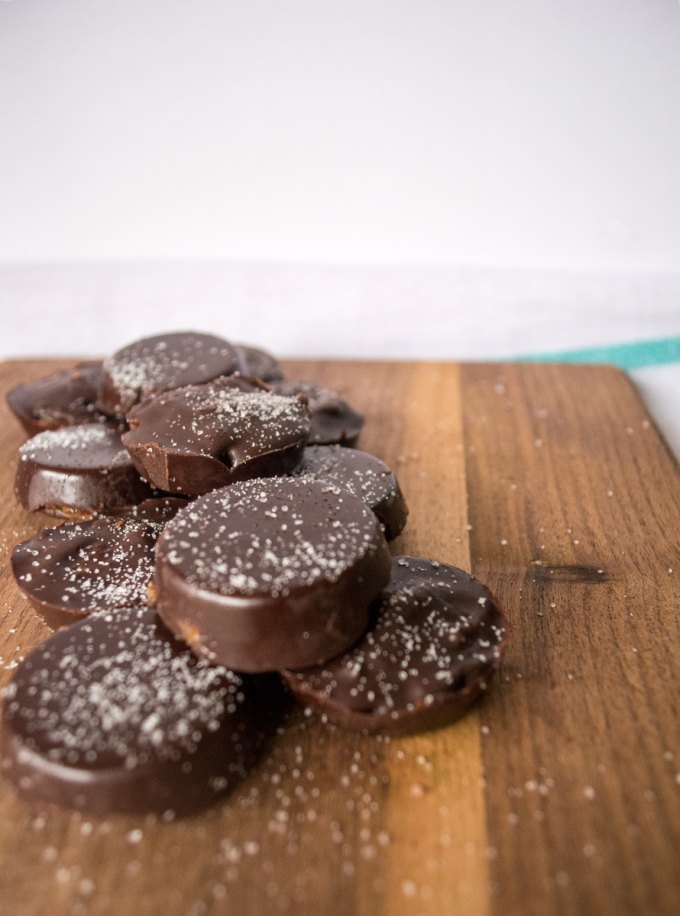 If you break it down, there are several benefits to be found:
Dark Chocolate has antioxidants known as Flavonoids, which help soak up harmful free radicals from the body and may help improve brain function in older people as well as help prevent blood clots and strokes.
Honey contains antioxidants that neutralize free radicals which have the potential to lead to infections or cancer. It may also help with healing inflammation.
Dates are high in fiber and contain Triglycerides that have the ability to lower cholesterol levels. It is also high in the B vitamin family.
Maple Syrup contains high levels of manganese, which is needed for many enzymatic and antioxidative functions in the body. It also provides zinc, important for maintaining healthy endothelium cells.
Coconut Oil has been proven to contain thyroid stimulating effects, anti-aging properties, decreased levels of LDL cholesterol, antibacterial, antimicrobial, antiviral and antifungal properties that prevent illness, anti-cancer effects, as well as weight loss properties due to thyroid stimulation.
Organic Butter does not contain the toxic pesticides found in conventional alternatives and is high in Vitamin A, as well as other fat-soluble vitamins such as D, E and K. It also has other minerals such as iodine, calcium and potassium.
Convinced yet?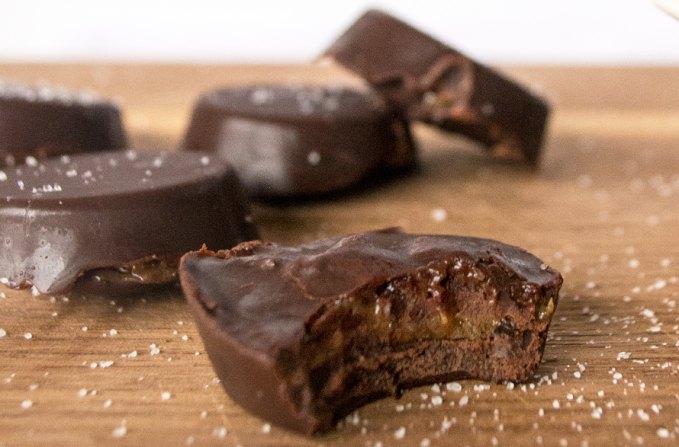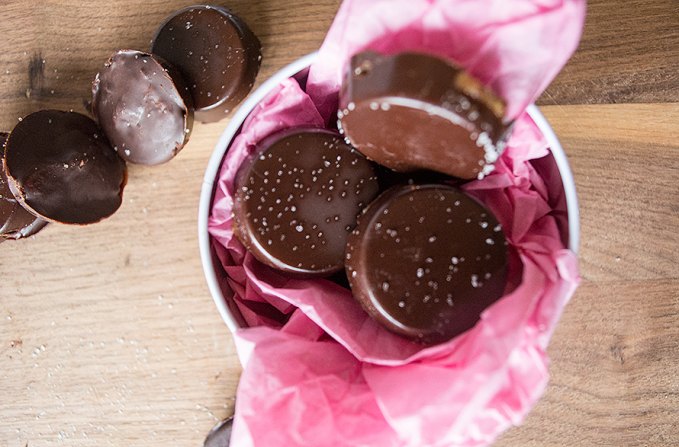 And the best thing about these? They would make the perfect gift for you to make your loved one for Valentine's Day! What better way to say I love you then to give these dark chocolate salted caramels that are not only homemade with love, but also better for you, ahem… I mean them. But you too, because even if they don't share, you can sneak a few before packaging them up!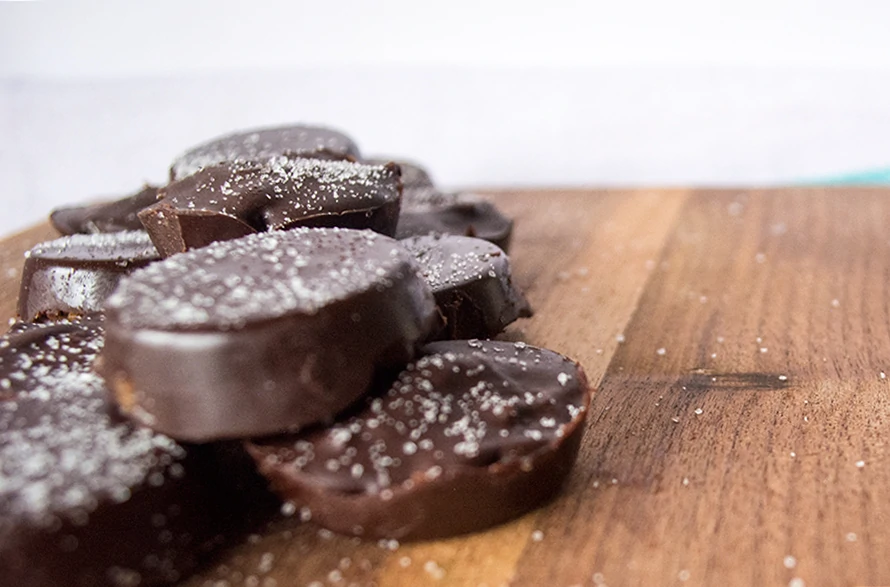 Print Recipe
Dark Chocolate Salted Caramels
These Dark Chocolate Salted Caramels are rich, creamy and made without any refined sugars!
Ingredients
For the Chocolate

3

tbsp

organic butter

1

tbsp

extra virgin organic coconut oil

1.5

ounce

1 serving 70% dark chocolate - I used Dark Greens & Black Organic

2 ½

tbsp.

raw honey

4 ½

tbsp

cocoa powder

1/8

tsp.

sea salt

For the Caramel

5

large pitted dates

soak dates in warm water if they are firm, then drain

2

tbsp

maple syrup

1/8

tsp

sea salt
Instructions
In a double boiler or heatproof bowl over a simmering saucepan of water, melt organic butter, coconut oil and 70% dark Chocolate . Remove from heat and stir in honey until well combined. Slowly add in cocoa powder and salt, stir gently to combine until smooth.

In mini muffin pan, spoon in small spoonful of melted chocolate mixture (set some aside to add after the caramel). Tilt the pan slightly to allow chocolate to coat the sides. Place in the freezer to set for approx 10 minutes.

In a food processor blend dates, maple syrup and sea salt until smooth.

Remove the chocolates from the freezer. Spoon a little of the caramel into each mold on top of the set chocolate, spread caramel flat. Spoon remaining melted chocolate over top, covering the caramel completely. Place pan back in the freezer to set. Wait until the chocolate is totally firm before taking it out of the mold, 1-2 hours. Remove chocolate caramels from pan with small knife, store in tightly sealed container in the freezer for up to one month. Careful not to leave chocolates at room temperature for more than 30 minutes as they will soften quickly.
Notes
Sprinkle Dark Chocolate Caramels with additional sea salt if desired.
Nutrition
Serving:
1
g
|
Calories:
80
kcal
|
Carbohydrates:
10.8
g
|
Protein:
0.5
g
|
Fat:
4.3
g
|
Saturated Fat:
2.7
g
|
Cholesterol:
5.6
mg
|
Sodium:
29.5
mg
|
Fiber:
1
g
|
Sugar:
9
g
Recipe adapted from My New Roots. 
All health benefits taken from LIVESTRONG.com.