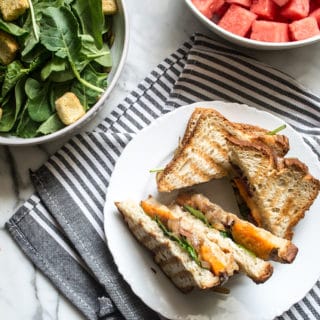 Print Recipe
Grilled Veggie Sandwich with Aged Cheddar and Balsamic Reduction
This Grilled Veggie Sandwich with Aged Cheddar and Balsamic Reduction meets all my criteria to make the regular meal rotation - tasty, healthy, and easy!
Preheat oven to 400 degrees and line baking sheet with nonstick spray, lay sliced sweet potatoes out in single layer. Bake for 15 minutes or until cooked through, flipping halfway through.

Meanwhile, add sliced onions to sauce pan with a little coconut oil and cook over medium heat, stirring frequently until caramelized.

Assemble sandwiches by spreading garlic aioli on bread, then layer cheese, sweet potatoes, caramelized onions, spinach and a drizzle of balsamic reduction, then grill using panini maker or place in oven at 350 degrees for 3-5 minutes.