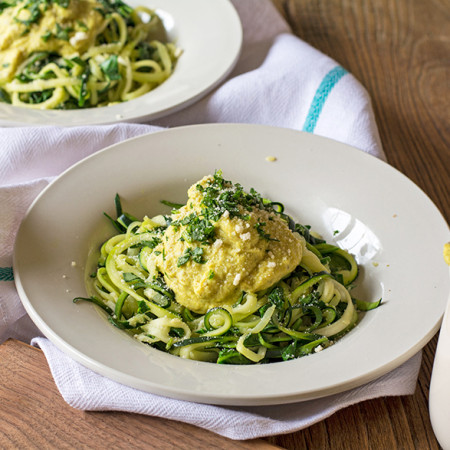 Print Recipe
Zucchini Fettuccine and Cauliflower Alfredo
This lightened up fettuccine Alfredo is Gluten-Free, Grain-Free and could easily be Dairy-Free, yet with all the flavor of your favorite creamy Alfredo sauce!
FOR THE SAUCE:

4

heaping cups cauliflower florets

1 small/medium cauliflower

1/2

tablespoon

coconut oil

2

cloves

minced garlic

1/2

cup

vanilla almond milk

2

tbsp

flax-seed

2

tbsp

Parmesan cheese

1

tablespoon

fresh lemon juice

1/2

teaspoon

onion powder

1/4

teaspoon

garlic powder

1/2

teaspoon

fine grain sea salt

or to taste

1/2

teaspoon

pepper

to taste

1/2

tsp

turmeric

optional, will turn yellow/orange color!

1

tsp

dried parsley

1

tsp

dried basil

1/2

tsp

Sriracha

optional, adds a little kick

FOR THE PASTA:

4-6

zucchini

spiralized

3-4

cups

raw spinach

Garnish with Parmesan cheese and fresh herbs
Add cauliflower florets in a large pot and cover with water. Bring to a low boil. Once boiling, cook for 5-6 minutes until tender. Drain water and set aside..

Meanwhile, add the oil into a skillet and saute the minced garlic over low heat for 4-5 minutes until softened and fragrant, but not browned.

In a high-speed blender or food processor, add the cooked cauliflower, sautéed garlic, milk, flax-seed, lemon juice, onion powder, garlic powder, salt, pepper, turmeric, dried herbs and Sriracha. Blend until a smooth sauce forms, approx 30 seconds to a minute to ensure texture is smooth and creamy with no lumps!

Meanwhile, place zucchini in a medium-sized frying pan greased with coconut cooking spray and cook, while stirring, for 3-4 minutes or until zucchini takes on a cooked pasta texture, sorta wilted and soft. Careful not to overcook. About mid way through cooking the zucchini, add in the spinach and cook lightly until it is wilted.

You can then add the cauliflower sauce into the same pan and stir to combine or you can serve the zucchini pasta up individually and top with desired sauce on each plate!

Garnish with fresh herbs and Parmesan cheese.
Serving:
1
g
|
Calories:
160
kcal
|
Carbohydrates:
20
g
|
Protein:
12
g
|
Fat:
6
g
|
Saturated Fat:
3
g
|
Polyunsaturated Fat:
2
g
|
Cholesterol:
4
mg
|
Sodium:
474
mg
|
Fiber:
8
g
|
Sugar:
9
g